Intrigued by the promise of an aphrodisiac chocolate workshop, Nicky Sherwood headed to south London for Chocolat Aphrodite. A great name for what is a one day course learning how to make raw chocolates. The course is run by the UK's top raw chocolatier Amy Levin of Ooosha with naturopath Emma Mihill. The day is all about the sensuality of chocolate.
Amy Levin and Emma Mihill
This feature should probably come with a health warning: it may well change your life! It certainly had an impact on mine. I have to confess that when I was invited along on this course, it was the word chocolate (ok and maybe the word aphrodisiac!) that leapt out at me. The word raw slightly passed me by. I'd never heard of raw chocolate, or the raw food movement for that matter. Little did I know that 24 hours later I would be googling raw food recipes and buying a dehydrator.
The one-day Chocolat Aphrodite course is the brainchild of raw chocolatier Amy Levin and naturopath Emma Mihill. They have come together to lead this exploration into the sight, smell, taste and sensuality of chocolate. It's an ingredient that has for thousands of years been associated with luxury, pleasure and indulgence.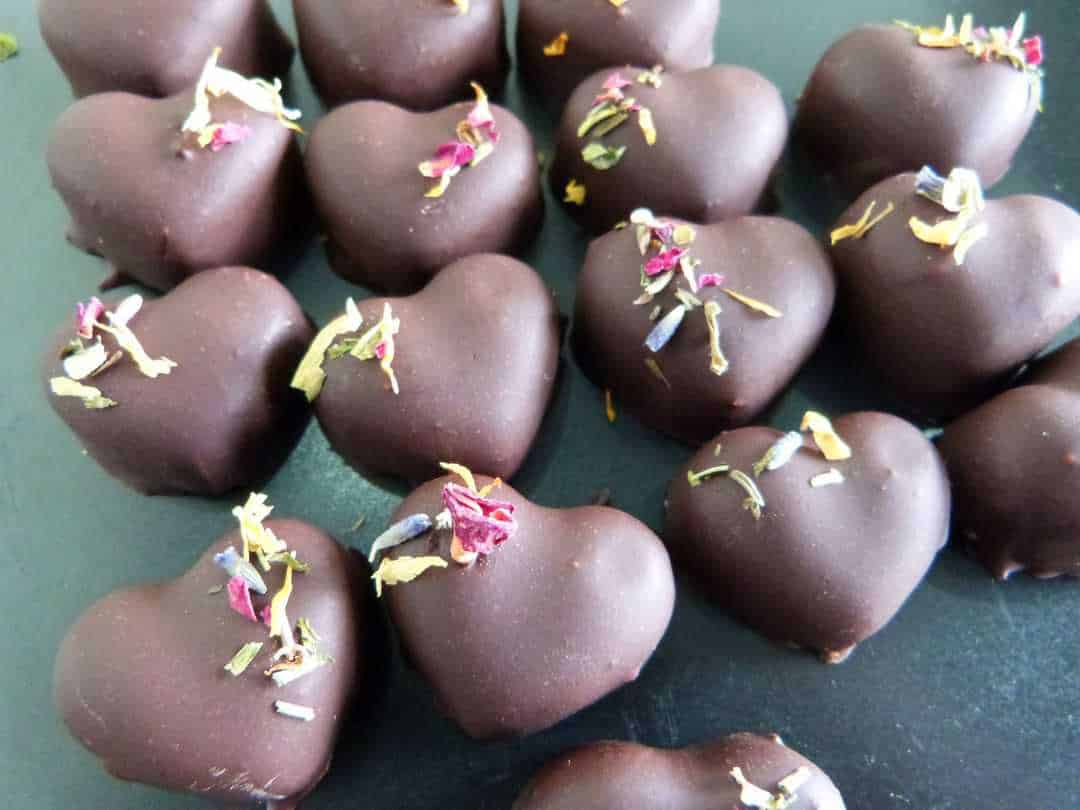 Brixton kitchen
On arrival at the studio in Brixton, I found a bright and airy demonstration kitchen with rows of chairs facing the preparation area. Each chair was topped with a golden chocolate box containing a hand written love note, each featuring a different quote. Inside was also a pack of information and recipes to take home at the end of the day. I was offered a heart shaped chocolate topped with crystallised rose petals which tasted divine. Surely a sign of good things to come.
Raw chocolate and herb infusion
After an introduction to chocolate and its history, we started off by making a herbal infusion. We used raw cocoa nibs combined with a selection of fragrant herbs and spices. I chose cocoa, rose petals and star anise, with a little powdered xylitol. Xylitol is a natural sweetener and sugar substitute made from tree bark.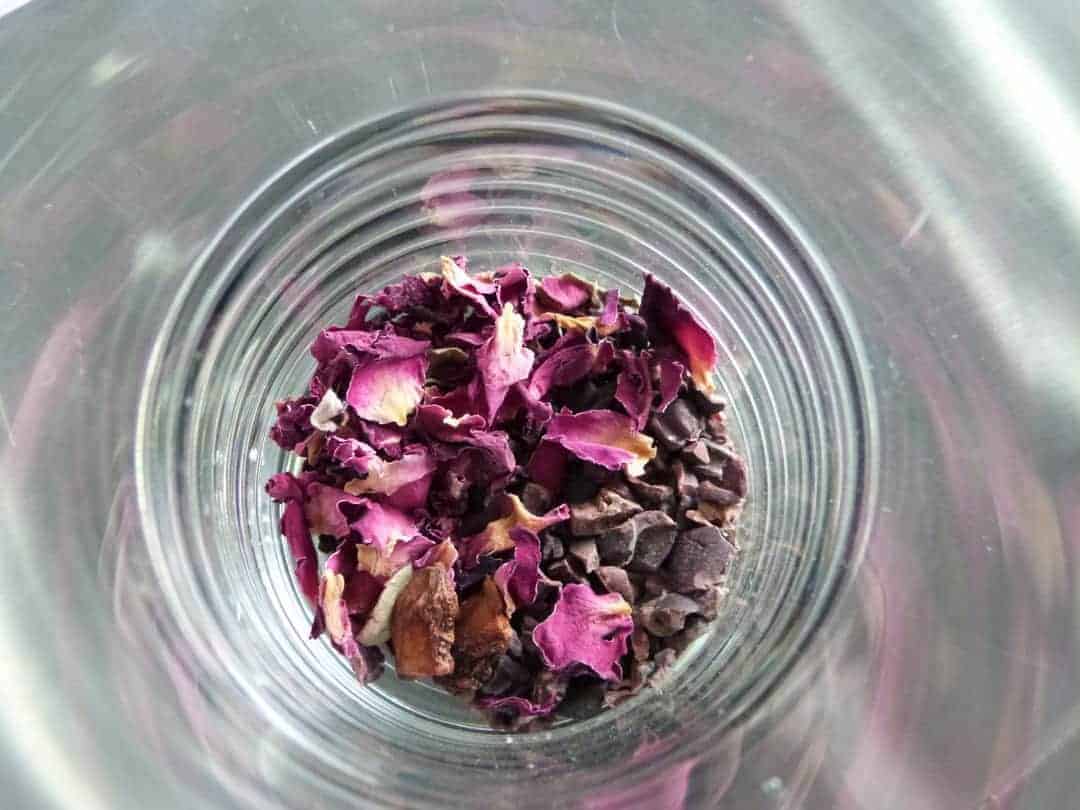 The ingredients were combined in a glass beaker, before being covered with boiling water. We left this to steep so that the flavours and aromas infused into the water.
The result was a fragrant and soothing hot drink, which looked as delicately beautiful as it tasted, and was a pleasure to sip while watching the other demonstrations.
How to make a fragrant rose room spray
Next Emma showed us to use the same herbal infusion technique to make a fragrant room spray, this time using dried rose and hibiscus petals and a dash of essential oil. Once cooled, the infusion can be strained and decanted into an atomiser bottle and will last in the fridge for up to two weeks, or for several months with the addition of a Vitamin E capsule. The fragrance of the flower petals was surprisingly strong when spritzed, and would make a lovely home-made gift with the addition of a ribbon and tag.
How to make cocoa butter and rose lip balm
Emma then demonstrated how to make a scented cocoa butter lip balm, using a macerated oil infused with rose petals which was gently heated with the cocoa butter in a bain marie.
A few drops of Rose Otto and Jasmine pure essential oils were added, before the mixture was spooned into jars and placed in the fridge to set.
Once set, the lip balm was smooth, fragrant and moisturising with a rich aroma from the cocoa butter. The base recipe can easily be adapted with the use of different essential oils and the recipe pack we'd been given included one for Chocolate and Bergamot Lip Balm, which sounded heavenly.
Healthy and delicious lunch
Soon it was time to break for a light lunch which consisted of a raw vegetable salad with crackers made in a dehydrator using entirely raw ingredients. This is when I discovered from talking to my fellow students just what the raw food movement is all about. The basic premise is that when food is heated above 115 degrees Fahrenheit (46 degrees Celsius) it loses its vital enzymes and much of its nutritional value, so raw foodies (if that's what they're called) use alternative methods such as dehydration to prepare the food, and enjoy the health benefits of an unprocessed and nutrient rich diet.
As I watched Amy make the salad dressing I was introduced to fascinating ingredients such as Nutritional Yeast Flakes, a vitamin and nutrient rich ingredient which adds a cheesy flavour and is widely used in raw food recipes. And the result? I am not lying when I say that this was one of the tastiest salads I have ever eaten and the crackers were rich, satisfying and full of flavour.
Raw food living
As I spoke to my fellow students over lunch, I realised that many were already raw food devotees and they generously filled me in on the benefits of raw food living, along with the equipment and ingredients used in many of the recipes, and some inspiring raw food blogs to follow. It was fascinating stuff, with tales of diabetes being reversed and increased energy and general wellbeing. The key for me though was that it just tastes fantastic – healthy, pure and bursting with the flavours of the fresh ingredients.
How to make raw dark chocolate
After lunch, chocolatier Amy took over the helm and demonstrated the basic recipe for raw dark chocolate using raw cocoa butter, powdered cocoa and coconut sugar gently melted in a bain marie.Next she showed us how to temper the melted chocolate by slowly cooling it to 31.5 degrees, in order to give it that all important glossy finish and the distinctive 'snap' that only high quality chocolate has when broken into pieces.
Whereas traditional chocolate beans are roasted to give a depth of flavour, raw chocolate is flavoured using wonderful combinations of ingredients to add smell, taste and texture to the overall experience.
Crystallised chilli topping
In this first recipe, Amy created a delicious crystallised chilli topping by blending xylitol with dehydrated chilli peppers. The capsaicin chemical in chilli peppers is said to release endorphins into the body and stimulate nerve endings, increasing sensitivity and increasing the pulse rate. Oh my!
Raw mango chilli jam
Amy then made a raw sweet Mango Chilli Jam which she piped into the crisp dark chocolate cases she had made earlier, topping the jam with a sprinkle of crystallised chilli sugar. When she handed them out amongst the class, there was a brief moment of silence followed by faint moans of pleasure around the room as the combination of dark chocolate, sweet mango and tingling chilli took effect – that'll be the capsaicin working then.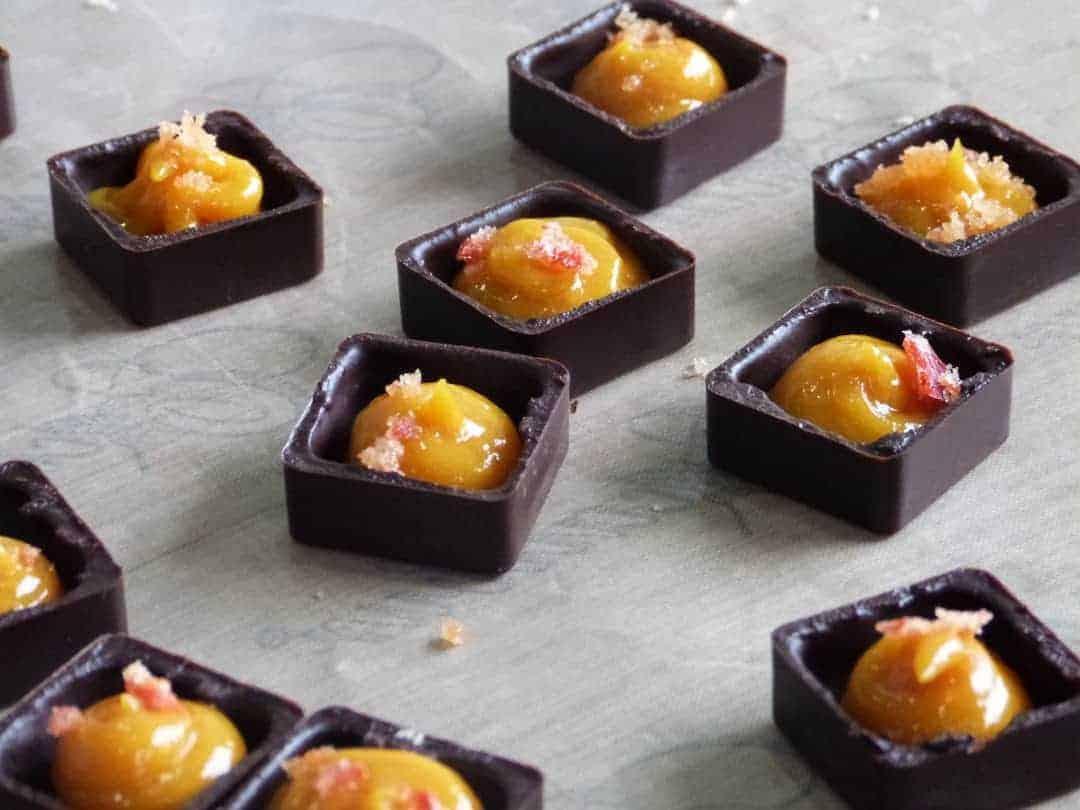 Apricot, almond and cinnamon raw dark chocolates
Next up was another piece of chocolate heaven aptly named Warm Embrace. A chunky blend of dried apricots, almonds and cinnamon in tempered dark chocolate, the mixture was spooned into heart shaped silicon moulds and left in the fridge to set.
When it emerged from the fridge and the chocolate hearts were pushed out of their moulds, you could see the glossiness of the tempered chocolate. I liked the way that the chunky nuts and fruit stuck out of base of the moulded heart shape, so that it looked rustic and handmade rather than perfect and mass-produced. Eager to try, we each had a taste and discovered a delicious blend of bittersweet chocolate, chewy apricots and warm, spicy cinnamon. Another amazing flavour and texture combination that had us wishing there was a second batch.
Artisan raw chocolate slabs with crystallised rose petals
Continuing the romantic chocolate and roses theme, Amy then demonstrated how to make artisan slabs of dark chocolate with home-made crystallised rose petals.
Spreading the tempered raw chocolate on a baking tray, she sprinkled the crystallised rose petals on top and placed it in the fridge to harden.
The solid chocolate was then broken up into chunky slabs and again handed round for us to taste… another flavour explosion with the smooth chocolate and crunchy rose petals adding a delicate fragrant note. If I had any preconceived ideas about raw chocolate not tasting as good as 'normal' chocolate, this day was certainly changing my opinions fast.
Chai spiced raw macaroons
Next up was Chai Spiced Macaroons, made from a blend of raw coconut, cashews, honey and spices, before being enrobed in tempered raw chocolate.
Amy showed us how to shape the little domes and dip them deftly into the melted chocolate, before placing them in the fridge to set the crisp chocolate coating.
The result was a textured and not-too-sweet treat with a delicately spiced aroma which worked perfectly with the dark chocolate coating. These macaroons are really quick and easy to make and would be perfect to give as a gift or serve as after dinner treats.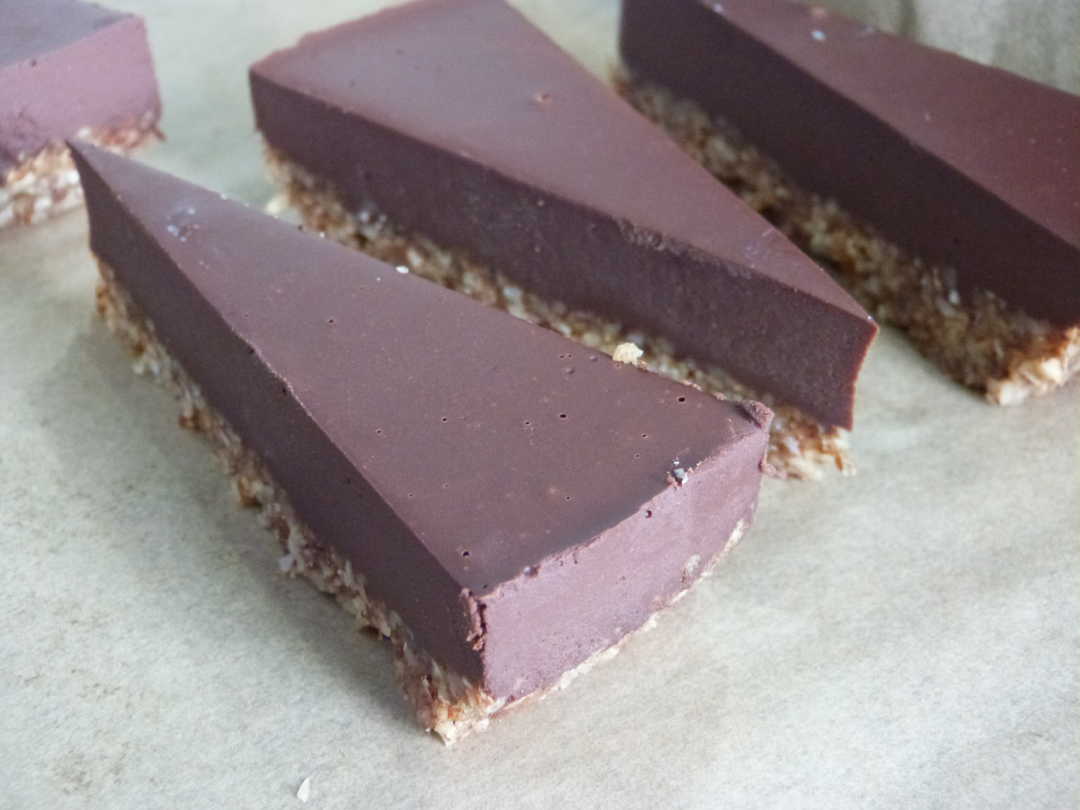 Mulled wine raw chocolate ganache tart
The last recipe of the day was for a Mulled Wine Ganache Tart. Made entirely from raw ingredients, the crunchy base was made from chopped nuts, cinnamon, vanilla, coconut sugar and coconut oil. The ganache filling was a blend of chocolate and spiced mulled wine. Raw, vegan, wheat and dairy free and delicious, this dish is a perfect example of what can be created using raw ingredients.
I love the inspiring way that ingredients and methods such as dehydration are used to replace 'traditional' cooking techniques. The end result is not a compromise, as you might expect, but a dish that tastes even better than its cooked equivalent. That is I'm sure down to the passion and talent of raw chefs such as Amy Levin and their quest for outstanding flavour.
A pin to save to Pinterest
Loving the raw food way
As you can tell, I was really blown away by my first experience of raw food. The postscript to this is that I have bought a dehydrator and am now addicted to home-made crispy kale chips. I sprinkle them with nutritional yeast flakes. I also love healthy dehydrated sweet potato crisps topped with chilli flakes. I've only just touched the tip of the raw food iceberg and plan to have a go at fruit leathers. The possibilities are endless. There's a whole world of recipes, ingredients and raw foodies out there generously sharing their knowledge. And as for the aphrodisiac effect of the chocolates…? Well you'll just have to come along to the course and try it out for yourself!
If you run a creative course you think our readers would be interested in reading about, do get in touch. Email us at editor@frombritainwithlove.com.
Photo album