Emma Bridgewater pottery we love
It was quite a few years ago now (8 to be precise), that we spent an inspiring morning with Emma Bridgewater at her Staffordshire pottery factory. It was the Queen's diamond jubilee year and we decorated our own jubilee-inspired red white and blue mugs. You can read the full post here: Behind the Scenes at Emma Bridgewater.
Emma Bridgewater pottery designs have cheerfully – and colourfully – grown from strength to strength in that time. My tastes, to be honest, changed somewhat and I found myself only wanting plain, textural ceramics or vintage creamy white pottery. That all changed when I recently received a press release from Emma Bridgwater pottery, letting me know about the new garden flowers designs. I felt myself falling in love a little bit.
I spend many of my happiest hours pottering in my flower garden, often with a cup of tea in hand. (I've shared how I created my cutting garden along with lots of photos here: How to Start a Cutting Garden) So, this new collection of sweet peas, daffodils, roses and buttercup designs made me want to add their hotch potch of colours to my mug cupboard. I find myself being drawn to their cheerful colours and joyful design. The simplest of everyday objects can bring moments of happiness can't they? And heading up to my flower garden early morning, with a large, beautifully decorated tea-filled mug definitely ticks that box for me.
I found myself browsing the Emma Bridgewater pottery website and found lots of other loveliness too. So, I decided to share a few of my favourites with you. Just in case you're also tiring of 'greige' a little too… Maybe fancy a hand-painted flower, heart, swallow or even just a rainbow dot or two…
Now your favourite bloom can become your favourite mug too. The selection of Flowers Mugs is wide including a few of my favourites: sweet peas, roses, daffodils and dahlias…
Vases & Jugs
How pretty is this Rowan 3 pint jug?
For me the joy of being in the garden goes hand in hand with noticing the birds around me. So I do love the idea of mixing a few of my favourite feathered friends in with the flowery mugs.
Love the Robin mug in particular – and not just for Christmas. I have a particularly brave and spirited robin that lives in and around my herb garden. He eyeballs me through the kitchen window waiting for me to throw out seeds or scraps. Which I always do. I'd quite enjoy watching him, robin mug of tea in hand.
Dogs & Cats collection
BUY EMMA BRIDGEWATER PERSONALISED PET BOWLS HERE >>
BUY FRUIT GARDEN MUGS & PLATES HERE
And how beautiful is this Apples design from the Fruit Garden collection?
BUY APPLES PLATE HERE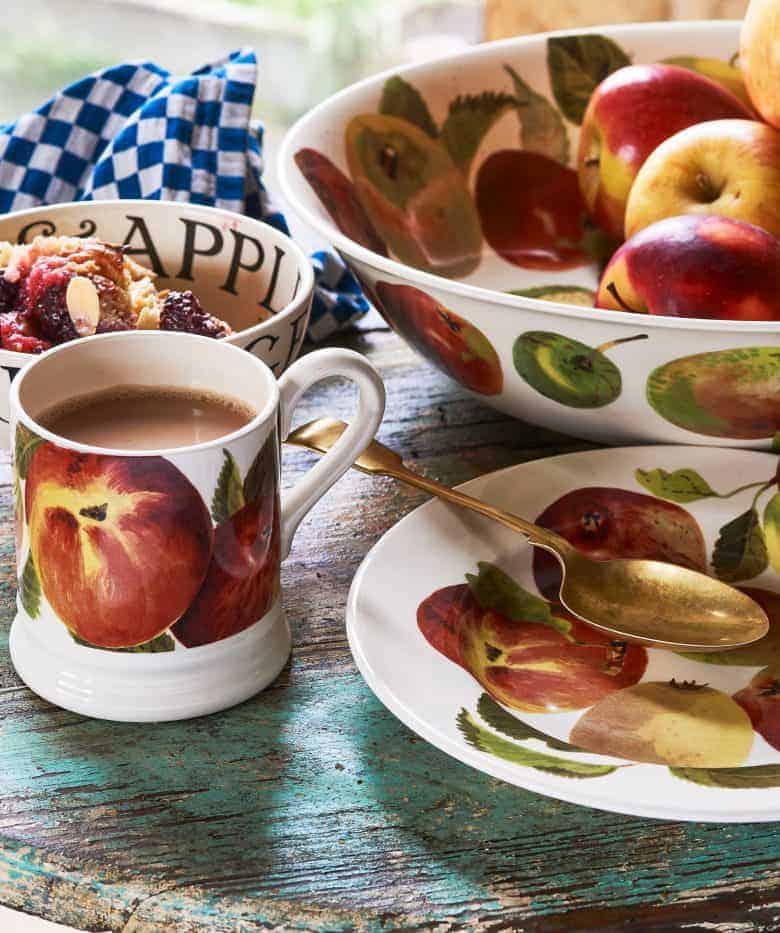 I've found the ultimate gift for any Emma Bridgewater super fan – the Polka Dot cake mixer!
INFORMATION
---
This article contains affiliate links, which means we may earn a small commission if a reader clicks through and makes a purchase. All our blog posts are independent and in no way influenced by any advertiser or commercial initiative. By clicking on an affiliate link, you accept that third-party cookies will be set.
Find more beautiful ceramics made in Britain in the Ceramics section of our Directory.
For a peek behind the scenes at the Emma Bridgewater factory, read our blog post here: Behind the Scenes at Emma Bridgewater.
Are you a maker, grower or creative course provider? Like to list with us and benefit from joining our supportive community? We'd love to hear from you. Check out the packages we offer on our Join Us page and get in touch…If you'd like to join our Virtual Market too, all you have to do is take out a listing in our directory and let us know that you'd like to take part. It's the next best thing to getting to meet your customers face to face.
---
A PIN TO SAVE TO PINTEREST
If you've enjoyed discovering more about Emma Bridgewater pottery it would be great if you could share the love. All you have to do is hover over the image below until you see the Pinterest button appear. Then share it to your boards. Thank you! X