Plastic free zero waste beauty and bathroom ideas
Don't know about you, but I've recently realised that I seriously need to up my game when it comes to waste and supporting plastic free and zero waste. I have long supported sustainable, organic, independent and local. I've recycled, reused, composted and upcycled with the best of them.
So… if I'm totally honest I think I became a little complacent. Feeling that I was doing my bit. But it hit me last week that I'm really not. Not when the crisis we're facing as a planet is as grave as it is.
Albatross
What stopped me in my tracks recently was watching the beautiful and devastating film, Albatross by artist Chris Jordan. Here's the 4-minute trailer (it contains some upsetting scenes):
Watch the whole, immersive film here and be prepared for it to change how you view waste forever.
Like many of us, I was also shaken by David Attenborough's Blue Planet II and last week's Drowning in Plastic on BBC 1 presented by wildlife biologist Liz Bonnin. Both full of shocking evidence of the ways in which we are choking our oceans.
I was horrified to learn that the world's biggest rivers have been turned into huge plastic arteries transporting 50% of all the plastic that arrives in the ocean. Fishermen in Indonesia forced to sell plastic instead of fish to make a living because 60% of the fish species have died due to plastic pollution.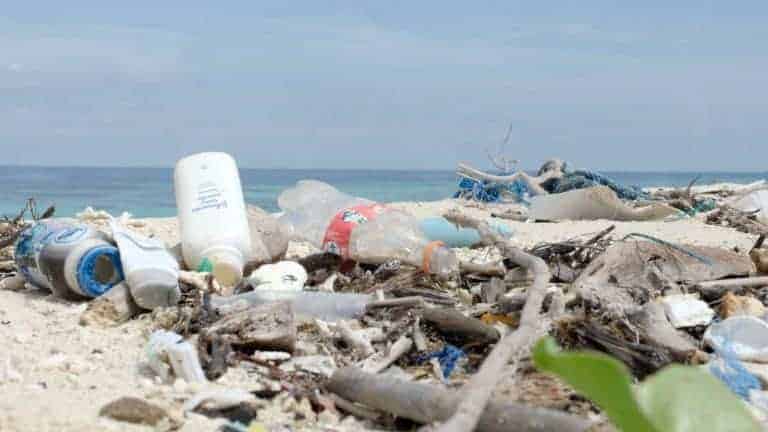 Image: BBC/Raw TV
It's heartbreaking what we're allowing to happen to our beautiful planet and to the wildlife we share it with.
A Guardian investigation established that consumers around the world buy a million plastic bottles a minute. A million plastic bottles. A minute! Plastic production is set to double in the next 20 years and quadruple by 2050. Around the world, more than 8m tonnes of plastic leaks into the oceans.
When you consider that every single bit of waste and piece of plastic that we chuck away can cause real, horrifying harm, the crisis we face can feel overwhelming. How to make a difference as an individual, when the problem's so huge and the solutions so complex?
Step one: putting my own house in order – plastic free zero waste beauty & bath
First thing to do, I decided, should be to look again at plastic free zero waste beauty, toiletries & bathroom and what we're doing as a family. To identify where we could do better. I'm now on a mission to cut down on our own waste as much as possible, whilst thinking about ways to help bring about change on a wider level.
photo credit: Jacqui J
With two teenage children and a hectic home/work life, I've definitely been guilty of using time pressures as an excuse for some of our less-than-ideal choices. But when you look at this single pint-sized jar of waste produced by Bea Johnson (founder of Zero Waste Home) and her family in a WHOLE YEAR it's clear that we could be doing so much better. If I'm honest, my family probably sends more to landfill each day right now than this.
Realistic targets
It's quite a leap to get from where we are to this, so I'm not going to set myself unrealistic targets, because that's just a recipe for failure. But I am going to plan better, keep looking for better choices and make changes one at a time.
If Bea and her family can produce a single pint of rubbish a year (and have been since 2008) it's got to be possible to get where we need to be, as a planet, if we all do our bit. Dubbed 'The Priestess of Waste-Free Living' by the New York Times, Bea is on a mission to shatter misconceptions, proving that zero waste can not only be stylish, but also lead to significant health benefits and time and money savings. Her simple 5R methodology initiated a global movement. The 5 Rs are:
Refuse (what you don't need)
Reduce (what you do need)
Reuse (by using reusables)
Recycle (what you cannot refuse, reduce or reuse)
Rot (compost the rest)
Plastic free zero waste beauty and bathroom ideas
With this in mind, I've been researching ideas for cutting down waste so I thought I'd share some of them with you as I go. I'd love you to share your ideas with me too by leaving a comment at the end of this post. I've also created an Ethical Consumer Marketplace where I'll add in special makers and producers as I find them. Browse the Ethical Beauty made in the UK section of our directory for more inspiration and ideas.
Trying to reduce plastic waste can be particularly challenging in the bathroom so I decided to start here. My aim: to find plastic free zero waste beauty products and toiletries. When it comes to hygiene and beauty products, plastic packaging is often hard to avoid. How possible, I wondered, is it to go plastic free and zero waste in the smallest room of the house?
How I'm going to go plastic free and zero waste in my bathroom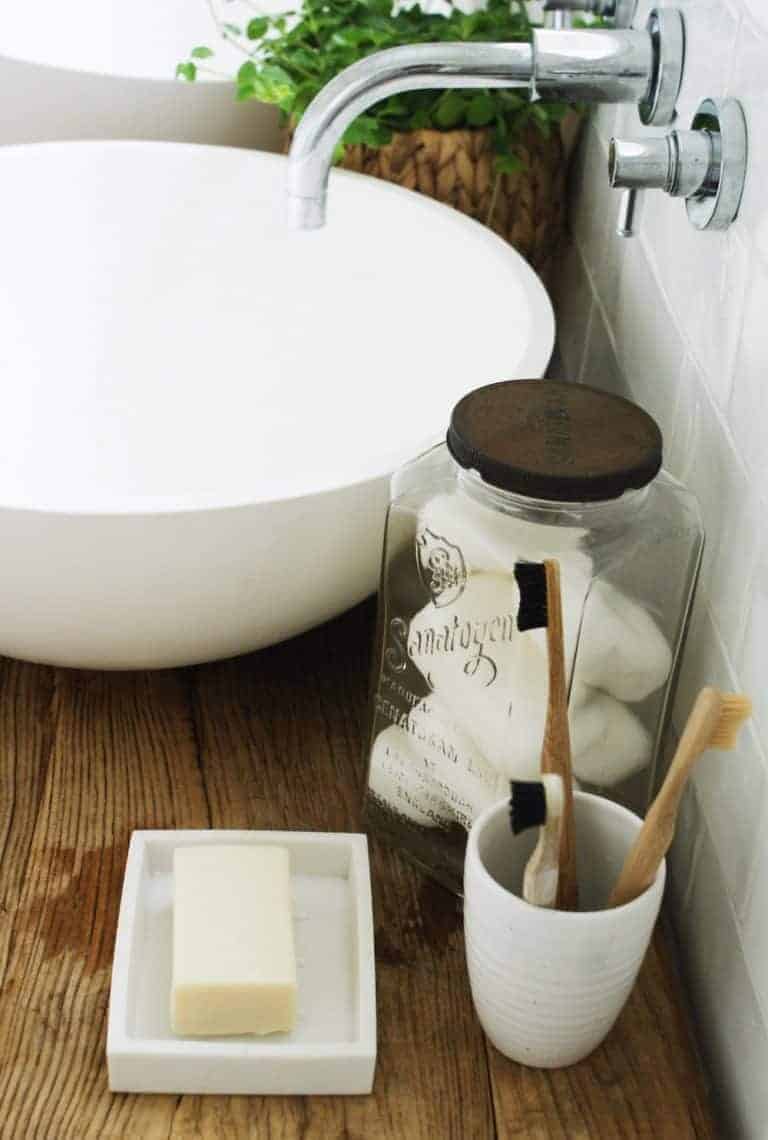 Plastic free zero waste shampoo
Plastic free zero waste beauty when it comes to shampoo is tricky. I've decided to give shampoo bars a try, as there is so little waste with them and I've heard good things. I spent a bit of time looking to see what's out there and these are the ones that appealed to me most.
I like the look of this rich-sounding coconut milk and shea shampoo from Wearth London
Acala shampoo bars are made in Wales using cold-pressed UK-grown sunflower oil, are biodegradable, plastic free and vegan. Packaged in recycled kraft paper, there are three formulas: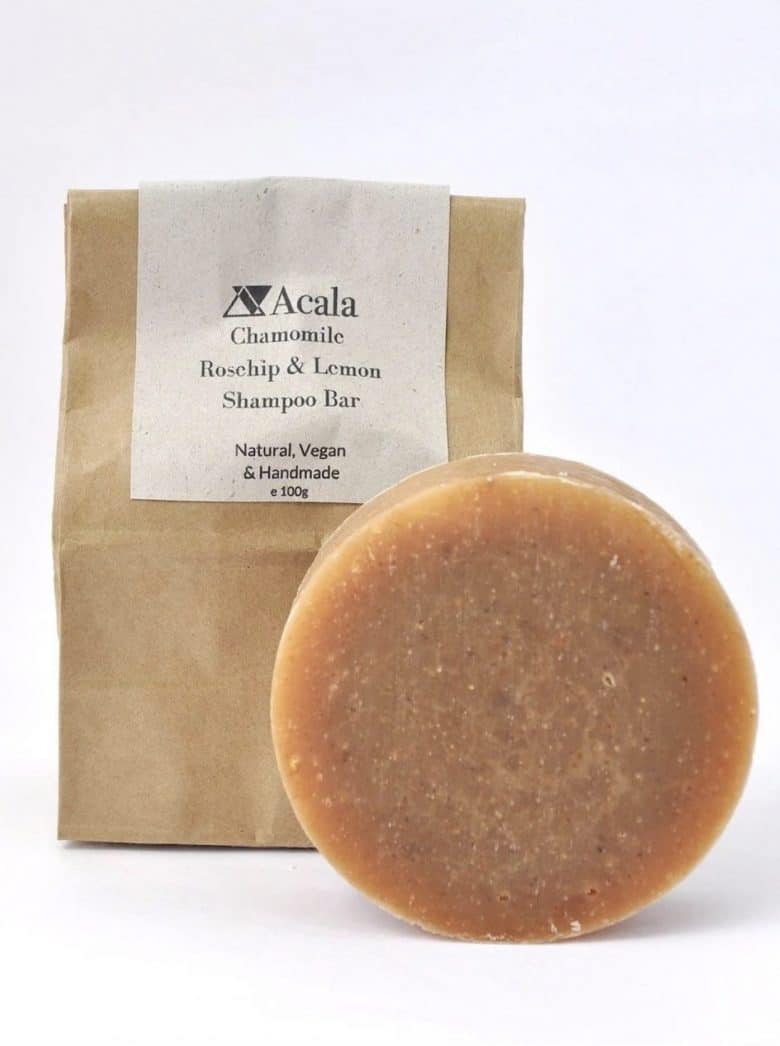 Nettle & Rosemary to leave hair soft and shiny
Green Tea, Peppermint & Eucalyptus for stimulating hair growth, boosting lustre and softening
Chamomile, Rosehip and Lemon to restore balance, nourish and calm the scalp and add shine to the hair
Plastic free bath and hand soap
Plastic free zero waste beauty definitely applies to natural soap packaged in recycled paper. I already love to use handmade soaps in the bath and shower and store them in this vintage Sanatogen vitamins glass jar with metal lid that I picked up at a car boot sale. I'm a lover of old jars. It's a bit of an obsession to be honest, but a handy one when it comes to plastic free and zero waste living! I use them for all manner of storage, including loose soaps in the bathroom.The stool is made from reclaimed old wood and I love the character and age of it. There's a joy to mixing modern with old, re-purposed finds isn't there?
The little Soap Company
My go-to hand and bath soap is made by Emma and the lovely folk at Little Soap Company – particularly love their heavenly Pure Rose Geranium organic soap.
I've been buying a few soaps at a time, but actually it makes a lot more sense to buy them in larger quantities. Little Soap Company offers free delivery on orders over £50 and a free soap of your choice on orders over £30. So, when my current soap supplies run out, I'm going to order enough to qualify for both (a dozen bars of soaps or more) and fill up my jars with natural, fragrant loveliness.
Milly & Sissy
This Make The Switch bathroom set by Milly & Sissy is a great idea for helping to move towards a more sustainable bathroom.
The set includes two 500ml refillable bottles (one amber glass for beside your sink and one blush aluminium for the shower) and two compostable sachets – one hand wash and one hair and body wash. The refill sachets simply need to be mixed with 500ml of water and both are made from 99% natural ingredients and free from allergens, palm oil, parabens and SLS.
You can also buy just the Shower Set or Hair & Body Wash Set or Kiwi & Cherry hand wash set
Another idea is to make your own soap from scratch – just how you like it. The Clovelly Soap Company offers a fab one-day introduction to soap making course and the Little Soap company also offers soap-making courses. Read our blog post about the wonderful day we spent learning how to make natural soap.
I do know a couple of people who loved these workshops so much that they were moved to set up their own soap making businesses! Maybe not the worst idea in the world, given the growing popularity of the good old simple bar of soap…
This is a heavenly duo of botanical hand wash and lotion duo in mycelium compostable packaging and endlessly recyclable aluminium bottles. You can also return your empties for free as part of the Wildsmith Return & Recycle scheme.
Read more about Wildsmith here: Wildsmith Skin botanical luxury skincare
Re-use and refill to go plastic free zero waste
I am also going to re-use some of the plastic bottles I already have by refilling them when they're empty. I'm thinking I could order bulk 5 litre quantities of shampoo, conditioner, body wash etc and decant into my existing bottles to cut down on waste. They are nice Aesop ones, so I'd be very happy to do that, as it does mean they get re-used before being recycled. They'll be re-filled with a different product, but that won't bother me, so I reckon they could last for ages like this.
The downside is that it will mean buying large (albeit recyclable) plastic containers – but I'm going to look into refilling these again once they're empty.
When it comes to multi-purpose natural soap, Dr Bronner's is hard to beat.
I've tried the lavender and Citrus Orange and love them both. They're available to buy in 1 gallon/ 3.8 litre bottles on Big Green Smile, are packaged in 100% post consumer recycled glass bottles and made using organic extra virgin coconut, olive oil, jojoba and hemp oils together with pure essential oils. I use them as hand wash, shower gel, and also use them to make multi-purpose household cleaning spray (click here for the recipe from Clean Green author Jen Chillingworth: eco friendly cleaning products & DIY tips)
Faith in Nature is a natural beauty company that uses 100% PET recycled plastic for all its packaging and you can also buy shampoo and conditioners, body wash, hand wash and hand lotion in huge 5-litre bottles on Big Green Smile. These can be refilled at these refill stations around the UK
Neal's Yard is another natural beauty brand that promises to use 100% recyclable plastic in its packaging and they do sell their shampoos and conditioners in larger 1 litre sizes which hold 5 times more than the 200ml bottles but use just under twice the amount of plastic. The plastic itself is post consumer recycled (PCR).
Also, if you return their glass or plastic blue bottles to a store for recycling, you get 10p off your next purchase for every glass bottle brought back. The blue glass bottles are really pretty and perfect for re-using or creative upcycling. Otherwise the blue glass can be recycled with brown glass bottles at your usual recycling facility and the plastic bottles are easily recycled.
I do love their Geranium & Orange hand wash that comes in a re-usable glass bottle. I keep the plastic pump tops and re-use them too.
Neal's Yard say they are working on being able to offer a refill service, but don't at the moment. Their bigger size shampoo is only 1 litre, so although an improvement, I think I'd rather go larger and re-fillable. It's also very expensive at just under £40 a litre.
The refill revolution
Refill and replenish services are popping up all the time, and many offer eco household cleaners, liquid shampoo and body washes, so the empty 5 litre containers could actually be useful for this.
Bower Collective offers a wide range of refills and Read more about Bower Collective here.
Buy Bower Collective Bath & Shower refills here
Bower Collective Haircare refills here
Bower Collective plastic free dental care here
Buy Bower Collective hand wash and hand care here
Local to me is Refill & Replenish in Hampshire who sell at my local markets, so I'll be trying them out next week. Find other refill initiatives around the country here or here
Banishing microbeads
In case you don't already know, microbeads are solid plastic particles so small that they are unable to be filtered by our sewage systems, but they cause devastating pollution to our oceans. Most commonly they are found in toothpastes, face wash, abrasive cleaners and more. Find out more about them here.
Choosing multi-purpose natural toiletries
Better than just making sure my beauty products are microbead free, I'm opting for simple, natural beauty products that are as good for you as they are the environment. Ideally ones that multi task so I'll need fewer products.
I loved MOA green balm cleansing ritual when I first discovered it a few years ago, so I'm going to order more. And because you use with a washable eco-friendly bamboo cloth, there's no need for cotton wool or wipes.
A gold winner at The Green Parent Natural Beauty awards, MOA Green Balm was described by one of the judges as 'The best cleanser I have literally ever used. It just works – magic!'
The magic ingredients are yarrow and tea tree. I love how versatile this natural balm is. Suitable for all skin types from oily teenage to mature and dry, use to effectively remove make-up, soothe and soften as well as to heal and repair skin irritations, bites, stings and even eczema. The packaging is recycled card and the pot glass with recyclable lid. It's definitely pretty enough to reuse though.
Another great alternative to cotton pads or wipes are reusable cleansing pads by Soap Daze from Wearth London. Hand crocheted in Devon and a zero waste alternative. If you're nifty with a crochet hook – probably really easy to make your own?
Making your own
Part of me thinks this is the sort of slow, simple craft that could be relaxing… But if I'm honest I can't see myself ever finding the time to sit down and crochet a cleansing pad. Life's too short, surely?
I am going to have a go at making more of my own beauty products though. I did love making this shea butter aromatherapy body moisturiser – find out how here: How to make Shea Body Butter Lotion with Liha
(an empty Green Balm pot would be perfect for this). Adding essential oils to pure carrier oils such as almond or sunflower also makes a wonderful natural homemade massage or body oil. Plastic free zero waste beauty made by your own two hands!
Plastic free zero waste beauty definitely applies to this multi-purpose beauty essential: Idan Oil by Liha Beauty. Made with natural cold-pressed coconut oil infused with a whole, fragrant tuberose flower, this can be used for everything from facial oil, hair conditioner, solid perfume and body moisturiser.
The glass bottle is so lovely, it's perfect for re-using for homemade massage/body oil afterwards.
Day, night and eye moisturiser, face mask, lip balm and nail cream in one
Naomi, founder of online shop These Two Hands loves this multi-purpose Argan Balm by Wild Sage & Co and says that because a little bit goes such a long way, one jar lasted her over six months.
Formulated with lavender, geranium and deeply nutritious argan, this is a day, night and eye moisturiser, face mask, lip balm and nail cream in one. It's also anti-inflammatory and healing as a remedy for bites, stings, sunburn and dry skin conditions. What more could you ask for from one lovely (plastic-free and zero waste) pot?
The Future Kept is a great online shop for finding products made with care for the environment. Love this Roseum universal wash for face and body by La Eva. It's formulated with gentle olive and coconut oils and made in Oxfordshire.
La Eva are working on being able to refill and return bottles of their products soon, so I've signed signed up to their newsletter to make sure I know when they do.
Why wipes should NEVER be flushed
Last year the Marine Conservation Society recorded over 14 wet wipes were found per 100 metres of coastline, a rise of 700% over the last decade. Shockingly, by April this year, over 4,500 wet wipes were found on one 154 square metre patch of foreshore.
Many wet wipes contain plastic and don't break down and lots of them get flushed down the loo. Because they don't break down, they clog up our pipes and sewers and this causes systems overflow and we get spills into our waterways and seas – meaning lots of other plastics get flushed into our environment too. I'd go further than just not flushing wipes and say that they have no place in our bathrooms any more.
Plastic-free zero waste tooth care
I've double-checked that my usual toothpaste doesn't contain microbeads (you can check here to see if yours does). But the tube itself is not currently recycled by my local council, so I've found a couple of alternatives.
The first is this natural English Peppermint toothpaste made by Georganics Zero-waste packaging: plastic-free jar, recyclable & biodegradable. Similar to Spearmint, this formula packs a punch with a much stronger minty flavour. Studies have shown Peppermint oil to be extremely effective at killing anaerobic bacteria, left untreated this bacteria can cause gum disease. The fluoride free and SLS free formulation is an ideal replacement to your conventional toothpaste.
Georganics also make mouthwash tablets and natural dental floss.
The Humble Co makes a natural toothpaste that has been developed by dentists and contains fluoride for its benefits in fighting tooth decay (many natural toothpastes don't). The tubes are made from recycled materials. The Humble Co also makes bamboo toothbrushes with nylon-6 bristles which will degrade over time (its carbon footprint is comparable to wool).
I'm already a convert to bamboo toothbrushes. They are now pretty widely available and are a great eco-friendly option, as bamboo is the fastest growing plant on earth, incredibly abundant and re-generates itself naturally. It will also compost down after use. The only downside to these brushes is that you have to remove the bristles with pliers if you want to compost the bamboo part. The bristles tend to be nylon, which is free from BPA and recyclable.
City to Sea
Plastic toothbrushes make their way to our oceans in monstrously large numbers. For Natalie Fee, founder of plastic pollution campaign group City To Sea, seeing the environmental impact of plastic toothbrushes on wildlife first hand was enough to encourage a full-on switch to bamboo. I am going to be chatting with Natalie over on the blog soon, so watch this space.
In the meantime, here's her inspirational TED talk all about plastic waste and what it's doing to our oceans and how she managed to get our supermarkets to move from plastic to cardboard cotton buds.
Why so confusing?
Looking into the packaging of my usual toothpaste led me to find out more about some of the symbols used around recycling. There is a circular symbol with black and white arrows (known as the green dot, apparently) on my toothpaste tube that I felt should mean it was recyclable in some way. Wrong. It just means that the company who makes it has contributed financially to a plastic recovery and recycling scheme that runs in some European Countries (not the UK). It has nothing whatsoever to do with the packaging or item it's printed on. Which smacks of trickery to me. Toothpaste tubes are generally made of plastic-coated aluminium that can't be recycled.
There are other symbols like this too, I discover. In case it was just me being a bit dense about the green dot symbol in particular, I've asked a few of my friends and none of them knew what it meant either. All of them thought it meant there was some link with recyclability.
Plastic free zero waste must be made easier
The more I look into this, the more I feel that it must be much, much simpler to recycle what we use. Labelling needs to be more transparent. Recycling needs to be so simple that everyone does it. And non-recyclable plastic just has to stop, surely? Now I'm really looking out for it, I'm shocked at how much of it there is. Shop in any supermarket for fruit, veg and salad, even organic varieties, and it's almost impossible to avoid packaging without the 'not currently recycled' label. I'm just not going to support this any more, no matter how inconvenient.
Mixed plastics minefield
Mixed plastics is another minefield. My local council – East Hampshire – offers kerbside recycling for recyclable plastics number 1 and 2. They don't collect any of the other numbers, and a browse of their website revealed that they don't recycle it because the machinery they'd need to be able to do this is too expensive. So I contacted them to ask if they had any plans to change this, and where I might be able to recycle mixed plastics locally in the meantime. I was directed to the same page on their website explaining why they don't collect it.
Next, I searched online to try and find collection points locally, but got nowhere. So I drove to my local recycling facility as well as nearest Waitrose and Tesco car parks, but no luck there either.
I happened to be driving past my nearest Sainsbury's (about 6 miles away) so I thought I'd check – and got very excited to discover that they had three mixed plastic recycling bins! Finally I could empty the bag of mixed plastic recycling I'd been carting around in my boot. It shouldn't be this hard, should it?
Plastic-free zero waste deodorant
Deodorant is another key player in the plastic waste problem. So I've been looking for plastic-free natural options.
AKT deodorant is my own go-to choice and also number 1 eco-friendly deodorant pick of Vogue magazine. Read more about when I tried and tested it here: Akt deodorant balm
BUY AKT PLASTIC FREE NATURAL DEODORANT NOW
I also like the sound of this Lavender & Bergamot deodorant stick by Your Nature from Wearth. Hand-crafted in Bristol using natural essential oils it's plastic free (including delivery packaging), so a great zero waste alternative! Other formulations available include Lemongrass & Bergamot, Unscented, Sandalwood & Bergamot, Cedarwood & Grapeffruit, Lemon & May Chang and Orange & Patchouli.
BUY YOUR NATURE DEODORANT FROM WEARTH NOW
Finding plastic free zero waste loo roll
I do already buy recycled paper loo roll but I wish that it didn't come wrapped in single-use plastic. The irony of this is really quite staggering when you think about it.
Who Gives a Crap is a way of buying 100% forest friendly bamboo loo roll, in bulk and without the plastic. Better still, a share of profits made goes to improve sanitation for poorer countries. Check out Who Gives a Crap here. I've just placed my first bulk order, so I can share a discount code with you to save £5 on your first order (if over £36).
Other eco loo roll brands worth checking out are Green Cane who sell a box of Naked toilet paper made from recycled sugar cane and fast-renewable bamboo and free from all plastics. Ecoleaf toilet paper is made from 100% recycled paper and the packaging is compostable.
Step 2 – find a voice and ask for change
I agree wholeheartedly with the quote you hear a lot: 'Be the change you wish to see in the world'.
But I do feel a responsibility to do more than just putting my own house in order when it comes to plastic free zero waste beauty – and hoping for the best beyond that. I want to find other ways to help sort out the mess we've made.
The quote itself is often attributed to Gandhi. But a little research reveals that there is no reliable documentary evidence for the quotation. According to the New York Times, the closest verifiable remark we have from Gandhi is this: "If we could change ourselves, the tendencies in the world would also change. As a man changes his own nature, so does the attitude of the world change towards him. We need not wait to see what others do."
In fact, for Gandhi, the struggle to bring about a better world involved not only stringent self-denial and rigorous adherence to the philosophy of nonviolence; it also involved a steady awareness that one person, alone, can't change anything, an awareness that unjust authority can be overturned only by great numbers of people working together with discipline and persistence.
The Craftivist Collective
Thinking about this brought to mind the lovely Sarah Corbett, founder of The Craftivist Collective, dedicated to improving the world through gentle protest. I shared an inspiring coffee with Sarah earlier in the year (read more about it here) and left feeling sure that she's really on to something.
This podcast of Sarah in conversation with Charlie Moores of Lush is a great introduction to the concept of Craftivism – essentially a gentle protest approach to activism through craft, and aims to change the world with deliberate, thoughtful actions that provoke reflection and respectful conversation.
If, like me, you're an introvert by nature, and maybe of a crafty persuasion, why don't you check out the concept of Craftivism and see if it feels right for you?
Sarah's Footprint kit is a great starting point and I love this little film where she explains why. Craftivism could be a valuable way to explore you feelings and ideas for promoting plastic free zero waste beauty…?
I'm mulling over ideas to get together with creatives wanting to find a collective voice for change. If you think you might like to be involved, do let me know! I'll keep you posted.
Other ways to get involved
Plastic free zero waste beauty and bathroom – find a voice
Turning the Tide on Plastic
I'd love to hear your ideas too and will add them in here.
Guardian and Observer journalist and TV presenter Lucy Siegle's book Turning the Tide on Plastic is an impassioned and highly practical account of how to reduce our plastic consumption. Lucy has been writing and campaigning on eco issues including plastic and waste for more than a decade. In her book, she shares practical ways for us to make our planet clean again. If just 12 of us follow her plan, we could ditch 15,000 single items of plastic a year.
Now please don't forget: Turning the Tide on Plastic, my new book is out 26th July. If you'd like to pre-order, well that's just fine https://t.co/RcssjjXAm5 And here's the movie highlights for good measure….LET'S DO THIS!!!! @TrapezeBooks #TurningTheTideOnPlastic pic.twitter.com/3M6v5sf5Nn

— lucy siegle (@lucysiegle) June 12, 2018
City to Sea
Support the work of City to Sea (instrumental in halting the sale of plastic cotton buds) with regular or one-off donations
Friends of the Earth
Sign the Friends of the Earth petition to Stop Choking our Oceans
Marine Conservation Society
Volunteer to help with a Beach Clean. There are regular cleans organised by the Marine Conservation Society. Find a Beach Clean near you Or, why not organise your own or get involved with #2minutebeachclean and share your own beach clean finds with the #2minutebeachclean growing community via the app
Join the Marine Conservation Society to help them campaign and lobby for changes including a ban on single use plastic. At the moment you can join and get 6 months membership free.
Albatross
Host a screening of Albatross to help raise awareness and voluntary donations (you can donate to Albatross or to any cause of your choice)
Plastics in Action
Plastics in Action is an initiative by the BBC in collaboration with the Open University. Sign up to reduce your plastic footprint in 5 key areas or create your own plastic action.
Open University
The Open University Open Learn website has lots of articles, courses and videos on the subject – knowledge is, as they say, power
Petition Parliament
Start your own petition asking for change to the law or government policy around plastic waste. After 10,000 signatures, petitions get a response from the government. After 100,000 signatures, petitions are considered for debate in Parliament. Keep me posted about any petitions you do set up so I can support you
INFORMATION
---
This article contains affiliate links, which means we may earn a small commission if a reader clicks through and makes a purchase. All our blog posts are independent and in no way influenced by any advertiser or commercial initiative. By clicking on an affiliate link, you accept that third-party cookies will be set.
Wearth London is listed in the From Britain with Love directory here >>
The Future Kept is listed in the From Britain with Love directory here >>
Aerende is listed in the From Britain with Love directory here >>
Lewes Map Store is listed in the From Britain with Love directory here >>
MOA is listed in the From Britain with Love directory here >>
These Two Hands is listed in the From Britain with Love directory here >>
Little Soap Company is listed in the From Britain with Love directory here >>
Clovelly Soap Company is listed in the From Britain with Love directory here >>
Craftivist Collective is listed in the From Britain with Love directory here >>
Are you a maker or creative course provider? Like to benefit from joining our supportive community? We'd love to hear from you. Check out the packages we offer on our Join Us page and get more details from our Information pack here
---
A PIN TO SAVE TO PINTEREST