eco friendly cleaning products
Since writing my Plastic free zero waste beauty & bathroom ideas blog post last year I have been looking into ways of rolling this out across everyday life. A lot has happened since my last post – not least the fact that it's been made official that we're facing a full-scale Climate Emergency. And yet progress feels much, much too slow don't you think? As if that wasn't enough, we're also facing a worldwide battle against the Covid pandemic.
It's easy to feel somewhat defeated and hopeless in the face of such an enormous problem isn't it?
For me, the key to dealing with climate emergency overwhelm is to set achievable goals. To break it down into daily steps forward. And to have faith that, if enough of us feel the same way and join together to share our ideas and support, we really can make a world of difference.
So that's what I'm going to do – focus on separate, digestible, areas and share ideas and expert tips in each. I'm starting with eco friendly cleaning products as it's a quick and easy way to make worthwhile changes. Changes that will benefit our environment as well as our health.
Given that many of us are spending a lot more time at home, it feels good to nurture that space. Find the simple pleasures where we can. I don't know about you, but doing a proper Spring clean is really good for my head. So, that's what I've been doing. But I didn't want to do it at the expense of our planet, or my family's health.
Many of the vast array of cleaning products that fill our supermarket shelves are not great for our health or the environment. From plastic sponges that end up in landfill to synthetic fragrances that contribute to indoor air pollution, there are so many products we could easily do without. So many better choices to be made – but I quickly found that it's a bit of a minefield.
I wanted to find someone who has really done their research who I could ask for expert tips and advice. Someone really passionate about the subject. When I came across Jen Chillingsworth, I knew I'd found exactly the right person.
Jen is the author of 2 fantastic books: Clean Green and Live Green and has a beautiful slow lifestyle blog Little Birdie . So I was delighted when she agreed to share a few of her favourite natural and eco friendly cleaning products, as well as her tried-and-tested tips and DIY ideas.
Jen is a freelance writer and photographer based in Leeds with a deep passion for protecting the environment. It was being hospitalised after inhaling toxic fumes from a bleach based cleaner several years ago that changed everything.
'I'd been scouring the tile grout in the bathroom with it and although I'd ventilated the room, it clearly wasn't enough and I suffered the consequences,' says Jen. 'My face, arms and hands were swollen to almost twice their normal size and I felt awful. Thankfully I was well looked after by our brilliant NHS staff and I learned not to do it again. But it did make me think more about what products I use in my home. I'd been suffering from headaches and allergic reactions to common chemicals for years.
'I chose to switch to more environmentally friendly versions of multi-surface cleaners, washing powders and bleach that were readily available at the supermarket and I felt that I was doing what I could to make my home more green and free from toxins.
'Yet if you dig a little deeper into these eco brands sadly you'll discover they are not all that they claim to be as several are owned by large chemical companies with dubious ethical practices (read the article from the Ethical Consumer here). I don't really want to hand over any more cash to these kind of businesses so instead I've chosen to find alternatives as well as making my own cleaning products.'
There is a staggering amount of information out there when you start to look into natural cleaning alternatives. Online there are recipes galore for glass cleaners, stain removers, washing powders and kitchen surfaces and many of them talk about using distilled water, reverse osmosis water, sodium borate, glycerine and distilled vinegar.
'My head was spinning trying to work it all out,' Jen remembers. 'And when I started to make a list of everything I needed to buy I almost quit before I began. I persevered though and opted to start simple, breaking down what I really wanted or needed to make and eventually I discovered what worked for my home.'
I'm so grateful to Jen for sharing the benefit of her experience – and hard work – with us here.
Eco friendly cleaning products
Jen's Clean Green book is an invaluable source of information for anyone looking to make their cleaning cupboard more sustainable and their home environment more naturally healthy.
'The Eco Household chapter in Live Green was one of my favourites to write,' says Jen. 'So many people contacted me to say it was the one they felt had the most impact in their daily lives. If you've already made those changes, then Clean Green will be the next step for you in making your home completely toxin free and more sustainable. If you are just dipping your toe into green cleaning, then the book can help you with that too as I suggest lots of ways to help make the transition.'
Jen breaks down every ingredient she uses and explains its purpose as a cleaner as well as how sustainable it really is. From laundry liquid and stain removers to mould prevention and toilet cleaners, Jen has covered it all. There are lots of tips too on how to re-use and re-purpose what you already have, rather than wasting it and just buying new.
Make your own eco friendly cleaning products
The first of these DIY eco friendly cleaning recipes from Jen is the lavender cream cleaner.
'It's one of my favourite cleaning recipes that I use in my home,' she says. 'It's similar to the cream cleaner you would buy in a bottle from the supermarket but without any hidden nasties. It is ideal for scrubbing bathroom sinks and bathtubs as well as in the kitchen – where it is good to use on sinks and draining boards. This cream cleaner is brilliant at removing soap scum and it's suitable to use on ceramic, plastic and stainless steel sinks. It's made from three ingredients; bicarbonate of soda, used for de-odorizing and gentle scouring, liquid castile soap to lift dirt and act as a degreaser along with a few dried lavender flowers to add a gorgeous natural fragrance. Alternatively, you can miss out the lavender flowers and add a few drops of lavender essential oil instead.
Lavender cream cleaner
You will need:
Add 100 g bicarbonate of soda (baking soda) to a mixing bowl
Pour the liquid castile soap into the bowl until the bicarbonate of soda is covered over.
There are no precise measurements for the liquid soap but you are aiming for a paste like consistency
Stir the mixture until combined. If the mixture is very runny, add a little more bicarbonate. If it's too clumpy, add a little more castile soap.
Add a few drops of lavender essential oil if using or alternatively, add the dried lavender flowers.
Stir to combine.
Pour into a clean glass storage jar.
Note – the mixture will split if left too long. Don't worry, just stir to combine again. This is a fresh cleaning product so it is best to use it up straight away.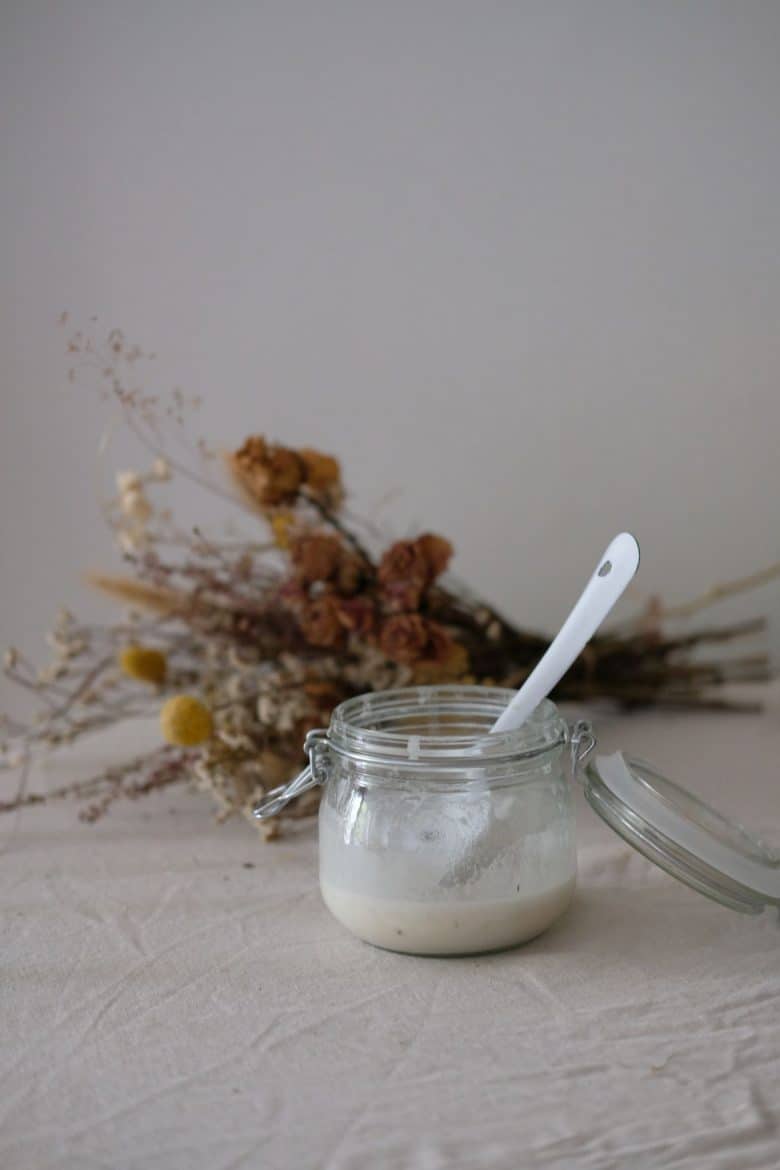 How to use
Apply a little of the cream cleaner to a reusable sponge, cotton cloth or rag
Using a circular motion, rub the cleaner into the sink or bathtub until the area is completely covered
Rinse away with warm water.
Vinegar spray glass cleaner
You will need:
1 litre glass or plastic bottle and trigger spray (mine came from Baldwins here)
300ml tap water
How to make it:
Add the vinegar to the bottle then top up with the water.
Shake to combine.
Add the essential oils if you are using.
Spray directly onto windows or mirrors and then wipe down with a damp cloth or a squeegee. No need to rinse, instead go over where you've cleaned with a dry cloth. I use this on my french windows and they are gleaming. I used to wash them with warm soapy water and then rinse them but always found them streaky. This leaves mine completely streak-free and it's far quicker than getting out a bucket and sponge.
I also use undiluted vinegar in a clean spray bottle as a natural weed killer. Spray to saturate weeds on a dry day and repeat several times to kill the weed. Best used on patios or paths as vinegar can damage your lawn. Pet friendly and organic.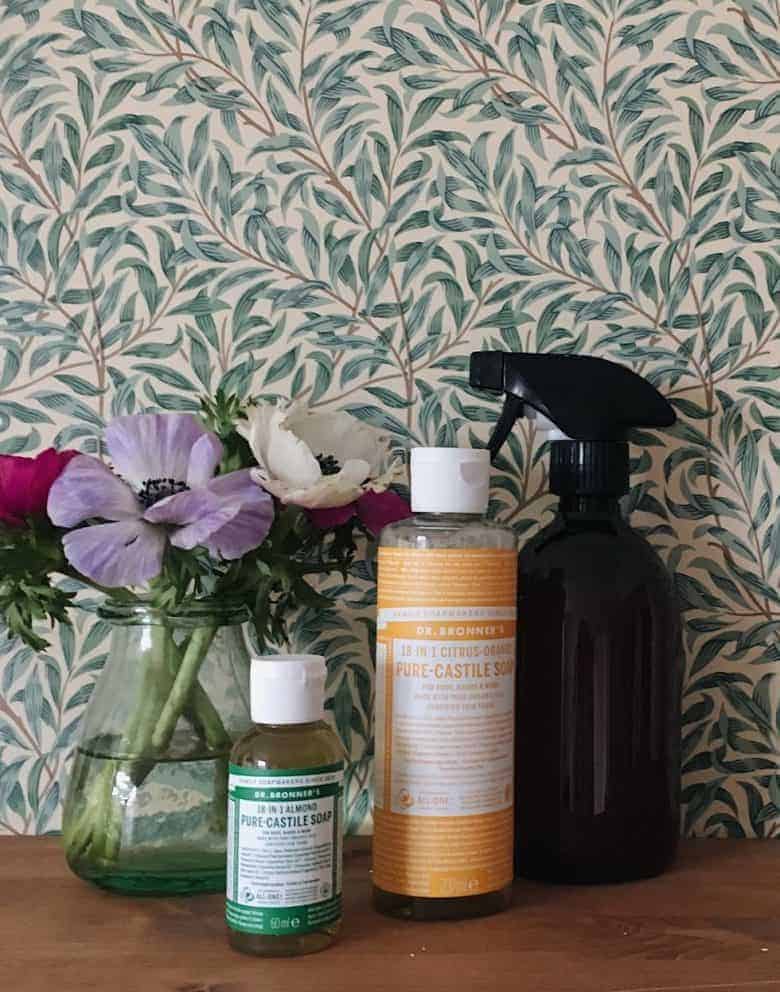 All purpose cleaner
You will need:
500 ml size bottle and spray nozzle (ideally reuse one you already have).
Tap water
25 ml Castile Soap (I like Dr Bronner's Citrus for this but you can use any or unscented).
How to make it:
Fill up the bottle with tap water
Add the 25 ml castile soap (after the water otherwise the mixture will go all foamy)
How to use:
Spray surface, wipe clean. Job done.
Jen's Eco friendly cleaning cupboard essentials
I asked Jen to share her favourite natural cleaning essentials – the products she uses in her own home. So here they are:
Washing up liquid
My favourite washing up liquid is from Bio-D. I buy the 5 ltr bottle size in Pink Grapefruit from Big Green Smile. It washes the dishes really well and smells amazing. I keep the large bottle in a storage cupboard and fill a glass bottle with pump dispenser which is next to the sink. I've found this 5 ltr bottle lasts us around 6 months and we are washing the dishes 3 to 4 times a day. We don't have a dishwasher.
Washing up brushes
I use Redecker brushes for all my washing up. The handles are made of FSC beechwood, the bristles from natural plant fibres. I use the small pot brush for tough stains on pans or dishes and I use the longer handled dish brush for everything else. The dish washing brush has handy replaceable heads and once it's come to the end of it's lifespan it can be added to the compost heap. I also have a long handled flask brush for our reusable water bottles.
Stain removal
For a natural way to remove stains I use castile soap. For small stains on shirts or t-shirts I use the plain bar from All Natural Soaps (they also have written a really great piece on testing out the bar soap on fabric). For tougher stains, I find the Dr Bronner's Castile Liquid Soap works best. I use it undiluted on oil or grease and it works amazingly well at getting mildew out of my shower curtain. Simply pour a little undiluted soap on the stain, rub and leave for about 20 minutes, before washing as normal.
Multi surface cleaner
I make my own from castile soap and water. I use Dr Bronner's Liquid Citrus Soap for this – see my recipe above
Oven cleaner
For this awful task I've found nothing works better than some bicarbonate of soda (baking soda). I simply sprinkle a small amount of the Bicarb onto the floor of the oven and then spray a few drops of tap water on the top. Leave for 5 to 10 minutes (depending on how dirty the oven is!) and then wipe off with a damp cloth. I use DriPak bicarbonate of soda that I buy in a local hardware store but you can also find it at Big Green Smile.
Bathroom cleaner
For my sink, toilet seat/lid, bath and shower, I use a homemade vinegar spray – see my recipe above. I'm currently using up the one I made over Christmas which was flavoured with oranges, lemons and pine needles. The trick with the vinegar mix is to leave it to infuse for weeks rather than making it up fresh and using it immediately. This helps to lessen the smell of the vinegar, making it much more pleasant to work with.
Bicarbonate of Soda (baking soda)
Liquid Castile soap Dr Bronner liquid castille soap in Unscented, Citrus or Lavender
Organic essential oils – Jen's favourites are from:
I hope you have found some ideas and tips that you feel inspired to try in your home. Happy (eco-friendly) cleaning!
INFORMATION
---
This article contains affiliate links, which means we may earn a small commission if a reader clicks through and makes a purchase. All our blog posts are independent and in no way influenced by any advertiser or commercial initiative. By clicking on an affiliate link, you accept that third-party cookies will be set.
Discover more slow and sustainable living inspiration on Jen's blog Little Birdie
Jen's book Clean Green is available to buy here >>
Are you a maker, grower or creative course provider? Like to list with us and benefit from joining our supportive community? We'd love to hear from you. Check out the packages we offer on our Join Us page and get in touch…
---
A PIN TO SAVE TO PINTEREST
If you've enjoyed discovering more about eco friendly cleaning it would be great if you could share the love. All you have to do is hover over the image below until you see the Pinterest button appear. Then share it to your boards. Thank you! X