How to make rose petal jam
If you've never tried making your own homemade jam before, you'll find that rose petal jam is fairly simple to make when the roses are blooming. I have also shared my favourite rose petal jams to buy at the end of the post. Just click here if you'd like to jump to the end of this post and shop for our favourite Rose Petal Jellies and jams. Keep reading if you would like to make your own with our simple tried-and-tested recipe (kindly shared with us by Wares of Knutsford – our favourite source of everything to do with jam making and preserving.)
Nothing is as quintessentially British as the rose. Timeless, elegant and fragrant, they're widely grown in gardens across the nation. But you may be surprised to discover that roses have also been used in the culinary arts for many years. Rose petals can be used to make deliciously fragrant jellies, syrups and jams that will remind you of summer whenever you open a jar.
English Rose Petal Jam Recipe
Ingredients:
500g of fresh rose petals
500g of caster sugar
1 litre of water
juice of 2 lemons
Choose your rose petals with care, discarding any dead or discoloured areas. Ideally you should try to collect your petals from the most fragrant roses you can find, preferably when they have become full and 'blousy'.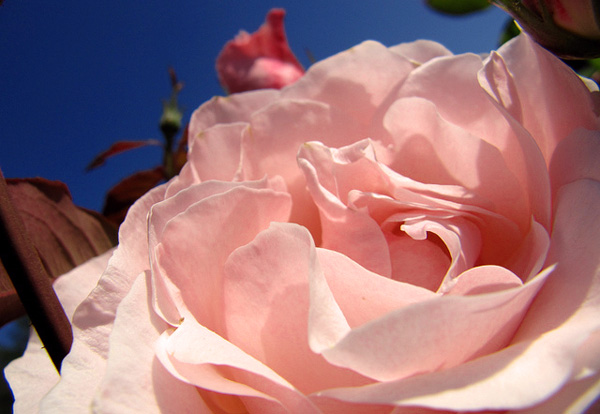 The colour of the petals will determine the colour of your jam, so choose from a single variety of rose if you wish to create a specific colour. Make sure your roses are free from pesticides and chemicals and be sure to wash the petals thoroughly to remove any dirt or tiny insects.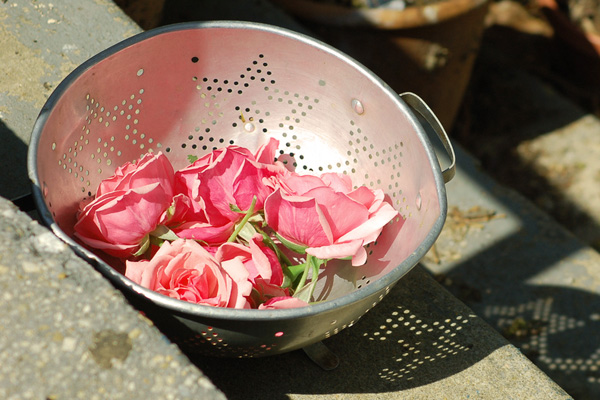 Place the rose petals in a bowl and carefully sprinkle a little of the sugar over them, taking care to cover each petal. Use your fingers to gently bruise the petals, blending them together with the sugar. Then cover the bowl with cling film and place in a refrigerator overnight or for a few hours to allow the scent of the rose petals to infuse into the sugar.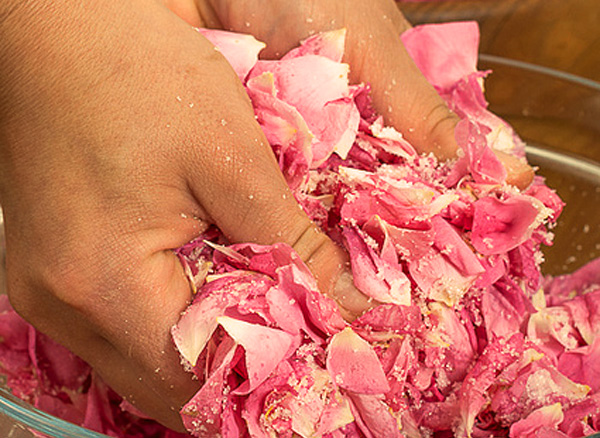 Place the remainder of the sugar into a saucepan with the water and lemon juice and heat the contents gently, stirring all the time. Before the mixture reaches boiling point, add the rose petal and sugar mixture and keep stirring while keeping the liquid to a steady simmer for around 20 minutes. Now bring the saucepan to a good rolling boil and keep boiling for around 5 minutes or so, until the mixture thickens.
To test if the jam is ready, do the 'set test'… drop a spoonful of the mixture onto a chilled plate and if keeps its shape the jam is ready. Pour the mixture into clean sterilised jars and allow to cool.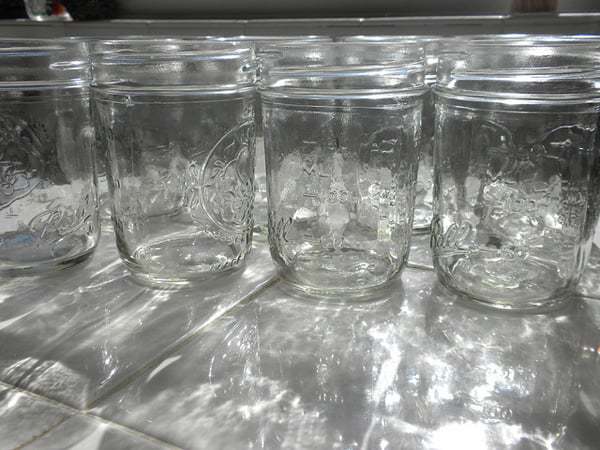 It is very important to sterilise your jars properly to prevent bacteria from forming in the jam, particularly if you don't plan to use all your jam up quickly. You can sterilise your jars by filling them with boiling water and allowing them to stand for a few minutes, or by placing them in a warm oven for a few minutes. Some people run them through a hot dishwasher cycle to achieve the same result.
Rose petal jam is delicious when served with bread, toast, scones, muffins and teacakes, adding a fragrant touch of summer sunshine to any afternoon tea. Some people like to use rose petal jam instead of sugar in their tea or coffee, or add it to homemade biscuits, cakes and pastries for that extra wow factor. It can also be used instead of redcurrant or cranberry sauce in savoury dishes such as soups or stews, bringing a unique fragrance to your cooking.
Best Rose Petal Jams to Buy
Jars of rose petal jam make wonderful gifts for foodie friends and homemade preserves are always popular presents to receive. Make your rose petal jam look as good as it tastes by presenting it in pretty jars with beautiful hand-written labels. Take a look at the range of preserving jars and labels at Wares of Knutsford for some eye-catching presentation ideas… then wait for the compliments to come rolling in!
Using rose petals from a single garden in Oxfordshire, this iconic jelly from Fortnum's is summer in a jar. The petals are picked in the evening when they are at their most fragrant and transformed the next morning to jelly. Works beautifully added to champagne too… Delivery options include named day, next day, standard and international. BUY ROSE PETAL JELLY FROM FORTNUM & MASON NOW >>
Cartwright & Butler sells a delicious Rose Petals Jelly available from The Ethical Superstore here >>
Made with freshly picked rose petals in the UK, this artisan jam arrives in a kilner-style jar that you can use over and over.
Notable mentions: Spanish Artisanal Extra rose petals jam made on small family farms; French Confit de Petales de Roses made by L'Epicurien, founded by a Master Jam Maker with petals grown on their own rose bushes.
INFORMATION
A pin to save to Pinterest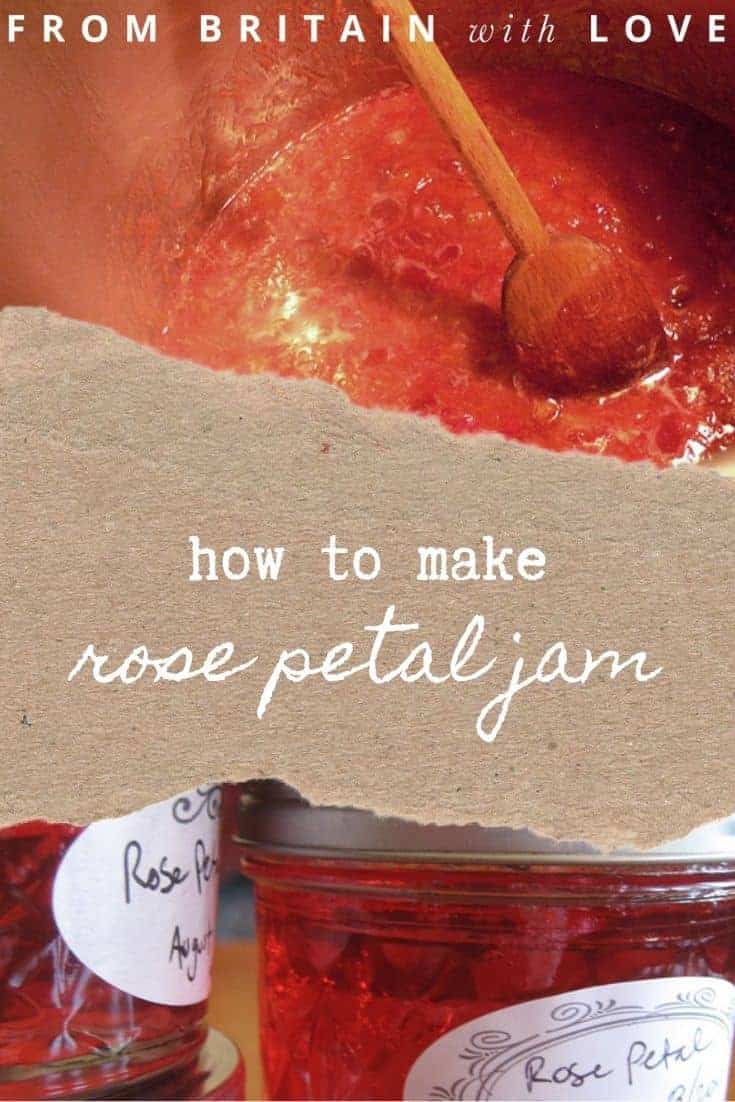 Photo credits: minato, not francois, carly & art, joanna hard, donkey cart, crafty kitchen, no spuds, homemadetrade, all flickr.
This article contains affiliate links, which means we may earn a small commission if a reader clicks through and makes a purchase. All our blog posts are independent and in no way influenced by any advertiser or commercial initiative. By clicking on an affiliate link, you accept that third-party cookies will be set.