skirt sewing patterns to make in minutes
Join Nicky Sherwood as she learns how to sew a super quick and easy skirt – with simple ribbon tie waist at Rowan Tree Studio (listed in our directory here) It literally can be made in minutes!
Housed in a converted stone barn, the bright and airy studio Rowan Tree Studio space is filled with fabrics, trims and a collection of vintage sewing machines – a crafter's treasure trove – making it impossible not to feel inspired as soon as you walk through the door.
Sarah keeps course numbers small to ensure personal attention, and my fellow dressmaking student was another mum of small children so the three of us instantly hit it off.
Our projects for the two days were to be a simple skirt, a pair of pyjama bottoms, and finally a shift dress. First up was a simple cotton skirt with ribbon tied waist where Sarah demonstrated that it is possible to create a stylish and wearable garment using a very simple pattern and basic sewing skills. Once you've mastered how to sew a skirt this way, it's a technique you can apply to all sorts of different fabrics and looks.
how to sew a skirt with simple ribbon tie waist
Having measured ourselves, Sarah showed us how to create a pattern and cut out the fabric using a rotary cutter (a revelation in itself – I will never use scissors again!). We allowed our waist measurements plus some extra, depending on how gathered we wanted our finished skirts to be.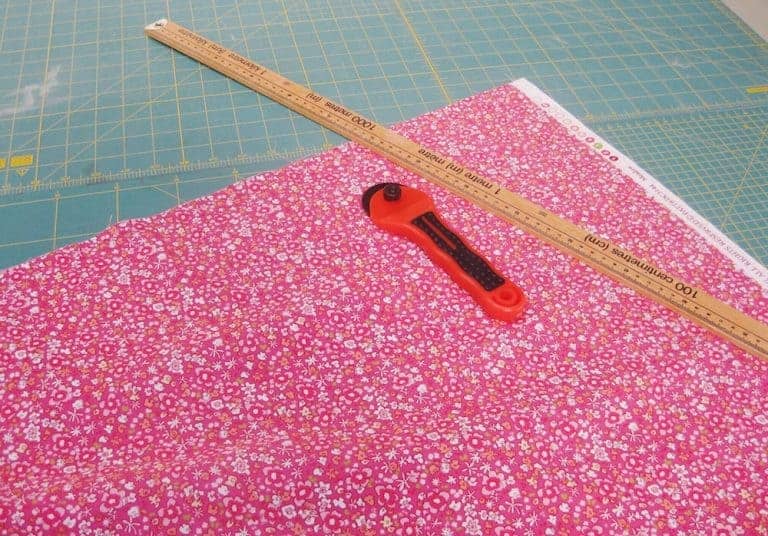 First off, is sewing the fabric into a tube shape (making sure it fits over your hips before you do) with just a simple seam. Then fold the top over to create a drawstring waistline, and thread through a contrasting satin ribbon for a soft and comfortable fit.
Last stage is to sew the hem to the length you want. It really couldn't be easier!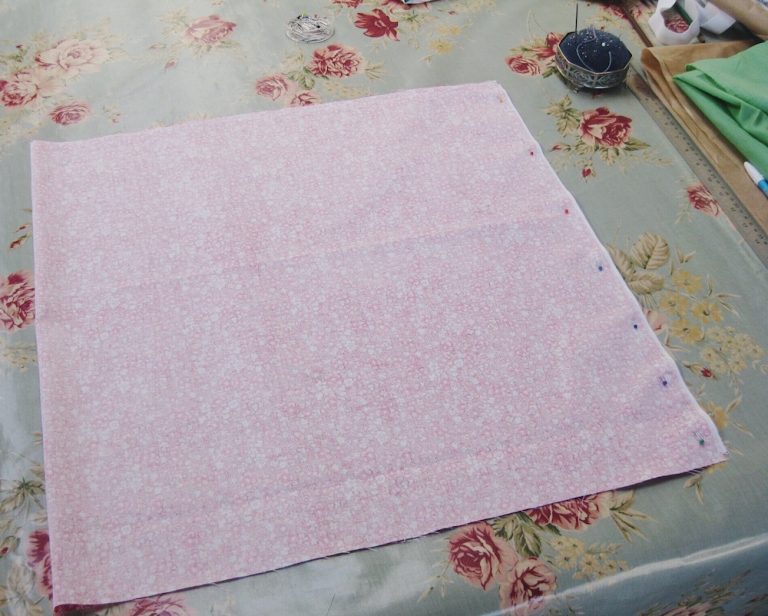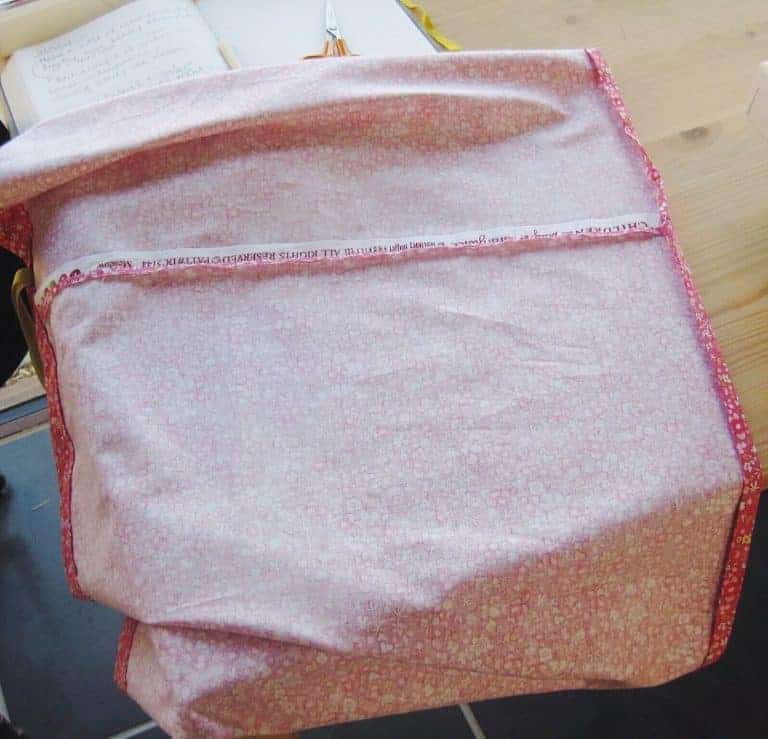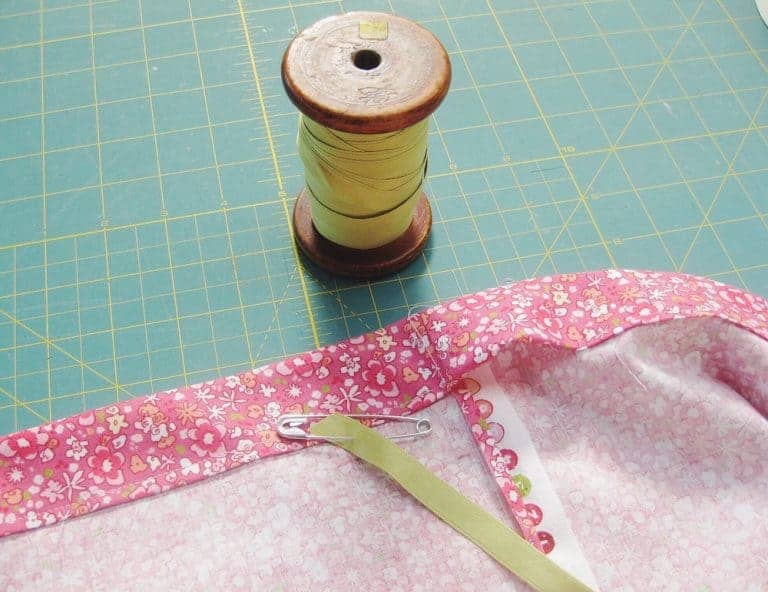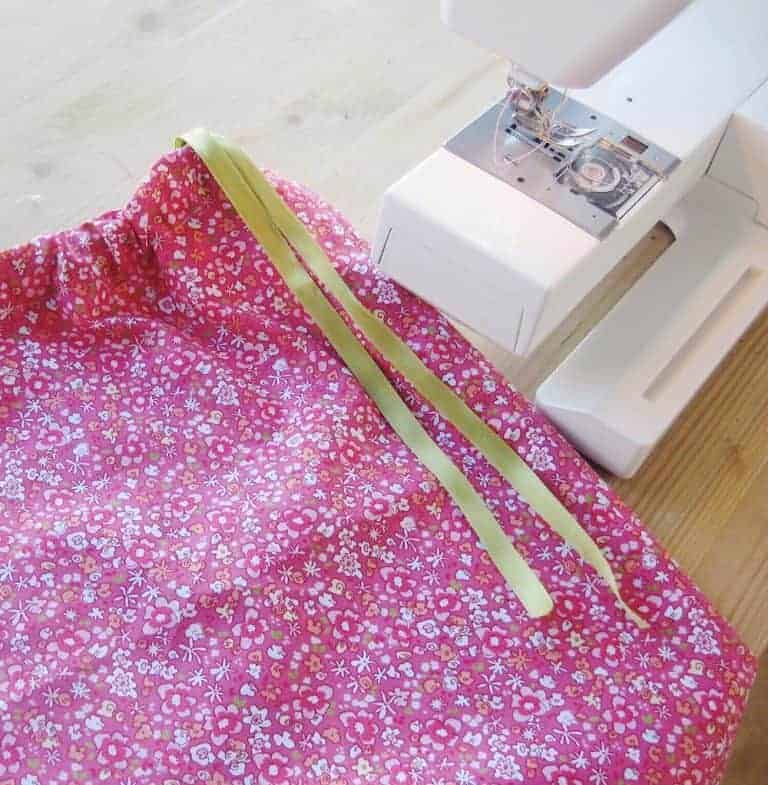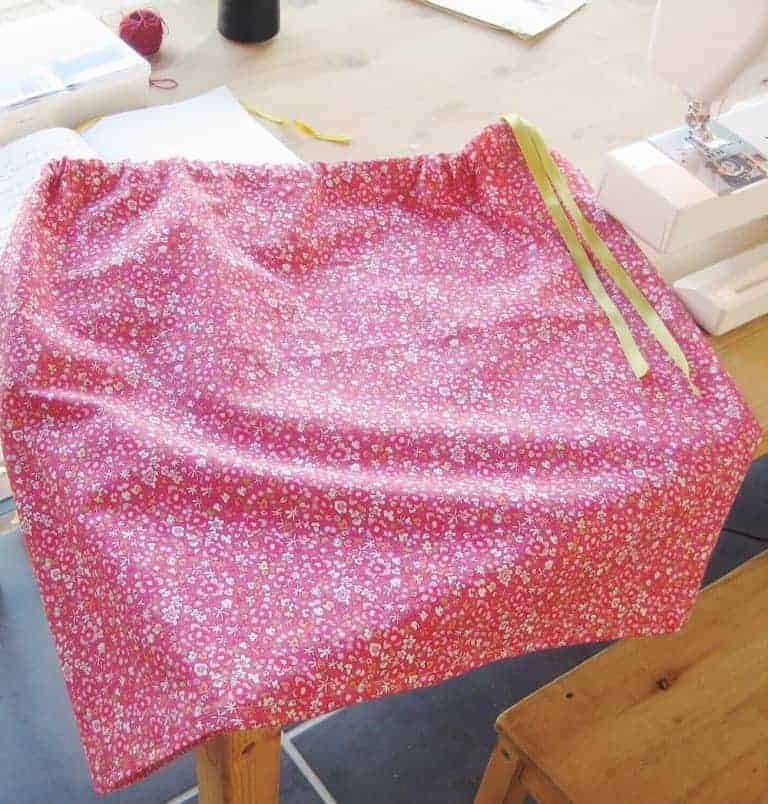 Some more skirt sewing patterns to inspire
The Assembly Line skirt sewing patterns
A great resource I wanted to share with you is The Assembly Line. This three pleat skirt pattern is available as a paper pattern here or if you prefer, as a digital pattern here
Buy Tulip Skirt sewing pattern by The Assembly Line here
Vanessa Pouzet
Another great place for inspiration is Vanessa Pouzet Love this very french and chic midi skirt: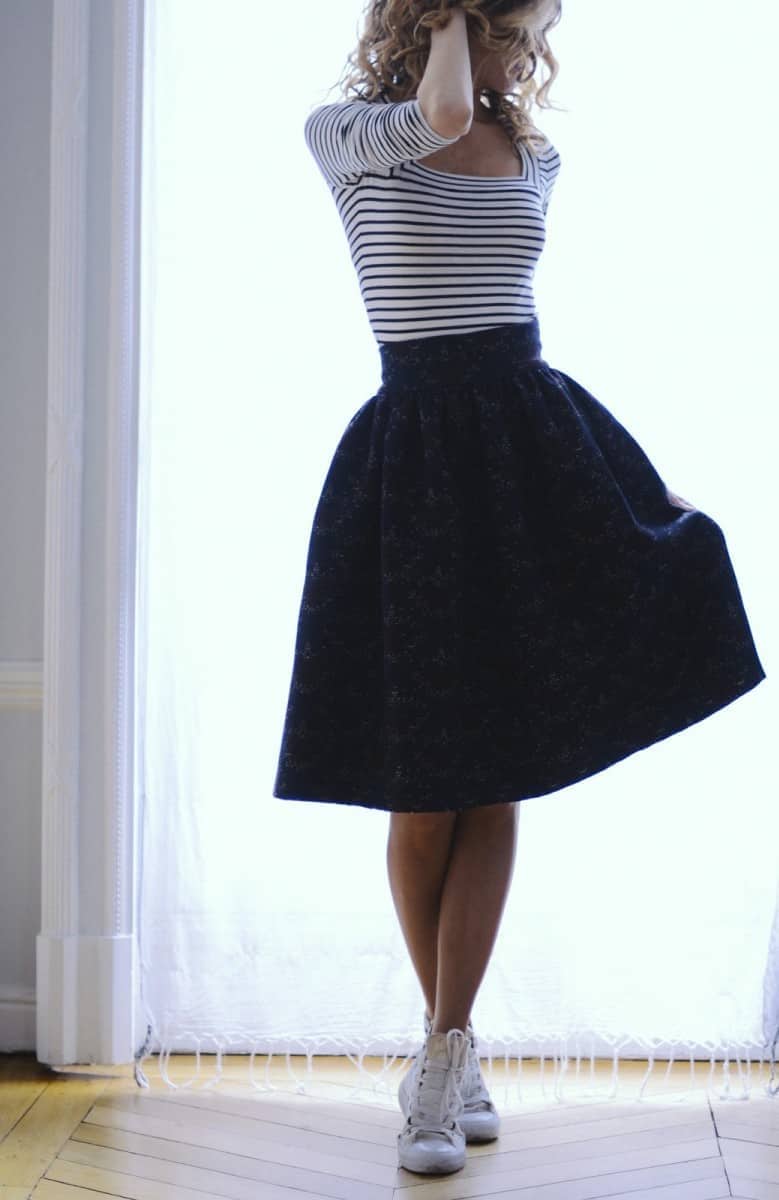 And this has to be the perfect femme fatale pencil skirt. The zip scares me slightly, but the effect is amazing isn't it?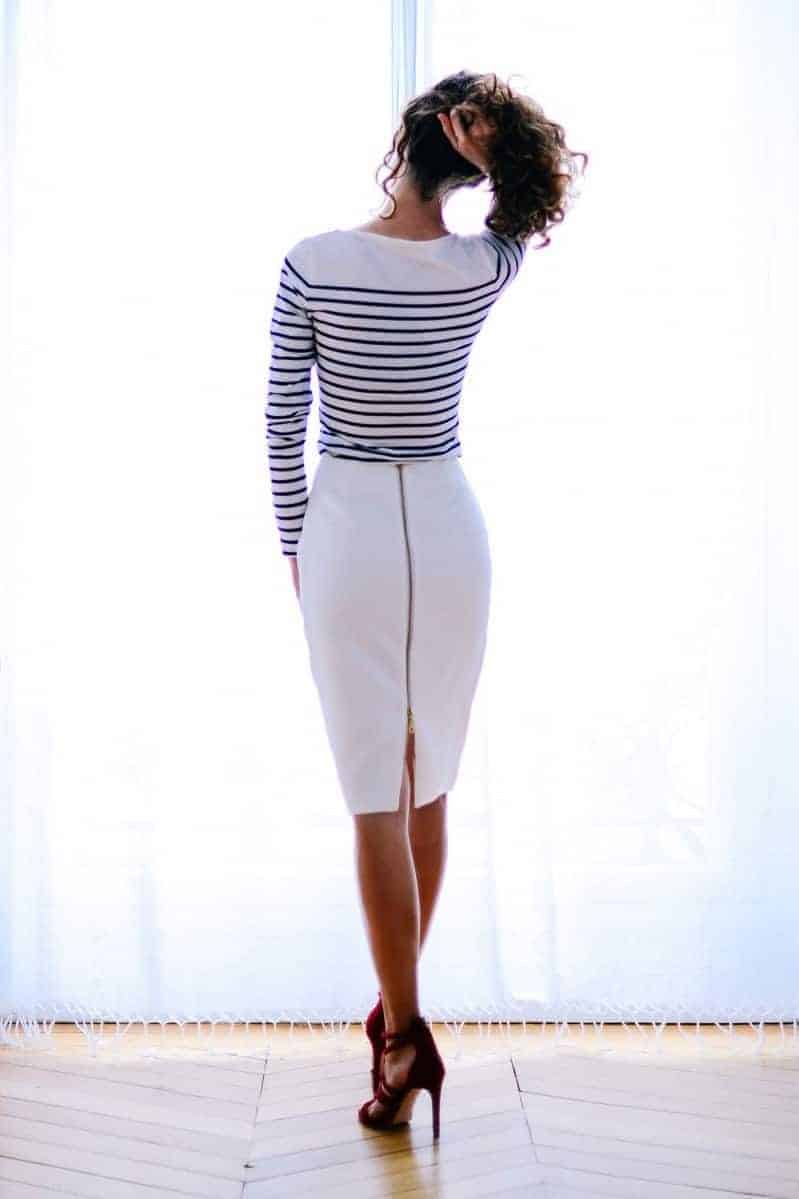 If you're looking for something softer and more artistic, how about this stunning La Boheme pattern?
You can buy the PDF download in Vanessa's eshop here.
The perfect side split skirt
How lovely is this classic side split skirt by Plymouth-based Natasha Hutchins aka NH patterns on Etsy? This design is the Sarah skirt and is available to buy here as a digital download
Here it is in a dark patterned fabric – such a versatile design!
How about this beautiful Martha skirt pattern by Sewgirl on Etsy
Buy Martha sewing skirt pattern on Etsy here
Merchant & Mills beautiful simplicity
Love this Saltmarsh skirt from the Merchant & Mills Workbook too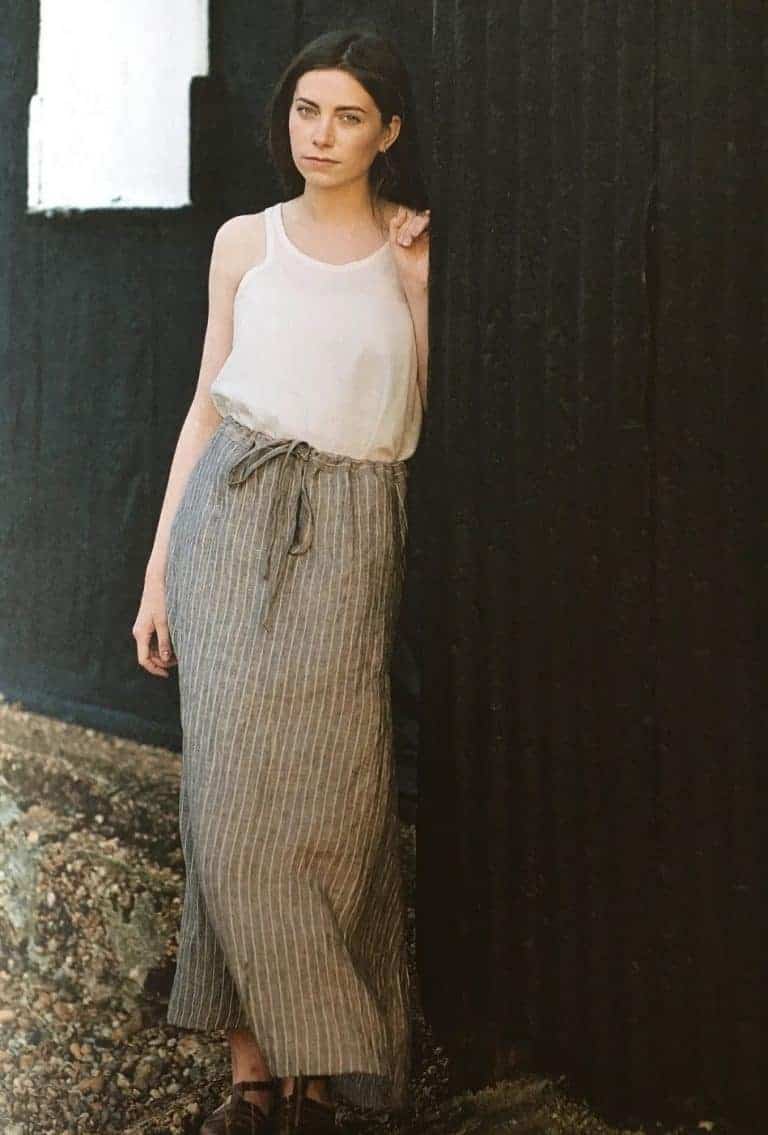 Great British Sewing Bee
The Great British Sewing Bee is one of my favourite programmes to watch on TV – and now there's a wonderful new book to accompany the sixth series. It's all about creating Sustainable Style, with 27 sewing projects and patterns for sewers of all levels as well as lots of expert tips. There's a guide that de-mystifies the fitting process and expert tips on making alterations and transformations, recycling old clothes, using up fabric scraps and making repairs. A real must-read for anyone committed to sustainable dress-making and sewing.
There are three great skirt projects included: Midi wrap skirt, Mini Scrap skirt and Pinafore skirt transformation.
BUY THE GREAT BRITISH SEWING BEE: SUSTAINABLE STYLE ON AMAZON HERE >>
Just Patterns
And for simple, classic skirts, this from Just Patterns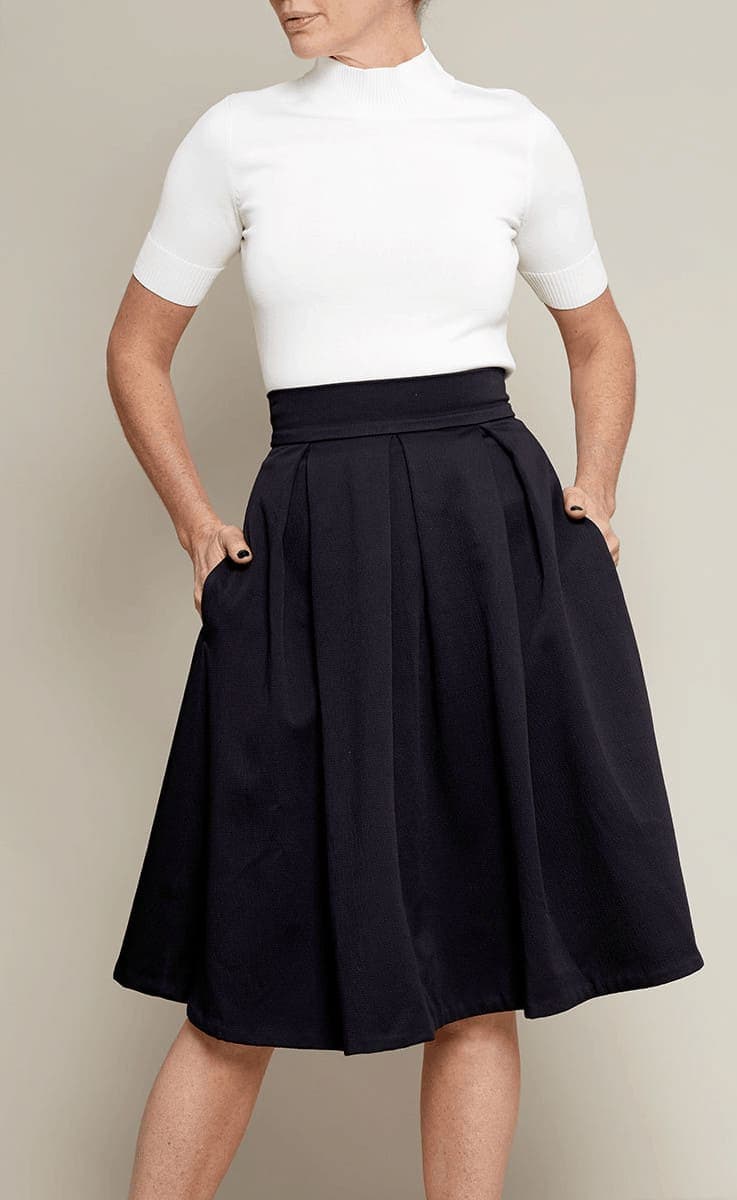 Free skirt sewing patterns by Purl Soho
And this wonderful free pattern: Wool Wrap Skirt pattern by Purl Soho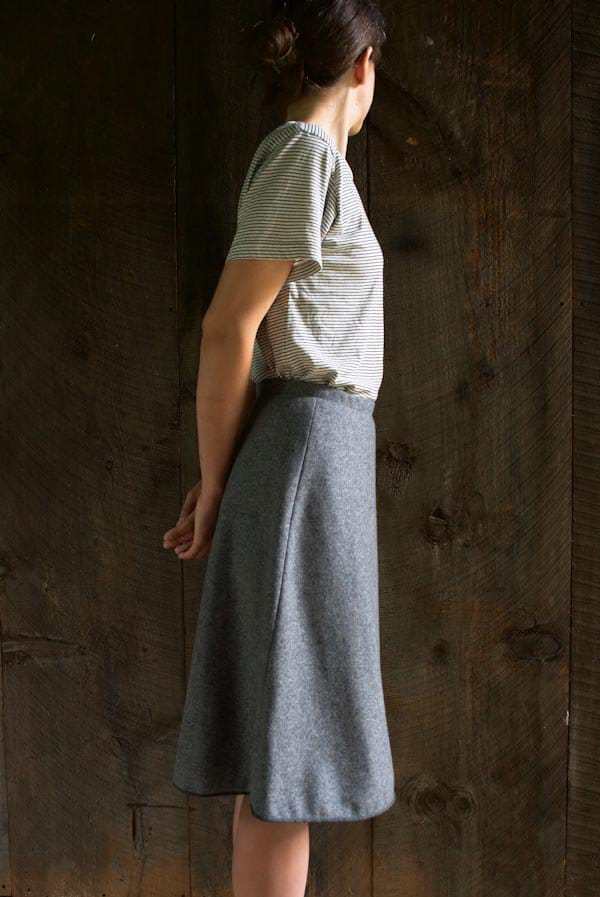 Naomi Ito skirt sewing patterns
I adore the clean, simple lines of the designs in this beautiful patterns book by Naomi Ito
This timeless and simple to make skirt pattern is one of the 18 sewing projects.
BUY THE NANO IRO SEWING STUDIO BOOK ON AMAZON HERE >>
Simple gathered skirt patterns
Available as a PDF or paper pattern, the Amy skirt by Afternoon Patterns is easy to make and great for beginners.
BUY THE PDF PATTERN ON ETSY HERE >>
BUY THE PAPER PATTERN ON ETSY HERE >>
Whilst we're on the subject of fab Edinburgh-based indie pattern makers Afternoon Patterns, I thought you might like these simple to make tailored Fern shorts too…
BUY THE FERN SHORTS PATTERN ON ETSY HERE >>
INFORMATION
---
This article contains affiliate links, which means we may earn a small commission if a reader clicks through and makes a purchase. All our blog posts are independent and in no way influenced by any advertiser or commercial initiative. By clicking on an affiliate link, you accept that third-party cookies will be set.
Rowan Tree Studio is listed in the From Britain with Love directory here >>
Are you a maker or creative course provider? Like to benefit from joining our supportive community? We'd love to hear from you. Check out the packages we offer on our Join Us page and get more details from our Information pack here
---
A PIN TO SAVE TO PINTEREST