Driftwood craft ideas and how to make driftwood decorations
This month we head to the Gower Peninsula in Wales to join Tricia Hodge from Gower Craft Parties and driftwood artist Jane Haines. It's for a creative workshop on how to make driftwood decorations from locally sourced driftwood found on the Gower's stunning beaches.
On a sunny Saturday afternoon in October I found myself heading to a cafe just outside Mumbles on the Gower Peninsula in Wales. The Junction Cafe is a bustling coffee shop overlooking the vast expanse of Swansea Bay.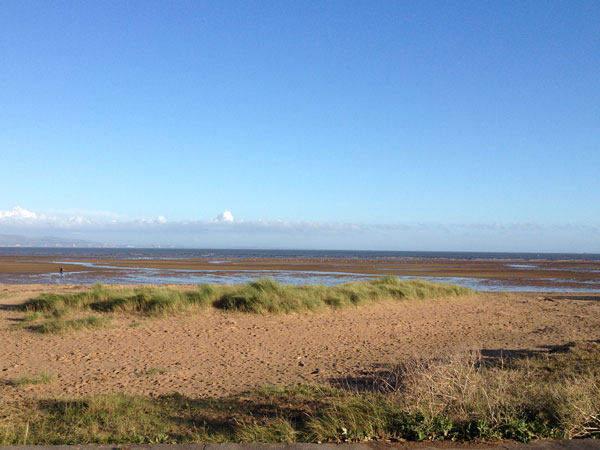 I was excited to learn how to make driftwood decorations under the expert guidance of local artist Jane Haines.
The cafe was full of people enjoying a late lunch as I headed upstairs to a gallery area. The long table was filled with women and children excitedly examining pieces of driftwood, buttons, shells, ribbons and rope.
Driftwood craft workshop
Driftwood craft idea: making a driftwood heart
As I took my place at the table I found two wooden heart blanks, PVA glue and a painted wooden fish. This was clearly going to be an interesting afternoon!
On the table were hundreds of pieces of driftwood of all shapes and sizes, bleached white by the sun. Jane explained that the best time of year to find driftwood is in the Autumn after a storm. We also learned that the Welsh word for driftwood is 'broc'.
I started adding small pieces of driftwood around the edges of the heart, building it up into layers.
Before long the base was covered and it was time to add some embellishment. With so many decorative elements on offer, it was tempting to go overboard. In the end I decided to keep it natural with some shells and coral.
I loved that everyone's designs were so different, with each bringing their own individuality to their work.
With our first driftwood project completed, it was time for a well earned cup of coffee and a slice of cake.
Driftwood craft idea number 2: How to make a hanging driftwood garland
Jane explained that we could either space the embellishments out along a piece of string, or pack them close together for a more solid look.
I decided to combine small pieces of driftwood with sea shells, tied at intervals.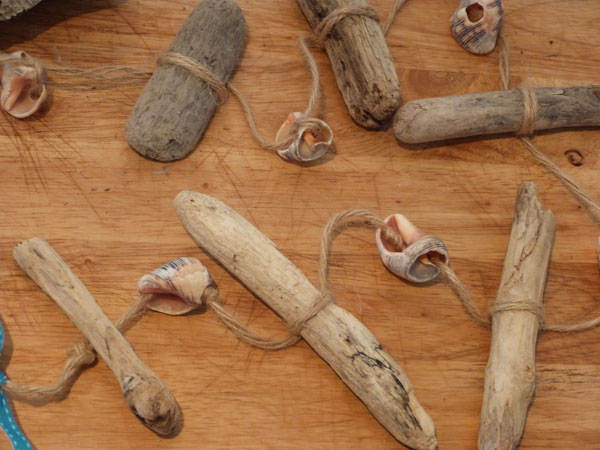 At the bottom was the wooden fish I had been given, which helped to add some weight to the garland. At the top I used a large rustic piece of driftwood with the bark still on as a hanger.
My driftwood bird
With our two main projects completed, some people made wall art by sticking pieces of driftwood onto canvas. Others created freehand sculptures using a hot glue gun to stick the driftwood pieces together. I had found a piece of driftwood that looked a bit like a bird's head, so I decided to have a go at making a bird sculpture. What do you think?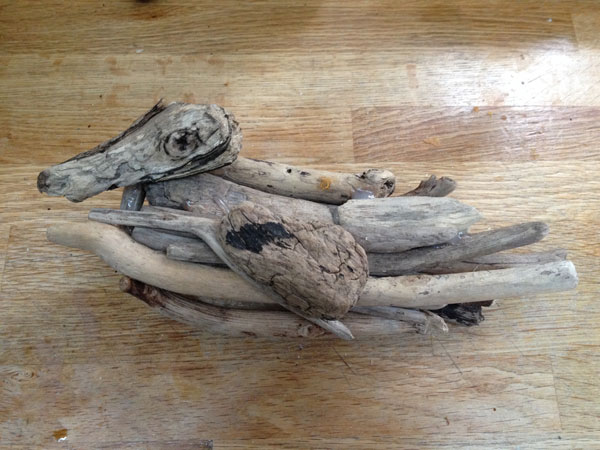 Beachcombing for treasure
As the sun started to set, it was time for the workshop to draw to a close. The other students headed home whilst I joined my family. We drove to nearby Port Eynon Beach where we ended the day beachcombing. My boys had a fantastic time searching for driftwood, sea glass, shells and using their metal detector to discover buried treasure. Needless to say they slept like logs that night!
The Gower Peninsula is a beautiful part of the world with award-winning beaches and plenty to entertain the children. We drove up from London on the Friday night, attended the workshop on Saturday afternoon, before returning home on Sunday evening. This left plenty of time for exploring the area, enjoying some delicious local food, and really felt like a much longer holiday than just a weekend.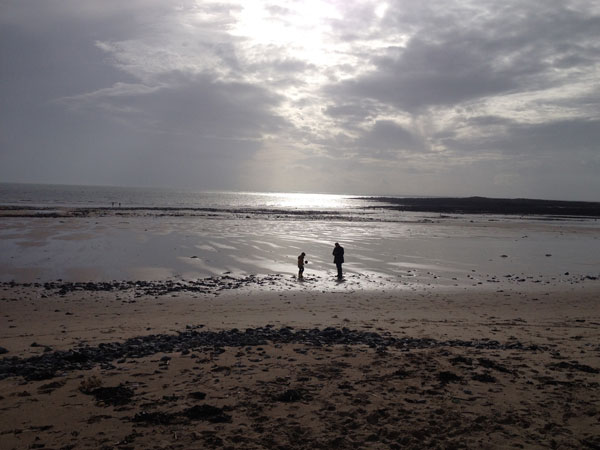 The Driftwood Decorations workshop is just one of the many creative courses offered by Tricia Hodge of Gower Craft Parties. Others include glass mosaic, handmade soap, cupcake decorating, sewing, fascinators and wedding crafts.
The workshops are designed to be fun and relaxing, and make the perfect break for mums and daughters, hen parties or other special occasions. Tricia has many years of event organising experience behind her, so she can offer plenty of advice for the perfect celebration.
MORE INSPIRATION
Love… Kirsty Elson
Back home, I've been browsing for some more driftwood projects to try and have fallen in love with Kirsty Elson's workon Etsy. Based in Cornwall, she creates the most beautiful driftwood buildings and houses. I am definitely going to have a go at creating something inspired by her work.
Here's a video to give you a taste of Kirsty's work:

Kirsty Elson Designs from Studio Wallop on Vimeo.
Here are some of the pieces of work by Kirsty that I particularly love. I am going to have to keep an eye on her etsy shop to snap up one of her originals. Pieces always sell out fast, so it's a good idea to keep checking if you're hoping to own one too.
I also love this driftwood lamp idea that I found on etsy. It would be pretty simple to make something similar don't you think?
And this DIY driftwood photo display is a great idea.
I love this simple idea from 91 magazine for making a driftwood clothes rail.
And this painted hook hanger by Bead & Cord is a really adaptable idea that you could use to hang all sorts of things. I really love the idea of adding simple white dotted pattern to a flatter piece of driftwood and adding old hooks.
And how pretty are these driftwood sailing boat decorations by for a summer party or wedding by Tidewater and Tulle?
INFORMATION
---
Find UK makers and growers in our Directory.
I've shared some of my favourite Autumn flower ideas How to Arrange Autumn Flowers
You might also like: Discover the new Autumn collection of handcrafted homeware made in the UK from These Two Hands
Are you a maker, grower or creative course provider? Like to list with us and benefit from joining our supportive community? We'd love to hear from you.
Check out the packages we offer on our Join Us page and get in touch…If you'd like to join our Virtual Market too, all you have to do is take out a listing in our directory and let us know that you'd like to take part. It's the next best thing to getting to meet your customers face to face.
A pin to share with Pinterest
If you've enjoyed discovering our driftwood craft ideas, it would be great if you could share the love. All you have to do is hover over the image below until you see the Pinterest button appear. Then share it to your boards. Thank you! X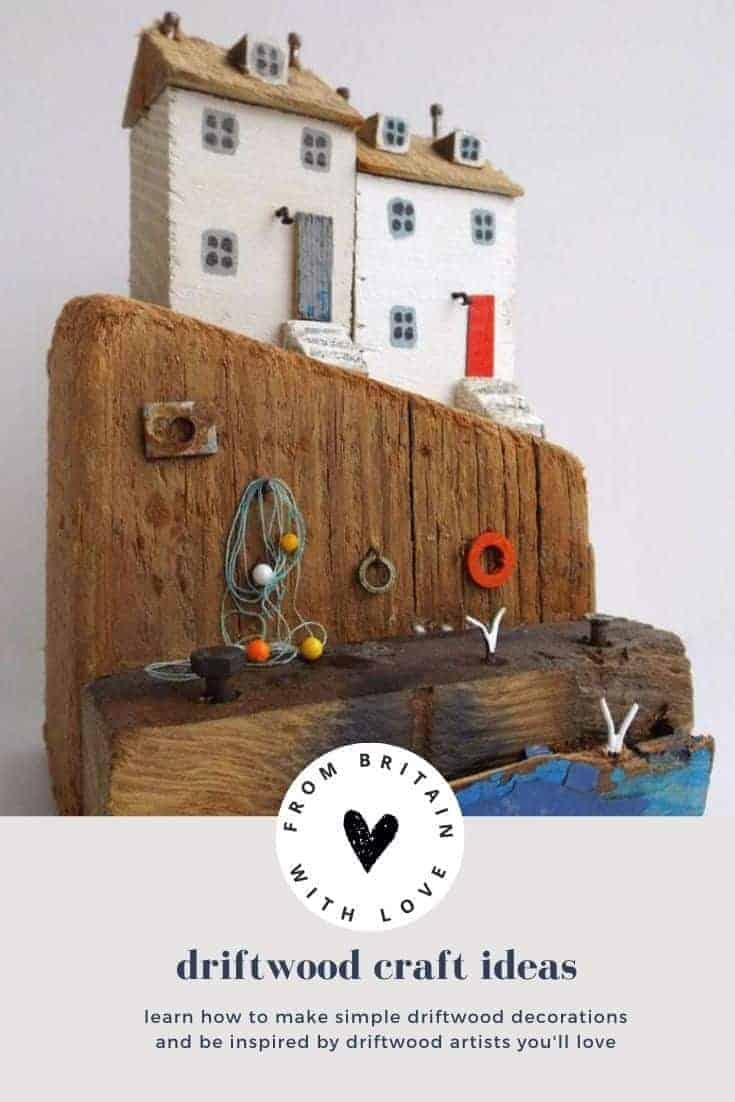 ---
Feeling inspired? Take a look at the Creative Workshops category in our Directory, where you'll find a variety of inspiring courses, from art and crafts to fashion and beauty, interiors, cooking and flower & gardening.
To find out more about visiting the Gower Peninsula, take a look at www.enjoygower.com.