Clare Kelly visits Arts & Laughs in Maidenhead and learns how to make a children's drum lampshade with designer Julie Gardner of Gilhoolie (who is listed in our directory here).
If you find shop-bought lampshades a little bland and uninspiring, then why not consider making your own? It's not a tricky as you might imagine, and in just a couple of hours on this inspiring workshop you can create a unique design that wouldn't look out of place in a designer lighting boutique.
Textile artist and lampshade-maker Julie Gardner of Gilhoolie creates striking handmade lampshades, and luckily for us, she has recently started teaching workshops for Arts & Laughs, a fun and sociable craft club based in Maidenhead, Berkshire.
Owner Sophie set up Arts & Laughs, feeling there was a need for a local craft venue for people who wanted to be creative, learn new skills, and most importantly laugh and eat cake… and believe me, that's exactly what we did.
Firstly iron your fabric
Conversation flowed freely as we all set to work, each of us using very different styles of fabric. I chose to work with some vintage Magic Roundabout fabric, which in a previous life had been my sister's bedroom curtains, now ready to be upcycled into a cute retro lampshade.
Apply PVC to your fabric
Ironing was done first and then the fun began. We had each been given a PVC sheet to form the body of our shade, and Julie showed us how to apply this to the fabric and trim off the excess using a rotary cutter (watch your fingers and don't forget the cutting mat!).
Using the rotary cutter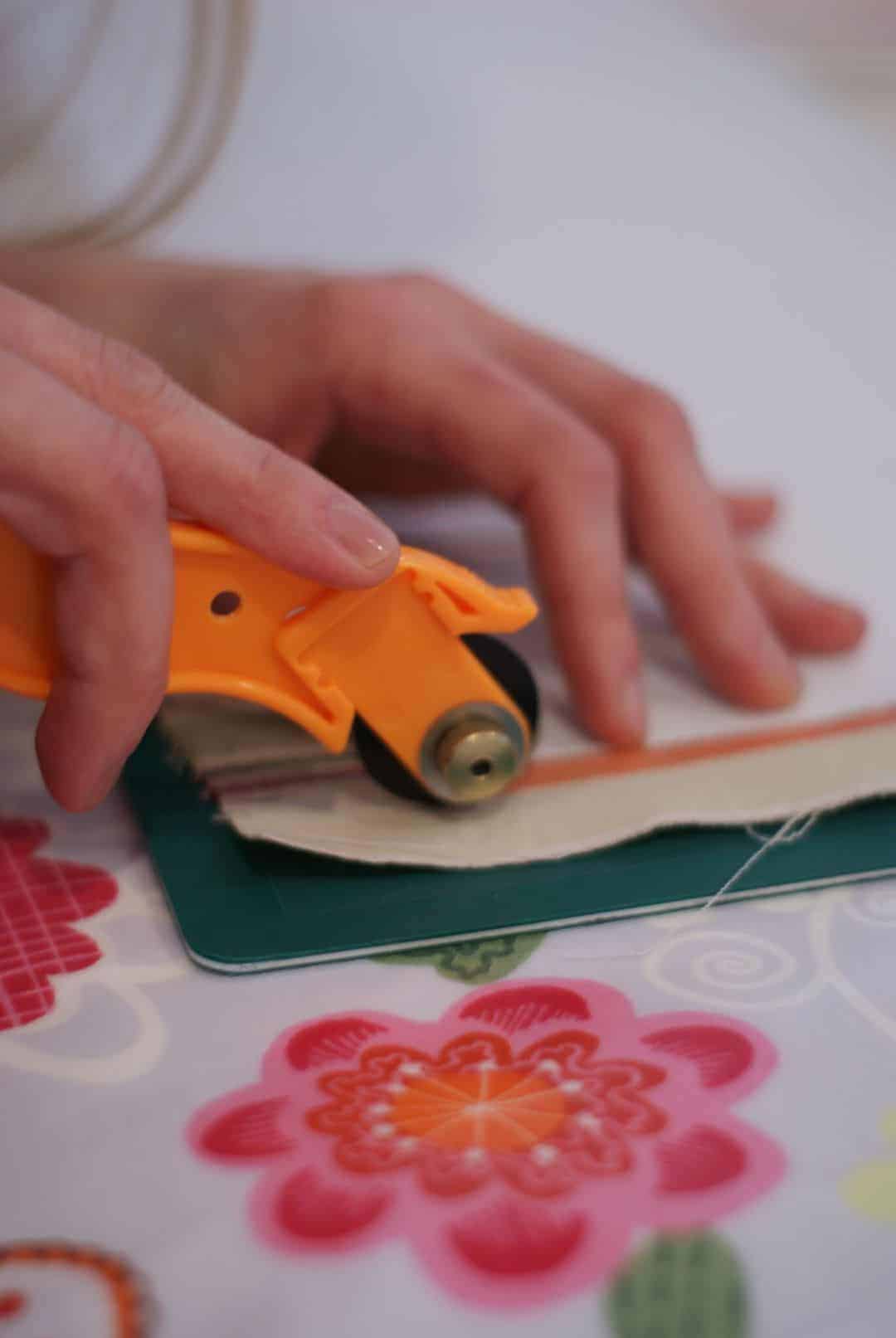 After cutting to size, most of the backing paper was removed, and a strip of double-sided tape was applied to the side seam for later on when we'd be rolling the shade to create the drum shape.
Julie explained that lampshade making materials can be easily purchased online at Needcraft, and she had no doubt that after the workshop we'd all be able to create our own bespoke lampshades back at home.
Attaching to the rings
To create the cylindrical shape of the shade, Julie provided us with rings for the top and bottom. These are covered in double sided tape and then rolled simultaneously along the top and bottom of the fabric. This sounds fiddlier than it actually is and if you take it slowly, you'll be on course for the perfect drum-shaped shade in no time.
We had all chosen to make shades for table lamps which impacts on the positioning of the rings, so do bear this in mind if you're planning on making your own shades at home. Once the drum shape is created, it really begins to look like something you'd buy in the shops.
The course itself is so relaxed with just five students with plenty of individual attention and expert tuition. Held in Sophie's gorgeous home, tea and refreshments are generous and delicious. It would be rude not to give a special mention to Sophie's homemade carrot cake. It was heavenly and we all enjoyed it with a cuppa in her pretty garden.
Create neat edges
There was still some overhanging fabric to deal with and Julie showed us how to tuck this over the ring. The trick to getting a neat finish here is to use a double-sided rolled edge tool. The serrated side is used to tuck the fabric underneath the ring in order to create a neat edge. We used the pointed end quite rapidly to gather up the loose ends and create a really tidy finish.
It was only right that we should toast our newly created lampshades with more tea and cake!
INFORMATION
---
Get all the info you need to connect with Gilhoolie from the listing >>
Feeling inspired? Take a look at the Creative Workshops category in our Directory, where you'll find a variety of inspiring courses, from art and crafts to fashion and beauty, interiors, cooking and flower & gardening.
Clare Kelly is a freelance craft journalist and photographer. All images courtesy of Clare Kelly.
If you run a creative course you think would interest our readers, do get in touch. Email us at editor@frombritainwithlove.com.
---
A pin to share to Pinterest
---