Screen printing tutorial
Craft writer Clare Kelly heads to east London to try out a beginner's screen printing workshop and learns how to screenprint a bag with Sam Wingate aka Mr Wingate
Screen printing tutorial with Mr Wingate
Sam Wingate's hand printed homewares collection includes cushions and wallpaper featuring iconic London landmarks which make the perfect gift for those who love the Big Smoke.
Looking at the detail on them, I knew I wouldn't be able to create anything quite as stunning but could not wait to get messy on his screen printing course.
Screen printing ideas and tea
Held in his studio just a stone's throw from the Olympic Park, the course was an intimate affair with just four students – perfect for getting the level of attention needed when you're learning something new.
The day began with a cup of tea and a chat. A couple of students had already worked up some designs and once Sam has shown us his own intricate work we set to work with pencils and paper drawing out our designs to create a stencil.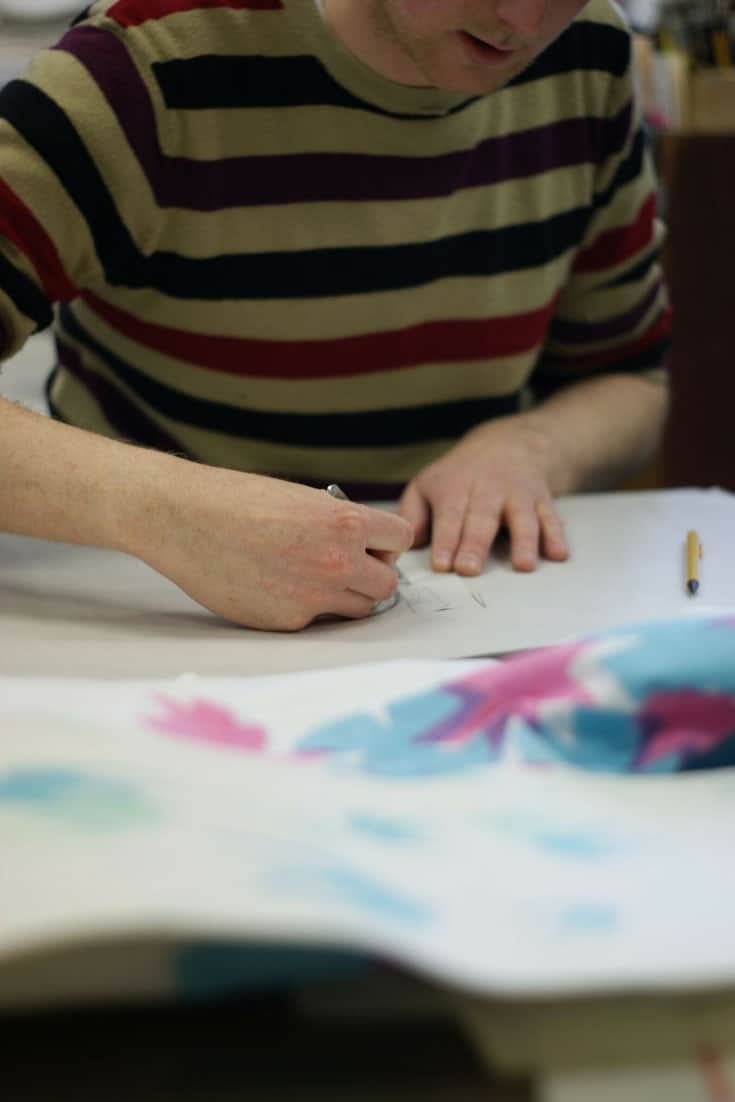 Sketch your ideas
Perhaps inspired by our proximity to the Olympic Village, I began to doodle and created a motif that looked almost sporty. I was quite pleased with it and then with a knife, began cutting it out. I took care not to cut away the parts I'd need and was careful to keep my fingers well away from the sharp blade.
Cut out a stencil
Making stencils is a great way to start screen printing as it gives you more control over the final result. We were going to be printing onto fabric and I chose a plain cotton shopping bag to showcase my design, after a few trial runs at printing the design first onto paper. The atmosphere was relaxed and we were all excited and inspired by what each other were doing.
Choose your screen printing colours
Choosing which ink to use was difficult as Sam had so many colours to choose from. I opted for lead pencil grey and hot pink, a combination I particularly like. Screen printing is all about getting the right pressure, as you have to 'pull' the ink down the screen with a squeegee.
The angle is also important and it's a good idea to have someone hold the screen for you in case it moves. Sam helped us all with this and soon we were knocking out prints like a small cottage industry!
Mixing colours for screen printing
The effect created by using two colours was an unexpected delight with some areas overlapping. I loved the one-off nature of this technique as each print turns out slightly different and is all the better for it. Though more experienced printers will be able to achieve a very consistent result each time.
Lunch overlooking the Olympic Park
At lunchtime Sam took us over to Stour Space next to the River Lea, overlooking the Olympic Park itself. A cross between an arts centre and a café, it is a community affair serving up delicious homemade food including pies and cake. Both of which I sampled for you, all in the name of research of course.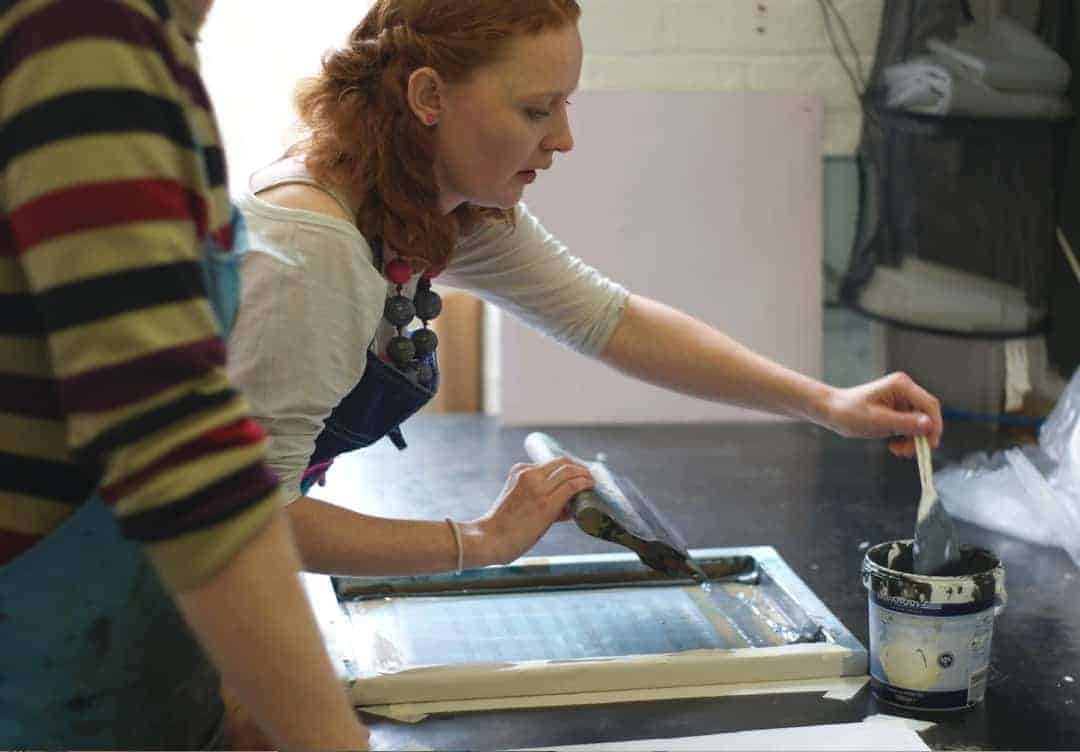 Creating more prints
In the afternoon, we hung our prints to dry on a line and set to work creating more. In between screen printing, it's important to clean your screen properly and for this, a bath and a power hose in the studio's basement was essential. It gets quite messy at times, so old clothes are a sensible choice for this workshop.
Perfect way to learn
This is the perfect course for anyone who likes the idea of screen printing onto fabric but doesn't want to get paint all over their house. Sam's easy going manner also means that you can have as much or as little direction as you want.
Have you've always wanted to try out screen printing but didn't know where to start? If so, I would highly recommend booking onto one of Sam Wingate's screen printing courses. They are the ideal way to get the basics under your belt.
The very next day I was wearing my screen printed bag with pride and even received a compliment. Nothing quite beats the pleasure of being able to reply 'I made it myself' does it?
A pin to save to Pinterest
---
Clare Kelly is a freelance craft journalist, photographer and author of the blog Pass the Pattern. All images courtesy of Clare Kelly.
Feeling inspired? Take a look at the Creative Workshops category in our Directory, where you'll find a variety of inspiring courses, from art and crafts to fashion and beauty, interiors, cooking and flower & gardening.
If you run a creative course that you think our readers would be interested in reading about, do get in touch by emailing editor@www.frombritainwithlove.com
---