How to chalk paint furniture with Annie Sloan and Katie Bonas
This month craft writer Clare Kelly headed to the Cotswolds to learn how to chalk paint furniture with Annie Sloan paints and Katie Bonas
How to chalk paint furniture with Annie Sloan and Katie Bonas
Before I attended this chalk paint furniture workshop, I spent a long time browsing the photographs of painted furniture on the Katie Bonas website and really doubted whether I'd be able to create anything so lovely.
Take a look and you'll see vintage kitchen dressers loved back to life with country grey paint, a duck egg blue pot cupboard, elegant console tables, and many more beautiful antique pieces which Katie sells in her shop.
Katie had told me to bring along a small item of furniture to paint, and I decided upon a little retro side table. Ok so it wasn't exactly an antique. But I was pretty sure I could transform it from its current bright green into something a little more becoming.
Driving into the village of Yanworth in the Cotswolds where Katie lives and works, it seemed like the perfect setting for a day of painting. Pretty, picturesque and very peaceful.
On arrival Katie showed me into her furniture showroom with its paint-filled workshop at the rear.
Once everyone had arrived we all headed to another workshop which overlooks the surrounding countryside. With original exposed beams, handmade bunting and vintage china this is an inspiring place to work.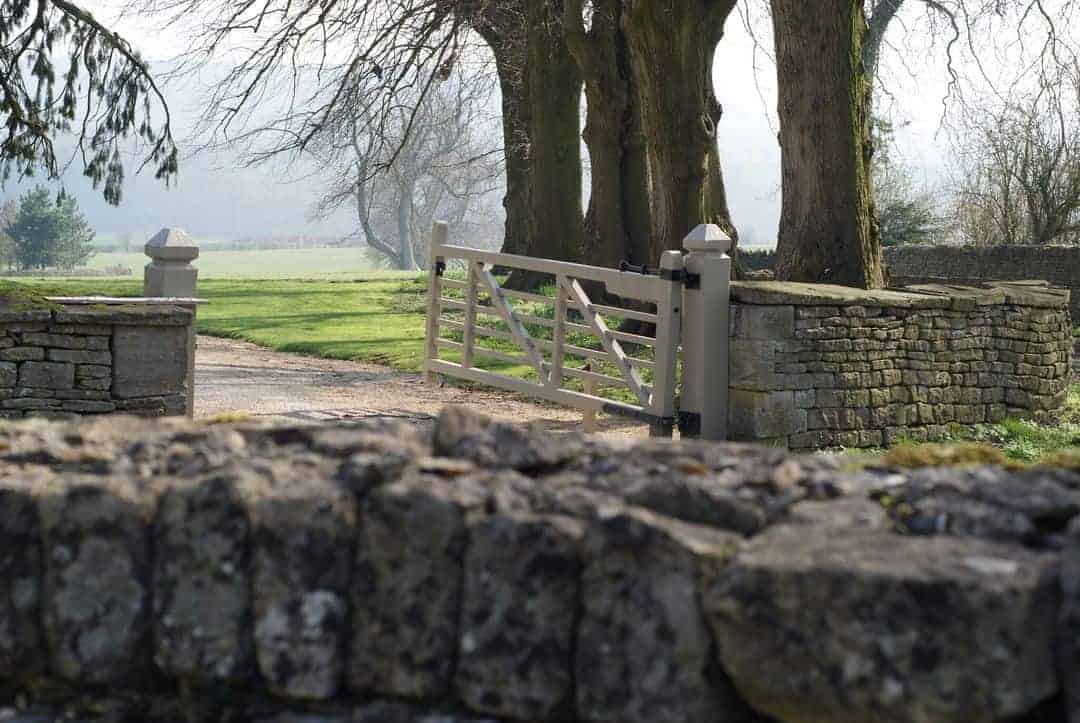 Annie Sloan Chalk Paints
First of all, we were each given some wooden boards so we could experiment with the various painting and 'distressing' techniques. This was to get a feel before getting to work on the furniture we'd brought.
Katie explained how she liked to work with Annie Sloan Chalk Paint (listed in our directory here) because it covers almost everything. We were all surprised to discover that the furniture requires very little preparation prior to painting.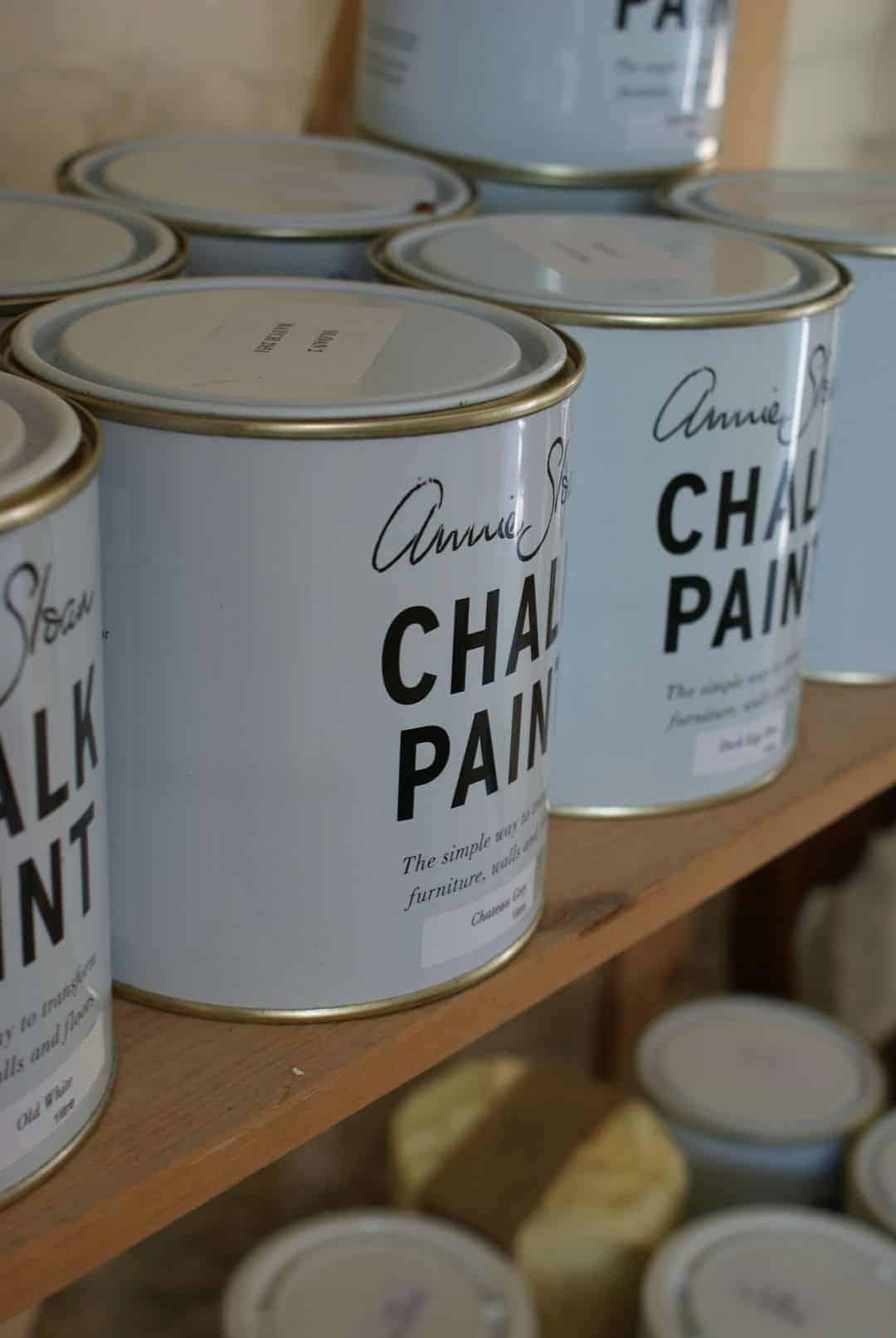 What you'll need
Our materials for the day included chalk paints, brushes, rags, sandpaper (grade 120), clear and dark wax, crackle varnish and 'size' (a glue-like substance for applying metallic leaf).
Tea, coffee and treats were provided and we all set to work following Katie's expert instructions. We were encouraged to play around with the paints and waxes to see what different effects were possible.
It was fun to try out different finishes and Katie showed us how to use some specialist products such as Annie Sloan's Craqueleur. This is a two-part solution applied to the paint which creates a dramatic, well-loved crackle-glaze effect.
Towards the end of the morning, we gave our furniture the first coat of paint before heading out into the sunshine. We sat in Katie's garden for a lunch of sandwiches, sausages, wine, juice and fruit.
The group chatted easily as we ate our lunch on blankets and cushions spread on the lawn. Not one car drove past, making for a delightful picnic spot.
The art of gilding
Feeling suitably relaxed after lunch, we headed back to the workshop. Katie then demonstrated the art of gilding, using sheets of metallic leaf so thin that they needed to be handled with a great deal of care.
These were adhered to the wood with a coat of 'size' to create a gorgeous shimmery surface that can be aged further with a little wax.
The afternoon passed by quickly as we applied a second coat of paint to our furniture. It was time to ponder which techniques we would use to distress them. I opted for a little sanding in the areas where the table would naturally wear over time. And tempting as it was, I resisted adding gold leaf to the whole thing!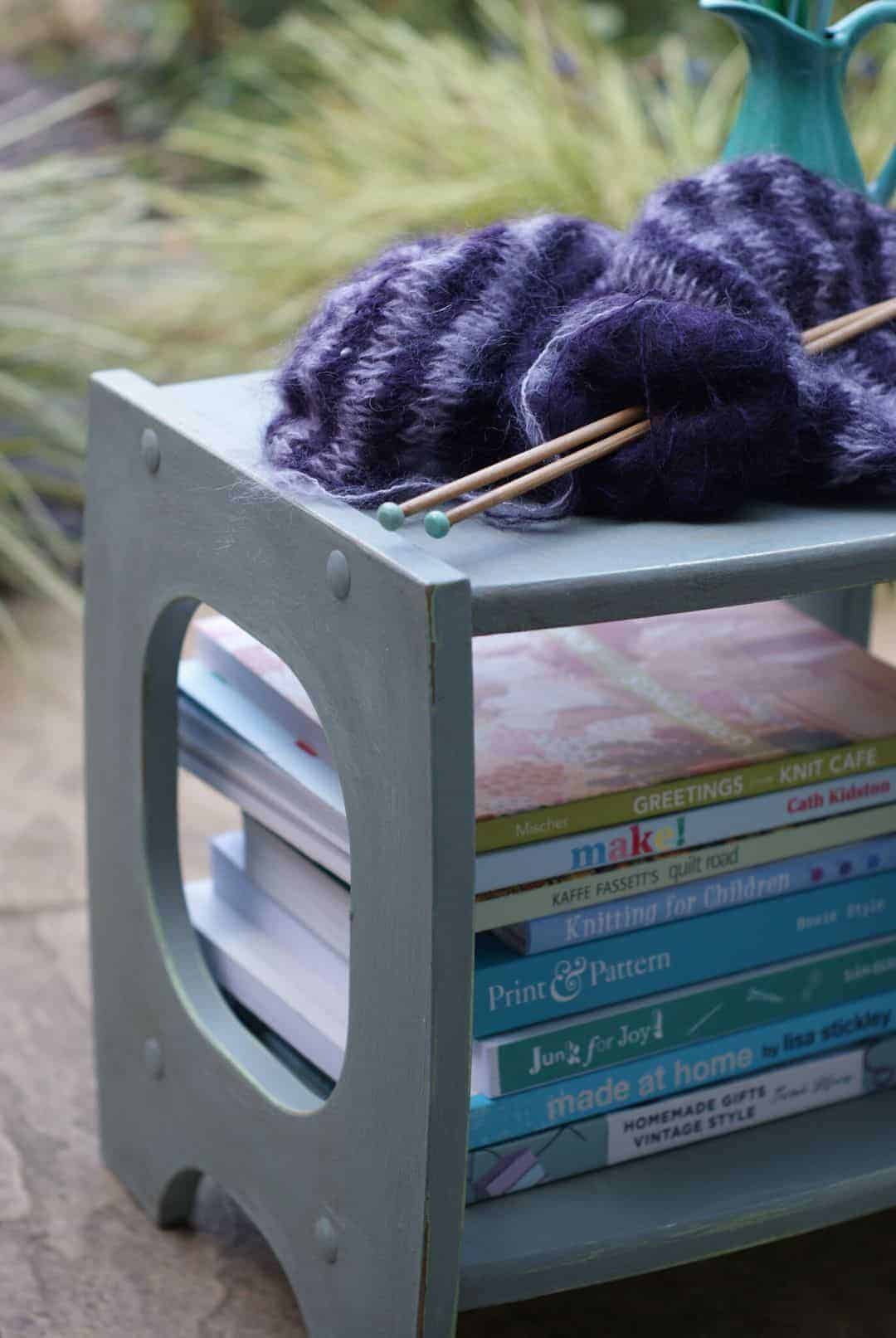 As the day drew to a close, I left with my table and lots of tips and tricks. I can't wait to try out a few on other pieces of furniture back at home. Why not book yourself onto one of Katie's Chalk Paint Furniture courses to see what you can do?
Fancy having a go at achieving something like the beautiful swedish look linen press, Top? Check out this video of Annie Sloan herself showing you exactly how…
How to chalk paint furniture with Annie Sloan
Now I've learned the basics of how to chalk paint furniture as well as distressing and gilding, I'm looking for inspiration for my next project. Here are some ideas I've found that I love and wanted to share:
Love this rustic painted table by Annie – see full details over on her blog.
I'm keen to have another go at gilding now I know how easy it is to do. I do love this rococo french country carved upholstered armchair by Annie again. I'll refresh my memory with the basics of upholstery first (see my blog post about how to reupholster a chair here).
I do love this creative use of Coral chalk paint and spring flowers by Abigail Ryan for Annie Sloan
How beautiful is this rustic gustavian grey painted kitchen table/console table with drawers from The Natural Wedding Company? You could easily achieve this effect following the steps shared above.
And how beautiful is this narnia-esque wardrobe painted by Tamysyn Morgan. I love browsing the beautiful images on her website. You do often see this sort of wardrobe in charity furniture warehouses in their original dark brown wood for not very much money at all. Love the idea of picking out detail with gold paint or gilding like this. Adding branches to the top and a simple wreath also creates a more contemporary rustic country look, don't you think?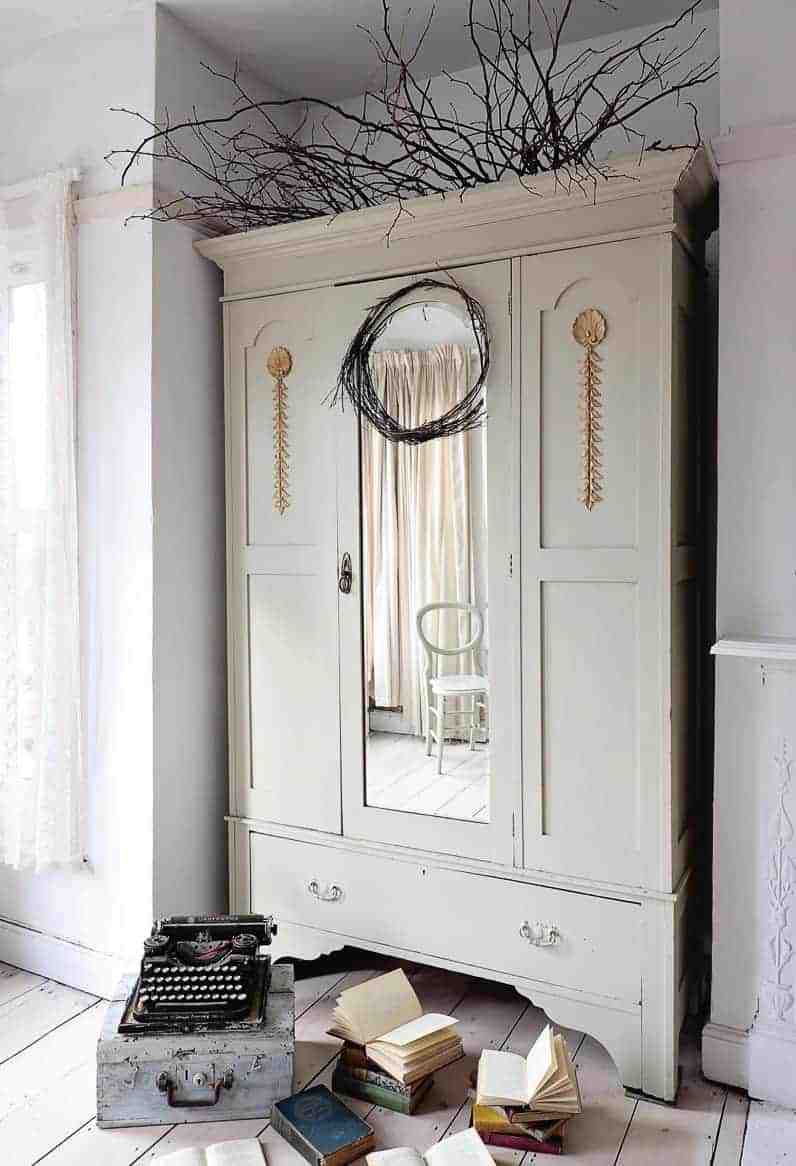 Another site I love to browse looking for inspiration is Weathered Door. There are lots of before and after chalk paint furniture projects over there but here's one of my favourites to give you an idea. Love the dark weathered contrast of the original brown wood with the cornflower blue chalk paint. Adding glass draw pulls finishes it really nicely.
---
If you run a creative course that you think our readers would be interested in reading about, do get in touch by emailing laura@frombritainwithlove.com
Main images courtesy of Clare Kelly.
---