This month we sent Inger Cessford off to Dorset to discover how to make hand printed wallpaper. Learn how to turn simple patterns into stunning hand block-printed wallpaper with artist-designer Hugh Dunford Wood (listed in our directory here). Hugh runs bespoke handmade wallpaper workshops from his newly completed studio situated in the heart of Lyme Regis.
The last time I'd tried lino-cutting was as a teenager in Edinburgh, so I was really looking forward to this opportunity to reconnect with my creative side and learn to print my own wallpaper, under the expert guidance of an internationally acclaimed artist. So, armed with no more than my notepad and camera, I arrived in Dorset to meet Hugh and begin what was to be an intensely satisfying weekend…
The course started off on the Friday evening with Hugh giving us each our own set of tools and introducing us to the principles of creating symmetrical and repeat patterns. He demonstrated this by showing us some of his own beautiful wallpaper designs on display throughout his home.
Then it was our turn to create simple designs using potato prints to help us understand how patterns join up and repeat. Hugh encouraged us to use our potato blocks to make multiple repeat patterns, and later on in the course I realised just how valuable this introduction to the principles of pattern making had been.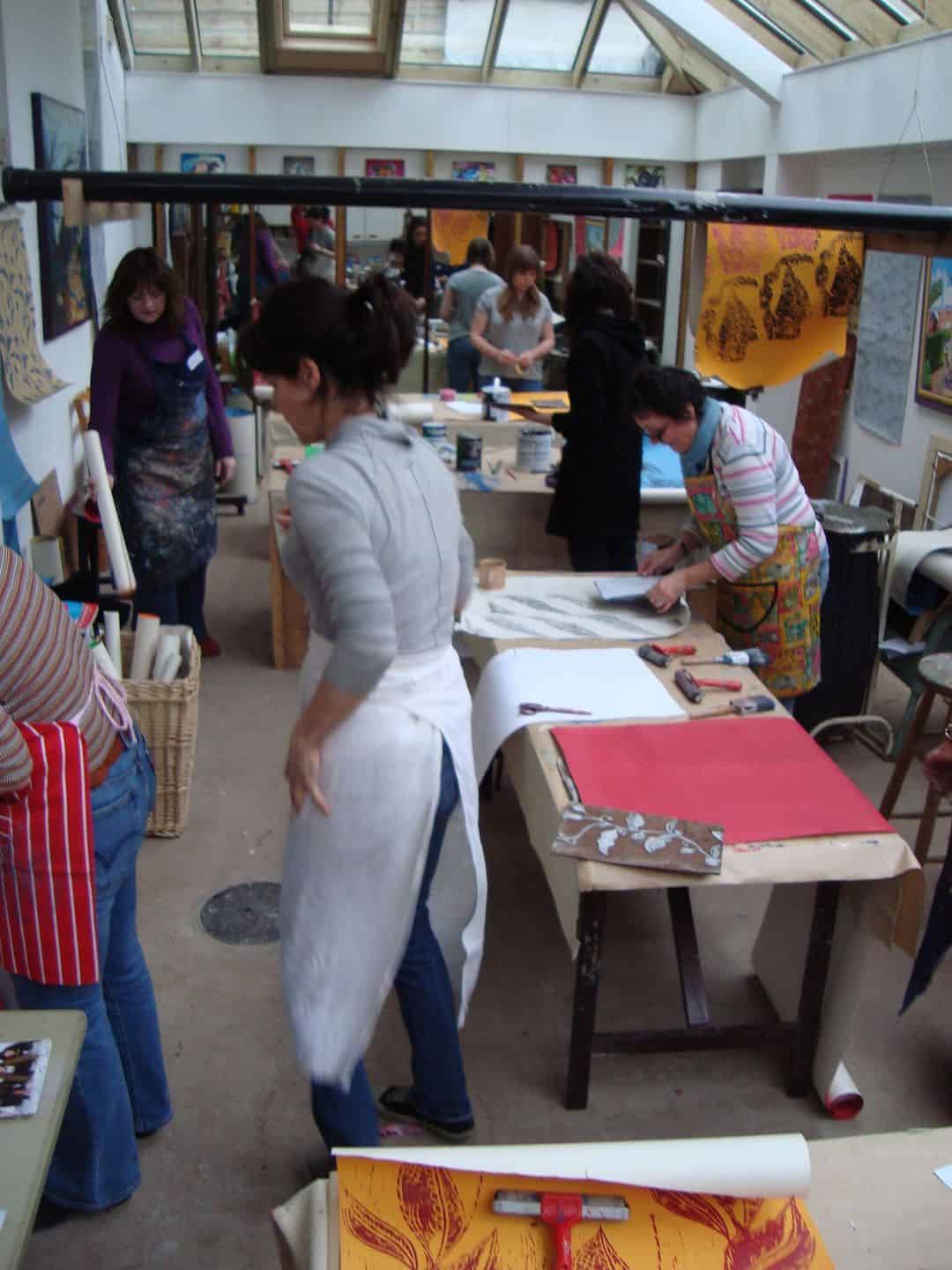 The atmosphere in the studio was very relaxed and Hugh was always on hand to answer any questions and give lots of encouragement. I finished the evening eagerly anticipating what lay in store for the rest of the weekend and looked forward to the prospect of getting started on my own wallpaper design.
The next morning, we started off by doing line drawings of plants and foliage, which would become the basis for our wallpaper designs. Hugh stressed that it wasn't a drawing competition which was a huge relief to me as I hadn't drawn in years!
After an intensive but enjoyable morning of drawing, we stopped for a lovely communal lunch. We were fortunate with the weather, and although chilly, we sat outside around a large table in Hugh's garden chatting and listening to his chickens clucking around in the garden overlooking Lyme Regis Bay.
Lunch over and back to work, Hugh explained how to transform our line drawings into printable designs. I found this bit quite difficult, but the answer was not to be too fiddly or prescriptive but to adopt a more stylised approach. After a couple of attempts and with some help, I got there!
Next I needed to work out if my design met up (top to bottom and side to side) when it was repeated, and I did this by dividing the pattern into four and laying it out several times over. I discovered my pattern didn't quite meet up first time round, but with a few simple tweaks, eureka it did!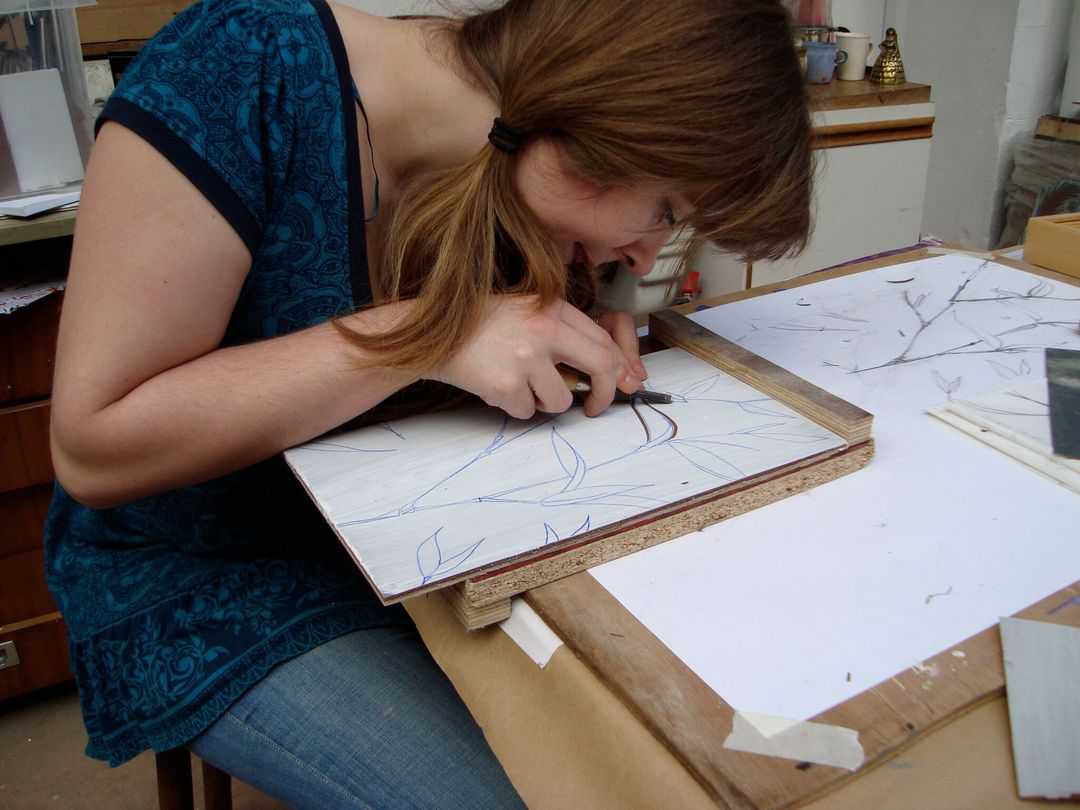 We then transferred our designs onto the lino blocks using a combination of carbon and tracing paper. Hugh put on some jazz music by Stacey Kent to help put us in the mood and the first track we listened to was rather appropriately "let yourself go…relax".
By now it was the end of a really intensive but enjoyable first day, and I realised that I did indeed feel incredibly relaxed. Having had to concentrate on all the new things I was learning meant I didn't have time to think about anything else. Looking around the room it was also fascinating to see just how different everyone else's designs were.
Back again on Sunday, I finished cutting out my design and was soon ready to print my first proof. I covered my lino with a layer of emulsion paint and placed it face down onto some pre-painted lining paper. I needed to work quite quickly as leaving the block on the paper for any length of time makes it difficult to remove and can mess up the print. It was so exciting to see my design printed for the first time and I felt immensely proud of what I'd created.
By lunchtime I was ready to start printing my wallpaper! There was a great selection of pre-painted lining papers and some beautiful colours of paint to choose from too. I was spoilt for choice and it just heightened my enthusiasm to get printing.
I soon developed a rhythm to my printing technique. Paint the block quickly with emulsion paint then turn it over onto the lining paper. Run a hand roller over the top to make sure the block makes even contact with the paper. Then carefully removing it. I worked systematically down and across the length and width of the paper. It was great to see my fellow course mates' designs coming to life as well. I've taken some images of the different designs being created. Mine is the red lily like leaves pattern.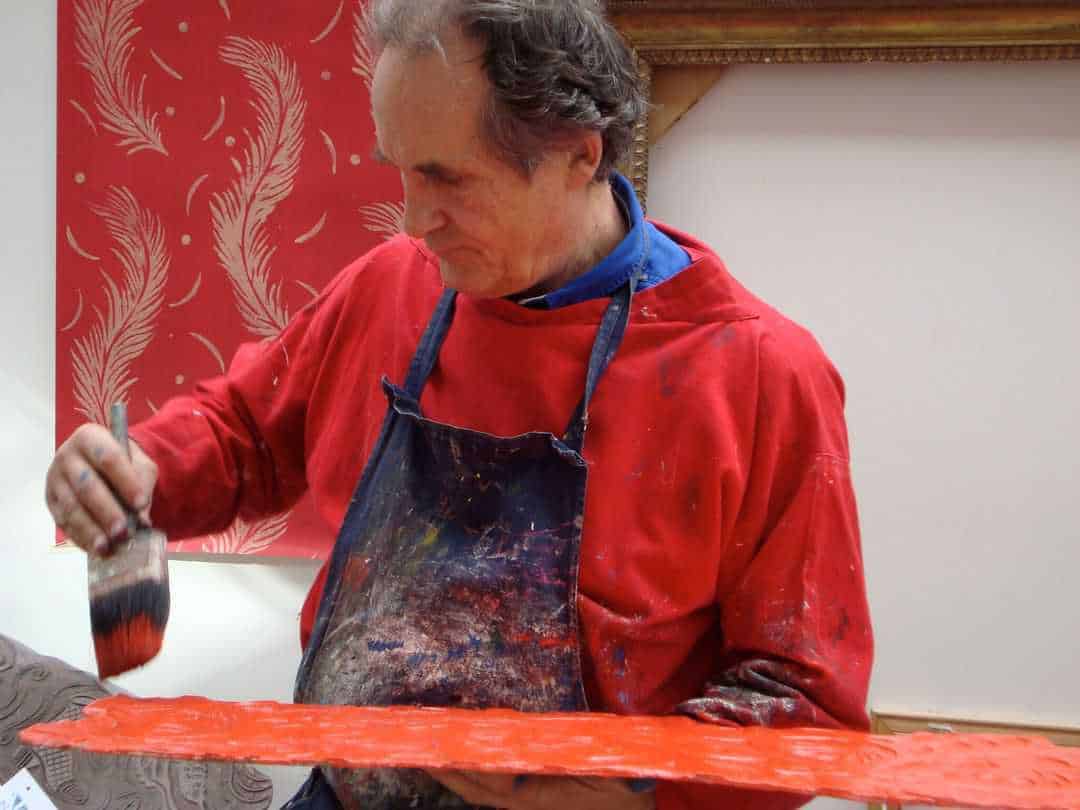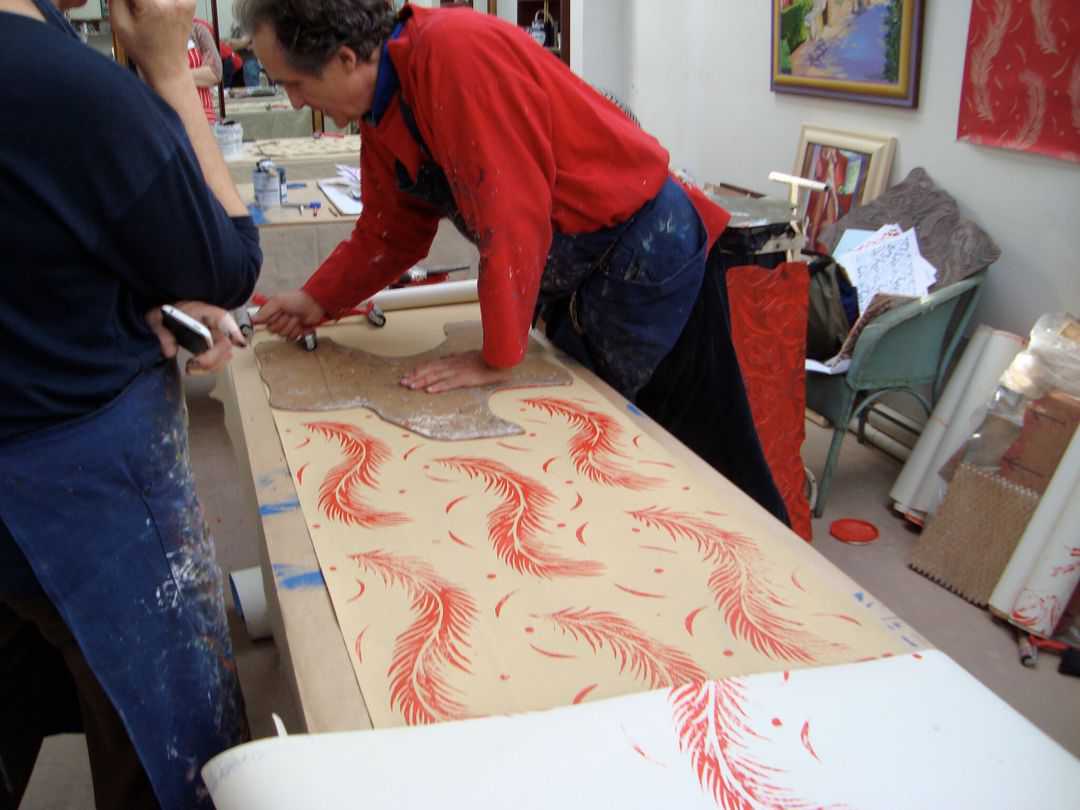 There was sufficient time to make several short pieces of wallpaper in a variety of different colour combinations. As the day drew to a close everyone agreed that our finished wallpapers were quite stunning. What do you think?
I had really enjoyed learning to design and print my own bespoke wallpaper. I headed home with Hugh's positive words of encouragement ringing in my ears.
It really doesn't matter whether you're an experienced designer or a complete novice,. This fascinating course caters to all ages and abilities. All in all, it's great value for money and Lyme Regis is a fantastic place to spend the weekend.
A pin to save to Pinterest
Get all the info you need to discover more about Dunford Wood or to book onto a course from the listing now >>
If you run a creative course that would interest our readers, please get in touch. Email us at editor@frombritainwithlove.com.
---