This month Nicky Sherwood headed to the pretty village of Clovelly in North Devon to try out a beginner's dressmaking course at new craft venue Rowan Tree Studio (listed in our directory here). We learn how to sew a shift dress as well as a skirt and pyjama bottoms
As a child I vividly remember the sound of my mother's sewing machine whirring into the night as she whipped up children's clothes, curtains, lampshades, and birthday party gifts of home-made sewing baskets lined with floral fabric and filled with all the sewing essentials a little girl could wish for.
Despite her best efforts to teach me as a child, somehow the sewing gene seemed to have passed me by. So it was with a hopeful heart that I headed to Clovelly in North Devon for the chance to redeem myself on a two day Beginner's Dressmaking Course at Rowan Tree Studio.
Founder Sarah Harper is pretty much living the dream, having recently moved down from London with her young family to start the business. Housed in a converted stone barn, the bright and airy studio space is filled with fabrics, trims and a collection of vintage sewing machines – a crafter's treasure trove – making it impossible not to feel inspired as soon as you walk through the door.
Sarah keeps course numbers small to ensure personal attention, and my fellow dressmaking student was another mum of small children so the three of us instantly hit it off.
Our projects for the two days were to be a simple skirt, a pair of pyjama bottoms, and finally a shift dress. First up was the skirt where Sarah demonstrated that it is possible to create a stylish and wearable garment using a very simple pattern and basic sewing skills.
Simple ribbon tie skirt
Having measured ourselves, Sarah showed us how to create a pattern and cut out the fabric using a rotary cutter (a revelation in itself – I will never use scissors again!). Sewing the fabric into a tube shape with just a few simple seams, we then folded the top over to create a drawstring waistline, before threading through a contrasting satin ribbon for a soft and comfortable fit.
step by step
Our skirts were complete before lunchtime, and we sat down to a steaming bowl of Sarah's homemade soup, followed by Devon scones with jam and clotted cream. All in the name of research, of course!
Simple pyjama bottoms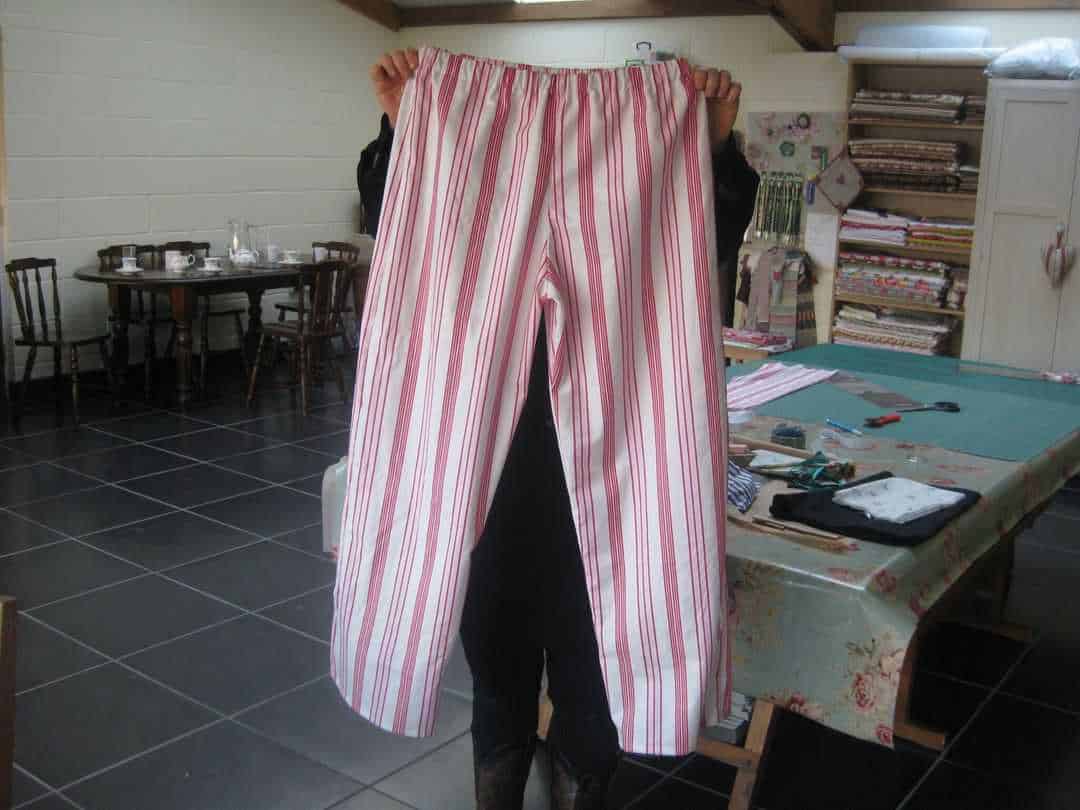 The afternoon was spent learning to make a pair of elasticated waist pyjama bottoms – my first ever attempt at making trousers, which I was pleased to find reassuringly straightforward under Sarah's expert guidance.
She even helped us cut out a mini version of the pattern for our children (by this stage I'm thinking cosy winter pull-ons for my youngest son and ragged-edged pirate trousers for my eldest… the possibilities are endless).
The great thing about learning Sarah's simple dressmaking techniques is that once you have mastered the basic skills, it's easy to adapt them as you grow more confident.
step by step

Heading back to my mum's farm in Cornwall for the night, I borrowed a couple of Sarah's inspiring sewing books (see below) and spent the evening planning my children's new wardrobes….
Simple Shift Dress
Next morning found me back in the studio bright and early. It was time to make a start on my final project. This time we'd be making a simple, classic shift dress.
Again, Sarah broke the process down into simple, manageable tasks. First cutting out the pattern then piecing the sections together.
Next is pinning and then sewing the concealed zip in place.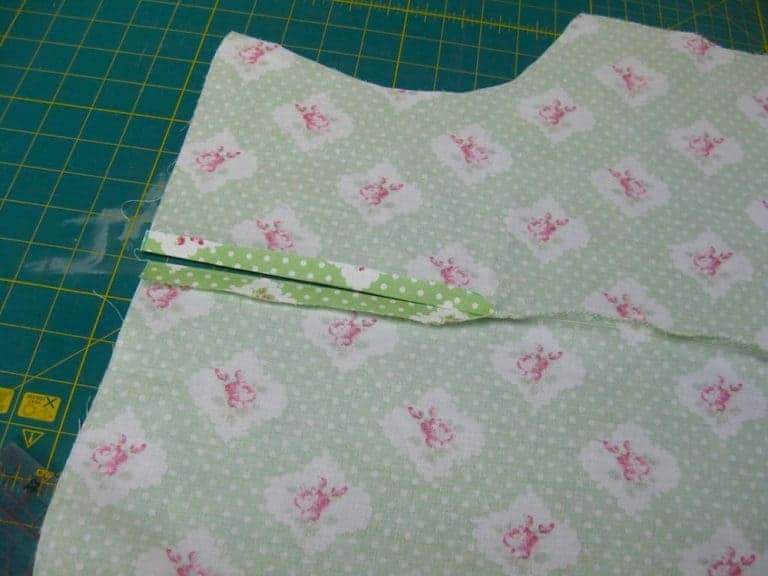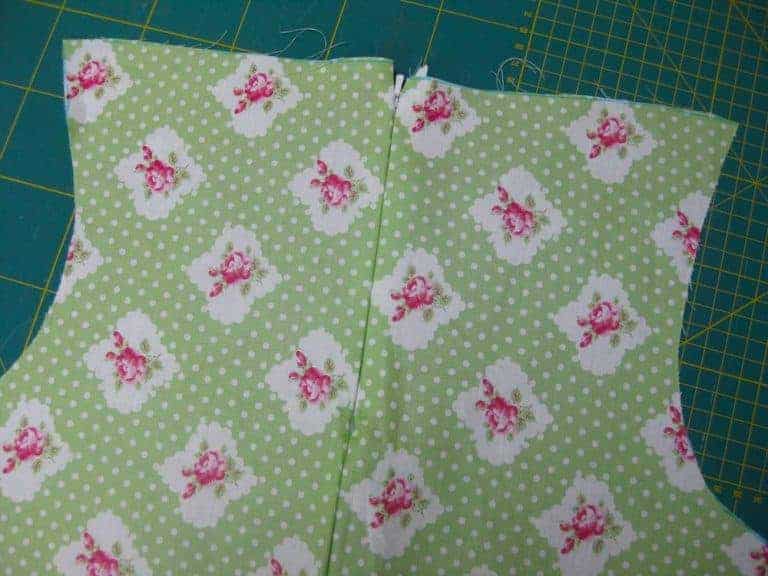 Then you create yokes for the armholes and neck using iron-on bondaweb.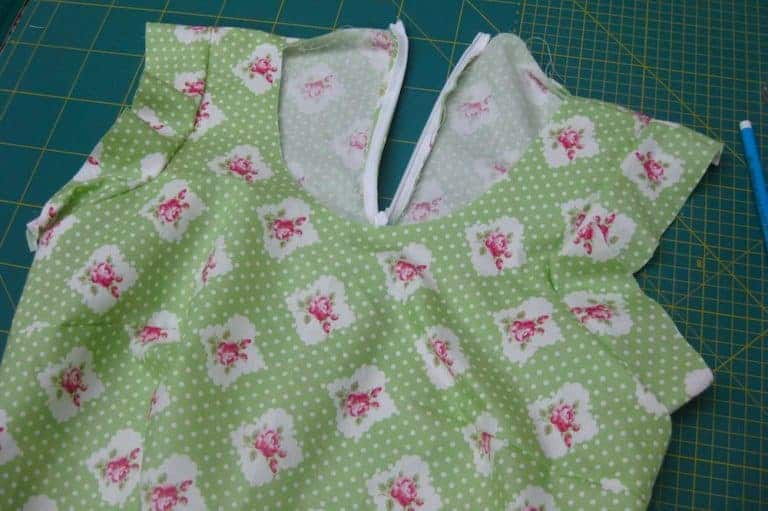 Next you sew it all together. The finishing touch was to choose a contrasting ric rac trim for the neckline. Having never sewn a buttonhole before, I was thrilled to learn how to use a zipper foot on the machine. It's a skill that I will definitely be able to use for all sorts of future sewing projects.
What I enjoyed most about this course is that you learn a set of new skills at your own pace. All in in relaxing surroundings, with an expert on hand if you get stuck.
As a tutor, Sarah gets the balance just right between teaching and allowing you to explore and discover for yourself. I know that the skills and techniques I learnt on this workshop will be with me for life. I left with my head buzzing with ideas for future projects… always a sign of a great workshop!
INFORMATION
---
Get all the info you need to connect with Rowan Tree Studio from the listing >>
Feeling inspired? Take a look at the Creative Workshops category in our Directory, where you'll find a variety of inspiring courses, from art and crafts to fashion and beauty, interiors, cooking and flower & gardening.
Recommended reading
We love these books featuring simple and stylish dressmaking projects…
Making Children's Clothes
by Emma Hardy
Weekend Sewing: More Than 40 Projects and Ideas for Inspired Stitching
by Heather Ross
If you run a creative course you think our readers would be interested in reading about, do get in touch. Email us at editor@frombritainwithlove.com.

---
A pin to share to Pinterest
---