How to arrange autumn flowers
Discover how to arrange autumn flowers as craft journalist Clare Kelly attends the 'Autumn Splendour' floral design course at The Sussex Flower School.
I have also shared lots more inspiring seasonal ideas by my favourite flower creatives (Please scroll down beyond Clare's workshop write-up). There's also information on a wonderful free Fall Flowers course from Floret Flower Farm, available if you sign up before 28th September… Hope you find something to inspire you!
---
I love autumn flowers and I love autumn. I just can't help myself. It's the colours, the cosiness….all of it.
So on an early autumn day, I found myself heading to The Sussex Flower School in Laughton for the their autumn flowers course where I was promised a pumpkin. That is, a pumpkin to use as the basis for an autumnal floral arrangement.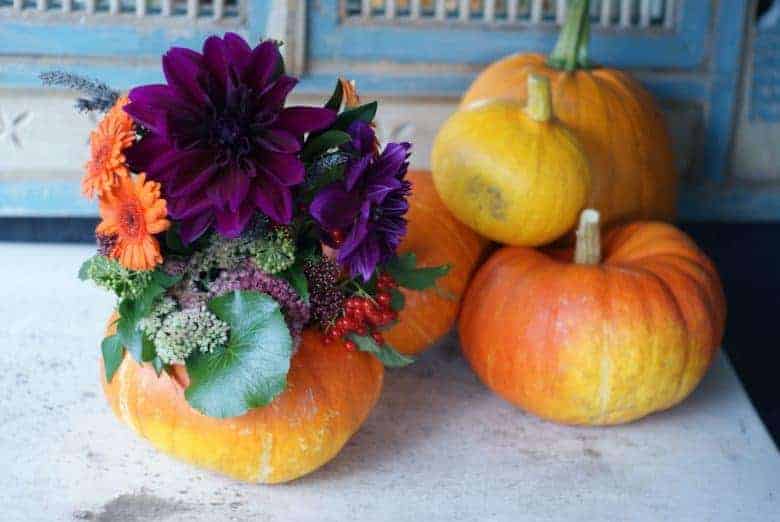 Set up by florist Georgia Miles, the School itself is a purpose-built workshop in the grounds of Georgia's own home, a picture-perfect cottage with its own cutting garden and interior touches straight off the pages of Country Living magazine.
(NB since this post by Clare was first published, The Sussex Flower School has moved to inspirational new studio premises near Uckfield in East Sussex. A converted cow shed with high ceilings and lots of light, the new workshop has its own cutting garden and ample free parking.
Each year, this post gets a lot of love on Pinterest – so as well as the original ideas, I have also updated it with fresh, new seasonal inspiration from other floral creatives too.)
Arriving for the course, I was told that the pumpkins had been sourced locally – the proud harvest of a schoolboy called Harry who I promised I would mention. Several pumpkins flanked the door of the workshop and inside there were plenty more, along with colourful buckets full of seasonal autumn flowers.
Autumn flowers and pumpkin arrangement
There are two parts to this course. The first is the pumpkin floral arrangement and the second, which takes place in the afternoon teaches students how to make the perfect Autumnal hand tied bouquet.
But first things first, let's get back to the pumpkins. Georgia demonstrated the technique we would need to employ to get our pumpkin ready. This required a sharp knife to lop off the top and then a big spoon to scoop out the flesh. I am not adept at using sharp tools, so needed a bit of help with this!
Pumpkins hollowed, you can add flower frogs to the base, with moulded balls of chicken wire on top to create a base for holding the flowers. This is to avoid using oasis or florist's foam – a major cause of micro plastics entering the eco system.
You can disguise the wire with moss; this has an evocative scent that makes me think of walking through woodland in the rain (it wouldn't be autumn without a few showers, would it?). If you have moss in your lawn, this is a great way to use it!
If you're indecisive, the next part of the course would have you dithering for hours as it is time to choose your autumn-hued flowers, many of which come from Georgia's cutting garden and include dahlias, sedum and gerberas.
I opted for orange gerberas to echo the shape and colour of my pumpkin, dark purple dahlias for a rich contrast of colour, lavender for fragrance and armfuls of greenery.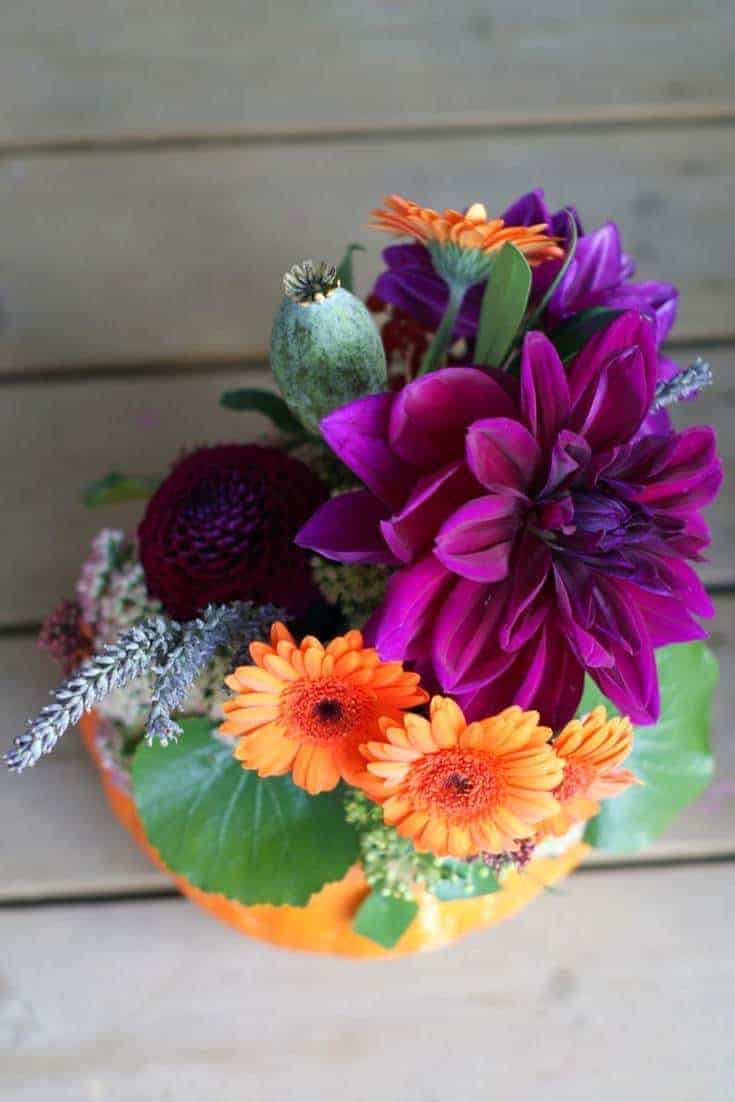 Like an artist starting with a blank sheet of paper, placing the first flowers can be a bit daunting but I decided to just go for it and found that you soon get into a rhythm and work almost instinctively, relaxing as you do.
For me, time flew by and it wasn't long before I'd finished my arrangement – a small, textured creation, which I was really pleased with. What do you think?
Above: Clare holding her finished pumpkin arrangement
For a glitzier twist on the idea, you could also paint your pumpkin gold:
Creating a seasonal hand-tied bouquet
After an intimate lunch with the rest of the group in Georgia's house (the main course, a fittingly autumnal butternut squash tart and for dessert one of Georgia's homemade cakes) we set to work on the hand tied bouquet.
It is quite fiddly to get the hang of, as you need to grip the flowers securely but not too tightly, a similar premise as getting the correct tension when knitting. Once again, we were given an enormous choice of autumn flowers and told to take our pick.
The beauty of the hand tied bouquet is that it can be achieved with almost any seasonal flowers and foliage. Once you've mastered the basics. It's all about starting with one strong, central piece and working from there, holding everything in place as you go.
For me, the key was properly looking at what I was creating as I went and adjusting if necessary. I did need quite a lot of help getting the hang of this but as with most craft techniques, it's all about practice and not getting too het up by mistakes.
Finally, we wrapped our creations with coloured tissue or brown paper and tied with raffia. I know I'll feel confident enough to give my own hand-tied bouquets as gifts now. Why don't you get yourself a couple of pumpkins, some flowers you like and have a go yourself?
Thanks to Clare for sharing her day at The Sussex Flower School with us
Course information
For up-to-date information about current courses and workshops offered by The Sussex Flower School, check out their website. As well as the Autumn Splendour course featured here there's also currently an Autumnal Wreath course (see examples below for some ideas). The bottom Autumn leaves wreath is probably my favourite and uses foraged foliage preserved and made glossy with glycerin. Simply mix one part glycerin with two parts water and submerge the leaves you want to preserve. Put a weight on top to keep the leaves submerged for 2-5 days. Dry gently when removed from the water – the leaves should now be soft and pliable.
This beautiful creation is from another of Georgia's courses.
Other creative Autumn flower ideas
Autumn Harvest wreath by The Real Flower Company
Love this seasonal Autumn Harvest dried flower wreath from The Real Flower Company. It's made using seasonal stems grown on the RFC farm in Hampshire. I just love how abundant and seasonal it feels.
(listed in our directory here) is a great source of floral inspiration, whatever the season. I love these latest ideas from G&G on Instagram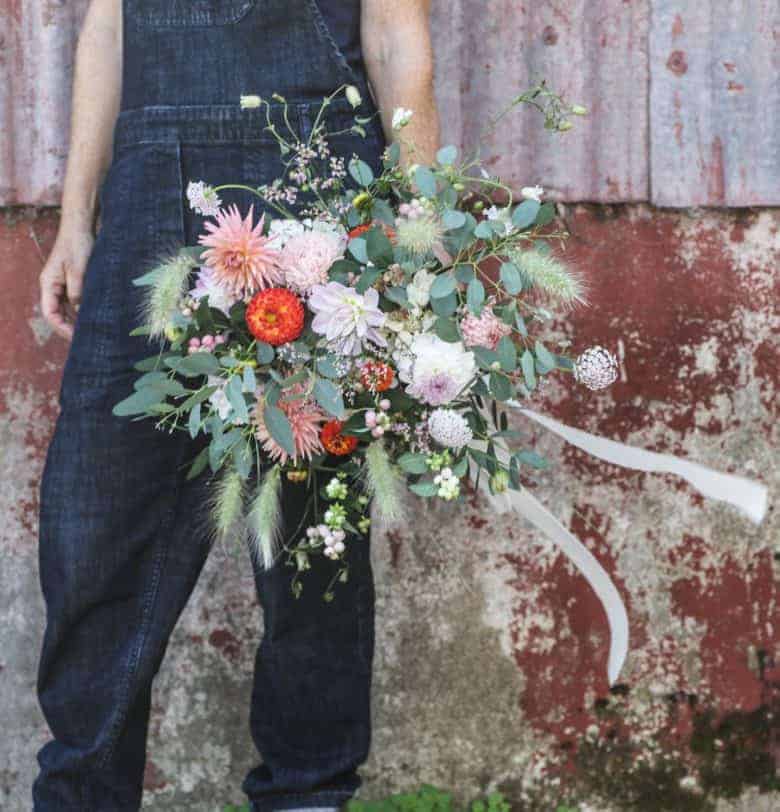 Find an inspiring selection of courses, flowers for events, farm gate flowers, pick your own flowers and more at Green & Gorgeous
And how lovely is this rosehip and viburnum natural Autumn wreath?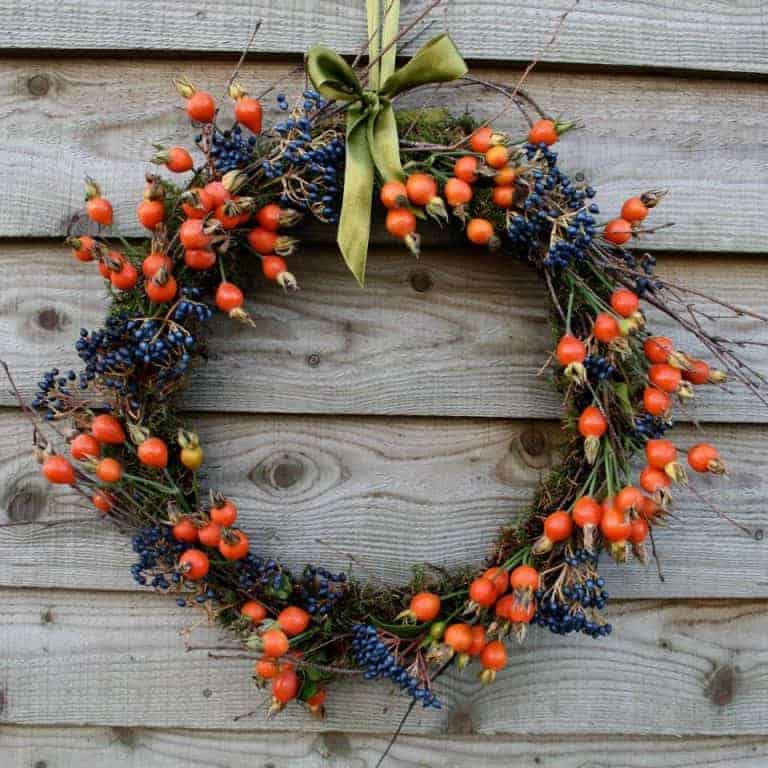 Gathered Autumn leaf garland by Roots & Wings
Thanks to Olivia at Roots & Wings for sharing this with us. Roots & Wings makes award-winning organic and ethically sourced jams, chocolates, natural beauty products and more.
I love the simplicity and that you first head outdoors and enjoy a seasonal walk looking for pretty leaves.
To make it, you take a length of cotton and thread a thick needle. Next just sew in your gathered seasonal leaves where you'd like them to be. If the branches are too thick, tie them on instead and then keep sewing. All you then need to do is tape the garland to your wall, mirror or door. Paper washi tape looks lovely, is kind to paintwork and easy to reposition.
Kinfolk and Sunday Suppers collaboration
I adore this idea of hanging Autumn leaves above a dining table to create the feeling of fall indoors. It's simple to do – just use a large needle to thread a length of strong cotton through the top of each leaf and attach to a light fitting or your ceiling.
I love how some of the leaves have almost fallen as low as the table. This ties in with the simple seasonal flower and foliage arrangement. Scented rose geranium leaves, cafe au lait dahlis, bunches of green olives, citrus fruits and purple flowers from the garden create a rich, autumnal arrangement.
See more lovely images from this event here.
Floribunda Rose
I also always love to see what Sarah Diligent of Floribunda Rose is creating. She runs workshops throughout the year as well as creating the most beautiful British flower arrangements for weddings, magazines and events. Here's a selection of lovely Autumnal images of her creations.
These last two ideas by Sarah are beautiful in their simplicity. Individual blooms and bits of foliage arranged in jars or small vessels create an informal look that I really love. The perfect way to display snippings from walks along the hedgerow.
Photo credit: Eva Nemeth.
Eva Nemeth
See more of Eva's beautiful work in this inspiring guest blog post she wrote for us : Flower Photography Tips and Ideas by Eva Nemeth.
This beautiful dahlia photograph by Eva is available as a card. Eva offers a range of workshops, courses and photography services.
Simply by Arrangement
Sarah Statham of Simply by Arrangement grows flowers up in her Yorkshire cutting garden and offers a range of inspirational courses and classes. She has a painterly way with the arrangements she creates. Check out her Simply by Arrangement instagram page for lots of ideas.
I've picked out these two Autumnal lovelies created using British seasonal flowers. Dahlias, coreopsis, cosmos, grasses, rosehips and seasonal foliage combine beautifully.
Electric Daisy Flower Farm
If you're in need of creative ideas, Electric Daisy Flower Farm is another great source of inspiration. Love the contrast between the deep Autumnal shades of this arrangement and the acid yellow backdrop.
Wild Bunch Flowers
I spent a very happy day learning to arrange Spring flowers with Tammy Hall's Wild Bunch Flowers farm in Shropshire. Read the full post here: Flower arrangement ideas using Spring flowers from an English cutting garden
Tammy offers a range of seasonal courses as well as flowers for events as well as selling flowers from the shepherd hut in her garden on Fridays
She has a natural, light touch with her arrangements and is inspired by the wild, natural beauty around her.
I love this beautifully simple Autumn arrangement Tammy created with the last of the dahlias, chocolate cosmos and seasonal foliage.
Henthorn Farm Flowers
These two ideas using dried flowers and findings are by Kirsten of Henthorn Farm Flowers. Getting creative with dried flowers is a great way to go and hugely popular right now.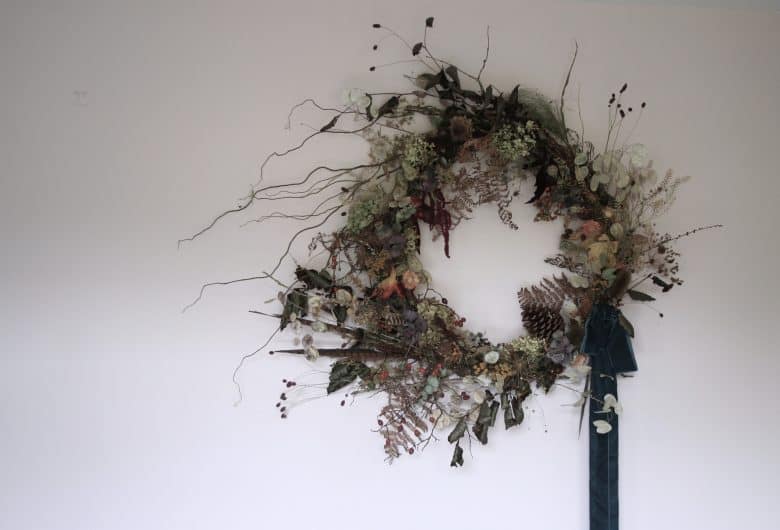 For more ideas and for tips on drying your own flowers, Bex Partridge has written her indispensable guide: Everlastings, which is available to buy on Amazon here
Chapters include how to harvest and dry your own everlasting dried flowers and lots of creative ideas to enjoy making. I've picked out this Ethereal Wreath to give you a flavour of the inspiration to be had. It's made using a vintage soil riddle, and attaching dried flowers, leaves and seed heads to lengths of fine bullion wire attached to the mesh of the riddle.
Kate Langdale
Finally I had to share these ideas by wonderful Brighton florist Kate Kangdale:
The wonderful giant Autumn wreaths pictured above are decorating wonderful Hove venue The Townhouse. Atmospheric and quirky, The Townhouse is where inspirational artist and author Philippa Stanton invited us to celebrate the launch of her book Consciously Creative. You can read all about the wonderful day we spent with her there – and see lots of photos of the wonderful flower installations created for the event by Kate Langdale – over on the blog here: Conscious Creativity by Philippa Stanton @5ftinf
Floret Flower Farm
I do realise that Erin and her team at Floret are not UK-based. They are inspirational growers and flower creatives over the Atlantic in Washington state's beautiful Skagit Valley. But I include her because she has been such an inspiration for so many in the British Flowers community of growers and creatives.
Also, I don't want you to miss out on her upcoming free Fall mini course. But you haven't got long… registration closes on 28th September 2020. The course is designed to help you grow some of Erin's favourite cut flowers: tulips, ranunculus, anemones and dahlias.
It's a four-part video-based course that will pop into your email inbox after you sign up.
I followed one of Erin's tutorials about dahlia splitting last year and the results were amazing! I'd started out with 9 bulbs and this year I had over 30 plants – all covered in flowers.
This arrangement gives you an idea of the seasonal loveliness you'll find over in the Floret Flower Farm world.
I hope you've found something to inspire you here – whether you were moved to create something dramatic in a fabulous vintage urn, or super-simple but every bit as beautiful in a jam jar. In these troubled times of ours right now, moments of joyful creativity are more precious than ever, aren't they?
You can discover much more about Erin's story and Floret Flower Farm in my blog post: Floret Farm's A Year in Flowers
A pin to save to Pinterest
---
Resources:
Find out more about what's on offer at The Sussex Flower School; by checking out their listing here>>
Green and Gorgeous flowers is listed in our directory here
Floribunda Rose is listed in our directory here
The Real Flower Company is listed in our directory here
Wild Bunch Flowers is listed in our directory here
Discover more about Roots & Wings here. Their blackcurrant jam is sublime, so you might like to have a go at baking their delicious Scandinavian Jam Tarts too. Olivia has kindly shared the recipe here:
Feeling inspired? Take a look at the Creative Workshops category in our Directory, where you'll find a variety of inspiring courses, from art and crafts to fashion and beauty, interiors, cooking and flower & gardening.
Clare Kelly is a freelance craft journalist, photographer. All workshop images courtesy of Clare Kelly.
This article contains affiliate links, which means we may earn a small commission if a reader clicks through and makes a purchase. All our blog posts are independent and in no way influenced by any advertiser or commercial initiative. By clicking on an affiliate link, you accept that third-party cookies will be set.
---