Flower Growing Bliss with Plants Of Distinction & more. Dreaming of Summer with Plants of Distinction & other indie seed favourites – I share my flower seed wish list
The ground might seem like permafrost right now and last year's flowers blackened relics of long-gone summer joy. But Spring is already starting to do its thing and now is the perfect time to start putting this year's garden dreams into practice.
To get us in the mood for dreaming, I've dug out a couple of photos of blooms I grew last summer in my cutting garden. Sigh…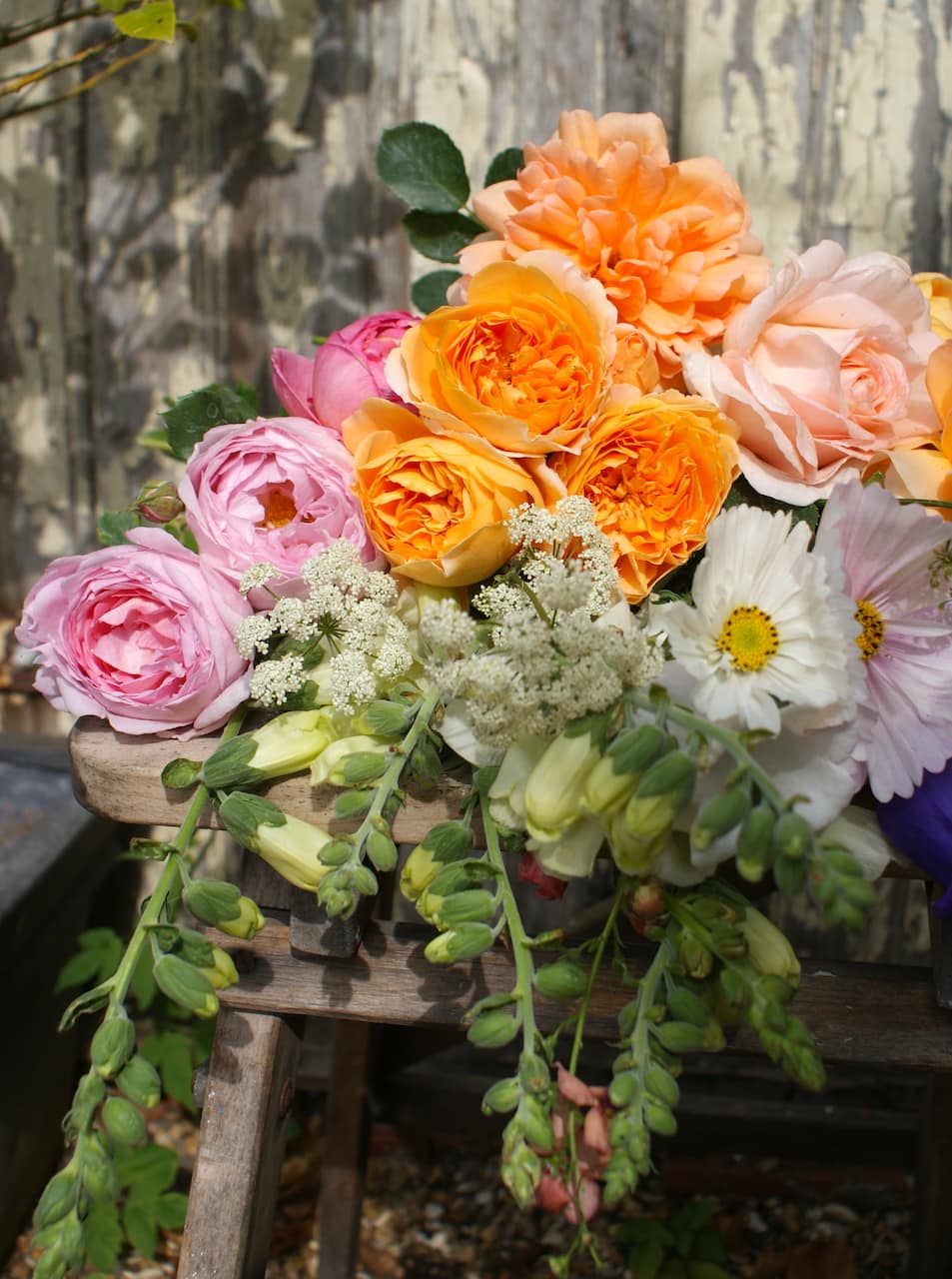 I have a BIG thing for roses (shown above are a few of my favourites: Dame Judy Dench, Chandos Beauty, Boscobel and Scepter'd Isle I think), along with other pretty cottage garden plants I grew from seed including foxgloves and cosmos. (You can find out more about my own own cutting garden story here)
There might be precious little going on in the garden during January and February, but these are months for another source of flower growing joy all together. Namely shopping for the seeds you're going to grow this year. Sounds a touch prosaic and, dare I say it, straight forward doesn't it? Not so. It's a process that requires a challenging mix of dream and space management.
Experience has taught me the hard way that you need to be brutally honest with yourself about the space you actually have – both for seedling propagation as well as for planting out your young plants. I have a small greenhouse, but more often than not, by March I am totally swamped, with seedling production laying claim to every available surface in the house.
Challenging though it is, the seed tray stage isn't where things can get really out of control. In my experience, it's the next bit, where you need to pot on all the seedlings you've grown, that is most testing. Potting on poses a double challenge for me. Firstly, no matter how tall my mountain of saved plant pots and containers has grown, it's never tall enough and I always run out. Secondly, you'll have far more seedlings than you can reasonably pursue and that means picking only the best and composting the rest. I struggle with this and feel compelled to nurture the smallest, puny seedlings, cheering them on as they do their best to survive. Much like you would with an orphaned lamb or baby bird.
Last year I finally accepted the evidence of my own eyes: stronger seedlings will always make stronger plants and give you more flowers as well as stronger seeds for the next crop. So it's not heartless to put any weaker left over seedlings into the compost. They're actually just remaining part of the circle of life (must remember not to hum anything from The Lion King whilst carrying this out as am more likely to lose resolve…).
You have to let nature do its thing, I've come to realise, rather than trying to intervene in a somewhat anthropomorphic and overly sentimental fashion. Strong plants will adapt the best to their surroundings and the seeds they produce will, with each successive season, increase that level of adaptation. It's genius when you think about it and I do have a growing collection of seeds harvested from my own flower garden. I must remember to factor this in when shopping for more…
Now time to get down to the good bit – the hunt for new flower growing inspiration. I have a few go-to favourite seed suppliers (Plants of Distinction, Chiltern Seeds, Roger Parsons Sweet Peas, Zoe Woodward Gardening, Crocus, Stocks & Green and Sarah Raven) that I always check out as part of the long list-making process.
I love to browse physical seed catalogues as well as online websites as I'm pulling together ideas. I'm looking for new flower varieties, classics I haven't grown before, shapes and colours I maybe didn't have enough of last year.
That's the easy part – it's the editing down that takes skill and resolve – but I thought you might be interested to browse my long list of ideas, with all the links to source them in case they make it on to your list too.
Plants of Distinction
This is a great independent seed resource, a family business based in Needham Market East Anglia, and always a source of inspiration. I receive their printed catalogue in the post and at this time of year it lives beside my bed so I can browse and dream of summer before falling asleep.
Online, Plants of Distinction has a New and Featured flowers section which is where I usually start browsing. You can also browse by Cutting Flowers and Good for Birds, Bees & Butterflies.
My picks from Plants of Distinction for this year's long list
Award winning for good reason, this stunningly beautiful Cosmos variety combines shades of terracotta with rose. I always grow Cosmos as it's so easy will give you masses of flowers for months – right up until the first real frost if you're lucky. I've grown Purity (a beautiful white flower) and Cupcake Blush Cosmos before, both of which I LOVED, but I'm thinking I should go for a different shade this year and this one is definitely a front runner as I write.
I adore wild forget me nots and have lots of patches around my garden, but they don't last at all well as cut flowers. That's why I'm drawn to these super pretty Cynoglossum seeds (commonly known as Chinese Forget Me Nots) as they are suitable for cutting and adding to bouquets or arrangements.
I didn't grow any Helichrysum (or Straw Flowers) last year and I regretted it. Perfect for drying (so easy, you really can't go wrong!) they are the perfect way to grow yourself some everlasting blooms. This mixture of double apricot, salmon pink and peach flowers from Plants of Distinction is the prettiest I've found.
This is the perfect 'filler' flower for creating arrangements or bouquets, as well as being very pretty in its own right. Lightly scented and with soft caramel and cherry flowers.
Browse more Plants of Distinction flower seeds here: https://www.plantsofdistinction.co.uk/
Like Plants of Distinction, Chiltern Seeds, is also a family business run by sisters Heather and Sally and is based in Oxfordshire. It's the go-to resource recommended to me by professional flower growers I know.
I love their Cut Flower Edit section as it's full of really suitable suggestions or the full Cut Flowers section that you can further filter (eg by colour, conditions, scent or flowering period).
I've added this to my list of possible Cosmos varieties because the colour is so unusual. Burnished apricot, peach and raspberry combine so prettily and would also work well with lots of my other existing perennials.
I have plenty of tall delphinium plants already in shades of blue and violet but nothing in pink or white, so I am drawn to this salmon pink variety. There's nothing quite like delphinium (or larkspur) for adding a pretty, English cottage garden touch to any arrangement or bouquet.
A larger than usual flower head for a Strawflower (perfect for drying and very easy to grow as mentioned earlier) so this beauty is definitely on my list.
This one isn't for my cutting garden – I'm thinking it will look spectacular along an old sunny wall. Such an unusual colour combination and the most stately of cottage garden flowers standing 7 feet tall when fully grown. Best of all, it's a perennial plant, so it will come back year after year.
One thing I realised I needed more of last year was beautiful foliage and seed /wild flower heads for adding interest and contrast to flower arrangements. I love the feathery green foliage of this plant, along with the pretty white flowers that have a wild/country garden feel.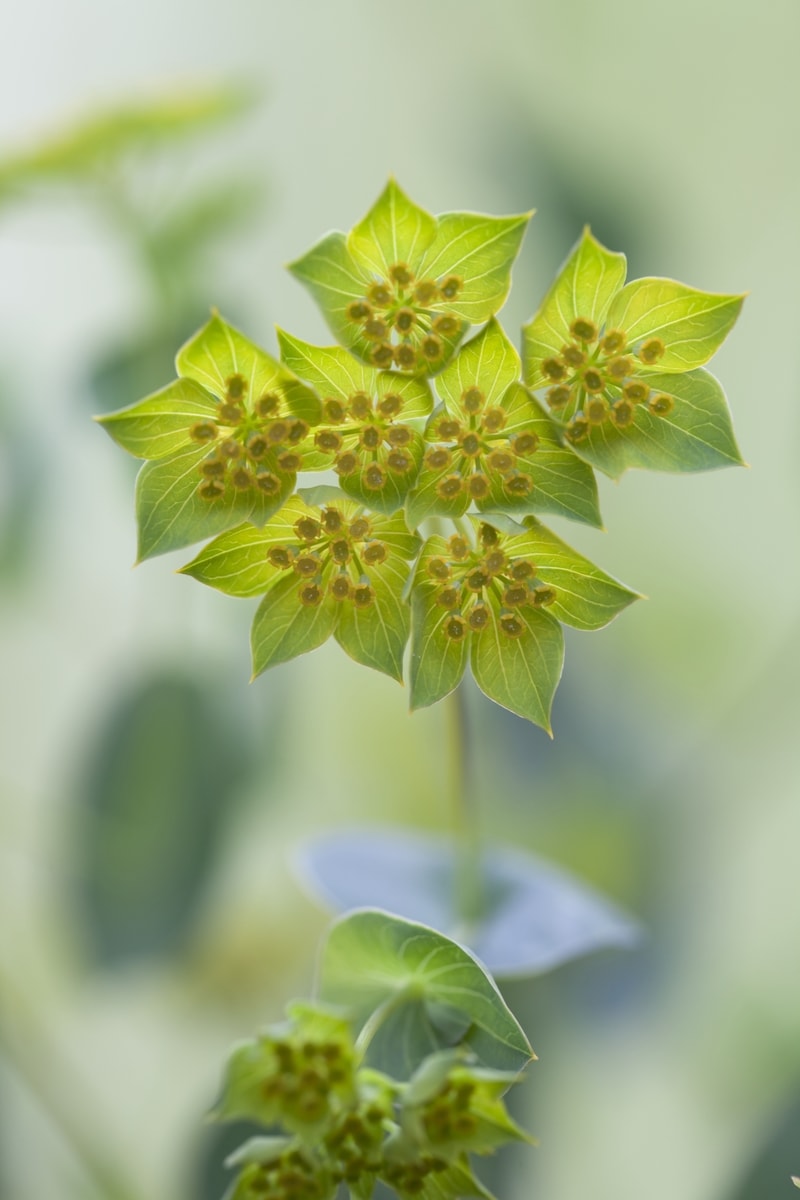 This yellow-green wild flower beauty is on my list for similar reasons to the Amni above.
Sweet William always makes me think of my mum because she grew it in the garden of my childhood home and would fill jugs and vases with it throughout the summer. This is a really beautiful variety that would add welcome deep colour and drama to my cutting garden so it's on the list too… The list is getting quite long already, I'm aware, but as I said at the beginning, there's some serious editing to be done at the end. So bear with me for now.
I know that many of you are based in the US, in which case you're lucky enough to have flower seeds from the wonderful Floret Farm available to you. You'll find most of the seeds I've featured earlier (and lots more) in their online shop. I love what Erin and her team have created at Floret (you might like to read How to grow dahlias with Erin of Floret Farm) and have included some of my current seed favourites for you here even though I can't order them myself (all available to order for shipping within the US and most to Canada too).
I actually ordered this Coral Fountain variety of Amaranthus seeds last year from Sarah Raven but was sent a deep dark red variety instead. Obviously with seeds, this doesn't become apparent until quite some weeks and months of sowing, watering and nurturing later… So I wasn't best pleased. A refund doesn't really cover it does it? Not a major hardship, I'll grant you, but irritating none the less. I plan to grow this more subtle coral variety this summer -as I'd planned to do last year, available in the UK from Honeyvale Farm on Etsy. More about Honeyvale Farm later.
Highly fragrant with full, fluffy blooms, these elegant apricot beauties make a big impact in gardens and floral arrangements/bouquets. Half of the plants will be single flowered, the other half double, so plant twice as many as you need.
I love this soft peachy-cream calendula (or marigold) with a reverse cranberry stripe and a chocolate brown eye. Just lovely.
Selling via Etsy, Honeyvale Farm is based in County Durham and all their seeds are 100% guaranteed, inspected, certified & organic. As well as masses of unusual tomato and vegetable seeds, Honeyvale also sells some beautiful flower seeds (eg the Coral Fountain Amaranthus featured above). I'd also pick out this beautiful
I grew these pretty soft apricot/pink foxgloves a couple of years ago and absolutely loved them. What I hadn't realised was that I'd need to start them off really early to see flowers the first year, so there wasn't so much as a single bloom until the second summer. Once they were in flower, the display was truly spectacular. I'd planted massed of them along a grass verge, and irritatingly, I didn't think to save the seed heads from the mower once they'd finished flowering. I'm tempted to grow them again, but correct my mistakes this time.
Another great independent resource with grow-along handbooks, lots of helpful online content as well as an Autumn jump starter and January seed shop. Stock quantities are small and do sell out fast, so the best thing to do is to sign up for Zoe's newsletter and that way you'll receive early access to the shop when it opens.
Stocks & Green is a small UK based independent business offer a hand-picked range of flowers, vegetables & herbs to grow from seed. With a commitment to limit landfill waste, wherever possible they pack orders in materials which can be easily recycled (almost all of their packaging can go directly onto the compost heap).
There's a super-helpful Cutting Garden Flowers section full of inspiration. I've added a few to my ever growing list:
This variety of antirrhinum (or snapdragon) has colourful flowers on very tall stems and will attract pollinating insects to your garden. I grew a similar variety a couple of years ago and I must have had hundreds of beautiful cut flowers from one packet of seeds. Ideal for a cutting garden, snapdragons will go on producing more flower stems if regularly harvested above a pair of leaves.
Stocks & Green also offers a range of hand-picked seed selections to help you 'grow the bouquet'. There are pale and interesting, jewel colour, wild & rustic and pretty cottage mixes to choose from.
If you're just dipping your toe into the whole idea of cut flower growing, these mixes are a great idea. This pretty pink mix includes Lavatera 'Dwarf Pink Blush', Centaurea cyanus 'Ball White' – Cornflower, Amaranthus caudatus 'Love-Lies-Bleeding', Eschscholzia californica 'Carmine King', Centranthus ruber and Nigella seed pods. All for less than £10. That's one of the joys of growing from seed – you put in the growing time yourself, so the cost is really low.
No self-respecting cutting garden should be without sweet peas but it's important to source the right variety. Rosebie Morton, founder of The Real Flower company wrote a helpful piece for me: How to grow sweet peas with Rosebie of The Real Flower company and her favourite source for sweet pea seeds is Roger Parsons Sweet Peas (he holds the National Collection) and has a wonderful selection. Rosebie's favourites are Cathy, Romeo, Zorija Rose, Alisa and Emily.
My own favourite is Blue Shift a fabulous and highly unusual variety with flowers that open a rich purple and gradually darken to a deep blue, both on the plant and when cut in a vase.
English Sweet Peas is another great place for sourcing seeds direct from the producer. Find all manner of sweet pea inspiration and information here.
What I like about Sarah Raven seeds is that you can find them in your local garden centre and there are regular online sales and offers. The selection is nicely curated and, although I was sent the wrong variety of Amaranthus seed last year, their seeds are usually reliable and grow well. There's a Flowers for Cutting section which is particularly useful if you're just dipping the first toe into the whole idea. It's where I started and everything I grew flourished and gave me months of pure joy.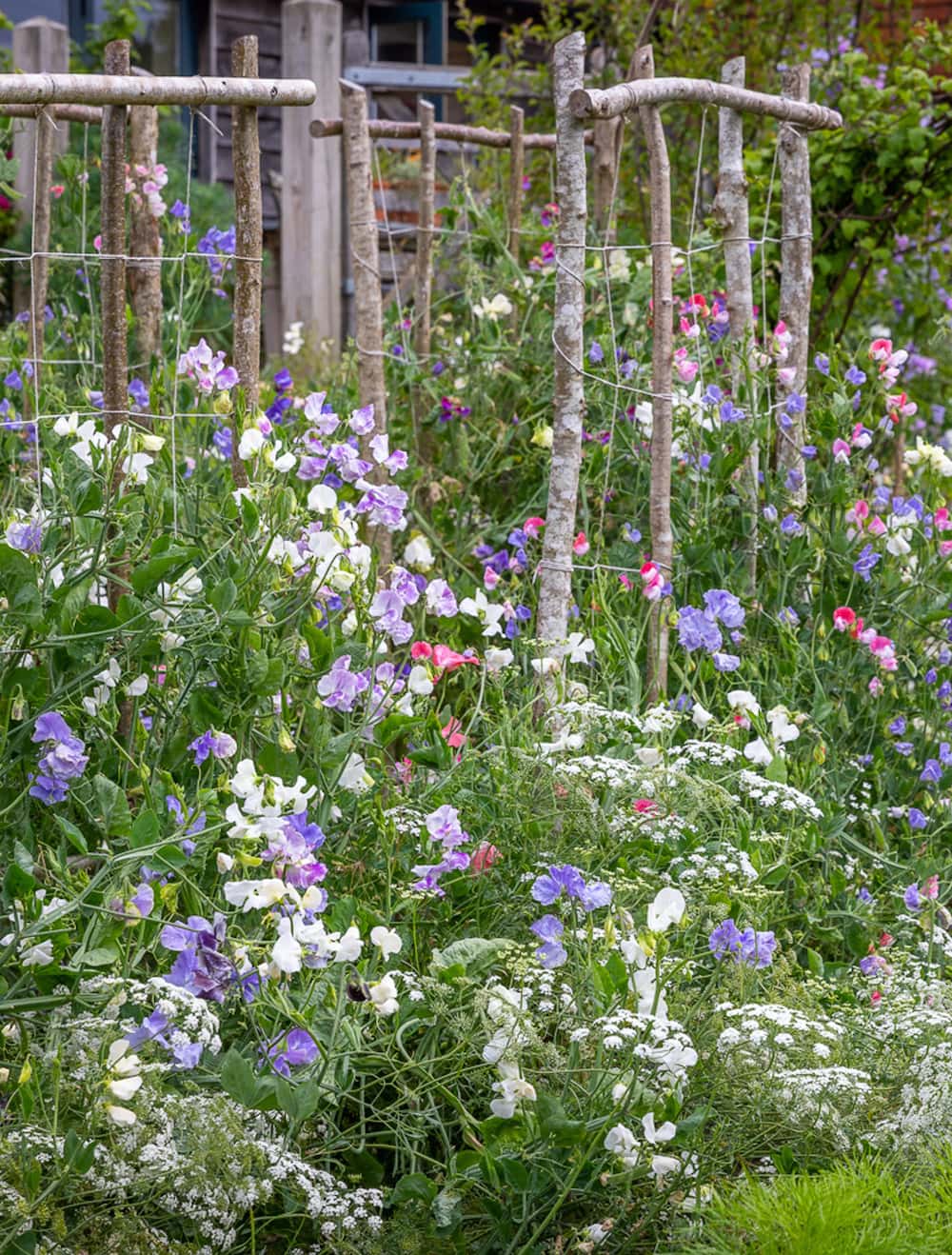 This is a very pretty mix of sweet pea, amni and cosmos plants cleverly designed to take you through the whole of summer and autumn. Sweet peas frothed out by ammi for the early months, with the cosmos pair then taking over.
I've included Crocus because of the wide amount of choice they offer online. Gold medal winners at The Chelsea Flower Show, Surrey-based Crocus has grown into the largest gardening website in the UK so it's no surprise there is plenty of flower seed choice – and there's 10% off as I write with code EXTRA10.
Right, that's probably enough from me – I clearly have some major list editing to be getting on with. I already have one bed in my cutting garden devoted to roses and another to dahlias, so I don't have as much space for planting out as I am inclined to delude myself into believing.
I do have a nagging feeling that my negligence has caused irreparable damage to my dahlia bulbs this year. They were still at the very end of flowering when the first, very heavy frost hit. The plants were instantly blackened (which is the prompt to remove the top growth and either dig up the bulbs or cover over with mounds of compost to protect from further frost). I didn't manage to do either before another series of heavy frosts hit and now I will just have to wait and see what has survived. I need to change the subject as it's making me spiral slightly just thinking about what I might have lost.
If the worst has happened and the dahlia bed does turn out to be tragically lacking in regrowth come Springtime, at least I can mitigate things if I have lots of new flower seedlings to play with by then… So maybe I don't need to edit my list as heavily after all. I'll keep you posted!
Information
Plants of Distinction has a wonderful selection of flower seeds online and also produce a printed catalogue. Browse the Plants of Distinction website here: https://www.plantsofdistinction.co.uk/