How to start a cutting garden – expert tips and ideas
How to start a cutting garden – my own story
It was a blissful April day spent with Tammy Hall at her Wild Bunch Flowers farm in Shropshire (below) that set me off. Walking her poly tunnel full of salmon pink and vibrant coral ranunculus… rows and rows of exquisite peony-like double tulips in the softest creamy coffee and lime-edged pastel pinks… enjoying apple trees grown just for their blossom… spring lambs hopping over to say hello…
(You discover the inspirational story behind Tammy's business (more flower farm than cutting garden) over on the blog post Meet Tammy Hall of Wild Bunch Flowers here)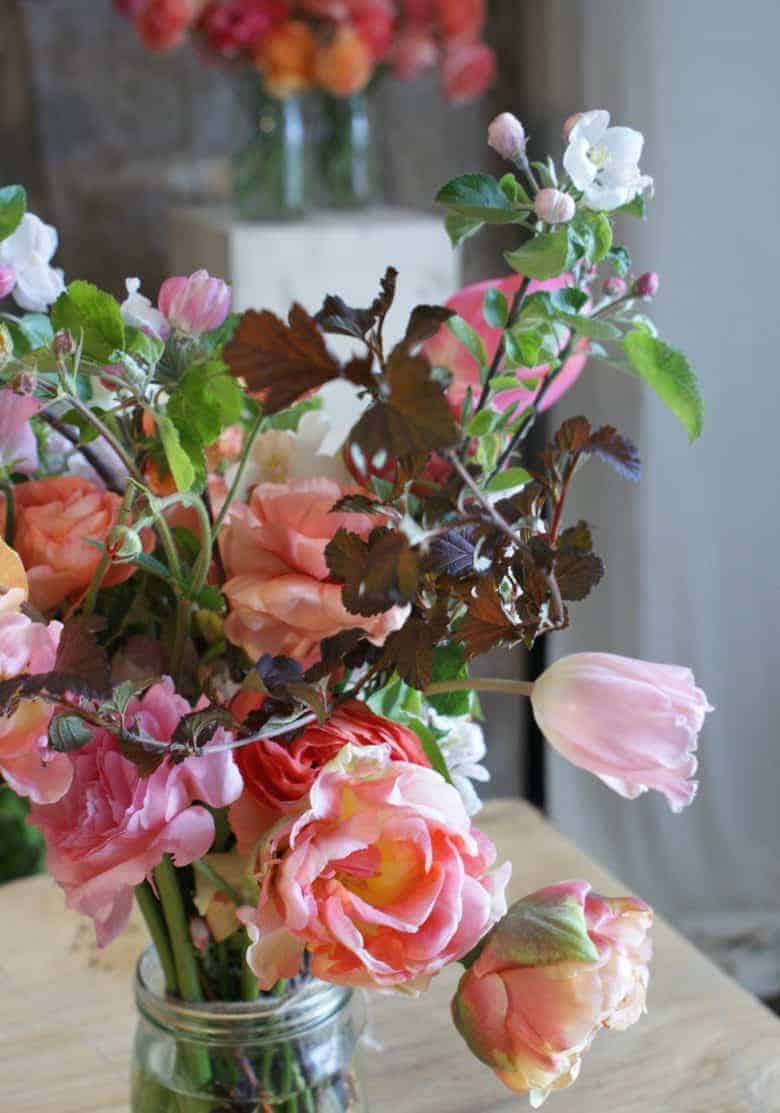 I came away feeling really inspired to grow more myself. I have always loved spending time pottering in my garden but struggle to take the snippers to flowers when they look so beautiful in the flower bed. It feels like vandalism somehow. But I do love to fill the house with simple jugs and jars of seasonal blooms and foliage. It got me thinking about doing more with a forgotten and overgrown area of my garden. I made up my mind to create a dedicated sustainable flower cutting garden.
A couple of weekends later I'd reclaimed two weed-choked abandoned old vegetable patches still surrounded by flagstone paths (beneath the overgrown grass). I wasn't sure I'd ever be able to stand up straight again after a weekend of weeding, digging and sieving the soil through a vintage riddler. I was on a roll and even decoratively edged the beds with curved green twigs taken from a forsythia I'd just heavily pruned. It was an idea I'd seen edging the kitchen garden at Hinton Ampner National Trust property a year or two ago and it was just the best fun to do. I loved how it all looked when it was finished and kept popping back up there just to look, cup of tea in hand. I actually had the blank canvas of a cutting garden of my own! All I needed now were flowers to grow in it.
I'd sown trays and trays of seeds that were soon ready to plant out. If I'm totally honest, I did run at this bit slightly as I'd started late and was trying to catch up. I just bought packets of seeds (from Sarah Raven and my local garden centre) that I liked the look of, without giving it much (any) thought.
Here's what I bought:
Cosmos Purity, Cosmos Cupcake Blush, Larkspur, Foxgloves, Falling in Love Poppies, Twilight sweet peas, and Cup and Saucer mixed Canterbury Bells.
I also ordered 9 Cafe au Lait dahlia bulbs (from Rose Cottage Plants) and bought three delphinium seedlings from my fantastic local independent garden centre (Aylings in Rogate). I'd taken cuttings from a large rose geranium plant the autumn before, so I now had 10+ plants to play with. I kept some in pots for a vintage metal plant stand in my garden and decided to plant a row of in my new cutting garden too. I love the fragrant leaves with their frilly edges and they work brilliantly in flower arrangements.
Soon I had rows of my own seedlings planted out in the cutting garden in very neat straight lines. I used the simple 'ball of string and two sticks' technique I learned from helping my dad plant out cabbages or dig trenches for seed potatoes as a little girl. I also poked sturdy canes in next to where my dahlias were starting to grow ready to offer them support. And so the simple joy of daily evening watering began. The utter thrill of watching it all start to happen just as I'd dreamed!
I am determined to grow sustainably and without the use of any nasty chemicals. It's more than a little handy that BBC Gardener's Question Time panellist Pippa Greenwood is a good friend. She popped in for coffee and cake – and I picked her brains about how to deal with garden pests responsibly. Pippa gave me masses of confidence that it would be more than possible to grow abundant healthy flowers in a sustainable way. The key, she told me, is to identify any pests quickly and deal with them. There's a whole blog post: Sustainable garden ideas from Pippa Greenwood if you want to know more.
I haven't used a single slug pellet or chemical since I started. I did buy live ladybirds which were a revelation. They set to work on aphids and black fly from day one and I loved to spot their dotty red backs as they conscientiously got on with the task in hand. There was a distinct sheepy smell for a few weeks after putting down anti slug wool pellets – which worked brilliantly and saved my delicate Cosmos and Larkspur seedlings. Once the plants had grown a little hardier, I didn't need to worry about the slugs or snails any more. After that it was all about making sure to water enough and to keep the weeds in check.
I love to watch the busy eco system at work – so many butterflies, bees, ladybirds and naturally healthy plants. Is there anything better?
First to burst into a blaze of colour were the poppies. I just love this 'Falling in Love' mix from Sarah Raven – salmon pinks, bright corals and whites with subtle blush edges. I would take a cup of tea up there in the early morning and enjoy watching the bees and insects busily flying in and out of them. I didn't find the poppies lasted well as cut flowers, however. Who knew that searing the cut end would make all the difference? Well, I do now! (See Sarah Diligent's expert tips below for more info on how I hope to put this right next year!).
Soon the cosmos plants had grown tall and full of pretty flowers. Cosmos Purity is the perfect white cottage garden flower. It keeps going and going and the flowers last well when cut. I think my favourite, though, were the Cupcake Blush variety. The bees certainly thought so and I just loved their pretty shape and subtle pale colours. I cannot believe just how much these beautiful plants have given – and still continue to give!
As we speak (mid October) they are both still flowering and I am keeping on with the dead-heading as I can't quite bear to actually say goodbye. Even though the lower leaves and stalks of plants themselves looks somewhat blackened and tired. But whilst they keep flowering valiantly in the face of the inevitable, I'm not about to give up on them.
Here's a little video I took one summer morning that fills me with longing for next year…
The larkspur was pretty too and I cut masses as the weeks went on. It was really great for adding splashes of colour – purple, lilac and pink. I did try keeping on top of removing all the seed heads as soon as they appeared to prolong the flowering.
The sweet peas were abundant, fragrant and beautiful but I chose to grow these up a homemade willow cane wigwam in a large metal pot I reclaimed from the local recycling facility. I am still picking a small bunch of sweet peas each week, thinking each one will be the last.
But… of all the flowers I have grown this year, the café au lait dahlias have been my hands-down favourites. They are still giving me 10 or so dinner plate-sized flowers a week. I must have had over 100 flowers so far and all just from 9 bulbs. They are big, blowsy and utterly beautiful.
The foxgloves are now large and very healthy looking plants. But not a flower to be had all summer long. I'd planted them out in large numbers before I realised they wouldn't be flowering until the following summer. I'm sure they will flower next year in abundance… It's exactly the same story with the Canterbury Bells. I do feel a bit cross with myself that I didn't take the time to properly read up on it all. It's not really like me to be so slapdash, and I am determined to do much better next year. I wouldn't have given them so much space where they are if I'd realised in time.
There are so many things I got wrong this year… planting rows too close together, not taking into account the height plants would grow to and where they'd create shade. Not giving plants sturdy enough stakes to cling to when the wind really whipped up. Planting too densely because I didn't want to waste any seedlings if I didn't have to… to name just a few.
All of that said, it would be impossible to over-exaggerate the amount of sheer joy this flower garden has given me. I am finding it hard to say goodbye to this summer's flowers because some of them are still valiantly giving of their best. I picked these for my hall table just this morning.
Once Autumn is fully here, I know I'll get properly stuck in to planning for next year. I didn't plant enough options to keep me going through Autumn and Winter. I do already have this wonderful bee-friendly and fragrant Abelia bush in my garden which flowers right through to Winter.
And there's lots of ivy with berries, autumn foliage, hips and evergreen loveliness around the garden as a whole. But I have ambitious plans for next year in my cutting garden. On the list already are zinnias, ranunculus, more roses, more dahlias, lots of tulips. I have taken cuttings of salvia and potted up lots of self-seeded lady's mantle creeping its way beyond the flower beds. To really build on this year, I could do with some expert ideas and tips, so I decided to ask for help from one or two inspirational women growers I happen to know…
It's given me plenty of food for thought – not to mention a lengthy shopping and to-do list! Hope you find inspiration too!
How to start a cutting garden – expert ideas and tips
Expert tips and ideas from growers listed in the Sustainable British Flowers category of the From Britain with Love directory.
Rachel Siegfried, Green & Gorgeous
So many of my favourite growers and floral creatives credit Rachel Siegfried of Green & Gorgeous flowers as being their inspiration. Her courses and workshops are among the very best available. There's also a great blog post where Rachel writes about Flower Farming through the seasons and shares lots of valuable information
I asked Rachel to share a few seasonal tips and ideas as well as jobs to get stuck into right now…
'The first thing I would consider when establishing a cutting garden is planting a few shrubs for both foliage plus flowering and fruiting stems in the Spring and Autumn. These will form not only the back bone of your arrangements but also your garden, creating shelter and structure.
Some of my favourites for foliage include Hornbeam, Eucalyptus and Rosa glauca. For flowering branches in the Spring and early Summer I rely on Spiraea argutea, Viburnum opulus and Philadelphus. For berried branches in the Autumn, Snowberry and Hypericum varieties are mainstays.
Woody cuts as they are known in the trade take on average three years to establish, so it is a timely job for the planting season which is from November to March. I would recommend using a landscape fabric around the plants or a thick mulch of bark chip to keep the weeds down and consider irrigation if you are planting a large area to help them establish in the drier months.
Other jobs for the Autumn include planting Spring bulbs. We tend to wait till November before planting our tulips which go into trenches about 25cm deep. It's time too for sowing hardy annuals and lifting your favourite dahlias after a frost for propagation in early Spring.'
Rosebie Morton, The Real Flower Company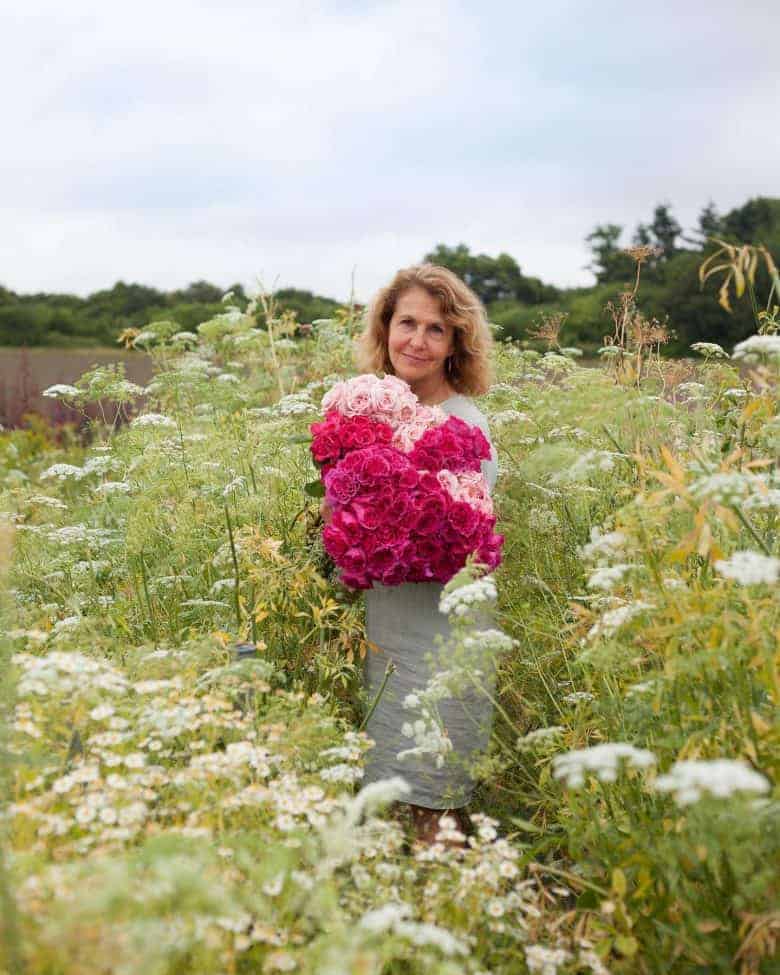 I created a small formal rose bed in my front garden this year, but with mixed success. I suspect I under-estimated how much water they needed (they seem so much happier now after some really rainy weather) and I'm not sure if the rusty support I'm growing them against is good for the leaves….
I have decided to create some space in my cutting garden for some well chosen rose bushes next year. But the choice is somewhat overwhelming. Where to start? I decided to ask Rosebie Morton, founder of The Real Flower Company is she could help. Rosebie is the queen of rose growing and I can't think of anyone better to ask for advice. I wrote a blog post about an inspiring visit to The Real Flower Company Flower Farm, Hampshire last year if you'd like to know more.
I am going to make life easy for myself and simply order each of her suggestions for planting this Autumn.
'I would definitely include Winchester Cathedral on my list of roses to grow for cutting. It's a lovely clear white rose; sweetly scented, it produces lots of rosette-like blooms with pink tinged buds opening to pure white and it flowers all summer.
Arthur Bell – A deep yellow rose, fading with age and it is one of the earliest to flower. It is very fragrant with good glossy foliage and a very good cut flower. It has won lots of awards.
Gertrude Jekyll is a fabulous raspberry pink with fantastic scent. It is a very good cut rose and lasts for ages in a vase.
What about growing Roseraie de l'Hay? A really healthy shrub with very large fragrant bright-magenta blooms. Early in the season it has a wonderful apple green foliage which is great for cutting – providing you have a good pair of gloves! It also has fabulous hips and it is important in a cutting garden not just to be thinking about blooms but foliage, hips, seed heads etc as well.
Chandos Beauty – I often refer to it as The Perfect Child as it is all round such a great rose. A beautiful hybrid tea with gorgeous peachy/ apricot very scented blooms, it is very healthy and needs no spraying and it rewards you with flowers all summer.
To get the best from your roses, it is just like building a house, in that you need good foundations. So make sure there is some good well-rotted manure in the soil, and you dig a decent hole and incorporate compost and a handful of a slow release feed such as Vitax Q4 and that you have soaked the roses well before you plant them.
People forget how needy roses are; they thrive on good water and feed and to get the best cut flowers they need to be pruned hard in the spring and then dead headed throughout the summer.'
Other beautiful roses to consider for your flower garden:
Sarah Statham, Simply by Arrangement
Sarah grows flowers up in the Yorkshire hills and is passionate about bringing beautiful, seasonal flowers to the North of England and beyond. I just love her almost painterly style of floral design and how she uses colour and seasonal texture. Simply by Arrangement offers a range of highly inspirational flower workshops through the year. She has kindly shared one or two glimpses into her own flower garden as well as some expert ideas and favourite flowers to grow. You can find out more about Sarah, her inspirations, local loves and simple pleasures over on the blog: Meet Sarah Statham of Simply by Arrangement seasonal British flowers
1. My must grow flower varieties (for each season) are these:
Winter: hellebores, snowdrops, sweet box for foliage. Also in winter I use a lot of dried flowers, grasses and branches.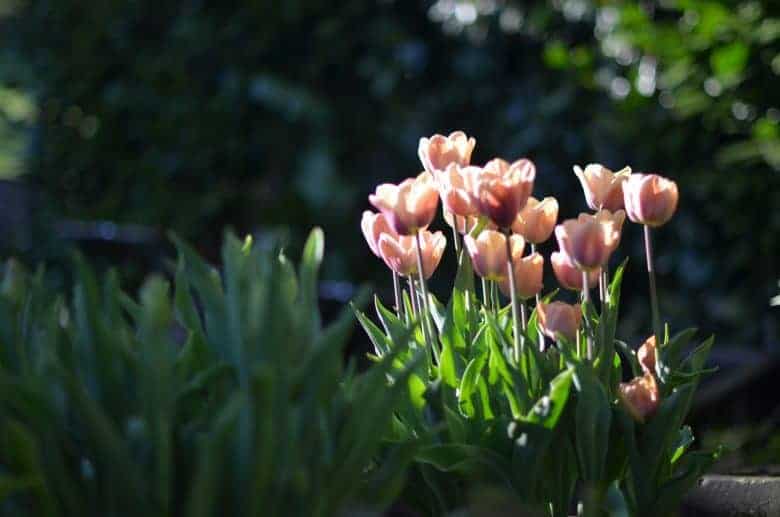 Spring: unusual narcissi (I love the tiny varieties such as Thalia), as many tulips as I can fit into as many deep crates and planters as I can find, fritillaries (this year we are planting masses of these for a special spring class), spirea and cherry blossom for foliage.
Summer: roses, foxgloves and as many annuals as I can manage. Some of my favourite annuals (from seed) are: Calendula; Coreopsis; Rudbeckia, Larkspur; Phlox Creme Brûlée; Scabious; Nigella; lots of herbs for foliage especially Oregano and scented Pelargonium.
Autumn: dahlias (I love dahlias and usually grow over a hundred); rudbeckia and all of the autumn coloured foliage you can lay your hands on, including rose hips.
2. What to do now: in Autumn (no later than October) we take cuttings from all of the Pelargoniums and Salvias. We also sow some hardy annual seeds. This year we have sown: Antirrhinum Chantilly Bronze (above, available here from Chiltern Seeds); Clarkia; Linaria; Calendula; Agrostemma; Larkspur; Poppy; Daucus (below, available from Chiltern Seeds); Scabious; Akebia Vine.
Also autumn is a busy time for planting bulbs. Narcissi first and Fritillaries and then (only after a very cold spell) all of the tulips.
Dahlias are dug up and stored.
3. Our seeds/bulbs and plants are sourced from lots of places. I'd suggest for plants using a good local nursery where the plants they grow are suitable for the weather conditions in your own area. For seeds try Chiltern. For bulbs Sarah Raven and for dahlias Rose Cottage Plants.
4. For anyone starting their own cutting garden there are lots of books. Some of my favourites are The Cut Flower Patch By Louise Curley, In Bloom by Clare Nolan and The Flower Garden by Clare Foster and Sabina Ruber.
Georgia Miles, The Sussex Flower School
The Sussex Flower School has been listed with us since the very early days of FBWL and we have featured founder, Georgia, over on the blog a few times. Check out the blog post MEET Georgia Miles of The Sussex Flower School where she shares a few of her favourite places to get floral inspiration. Georgia really knows her stuff (Harry & Meghan's wedding florist Philippa Craddock trained with her!) so I am very happy to share her thoughts and ideas with you.
'Every year some things will work and some won't – so don't worry.
Try to see it as new opportunity to get a different plan. Fave flowers to grow are dahlias as they are so generous. Cut and come again flowers are best eg cosmos, nigella, sweet peas…
Grow things that don't travel well or are expensive to buy eg cornflowers, alchemilla, scabiosa, delphinium, hellebores, euphorbias…
I use raised beds with a sleeper on its side. If you're creating raised beds on grass, make sure the turf is dug up and turned over in the base and then fill with top soil. Mulch with well rotted manure every late autumn.
I would also suggest planting bulbs and corms etc in separate bed so you don't damage them eg alliums, tulips, anemones, ranunculus (above)…
Also make sure you support plants really well.
Make your cutting garden beautiful AND productive. Lay out well with paths wide enough for barrow etc
Have a seat in a sunny spot to enjoy cup of tea.
Grow herbs and scented plants too – their leaves can be beautiful and fragrant.
Create height with frames and structures
Beds should be no wider than 4ft for easy cutting.
When you're planning, think of the different forms you'd like – eg tall rounds fluffy spray trailing etc that are useful when creating a floral design.'
Donna Bowen-Heath, Pheasant Botanica

I love that Donna grows flowers on wild and windy welsh land that has been in her family for generations. Pheasant Botanica is her flower business using her homegrown blooms. Read more about the story behind her beautiful and sustainable flower growing in the blog post: Welsh Flowers by Pheasant Botanica.
Here are Donna's seasonal tips for flower growing in the months and years ahead.
'With Autumn upon us and the nights drawing in, now is the perfect time to plan ahead for next year's cutting garden, whether you're a beginner or a seasoned gardener. Though it can be a little disheartening that most of this year's summer flowers have bloomed, by looking through seed catalogues – the perfect way to unwind after a busy day, there is plenty to look forward to.
And if you are just starting out, the key to your cutting garden is to keep it simple. A few choice blooms that will reward you well throughout the spring and into summer which will allow you to enjoy the fruits of your labour without feeling overwhelmed if new to gardening.
Autumn is the ideal time to plant spring bulbs, plant out any biennials and even sow some hardy annuals for next summer. I adore the good old daffodil (or narcissus), and they really work hard for you. Plant them now until Late Autumn and in return they will be flowering year after year, with very little upkeep. With so many varieties to choose from, they really are a ray of sunshine on a gloomy day.
Following on from the Daffodils, I encourage you to have a go at Wallflowers. They might seem a bit old fashioned to some, but with such an array of colours and being rather fragrant they are ideal to bridge the gap between the Spring bulbs and early summer annuals.
It's a bit too late to sow seed for Wallflowers now, that's a July job! However, at any good garden centre or online garden plant supplier, you will find wallflowers to buy bare root. Usually sold in bunches of bare root, they are quite mature plants and will settle quickly once planted, putting down roots ready to flower in late spring, surviving the harshest of winters.
With the days getting shorter, you might think now is the wrong time to be sowing seeds but, now is the time to get ahead with sowing next years hardy annuals making strong plants. If you have a greenhouse, make sure it is clean, allowing as much light through the glass as possible, to help aid germination otherwise, a bright windowsill, out of draught will do just as well. My must grow annuals are those that I know work hard, which I cut and come again throughout the summer season.
Sweet peas being top of my list, those sown in the autumn make strong plants and produce good, robust flower stems for cutting. I don't sow my sweet peas direct into pots but start them off on damp kitchen paper. Seeds are placed on the damp paper, on a windowsill, and over just a few days, they start to germinate. With a little tail starting to poke out of the seed, they are just about ready to be planted, and overwintered into pots.
I make paper pots, from old newspaper, or kitchen roll tubes are ideal. Sweet peas like a deep pot to establish their roots and dislike root disturbance – plant the sweet pea and pot when mature enough means a happy plant and less work for you too.'
Sarah Diligent, Floribunda Rose
Growing the flowers is only half the battle – as I learned, the hard way. My poppies were a disaster as cut flowers because no sooner had I cut and put them into water than they'd promptly wilt and flop. I wanted some helpful ideas for creating sustainable and lasting arrangements using the flowers I grow, so I asked Sarah Diligent of Floribunda Rose to share her top 3 tips.
Sarah's a specialist in seasonal and sustainable British flowers and floristry so I knew she'd have some good ideas. You can read our recent blog post about Sarah's latest book project: Foam Free Floristry The Sustainable Guide to Floral Design here.
1) Picking healthy, quality flowers at the right stage really is the difference between having flowers last a day or a week…
Did you know that you can ensure hellebores work as a cut flower if they're picked once the seed pod has formed? Flower farmers will know these things and can be a great source of information.
2) Conditioning correctly is essential.
Some flowers are very particular about how they like to be treated once cut. Poppies can be used in floral arrangements if heat treated – if you sear the cut end with a flame for a few moments immediately after cutting, they will last beautifully.
3) Any vessel can become a vase
Even non-waterproof dishes can become the base of a gorgeous design if you first create a 'liner' vessel to go inside – old jars, cut down buckets, or anything that will hold water. Once you've prepped your liner it can be used again and again.
Sarah's favourite flowers to grow
Tulips, fritillaria and every type of blossom in the Spring
Garden Roses, Mock orange flowers and Japanese anemones in the Summer
Acidanthera, Dahlia and Asters in Autumn
Hellebores, amaryllis and Paperwhites in the Winter.
Future Cutting Garden Inspiration
My own little cutting garden project was, as I said at the beginning, sparked by a workshop with Tammy at Wild Bunch Flowers. But I was already ripe for the picking, I'd say. Due, in no small part, to discovering Floret Flower Farm on Instagram. The flowers Erin Benzakei grows on her Washington state farm are beyond beautiful and her photography a rich source of inspiration.
There is a fantastic free mini Cut Flower Garden video course by Erin, available by signing up here.
The Floret shop is full of the most wonderful seeds and bulbs (you can order selected seeds for shipping to the UK). You can also order Erin's book The Cut Flower Garden – it's the book she wished had been available when starting out as a flower grower.
Floret Farm's Cut Flower Garden from Spencer MacDonald on Vimeo.
I will also be speaking to Erin over on the blog soon so watch this space!
Another great source of flower inspiration is Sarah Raven. She sells a well-curated collection of seeds, bulbs and plants as well as garden accessories. There is also a really inspiring section on her website with lots of ideas: Growing Your Own Cut Flowers
My own particular picks for creating a cutting garden would be:
Dahlia Cafe au Lait Royal (the sort of flower you will fall in love with and a total show stopper.)
Tulip La Belle Epoque
Thunbergia African Sunset
Snapdragon Chantilly Bronze
Cosmos Purity
Antirrhinum majus Appleblossom
Delphinium Benary's Pacific Summer Skies
Digitalis Sutton's Apricot
INFORMATION
---
Find the following growers in the Sustainable British Flowers section of our Directory
Are you a maker, grower or creative course provider? Like to list with us and benefit from joining our supportive community? We'd love to hear from you. Check out the packages we offer on our Join Us page and get more details from our Information pack here
---
A PIN TO SAVE TO PINTEREST
It would be great if you could share the love if you've enjoyed reading this blog post. All you have to do is hover over the image below until you see the Pinterest button appear. Then share it to your boards. Thank you! X