Meet Sarah Statham of Simply by Arrangement flowers
It was the beautiful, painting-like images of her flower designs that first drew me to Sarah Statham and her Simply By Arrangement flowers business, based outside Hebden Bridge in West Yorkshire. So I'm delighted that Simply by Arrangement flowers is listed in our directory (here >>) and also that Sarah Statham has shared some of her simple pleasures, inspirations and tips for finding creativity here.
I knew she was a woman after my own heart when I read that she is partial to some early morning pyjama gardening (as am I), that Yorkshire tea gets her going through the day, and that in the event of a fire, it would be her dog Molly that she'd choose to save over treasured possessions. Hope you enjoy discovering her inspirational local loves and utterly beautiful flower designs as much as I did.
Q&A with Sarah Statham of Simply by Arrangement Flowers
Please describe what you do and tell us a little bit about your journey
I am a floral designer, with a love of seasonal, British grown flowers and I spend most of my time teaching the art of floral design to others. Also, I design for weddings and events and magazines through my business Simply by Arrangement flowers.
I spent 20 years as a criminal lawyer before taking the leap into flowers full time. They had always been a hobby (and a welcome distraction from a sometimes stressful job) and like many others I had dreams of working somehow with flowers. When government cut backs forced the closure of my office I decided to re-train and have never looked back. It was perhaps one of those things that was meant to happen.
How would you describe your designs?
Because I work with seasonal flowers, those that are either grown here in my garden or those grown by local flower growers, my floral designs look almost as if they are still growing, as though they are small gardens, brought inside to be enjoyed and to give life to the rooms and places they sit in.

credit: Sarah Statham
What's your creative process?
My 'creative process' is, to a large extent, controlled by nature, by what is growing outside at the time I'm making something or teaching someone. I'll start by picking a flower or a branch, or a vine in the colour scheme I'm using that day and let the rest flow from there.
I often struggle to place the main focal flowers, just because I find all the foliage, vines and tiny flowers so beautiful.
Sometimes when I think a design is finished I'll walk away for a few moments, probably find something else 'magical' from the garden and then finish by taking a quick I-Phone photo just to check the balance (often the camera shows you what the eye doesn't see). Once I'm happy, I'll wait for, or find, some really great light, and take a decent photograph too. Flowers don't live for long so it's always good to have the memory of whatever you have made captured in a photograph.
Favourite way to start the day?
I start my days early, very early in summer as soon as it gets light, obviously slightly later in winter. Having spent years working inside buildings that often had no windows, I now see light as being an essential element of all that I do, so, I make the most of every minute of it. Whatever time I wake, I always make a huge mug of tea.
Sometimes I'll wander around the garden in pyjamas, checking whether any good flowers have unfurled, but, truth be told, I'll quite often return to bed, watch the sun rise over the back field and (this is the sad bit) reach for my IPad to quickly check the news, emails and yes, Instagram too.
Then I might also read a chapter of whatever book I'm reading too – I'm a big reader. I'm currently re-reading all the books by James Herriot, they've been re-issued with snazzy new covers and I was given all of them for Christmas. I love the way he captures the scenery of Yorkshire Dales and the people, and, give or take a little technology, not much has changed.
What's your morning routine?
After breakfast I'll walk the dog, and we might end up foraging some extra material. That's my favourite way to start the day, quietly taking it all in, and doing some thinking before a class starts or before a long day of making wedding flowers.
I work from a studio in the garden. It has huge windows so it gets maximum light and so that I can see what's going on outdoors, in summer with the doors open it becomes part of the garden.
What keeps you going through the day?
Yorkshire tea is probably the main thing that keeps me going throughout the day. On a good day I bet I can drink 10 mugs. On a busy wedding day it's more like 2 and there'll be a headache! If I'm working alone then Radio 4 or audio books also keep me entertained but, often there are people here and so there's lots to chat about.
Top tips for enabling creativity?
It's usually on the dog walk that I'll find much of my inspiration. Being outside in the hillsides that surround where we live seem to be the perfect place to think, and usually by the time we are halfway I'll have had at least one good idea.
What do you do when struggling for creativity?
If I'm really struggling creatively I try switching off completely. There's nothing like a 20 minute power nap to put things back into perspective.
Favourite simple pleasures?
You might have noticed that Yorkshire tea features a lot in my life and that's probably my greatest simple pleasure. If I'm feeling decadent I'll sometimes make a whole pot! In the summer I love to sit in the middle of the garden, with the huge mug of tea trying to watch things grow or watching the light catching grasses. In the winter there is nothing better than a mug of tea by the fire once it's gone dark.
What is your approach to setting and achieving your goals?
I don't set myself too many goals because I'd be angry with myself for not achieving them. To be honest, I feel like one of the luckiest people alive to be able to work in a job I love, surrounded each day by beauty. I suppose my main goal is to be able to keep doing what I do.
image credit: Hebden Bridge Arts Festival
What do you like best about the area in which you live?
I love the area we live in because of the breathtaking scenery- hills for miles, rugged moorland and then the fields of sheep with their drystone walls. Our little town of Hebden Bridge is home to many artists and creative people and there's always someone interesting to chat to or be inspired by.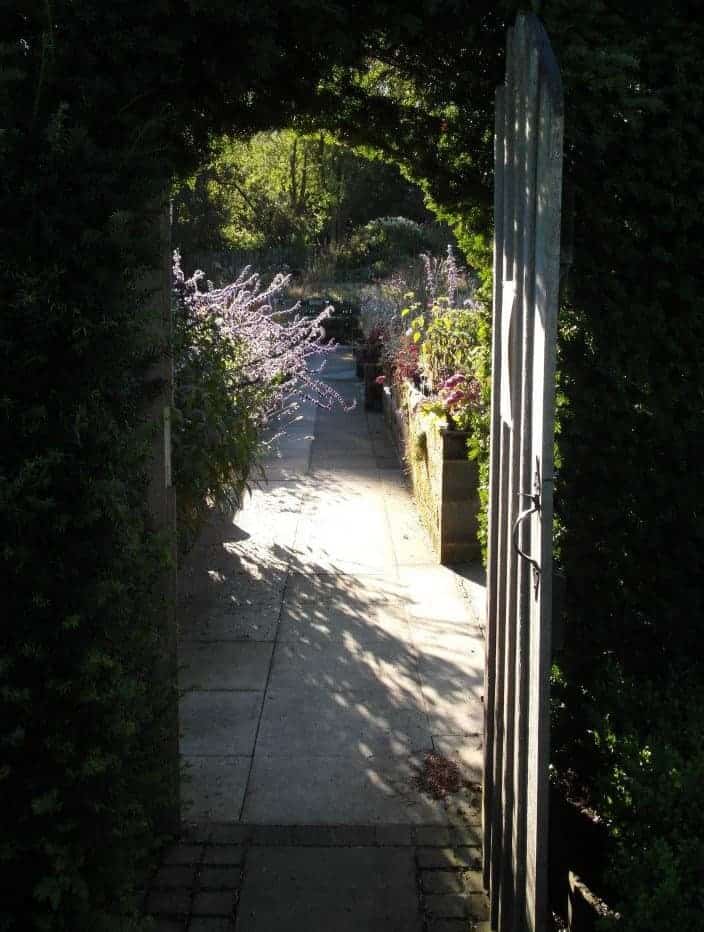 Share a real hidden gem with us – the sort of place we'd never find in the guide books
For me the real hidden gem nearby is a small nursery and garden called Dove Cottage. It's here that we find most of the plants for our garden and it's one of my favourite places to visit.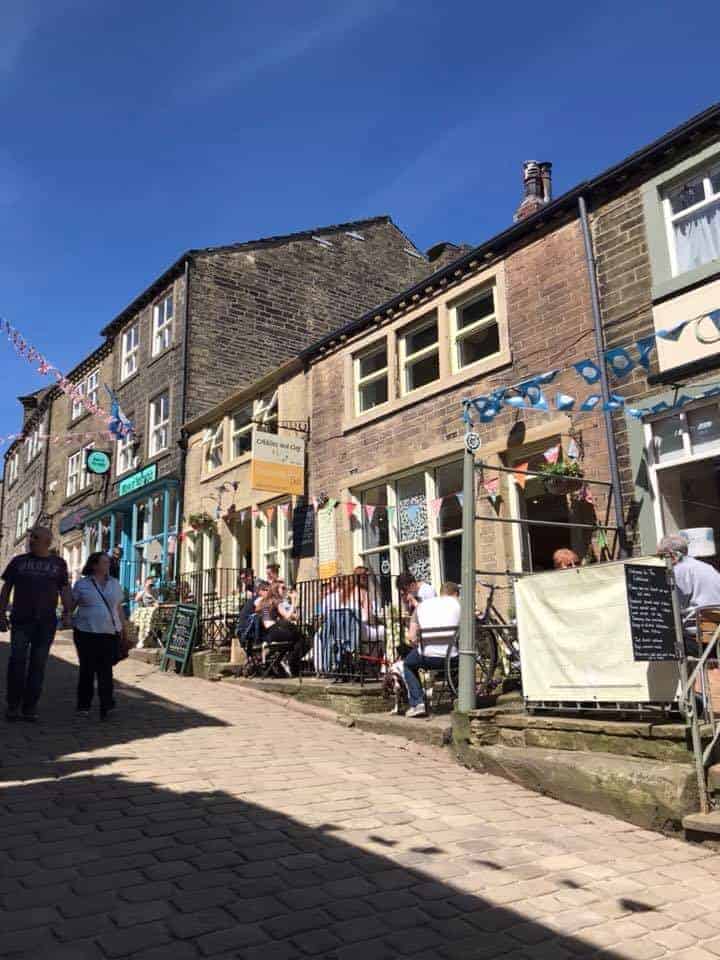 Where's the best place to watch the world go by?
You can watch the world go by from the window seat in Cobbles and Clay cafe in Haworth. Set at the top of the hill on the cobbled street where the Brontes 'walked invisible' you can watch tourists from around the world come and go- and obviously drink tea at the same time.
Favourite way to spend an evening?
My perfect evening would start with an early dinner at our local pub The Hinchliffe Arms and then home to watch a film with my husband and a good bottle of red wine.
Seasonal living is a way of life for me. It's my job to work with flowers that are at their very best, just picked and of course to make sure I have more flowers always. I probably check the weather app as often as I drink tea.

Favourite shop?
My favourite shop is a local one, Snug Gallery in Hebden Bridge. It's no secret that I love to use unusual vessels for my flowers and often I find them here in this small but perfect space in which my pal Ed Chadwick manages to bring in some of the very best artists and ceramicists and other makers of contemporary craft.
Most treasured possession?
Is it wrong to say that Molly our dog is my most treasured possession? She's definitely the first thing I'd rescue in a fire.
If I had to chose an object then it would be this beautiful vase (shown above) made by Frances Palmer (an American ceramicist – see image below for a further taste of her work) bought a few years ago by my husband as a special gift. It's that vase that inspired our 'logo'.
Note: This next image was also photographed by Frances Palmer, capturing a beautiful spring arrangement and a collection of vessels made by celebrated master American ceramicist Warren MacKenzie. I know this because when I contacted Frances to ask permission to publish her images here, she explained how the one below came into being. Frances bought the vessels at an exhibition a year or so ago and posted this photograph as a homage to Warren, who recently died.
Favourite walk?
I have lots of favourite walks – the walk along Southwold beach and across to Walberswick in Suffolk is one, the walk around Hardcastle Crags nearby is another but, my all time favourite is the walk from our house, through the woodland, along by the river and eventually to my favourite pub, The Hinchcliffe Arms, at St Johns in the Vale. Lots of friends, children and dogs have done this walk and I never get tired of it.
Can you sum up your ethos and what inspires you?
The ethos of Simply by Arrangement flowers is to create beautiful designs from the very best flowers. For me, the most beautiful flowers are those that have been grown nearby and haven't suffered from transportation. I am also passionate about teaching others how to create beauty with flowers and if that can be done with kindness and humour and warmth then I suppose that is actually my goal.
Favourite British design icon?
I'm not sure I can choose just one British design icon, there are so many. I love the garden designs of Arne Maynard. Each one done with sensitivity and simplicity yet creating the most romantic atmosphere and always by looking to the surrounding environment for inspiration. I also love the clothes of Margaret Howell, again for their simplicity and also for their durability. If ever I could afford a wardrobe full of her clothes …..And, I'd have to say Constance Spry, she's the one whose books I return to again and again.
Who are your favourite UK makers and why?
My favourite British maker is Jill Shaddock. She makes the most perfect contemporary ceramics, some of which are now on display in the V & A. Luckily she is one of the artists who lives in Hebden Bridge and, as well as a small collection of her vessels at home, we have some in the workshop for special classes.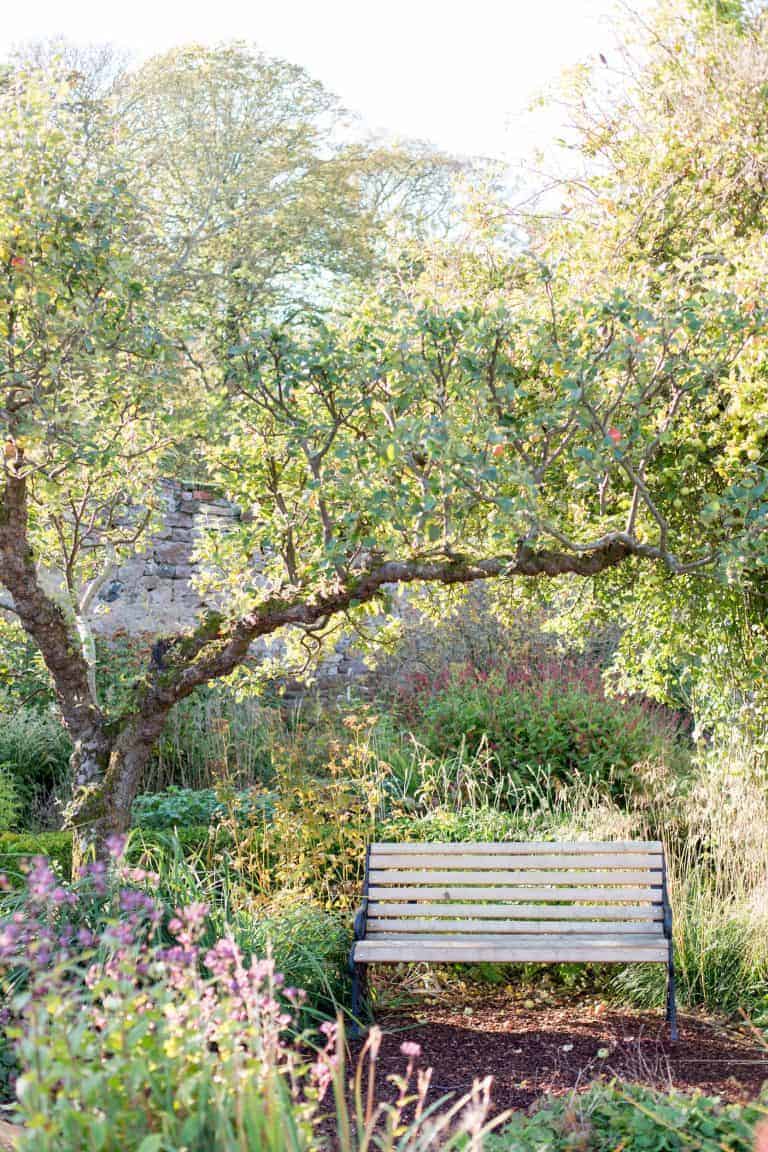 Best place to unwind/escape to in the British Isles?
Probably the best place to completely unwind in Britain for me is the walled garden at Cambo on the Fife coast. I could wax lyrical about it all day, but really you should go and see it for yourself.
Best piece of advice you could share based on your experiences so far?
The best piece of advice I could give you anyone is to be yourself, don't pretend to be something you're not. Honesty and kindness in everything you do is key and if you can maintain your sense of humour in all cases of adversity you'll be ok.
Secret to being happy?
I think the secret to being happy is to value what you've got, not what others have or what you think you'd like to have. And, obviously it's also a huge mug of Yorkshire tea.
INFORMATION
---
Simply by Arrangement flowers is listed in the From Britain with Love directory here >>
photo credits: Eva Nemeth; Helen Warner; Sarah Mason; Ed Chadwick; Hebden Bridge Arts Festival; Frances Palmer; Jill Shaddock
Are you a maker or creative course provider? Like to list with us and benefit from joining our supportive community? We'd love to hear from you. Check out the packages we offer on our Join Us page and get more details from our Information pack here
---
A PIN TO SAVE TO PINTEREST
Hope you've enjoyed meeting Sarah Statham of Simply by Arrangement flowers. If you'd like to share the love, it would be great if you shared this pin to your Pinterest boards!