I first set eyes on a Tuffet at a beautiful pop up shop in Chelsea last year. It was a pink velvet one, with piping and leather handles. You couldn't help but stroke it… and wish you owned one. A Tuffet, in case you don't know, is an artisan pouffe, crafted with care from printed linen, soft velvets or tweeds and filled with recycled wool. The most useful item you didn't know you needed in your life – table, seat and foot stool in one.
So it was very exciting when I saw that Tuffet. Co had applied to join our directory. I love it when that happens. It feels like a relationship that was meant to be. Founder and proprietor of the business, Deborah Reyner, has an inspiring story which I really loved discovering. Hope you do too… X
Please tell us a little bit about the story behind where you are now and your journey there.
I started out by studying fashion at Loughborough College of Art and was lucky enough to study under some truly inspiring tutors. I learned so many technical skills, alongside a deep work ethic and unshakeable determination.
I'd been making my own sewing patterns since I was 12, so it was just wonderful to get to study pattern cutting with Winifred Aldrich.
From college I went straight into the London fashion industry, working in womenswear and tailoring, fashion forecasting and product design. I made bedding for Heal's as well as creating lots of different fabric-related products to sell.
My first business, DWCD ( Desire Will Courage Determination), started in 1994 doing Spitalfields Market. Recession hit in 1997, so I developed £10 sachets in organza & hearts with 'With Love' & "Gone To The Beach" using laser-cut fabric for a perfect shape.
At one point my lavender hearts and rice-filled doorstops were the biggest-selling products in Selfridges. My business went really high really quickly, then times changed and it plummeted just as quickly. I'd under-estimated just how big a thing grey was going to be.
So I did what I always do. I had more new ideas and started again. I designed and produced new products to trial and sell at market stalls. Selling directly to customers at markets gives you really valuable feedback – as long as you listen. The common thread throughout has been my love of fabric, collecting vintage ephemera, making a bit of a mess & creating stuff from it.
Then I had my lightbulb moment. I was looking at sustainable wool bales and it just came to me. 'That's a pouffe,' I thought – and that was the beginning of the Tuffet.
I spent a lot of time perfecting the shape, design and practicalities. Having a waterproof base is essential, I realised, as the fabric sits on the floor. Getting the weight/volume ratio right took a few trial runs – I wanted the covers to be removable, but didn't want the pouffes to be baggy.
I have a very mathematical brain, so it was part instinct and part calculation to get everything just as I wanted.
Please describe your products and share a little about your ethos
I was always going to make my products in the UK, and already knew the makers I wanted to use. They craft using old-fashioned skills and that way I can get the quality and attention to detail that's so important to me.
I started out using beautiful original vintage fabrics to make the pouffes. But they just didn't sell. So I asked the customers I met at fairs, shows and markets what they thought. And I learned that they wanted minimal not vintage – and almost always in shades of grey.
I needed to find the 'bread and butter' product – which turned out to be the herringbone tweed design. Classic, contemporary and adaptable to any interior. Fabrics are a lifelong passion of mine, so I added in beautiful printed linens, soft velvets and woollens to the range.
I make most pouffes to order – and will always make contact personally with every customer to make sure they get exactly what they want. It's important to me. There are a few pouffes available to buy 'off the shelf' or ex-display in the Sale section of my online shop too.
This handsome emerald green luxe velvet pouffe is for sale right now, with £70 off. Just one available.
BUY EMERALD GREEN VELVET POUFFE HERE >>
Please can you talk us through your creative process
I grew up in a family of makers. My mum taught me to sew, my grandma was a knitter and from an early age I was making my own clothes. So, I'm always looking at materials and having ideas about what I could make with them.
Shape is always the starting point for my 'engineered' textile products. Usually simple looking but with precise attention to detail and fit. My training as a pattern cutter / designer is in use all the time and I am really grateful for the education I was lucky enough to have.
One eureka moment was sparked by the shape of a vintage Castrol oil-can. I was inspired to create my fabric doorstop design filled with broken basmati rice. It received an award for child-friendly design and was proudly produced for Mulberry Home.
My style is still simple, well-crafted using beautiful fabrics.
Inspiration is important to the creative recipe. Back then it came from memorable trips to New York ABC Carpet & Home (below) and the definitive Maison et Objet Trade show in Paris.
Also, colour is very important to my creative process. Dylon dyes are super easy to use.
Now also appreciate the effects that colour can have on improving mood in the home too. There's nothing like a pop of chartreuse yellow to lift the spirits. My chartreuse wool tuffet (below) makes me smile all year round.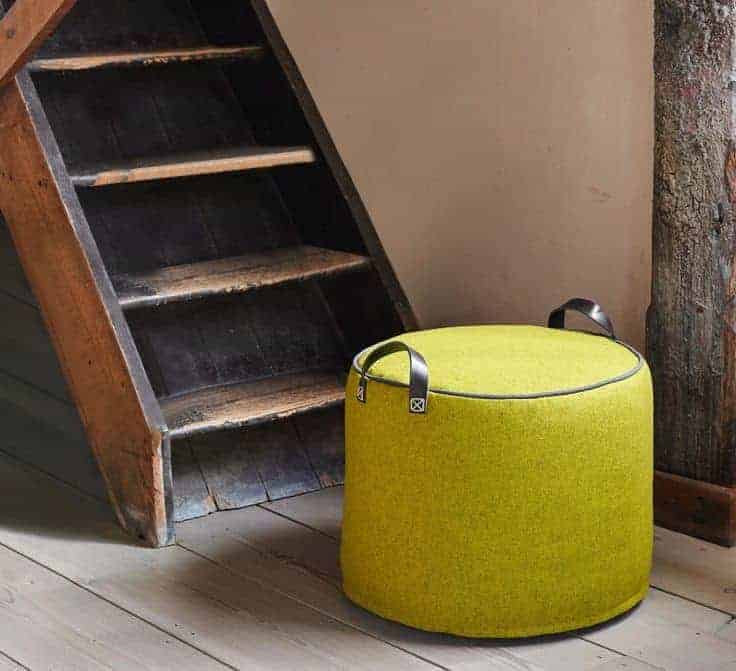 Velvets in mustard & green or raspberry are now year-round sellers for a hand-finished 'Tuffet ' Each has individually hand-tinted handles (more messing about!).
BUY CHARTREUSE WOOL TUFFET HERE >>
Favourite of your designs?
BUY DARK OLIVE LINEN POUFFE HERE >>
I love the Dark Olive linen pouffe with tinted leather handle. I really like the way the tinted leather handles tones with the fabric (attention to detail is so important to me) and the fabric itself is just beautiful. Green is such a soothing colour and good for the soul.
I really do love my new range of printed linens too – and the new outdoor range I'm working on…
What's your morning routine?
Adhoc
Can you describe your workplace to us?
Messy
What keeps you going through the day?
Distractions. I have just bought a van and I do love to listen to Absolute 80s on the radio as I drive around! I tend to work very intensively, setting overly high goals and then beating myself up. I should listen to music more. Motown can always boost your energy levels!
Top tips for enabling creativity/wellbeing?
More tea and remember to breathe, relax and enjoy (I am good at the 1st) – still practicing at the others
What do you do when struggling for creativity/inspiration?
Go window shopping to look at packaging and display and people.
Flowers and beautiful things are life blood.
I created a more meaningful still-life shelf in lock-down that gets regularly re-arranged.
Time to sort recently has revealed what been collected over the years !!! From flea markets in Paris and Isle Sur La Sorgue when piles of linen nightdresses went for 3F a piece.
Gloves, old lace and embroidery, coconut buttons from Indonesia which inspired my 1st business DWCD: Desire Will Courage Determination.
(Some buttons were sourced from Stella Rutter (below) whose amazing wartime story is one of Spitfire design, fighting for equal pay & and keeping the Generals calm prior to D Day). Find out more at The History Press.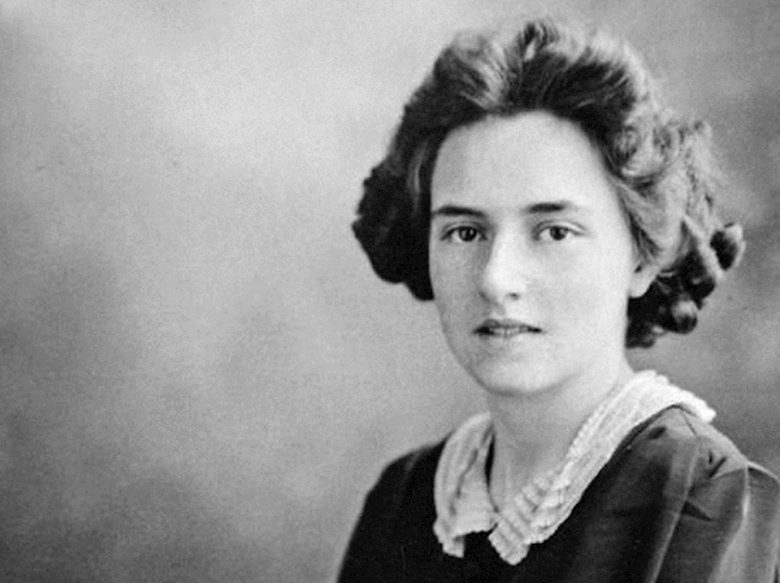 Photo credit: The History Press
What is your approach to setting and achieving your goals?
Adhoc. I am not a person for spreadsheets or business plans. I am very instinctive but I also have a very mathematical brain, so I always have a very strong grasp on the numbers and technicalities. I just don't have it written down anywhere – it's all in my head.
I tend to set overly high goals for myself and then beat myself up for not achieving them. I'm working on being a bit easier on myself and embracing the value of making mistakes. You can't learn or create anything new without making them. We tend to try and avoid them at all costs but they're a good thing and part of the creative process.
Best place to watch the world go by?
Kempton Market for vintage and International traders and visitors and thrill of what might be there.
Most treasured possession?
Wooden food safe with zinc front bought by Grandparents in 1932 in the original green. Grandad kept his tools in it in the garage.
What are you passionate about right now?
Uses for recycled plastic being used for modern 'conveniences' ie loos that plumb in are easy to clean ,virally resistant and what we all need when out and about or even at home for visitors. And also a way to use recycled plastic. I'm picturing sleek, modern design inspired by the prefabricated build-your-own Huf Haus.
I have ideas about developing Portable Facilities & spaces in re-cycled materials.
Looking to collaborate with Designers & Dragons on materials and products to enable better lives with the current restrictions.
Secret to being happy?
Find things you enjoy doing and develop a little routine for that. Appreciate all the little things within that routine and forgive yourself if you don't achieve something. Forgiveness is key. And don't avoid a bit of boredom. Slowing down to do simple chores like doing the washing up can free up your brain. Creativity so often comes out of boredom and we tend to rush about avoiding it at all costs.
INFORMATION
---
Find Tuffet Co in the Furniture Makers section of our Directory.
Are you a maker, grower or creative course provider? Like to list with us and benefit from joining our supportive community? We'd love to hear from you. Check out the packages we offer on our Join Us page and get in touch…
---
A PIN TO SAVE TO PINTEREST
It would be great if you could share the love. All you have to do is hover over the image below until you see the Pinterest button appear. Then share it to your boards. Thank you! X