Meet Rose Brown, founder of ROVE sustainable British knitwear.
Save 15% on all purchases until 9th October with a unique discount code for FBWL readers – scroll to the information section at the foot of this post to get all the info you need.
I first got chatting to Rose Brown at the start of the summer when she listed her business, ROVE knitwear in the FBWL directory. I love the collection of cosy knitwear, cushions, blankets, gloves, scarves and socks she has created using ethically sourced wool, all designed and made in Britain.
As we head into Autumn, with the nights beginning to draw in and mornings developing a decidedly nippy edge, this feels like the perfect time of year to share Rose's story – and latest designs – with you. If you read on, you'll discover that putting on a brand new pair of socks is one of Rose's simple pleasures – one I absolutely share with her! I hope you enjoy reading Rose's answers as much as I did and maybe even discover something cosy to ease you into the new season.
Please tell us a little about yourself and the story behind ROVE
I'm Rose Brown, founder of British knitwear label ROVE. I was previously a knitwear designer for a south London knitwear studio developing samples for a selection of high street retailers.
I come from a family of seamstresses and artists and grew up in a creative environment with a strong connection to nature and our environment. My mother's passion for growing, recycling and repurposing cemented my appreciation for – and protection of – our environment.
I was drawn to knitwear design and manufacture during my time spent studying textiles at Winchester School of Art, relishing every step of the process. From sketching initial ideas to creating the finished pieces on heavy, vintage machinery.
I started work interning for several different knitwear designers, including Nicole Farhi, before working full time at a knitwear design studio in South London, designing for many different high street brands. Most of my designs were mass-produced using synthetic fibres – which really didn't sit well with me.
I moved to a design residency in Peru where I worked with Quechuan women who were honing their inherited skills in traditional craft processes and it hit me just how much of this we have lost over generations in the UK. We also had such a rich textile industry that is also disappearing and moving overseas. I decided to start a knitwear label crafted in Britain, using ethically sourced, natural yarns.
I began at a workstation set up around my kitchen table in 2013 with a passion for creating quality, lasting knitwear made in Britain using British spun wool. Since then the brand has evolved and offers a yearly collection of sustainable designs which can outlive each season and beyond. I now work from a studio in Margate with a sea view which I love.
You can find more details about my journey here: https://roveknitwear.com/pages/about-the-designer-the-brand
Please share a little about the creative process behind your designs
At ROVE we design and make a range of knitwear, winter accessories and homeware; gloves, socks, hats, scarves, jumpers, blankets etc. We make everything in Britain using certified non mulesed wool.
We hand make some of our designs to order in our studio, using vintage, seventies domestic knitting machines. These are amazing machines, however they do have their limitations! So for the majority of our collection we outsource our production to a small, family run factory in Manchester.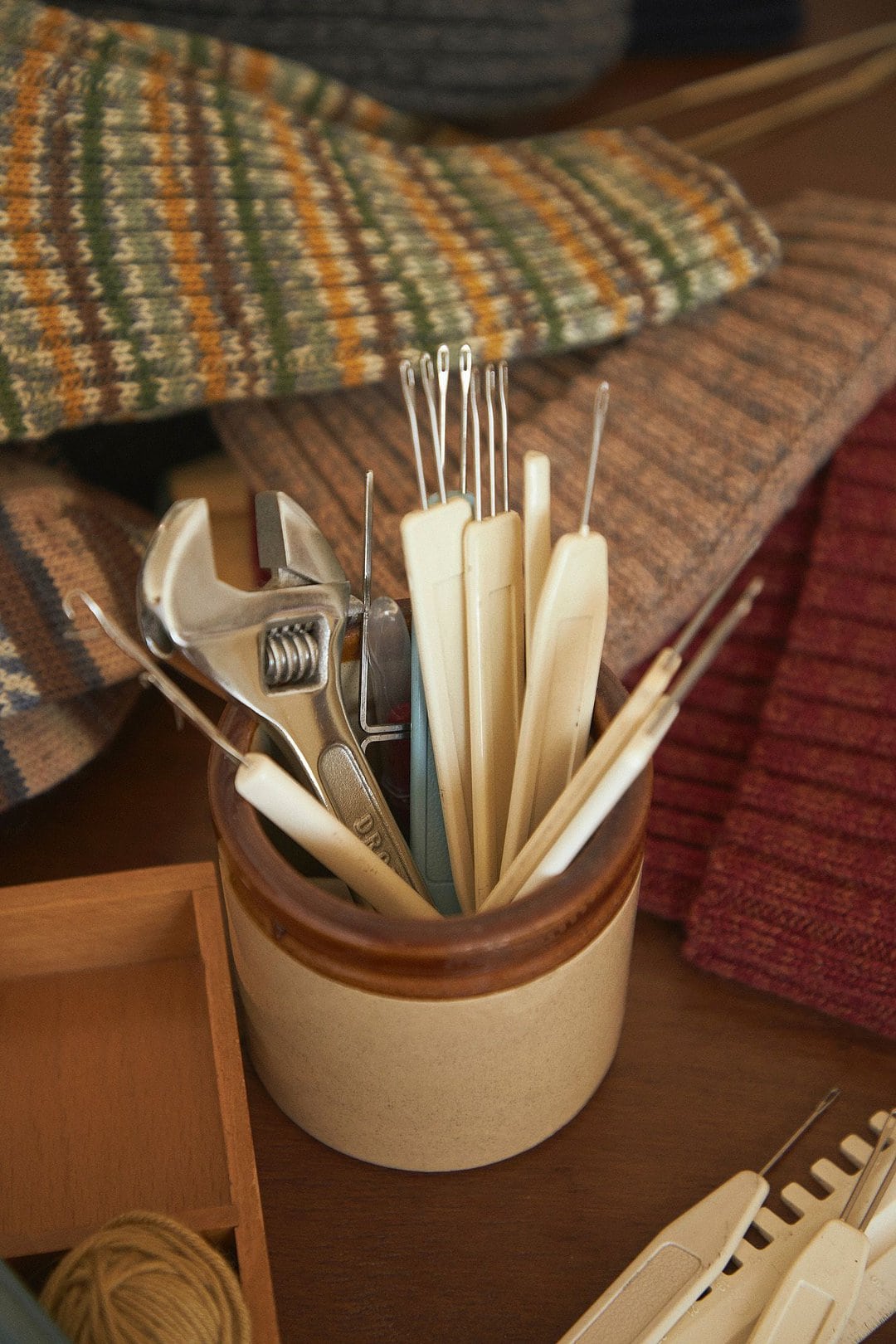 We work closely with them to deliver on our sustainable ethos – such as incorporating any discontinued yarn into our palette to use for the smaller details, ensuring that nothing is wasted.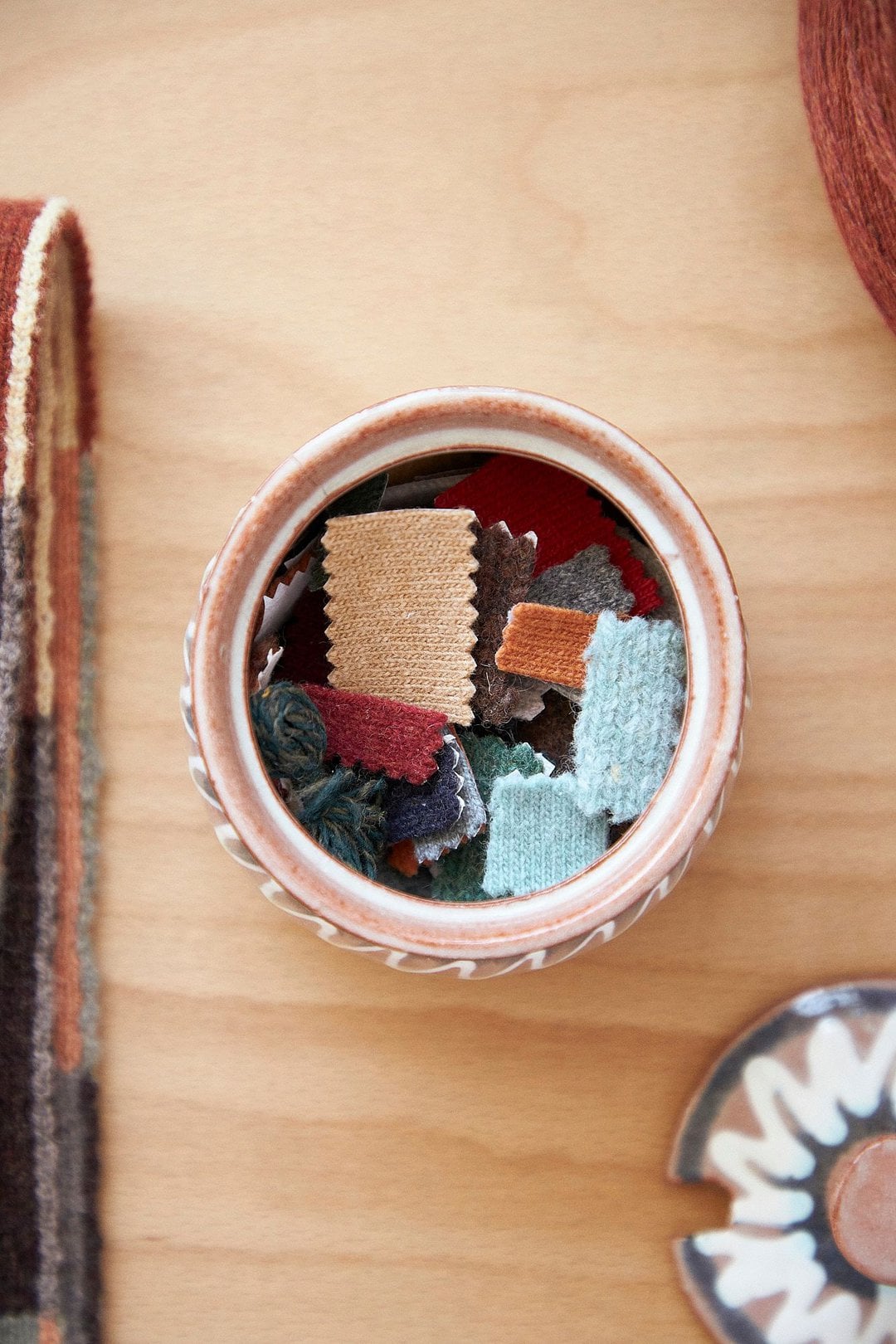 Our socks are knitted in a separate factory because the machinery needed to create a quality sock is completely unique. Factories tend to specialise in sock production, you will only find a hand full of these hosiers left in the UK, and most have been running for over a 100 years! Our socks are made in Derbyshire in a factory whose focus is on working with organic cotton rather than pesticide cotton.
You can find more details about our products and processes here: https://roveknitwear.com/pages/made-in-britain
Please describe your upcoming new collection
Our AW22 collection launches on Friday 23rd September – Autumn Equinox. The collection is inspired by traditional craft processes, patchwork, basket weaving & tapestry.
Please can you talk us through your creative process?
I love the variety of running a small business. It's just me so there's a lot of learning on the job as many tasks are out of my comfort zone. The designing & knitting part is relatively simple in comparison to all the other jobs! I start with a sketch which I do on grid paper, as this help me to develop the pattern into a file which can be uploaded to a machine. Products are sampled and refined, this includes playing with different colour ways and finishing techniques. I'm driven by my love of the job, the flexibility works very well with having a family, and being creative brings me happiness!
As a child, what did you want to be when you grew up?
I wanted to make clothes from a young age – I started by making garments for dolls when I was 7.
Favourite way to start the day ?
COFFEE!
What's your morning routine?
I wake up at 6.30 and get myself and my little boy ready, drop him off at nursery, then go home and finish house chores. My studio is a 10 minute walk through the park and up a very steep hill! I start work at 10am, my studio is on the 2nd floor of an old 70's department store with a gorgeous terrazzo floor. I also have a sea view which is just a bit jammy isn't it?!
What keeps you going through the day?
Snacks, I also have to squeeze a lot of work into 5 hour days so it's go go go as soon as I get in.
Top tips for enabling creativity?
Taking proper time off to rest. You cannot force creativity.
Favourite season ?
I'm a knitwear designer so I should say Autumn or Winter, but I'm such a sun lover and living by the sea means Summer is really quite special.
What do you love best about each season?
Spring – The garden
Summer – Warmth
Autumn – Knitwear
Winter – Early nights
What do you do when struggling for creative inspiration?
Take the morning off, and go for a walk.
Greatest simple pleasure?
A new pair of socks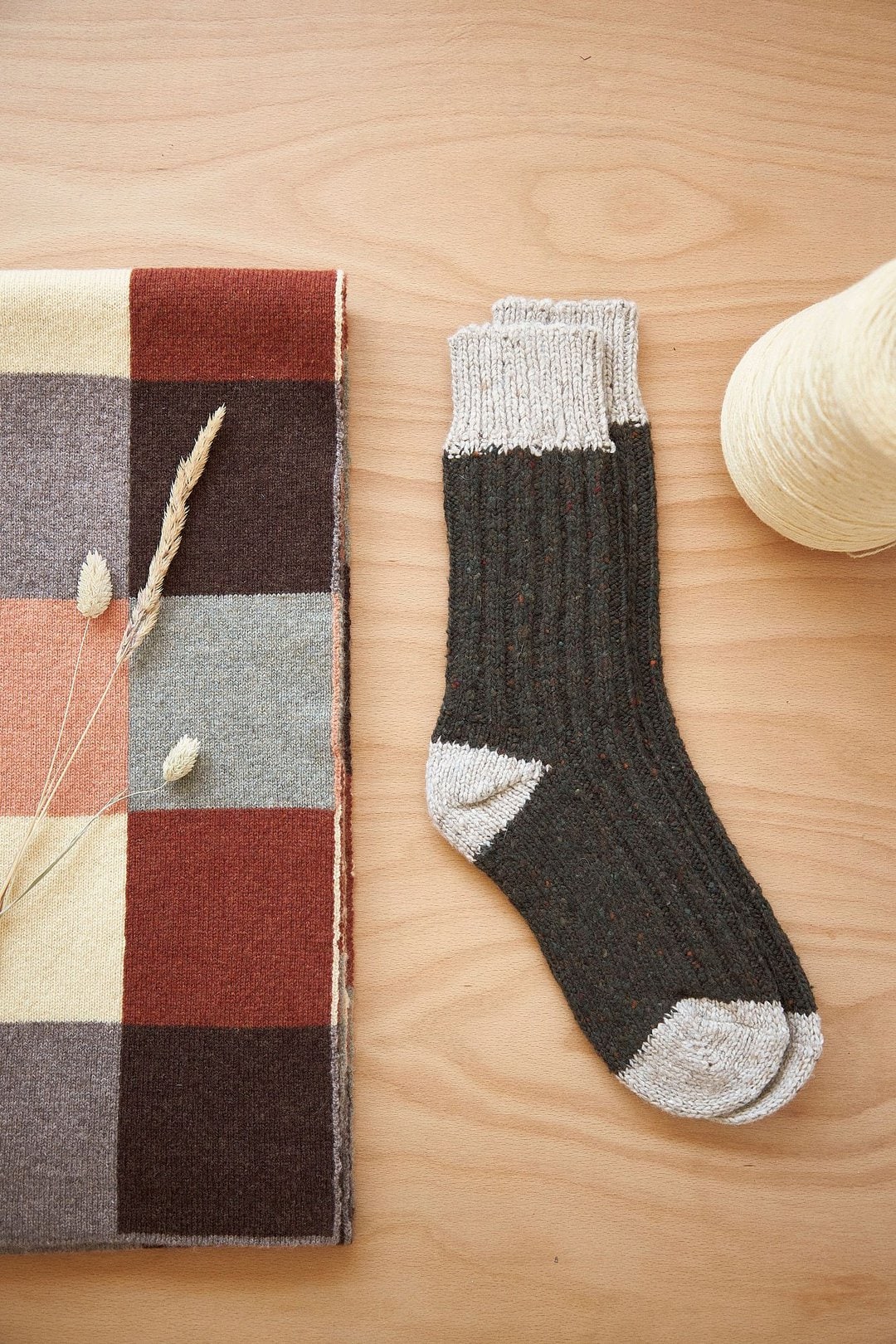 What do you like best about the area in which you live?
I live in Margate, I love the community a lot. And living by the coast it's great to really feel the elements – I have never felt such a connection to nature.
The Garden Gate is a community gardens & café. We are a bit starved of trees around here and this place offers so much lush greenery, its a calm place to sit. My favourite shop in the town is Hera.
Best place to watch the world go by?
Gosh I can't remember the last time I stopped and watched the work go by! From memory I quite enjoyed doing this in a cafe on a busy street when I lived in London.
How important is seasonal living to you?
Very important, I'm sensitive to the seasons and I'm not sure my body would allow me to ignore it, however that being said Autumn and Winter – when one naturally slows down – is my busiest period at work, so it's my social life that takes the hit!
What measures do you take to support plastic-free and zero waste?
We hate plastic, so much so that we've started a discussion with our suppliers to question their plastic packaging. While this is in debate we have sent alternative packaging for them to send forward our materials in. Some plastics are still unavoidable… our yarn comes spun onto plastic cones, which we utilise or return to the factory to be re used.
Polythene bags that the yarn arrives in for protection are used to protect our yarn from moths, then reused to bundle items for wholesale deliveries. Large boxes which both our yarn and knitwear deliveries arrive in are reused and sent back out to stockists containing our wholesale orders. Our mail orders are sent in 100% recycled, recyclable, biodegradable paper bags and promotional material is printed onto 100% recycled card.
Best piece of advice you could share based on your experiences so far?
Price your work fairly. Change & adapt but don't give up on your project for at least 5 years! When your body tells you to take a break, do.
What are your goals for the future?
Own an industrial sock machine!
Information
Save 15% on all purchases at ROVE until midnight on 9th October with unique discount code WITHROVE15 or by clicking this link which will automatically apply the code for you.
Connect with Rose Brown and discover more about the sustainable knitwear brand ROVE via her FBWL directory listing.
Browse the ROVE online shop