Akt deodorant balm promises to be a natural deodorant that actually works. Awarded Number 1 eco-friendly deodorant choice by Vogue, among many other accolades, I was more than happy to give AKT a try when their PR people got in touch to ask if I'd like them to send me a sample.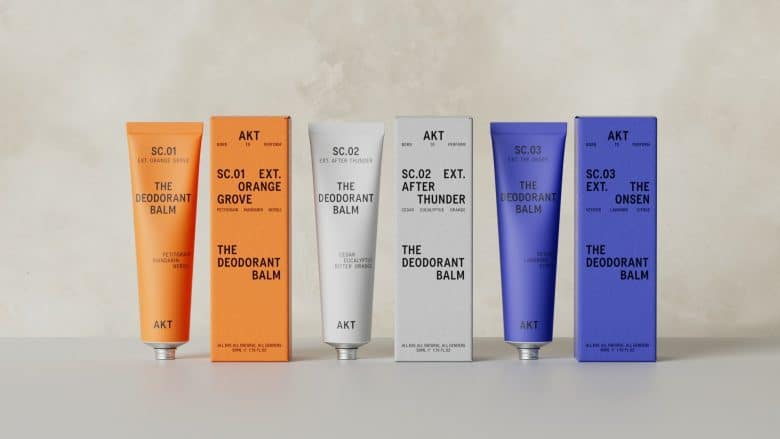 Plastic free, vegan and cruelty free, this is a deodorant that comes in a tube in the form of a balm. There are three natural fragrances to choose from: Orange Grove (petitgrain, mandarin and neroli); After Thunder (cedar, eucalyptus and orange) and The Onsen (vetiver, lavandin and citrus)
Akt deodorant – tried and tested (by me)
I absolutely adore neroli, so I opted for Orange Grove. 'We'll also send you The Assistant Tool,' I was assured by the very nice PR woman, Becca. I had no idea what a deodorant 'Assistant Tool' might be, but I was definitely intrigued – and maybe, if I'm honest, scoffed a little to myself at the name and the use of capital letters.
The box arrived beautifully wrapped in orange tissue paper and along with the tube of deodorant balm, there was another really small little box. It had to be the Assistant Tool! I was wrong to scoff. Turns out The Assistant tool is a shiny gold object of beauty and the key to zero waste (below).
You pop it on to the end of the tube and it will make sure you get every last bit out. The tube itself is made from endlessly recyclable aluminium – as is the cap. As fortune would have it, my mock orange is in bloom right now, so I snipped a piece of blossom to take the photo (above).
The balms are all made in the UK, hand-poured and packed into plastic-free packaging – so they're right up my street. I can't pretend that my lifestyle puts a deodorant through its paces really but I do take the dog for a brisk walk every day. I only have the wizened, gummy end of my previous natural deodorant left so the timing was perfect.
It's been two weeks of daily use by now and I can honestly say I can see why this deodorant has won the awards it has. This is just a joy to use, and it does really work. The delicious, warm neroli fragrance lasts all day long and my skin feels pampered with no traces whatsoever on my clothes.
So AKT deodorant balm has definitely passed my test. Now it's time to bring in the big guns. I'm going to get my two teenage boys to try out a tube each too. They are forever spraying themselves with nasty chemicals and still their sport kits are utterly grim by the time they get to the washing machine. (I have tried to convert them to natural deodorants in the past but always failed because nothing has so far been up to the task). I'll keep you posted with how they both get on! If they give AKT deodorant balm the thumbs up, you can be confident it will work for anyone. Once my tube runs out, I'll definitely be buying more.
You can either buy individual tubes as you go, or subscribe and save 15%. Subscriptions are really flexible – you can reschedule deliveries or cancel at any time, easily swap or add products/fragrance choice whenever you wish and change frequency.
A little bit more about the AKT story
In 2015 Ed Currie and Andy Coxon met performing in a show in London's West End. Their gruelling schedule was intensely physical; eight shows a week, dancing under hot lights, a dressing room five flights away from the stage — and no lift. That's not to mention the rehearsals, classes, and training during the day.
Mainstream deodorants just weren't cutting it for them.
Antiperspirants stained their clothes, didn't stop the sweat, and 'made us smell like teenage boys'. Natural deodorants didn't cut it either: 'they left us smelling like B.O after only a few hours.'
So they decided to create an effective, natural deodorant themselves.
They spent three years researching, developing, and formulating, collaborating with leading experts in fragrance and cosmetic science with exacting standards and a whole heap of creativity. The Deodorant Balm was finally born and so Ed and Andy decided to put it through it's paces:
'London's West End is where our story began, so we decided to test our brand new creation on some of the hardest working individuals we know on the scene. We personally gave every single West End cast member in London a sample of The Deodorant Balm to test for its efficacy and comfort. The response we got was overwhelmingly positive and supportive.'
KICKSTARTER CAMPAIGN
In late 2018 they launched a Kickstarter campaign. On day ONE of the campaign they hit their target, largely supported by the theatre community in the UK, but also internationally too. The show was about to begin…
Just before production was scheduled to begin, they had to make the tough decision to pull the project due to a clash over the brand's initial name. However, instead of folding the company they decided to create an all-new brand. They used typography inspired by old theatre billboards, and fragrances inspired by "scenes" in nature.
Akt's iconic name, brand, and packaging was finally born.
Ethos
Ed and Andy are proud to have developed plastic-free packaging for Akt that's 'fit for modern living'.
The Deodorant Balm is packaged in aluminium tubes ideal for their durability, portability, and recyclability.
Aluminium can forever be recycled without losing any quality. But plastic caps that usually accompany aluminium tubes, can't. In response, they've created bespoke aluminium caps to prevent more plastic entering our ecosystem.
The compromise is that their caps can't pierce the seal, but simply find something sharp (a pen is ideal) and you're good to go!
I love my Akt deodorant balm and shiny new Assistant Tool and can heartily recommend.
You might also like:
Ethical Beauty made in Britain with care
Plastic free zero waste beauty & bathroom ideas
INFORMATION
---
This article contains affiliate links, which means we may earn a small commission if a reader clicks through and makes a purchase. All our blog posts are independent and in no way influenced by any advertiser or commercial initiative. By clicking on an affiliate link, you accept that third-party cookies will be set.
Find more inspiring ethical clothing makers in the Ethical Beauty made in UK category of the From Britain with Love directory
Are you a maker or creative course provider? Why not list with us today and join our supportive community? Check out the packages we offer on our Join Us page.
---
A PIN TO SAVE TO PINTEREST
Hope you enjoyed discovering AKT deodorant balm. It would be great if you could share the love by pinning this to Pinterest. Thank you X