Wildsmith Skin is a British skincare brand making natural, beautiful, effective and clinically-proven products in England.
This is a brand for people who choose to use natural products but also want high end luxury and clinically proven results.
I love that they describe what they do as 'radical botany'.
Created for The Bothy spa at Heckfield Place, this is definitely a luxury brand. Think of it as skincare that competes with the world's leading cosmeceutical brands but with a botanical, sustainable ethos at its core.
A daily serum to contour, firm and smooth the skin. Clinically tested over a period of 28 days by 37 females aged 40 to 65 with sagging skin. 92% reported smoother skin, 87% reported greater elasticity and density, 82% visibly tightened skin and 68% a significant contouring effect.
Beauty Bible review: 'A real hero from the range which delivered impressive results on fine lines and wrinkles, skin brightness and in particular crêpiness – all of which are extremely tough challenges. 'This would certainly be called my "Miracle in a Bottle" – it's a must-try product with visible results. With my skin being more hydrated – plumper and taut – I have greatly benefited from using this serum. Despite being 67 years of age, there is a definite improvement in fine lines/wrinkles. Would I buy it? Yes, yes, yes!'
Beauty Bible review: 'This actually beat all the other creams we trialled in the most recent Beauty Bible Awards! As one tester commented: 'I can't get enough of this cream – it is completely addictive. Loved the smell which to me is quite important as I will eventually not use something if I don't like the smell of it. The results on my skin were outstanding and something I will struggle to live without; my skin has never felt so healthy and smooth and glass like. The texture is lovely and creamy with a boost of hydration on first application which keeps getting better the more you use it.'
Clinically Tested over a period of 28 days by 34 female subjects aged 18 to 65, with dry to very dry skin. The results
89% of subjects showed a significant restructuring effect with a 30% decrease in the skins protein content, indicating an increase in epidermal cell renewal.
71% of subjects showed a significant increase in collagen density of +6%.
100% said skin felt softer and nourished.
97% said skin felt smoother and moisturised. 91% said skin felt regenerated.

Save money by buying the Copper Peptide duo for £150. BUY HERE
SARAH STACEY AND JO FAIRLEY, JOINT EDITORS, BEAUTY BIBLE FEBRUARY 2020:
"Cleansers may seem pretty mundane compared to other skincare products but they're key performers when it comes to smooth, bright, even-toned skin, as our testers report. And golly, did they love this aromatic, luxurious-feeling Nourishing Cleansing Balm, which did all the biz you'd expect – removing all traces of make up including waterproof mascara –but it also left skin 'so hydrated, nourished and looking so radiant and youthful', according to one 'total convert'.
We love the brand and use it ourselves so we're delighted that our completely independent testers love it too. 'The BEST cleanser I have tried,' said one, adding that she'd tried 'literally hundreds'. And the compliments were flowing: 'A couple of friends, my mum and my husband have all asked me what I have been using on my face, saying I look younger and skin looks smoother and more radiant!"
The product was tested over a period of 28 days by 33 subjects aged between 30 and 50 years, with mature or pre-mature skin and with ageing signs and rough/hard face skin areas. The subjects were asked to apply the product daily, and were measured before and after one use, and again at the end of the 28 days.
THE RESULTS:
Improves firmness and tone in the skin. After 28 days of use, the skin elasticity was clinically measured to be improved by 13%. Instantly hydrates the skin. Immediately after first use, the moisture levels of the stratum corneum were clinically measured to be improved by 101%.
Delivers long lasting skin hydration. After 28 days of use, the moisture levels of the stratum corneum were clinically measured to be improved by 41%.
Smoothes and reduces the appearance of cellulite, wrinkles and lines. After 28 days of use, the crepiness was clinically measured to be reduced by 17%.
Harnesses the therapeutic benefits of 17 of the best plant oils available in nature.
SARAH STACEY AND JO FAIRLEY, JOINT EDITORS, BEAUTY BIBLE FEBRUARY 2020
"We love this totally natural, super ethical brand and use it ourselves so we're delighted that our diligent testers ranked this light fragrant facial oil so highly in a very crowded, high scoring category. We've been facial oil devotees for many years and now they seem to have come of age (literally, as they're brilliant for mature skin).
Interestingly, several testers with combination skin said trialling this had changed their negative view of using a facial oil. One reported that it balanced her dry to very dry skin and oily T-zone, 'leaving skin extremely smooth, very soft and looking incredibly dewy and generally healthy; after a month of using it am/pm, my skin has never looked healthier'.
A luxury product, for sure, but you only need a couple of drops according to one cancer patient: "wonderful and hydrating on my very dry, six months post-chemo skin, which now looks soft and rested and generally in better condition after three weeks use."
WASH: Balanced and Restoring A luxurious formulation with a balanced, restoring fragrance and velvety texture, captured in a blend of gentle botanical cleansers to refresh and hydrate the skin.
LOTION: Moisturised and Comforted: A nourishing blend of butters and oils make up our hand lotion, providing the skin with essential fatty acids and natural vitamins to leave skin feeling soft, moisturised and comforted.
INSPIRATION
The fragrance is inspired by the plants and botanicals found in the arboretum and grounds at Heckfield Place, the spiritual home of the Wildsmith brand. These were planted in the 19th century by our namesake, William Walker Wildsmith, famed for his progressive approach to cultivation. The fresh, floral Linden Blossom scent is combined with soothing notes of Roman Chamomile and grounding Cedarwood combine to create a balanced, restoring fragrance.
The packaging is mycelium compostable packaging and the bottles themselves made of endlessly recycable aluminium.
More about Wildsmith Skin
Sustainability
As part of their commitment to sustainability and responsible practices we have introduced Wildsmith Return and Recycle. Customers can return their empty Wildsmith products to be recycled using the most responsible methods possible. A simple postage paid sticker is sent out with all web orders. You can also download it and print it here.
Compostable packaging
Mycelium is the vegetable root structure of a mushroom: an organic material which is grown around a mould and forms a custom-sized secure structure.
To make the product stronger, locally sourced agricultural waste such as corn and barley husks are added to the mycelium. The final packaging quite literally grows around its mould in a matter of days and when it heated to prevent any further growth. As an entirely natural product grown in soil, mycelium will decompose as any organic product will, causing absolutely no harm to the environment. It can be added to a home compost, 'replanted' in your garden or disposed of in a compostable recycling bin.
Unlike biodegradable plastics, there is no risk of potentially harmful micro-particles entering the soil or sea – mycelium simply breaks down without a trace
Recylable materials
We predominantly use glass and aluminium for our packaging, both of which can be endlessly recycled without losing their quality. Both materials are widely recycled meaning that our consumers should find it easy to recycle them in their local area. The paper that we use is fully recyclable in local recycling facilities and can be disposed of alongside your day to day household recycling.
A little bit of history
In 1865, William Wildsmith was brought to Heckfield Place as a foreman and became head gardener in 1867. I love that his legacy – and name – prevails today. He was instrumental in creating a celebrated arboretum in his day, adding to ancient chestnut, lime and yew trees.
Heckfield's current arborists continue to replenish ageing trees from the biodynamic nursery with succession planting. Seed collected from trees including giant redwoods, Douglas fir, Japanese cedar, English oak (many more than 150 years old) is genetically strong and resilient to pests and disease. The plan is that these seedlings will, in turn, pass on their survival knowledge to their offspring and protect the future of this special woodland. Planting hundreds, maybe thousands of trees will also play their part in reducing tonnes of carbon.
The anatomy of trees, the way they deliver nutrients, adapt, heal and grow have guided Wildsmith Skin's philosophy for natural, high performance skincare.
Radical botany
Wildsmith Skin use the latest plant derived bioactives, botanicals and minerals combined with targeted delivery systems to give clinically proven benefits. Made with plant-derived and nutrient-rich botanicals, and boosted with the latest bio-actives, Wildsmith Skin blends science with nature to create products that deliver clinically-proven results.
Wildsmith is commited to cruelty-free, sustainable and environmentally sensitive practices. None of the ingredients or formulations are subject to animal testing and packaging is considered, with a focus on recyclables.
Clinical results
Wildsmith Skin work with clinical trial specialists Dermscan to conduct targeted independent clinical trials to test the efficacy of their formulations. Find out more here
Beauty Bible
Wildsmith Skin work with the UK's top beauty review resource Beauty Bible, conducting blind trials of the entire skincare range. Three of Wildsmith's three favourite products have been put through their paces – read the full review here
Heckfield Place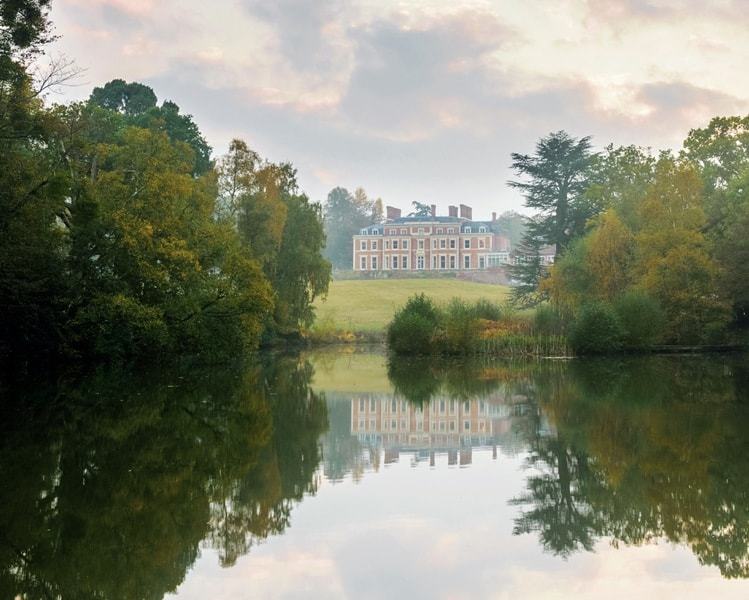 Heckfield Place is an idyllic Georgian estate – the house now a luxury hotel and the dramatic parkland a biodynamic farm with beautiful formal gardens. This secluded Hampshire haven is home to Wildsmith Skin.
You might also like:
Ethical Beauty made in Britain with care
Plastic free zero waste beauty & bathroom ideas
INFORMATION
---
This article contains affiliate links, which means we may earn a small commission if a reader clicks through and makes a purchase. All our blog posts are independent and in no way influenced by any advertiser or commercial initiative. By clicking on an affiliate link, you accept that third-party cookies will be set.
Find more inspiring ethical clothing makers in the Ethical Beauty made in UK category of the From Britain with Love directory
Are you a maker or creative course provider? Why not list with us today and join our supportive community? Check out the packages we offer on our Join Us page.
---
A PIN TO SAVE TO PINTEREST
Hope you enjoyed discovering Wildsmith Skin. It would be great if you could share the love by pinning this to Pinterest. Thank you X