Foam free floristry – the sustainable guide to floral design
Creative floral designer, Sarah Diligent, is known for her love of seasonal British flowers and a passionate commitment to sustainable, foam-free floristry. When she told me about her Kickstarter project – to write the definitive a book about sustainable floral mechanics, I really wanted to help spread the word. This isn't a floral design book. It's a practical tried-and-tested guide to the mechanics needed to go foam-free. And it's been painstakingly put together by Sarah and her co-writer and fellow floral designer William Mazuch.
In case you don't already know, floral foam, or oasis, is a single-use synthetic plastic that does not biodegrade and disintegrates very easily into microplastic. This means that it ends up in our oceans and wreaks havoc with our eco-systems. Incredibly, its use is still widespread. Happily, there is a growing awareness that this needs to change – fast. So, getting the word out and sharing practical solutions is absolutely vital.
Sarah and William are crowdfunding to get their book – A Guide to Floral Mechanics – to print. The aim is to offer florists the practical know-how they need to go foam free and find more eco-friendly alternatives. Find out more and get involved here: https://www.kickstarter.com/projects/sarahdiligent/a-guide-to-sustainable-floral-mechanics
I asked Sarah and her co-writer William Mazuch to share a little bit about their project and what they hope to achieve.
How did you meet?
Sarah: We're both floral designers, and we met whilst creating floral installations for British Flowers week in 2018. We quickly realised how much our values aligned, and have been working together ever since.
My background is wedding floristry – using seasonal flowers and sustainable techniques and I also teaches at her floral design studio in Hampshire.
William comes from the world of industrial design, his focus has always been materials and techniques. He now applies this thinking to floristry.


Tell us about your book
Sarah: We are writing a book on sustainable floral mechanics.  It's not a book that deals with doing the flowers, though one day maybe… for now though there's a more pressing subject to deal with. Floristry may be considered a green industry, but the truth is there's a huge amount of room for improvement where sustainability is concerned.
Most colleges teach floral design using floral foam which is a single use plastic that doesn't biodegrade. There are a multitude of methods that can be used instead, and we are writing a book which outlines these.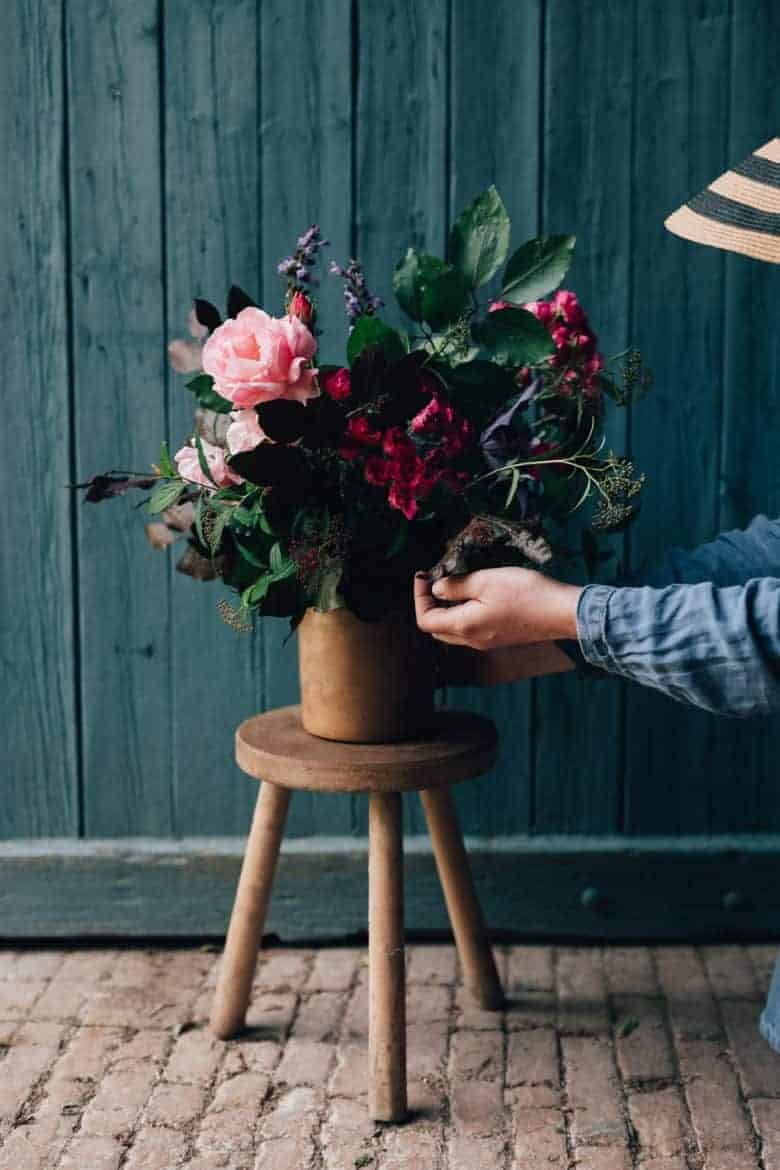 What inspired the book?
Sarah: A few things to be honest,
I couldn't find a book on mechanics when I was first looking to learn floristry in a sustainable way. I've been working this way for a few years now and having thought someone really should write the book I was looking for, I began to realise that noone was. I also realised that, together with William, we had the knowledge and the drive to do it ourselves.  It is such a huge undertaking I don't think I'd have ever seriously considered writing it alone. Once we'd begun, I realised it was an even bigger job than I'd imagined.
I run a group on Facebook called 'The eco friendly florists and flower growers collective.' It started as a place for a few florist friends to share tips, techniques and ask for a helping hand or share some useful information but has snowballed to be 2.4k florists and growers across the globe sharing knowledge. Many questions came up time and time again and I kept thinking there really should be an up-to-date book on sustainable (tried and tested) techniques that really work.
More and more florists were coming to 1:1 days with me in the studio to find out how to go about things in a more sustainable way and it became clear that this area of floristry wasn't served well enough with guides or books to show the options available.
We saw a need and we wanted to meet it. Well.
William: Initially I was researching the methods in which flowers were arranged. I looked at guidelines for various flower schools, associated organisations, and historical methods. It quickly became apparent that all the methods of arranging flowers are slightly different depending on who you're talking to. There are many different ways and styles of designing all manner of products [my background], but when it comes to having something made, there's generally a standard method which is well documented. This just didn't exist in floristry. There's not a clear, concise manual for the methods in which to design flowers, less so for methods which aren't solely based on the use of a single use plastic. Sarah and I met, and although for different reasons, we wanted a similar, if not the same outcome. And so here we sit, documenting these methods so that this isn't all a mystery.
We're hoping for change and doing something about it.
What is your ethos?
Sarah: Working with nature, doing no lasting damage and bringing joy.
William: Surprise people. Make people happy and do it well.
How are you making the book?
Sarah: We're making every single element, recording how, and photographing the technique, each step is being hand drawn on one side and explained on the other. We've taken inspiration from Ikea furniture assembly instructions, car manuals and recipe books to create a book that is easy to follow, clear and absolutely achievable. We've tested each set of instructions on willing volunteers, both florists and those who have never made a floral design in their lives, then tweaked and improved them.
William: Absolutely, the aim is to demystify the process and as such it needs to be crystal clear.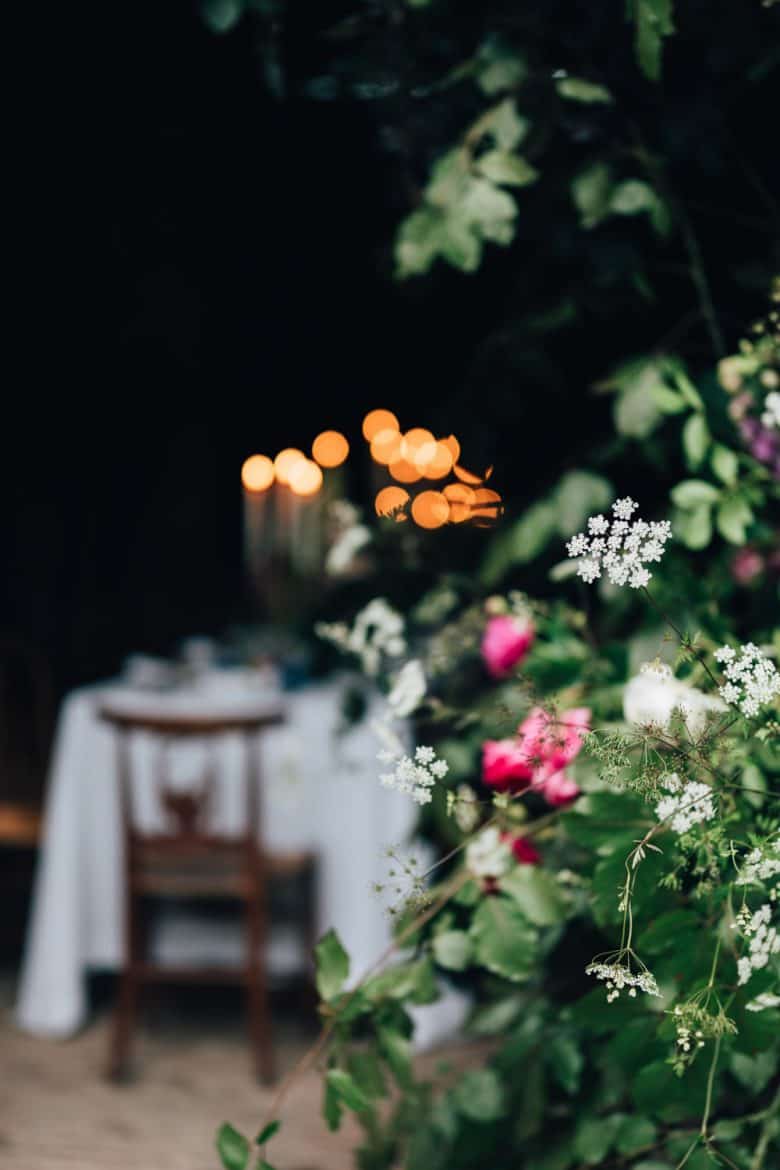 What keeps you going?
Sarah: Gallons of earl grey tea in the mornings, black coffee in the afternoons and the occasional glass of wine in the evenings.
William: Gardens. Coffee. Certainly not sleep.
Why foam free floristry?
Sarah: I want our wonderful industry that brings so much to people to cause no lasting damage. I want people to feel god about the work they have produced and proud of the fact that it is sustainably created. I think we're all trying our best and think that working this way will become the norm.
What does all of this mean for florists and hobbyists?
I think it means taking a leap of faith, learning different techniques and embracing a movement to reduce single use plastics. It doesn't have to be more expensive or more time consuming.
William: It feels as though there's a chance to make a difference, and with Sarah, it seems feasible.
What are your favourite flowers?
Sarah: Tulips, fritillaria and every type of blossom in the Spring
Garden roses, mock orange flowers and Japanese anemones in the Summer
Acidanthera, dahlia and asters in Autumn
Hellebores, amaryllis and paperwhites in the Winter
William: Anemones. Ranunculus Cloni (I think it's the Italian in me). Citrus flowers.
Could you share your top 3 tips for going foam-free?
1 Choosing/sourcing good quality products is absolutely key.
It really is the difference between having flowers last a day or a week…
Did you know that you can ensure hellebores work as a cut flower if they're picked once the seed pod has formed?
Flower farmers and growers will know these things, so my advice would be to try and find a flower farmer near you to buy from. This way you can ensure you're getting the best blooms (picked at the right stage) possible.
2 Conditioning correctly is essential.
Some flowers are very particular about how they like to be treated once cut. Poppies can be used in floral arrangements if heat treated – if you sear the cut end with a flame for a few moments immediately after cutting, they will last beautifully.
3 Any vessel can become a vase
Even non waterproof dishes can become the base of a gorgeous design if you first create a 'liner' vessel to go inside – old jars, cut down buckets, or anything that will hold water. Once you've prepped your liner it can be used again and again
How to get involved
As well as feeling good about supporting a move toward foam free floristry, there are lots of great rewards you can choose in return for pledging, including copies of the book with your name in the acknowledgements, floristry days with Sarah, lunch in London with the authors and a group workshop for up to 8 people. But you don't have long, people! The campaign is only running until 29th September and it's all or nothing. Either they reach their target or they gain nothing, no matter how close they get.
The link for the Kickstarter campaign (which runs until 10th November 2019) if you fancy a look… or would like to pledge https://www.kickstarter.com/projects/sarahdiligent/a-guide-to-sustainable-floral-mechanics
Let's get behind this great resource and get pledging. Because creating with flowers and nature really shouldn't literally cost the earth should it?
Other foam-free floristry ideas to inspire you
I had an inspirational day in Shropshire with Tammy Hall of Wild Bunch learning foam-free techniques. Read the whole blog post here:
Flower Arrangement ideas using spring flowers from an english country cutting garden
INFORMATION
---
Find Sarah Diligent's floral design company Floribunda Rose in the Sustainable British Flowers  section of our Directory
Are you a maker, grower or creative course provider? Like to list with us and benefit from joining our supportive community? We'd love to hear from you. Check out the packages we offer on our Join Us page and get more details from our Information pack here
---
A PIN TO SAVE TO PINTEREST
It would be great if you could share the love for this project. All you have to do is hover over the image below until you see the Pinterest button appear. Then share it to your boards. Thank you! X