Flower Arrangement ideas using spring flowers from an english country cutting garden. 
I've been revisited these ideas since noticing the tulips are making their way up in my garden as we speak (and adding loads more photos from the day as well as some new ideas), so I thought I'd re-share in case you might like to do the same…X
When the invitation came in asking if I'd like to attend a Spring Flowers workshop at Wild Bunch Flowers in Shropshire I didn't hesitate. I am just starting out with my own garden flowers cutting patch and am definitely in the market for practical and creative ideas. And flower arrangement ideas are always welcome.
If I had been unsure, this description on the website would have clinched it:
At Wild Bunch we abandon ourselves to nature, and revel in the joy of being swept along by the elements. Riding through the seasons, we nurture our flower fields, orchards and woodland, using what we grow to create unpredictable and evocative floral designs that are in harmony with their setting. We call the signature style Elemental Flowers and we bring it to life for you in our Styling the Seasons workshops. We'd love you to join us in the dramatic landscape where our flower farm nestles, and discover it for yourself.
I already knew, from chatting with Wild Bunch founder Tammy Hall over on the blog, that her sustainable ethos and natural, wild style are right up my street. I hit reply to say 'yes please', booked myself and my friend Jo into The Riverside at Aymestrey and started counting down the days.
Lunch stop at Trumpet Corner
It was a warm, sunny morning as we headed off on the drive from Hampshire to Shropshire, stopping off for lunch at Trumpet Corner tea rooms, gallery and garden.
Waiting for our sandwiches to be freshly made using local ingredients, we stretched our legs with a browse around the gallery and discovered some great local makers selling their work there. Among my favourites were sculptures by Ed Elliott, beautiful baskets by Jenny Pearce, exquisitely decorated glass by Mariana Pavlova, colourful abstract cushions and purses beautifully made by Sarah Rich-Harrison using surplus fabrics and the most adorable knitted bears made from hand-spun local fleeces by Homespun Bears (tel: 01432850003).
Roadside discovery
Jo was particularly taken with a series of hare prints by Cara Williams. All at a roadside place we'd happened upon by chance. It's discoveries like these that remind me why I love what I do so much. And why I started out in the first place. There are so many inspirational makers out there and I still get such a thrill to find new ones… Anyway, our tea and sandwiches arrived and it was soon time to press on.
On the way to our hotel at Aymestrey, we stopped off  to explore Ludlow. I particularly loved Harp Lane Deli, Black Bough vintage and eclectic interiors/gift shop and 55 Mill Street brocante. I found the most beautiful old metal plant stand, which thankfully just about fitted into the boot. Happy days.
I had to stop and take a photograph of this honesty shop we passed by in a small, pretty village. I couldn't resist a quick look to see what was for sale… and bought a lovely purple flowered ajuga plant for 50p which is now happily growing in my garden. Love finds like that, don't you?
The Riverside at Aymestrey
Another great find. Tammy had recommended The Riverside and it was the perfect choice. Jo and I had opted for a garden room each and they were just lovely. I was amazed to discover that the cosy throws and cushions on our beds were by Weaver Green and made using recycled plastic bottles. They honestly do have the look and feel of woven wool. Just brilliant.
We ate well that evening at The Riverside and headed over to the Wild Bunch farm at nearby Leintwardine the next morning, after a delicious breakfast of local fruit and yogurt, homemade jam with toasted caraway bread and porridge with Riverside honey and banana. It was shaping up to be a really good day! Now it was time to head off in search of inspiring flower arrangement ideas.
Flower Arrangement ideas on the farm
The flower farm
Tammy was there to welcome us as we pulled into the drive of her farm. A trained architect, Tammy is midway through a major renovation of the old farm house to create a contemporary home for her young family… on top of managing her sizeable cutting garden, running workshops and supplying the flowers for a growing number of local weddings. A woman of substance and drive, evidently. And yet Tammy's manner and flower arrangement ideas are wonderfully laid back and creative.
Flower arrangement ideas with freshly cut garden spring flowers
The workshops take place in a beautiful, and sizeable, room at the back of the old house and every surface was covered in jars, vases and buckets filled with the most beautiful freshly picked spring garden flowers and foliage.
There were masses of tulips in all shapes and colours, ranunculus in mouthwatering shades of pink and apricot (these were the find of the day for me, as the varieties Tammy grows have a cabbage rose or peony-like quality to them), early sweet peas, the last of the hellebores, pale narcissi, loaded branches of apple blossom, fresh bright green early raspberry shoots (another revelation!), physocarpus 'dart's gold' to add deep, dark contrast and lots more.
We kicked the day off with cups of tea and slices of homemade rhubarb cake, as Tammy shared a little bit of background.
Foam free flower arranging inspired by the garden
'My approach to making is inspired by the garden,' she told us. 'Growing came first for me and floristry grew out of that. I came across Rachel Siegfried who grows the most beautiful seasonal cut flowers at Green and Gorgeous. I loved what she was doing and thought "I really like that – I could do something similar." So that's what I set out to do. My partner, James, a farmer, ploughed a sizeable patch near the house for me and I got started.'
It was such a joy to watch Tammy create her first arrangement using a beautiful handmade textural ceramic vessel by Marches Pottery of Ludlow.
Committed to sustainability, Tammy doesn't use floral foam (oasis) because of its impact on the environment. Floral foam is actually made from plastic and, because of its cellular foam structure, it very easily crumbles into microscopic fragments, adding to the global problem of microplastics. Throwing waste water down the drain sends these damaging particles into our rivers and seas and they last for thousands, sometimes millions, of years. It's clear that floral foam has no place in sustainable flower businesses.
Foam free alternatives
Tammy talked us through two alternatives she uses in her arrangements – the Japanese kenzan (or flower frog) – a heavy lead plate with brass needles and also the use of chicken wire and tape. We were to be using both. So we started by placing the flower frog at the bottom of our vessels and then Tammy showed us how to attach the chicken wire tops. She had already cut out circular pieces of chicken wire and we each placed one over the top of our vessels, tucking the edges inside, taped in place and filled with water.
It was time for the really fun bit. Tammy firstly demonstrated her approach with flowers and one or two flower arrangement ideas.
One great tip is to place the vessel you're going to be using on top of an over-turned large plant pot. This raises the height, making it easier to work and allows you to turn the vessel around as you go to look at all angles. Tammy's first step is to look for a couple of guiding pieces.
She picks at the coolest part of the day – either last thing or very early morning – and places everything in fresh cool water having first stripped off all lower leaves. This is to prolong the life of cut flowers as greenery sitting below the water line with rot.
Flower Arrangement ideas – wild and natural arrangement
As she is picking, Tammy told us that she is mindful of colour, line and form. Interestingly, she often uses flowers that have gone over slightly as 'infill' (she'd picked some wallflowers for this purpose). Her guiding pieces were bright green early raspberry shoots and purple hellebores that were just coming to an end. Next, she laid out all the flowers she'd chosen to use –  big, blowsy tulips and rose-like ranunculus in shades of pink, peach and pale orange as well as the prettiest pale peach and white narcissi.
Start with a 'hedgy' element
'I start with a low 'hedgy' element,' she explained, as she began to position her foliage by pushing through the chicken wire and firmly into the flower frog. 'Don't worry about covering the chicken wire at this stage,' she advises. 'It's all about securing the first foliage, creating a bed to work from. The main thing to think about is what role each pieces is playing. Things grow in clusters in the garden and I have learned to keep them together in clusters in my arrangements. I use different heights to give space in between and allow each one to play a part.'
Time to have a go ourselves…
It looked so easy as Tammy cut, placed, twirled the vessel around and added from the foliage and blooms she'd laid out. The finished arrangement was so beautiful. Natural, slightly wild, with a free, organic shape and definitely right up my street. Would I be able to make something anywhere near as lovely?
It was time to find out. There were so many flowers and pieces of foliage to choose from. And yet I felt shy to take too much at first in case it seemed greedy. So I started with a slightly restrained collection of fresh green raspberry leaves, purple hellebores and dark purple tulips with cabbage rose-like giant pink ranunculus and tulips. I followed the steps Tammy suggested and very soon needed more flowers!
Tammy suggested trying some darker foliage as well as adding multiples of the flowers I'd already chosen to create clusters. This made all the difference. Here's my finished arrangement. What do you think? I was really happy with how wild and pretty I managed to make it look by taking inspiration from Tammy.
Time for lunch
By now it was time for lunch – a delicious selection of freshly made quiches and salads from local Harp Lane deli in Ludlow. Strawberries and chocolate cake with clotted cream followed, along with more pots of really good tea. A post-lunch stroll around the cutting garden was just what we felt like after such a glorious lunch.
I took away so much inspiration for my own small cutting patch project and it was such a joy to take in the beautiful views that stretch towards the Welsh hills.
Cutting patch dreams
I am all the more determined to press on with my own modest plans to create a cutting patch. I've reclaimed an overgrown and disused area of my own garden to grow flowers I've cultivated from seed.  I can't tell you the amount of sheer, unadulterated joy it gives me to spend hours up there at the weekend. Weeding, watering, planning, dreaming.
Is there anything better than heading back indoors at the end of a sunny day in the garden, knees caked with mud and a back that isn't complaining too loudly? I start out with gardening gloves on, in an effort to avoid extreme agricultural finger nails. I always end up ditching the gloves, though, because you can just feel what you're doing so much better without them. Not sure the hand modelling career is likely to take off any time soon though…
I added some ideas for my growing plant for next year as we walked around Tammy's garden. Ranunculus is something I really want to look into as well as more tulips – Belle Epoque (pictured below, credit: Floret).
I absolutely love Floret – and really enjoy browsing for flower inspiration. Based in the US, you can't order bulbs because of export laws, but you can order seeds that you won't find anywhere else.
Peter Nyssen or Rose Cottage Plants are my favourites for buying bulbs and I'm planning to go for China Town, Apricot Parrot, Aveyron and Copper Image next. Geums are on my list too – love 'Totally Tangerine' from Sarah Raven and 'Queen of Orange' from Chiltern Seeds (Tammy's favourite seed seller).
How to make a natural 'wild' hand-tied bouquet
Unlike the more formal 'spiralled' hand-tied bouquets I've made at other workshops, Tammy's approach is more wild and free. The idea is to create an aperture with your thumb and middle finger and 'arrange' into this like you would with a vase, placing flowers where you'd like them, and playing with height as before.
Flower Arrangement idea: apple blossom, tulips, ranunculus and foraged foliage
It was soon our turn to have a go, and this time I decided not to be too shy with gathering materials. So I laid a bountiful supply of flowers and foliage on my bench. I decided to go full-on pretty spring, and chose apple blossom, pink tulips and ranunculus in different shades of pink, pastel narcissi and fresh green raspberry leaves. To add some contrast I added in some dark copper foliage and bright orange geum.
Hand-dyed silk ribbons – perfect finishing touch for your flower arrangement ideas
As part of our welcome pack we each had a couple of rolls of pretty silk ribbons from wonderful Heirloom Silk, perfect for tying around our finished bouquets.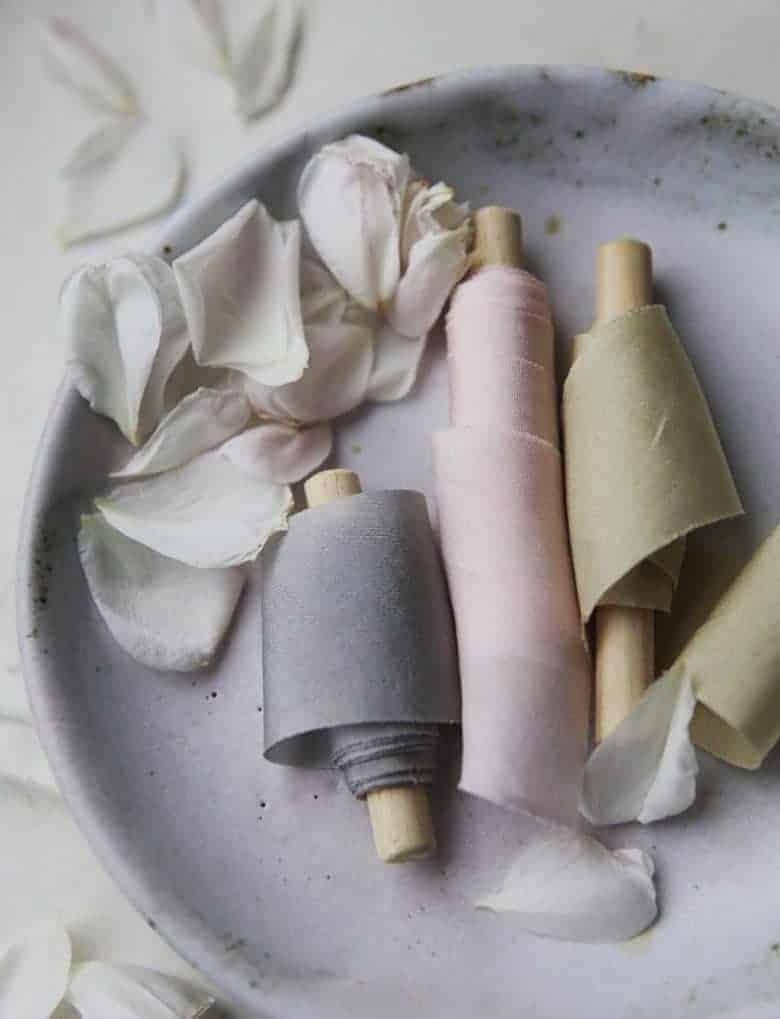 Heirloom Silk is a great place to source the most beautiful hand-dyed silk ribbons using natural plant dyes. I love that the different soft shades are each named after different interesting women from history. My rolls were labelled Honor Lisle and Anna Trapnell.
My curiosity was piqued, so I decided to find out more. I now know that Honor Lisle attended Anne Boleyn and exerted such influence over her husband, Viscount Lisle, that Thomas Cromwell felt compelled to advise that in matters of state, a crown official could not simply do what his wife told him to.
Anna Trapnell, meanwhile, was an alleged prophetess from Stepney in East London, who fell into a 'trance' for almost a fortnight in 1654. During this time she sang, prayed and prophesied before the gathered crowds. She preached sexual equality and was therefore considered mad.  All that new information sparked by two pretty rolls of silk ribbon!
Our flower arrangement ideas – finished and on display
At the end of the workshop, we spent a little time photographing what we'd made. Right on cue, Tammy's cat Tigger rushed straight into shot and draped himself perfectly like a pro.
Car boot, lambs and kitten
You know it's a good day when time flies and you can't believe it's already time to go home. As we packed up the car carefully with our flowers, a mother sheep and her pair of lambs came over to see us off.
I love the moment captured here – one of the lovely women we'd shared the day with heading home with armfuls of cut flowers having just said goodbye to a passing lamb.
As we packed up the car (working around the sizeable vintage metal plant stand I'd bought!) we almost left with Tigger too, as he kept hopping into the boot as soon as we weren't looking. There was a moment of panic a couple of hours into our drive when we thought we heard something scratching in the boot…
Turned out to be a false alarm but we did laugh. I sort of wish it had been one of the lambs and that he could have come home with me. Not that I have the space, or any experience with sheep rearing. But I have always wanted a couple of lambs and also a donkey called Harvey. One day maybe. First steps first: my cutting patch. So many ideas, so much joy to be had…
Tammy offers similar workshops throughout the seasons, so why not treat yourself to a blissful day being creative with nature too? Hope you have found some flower arrangement ideas to inspire you.
A few new ideas
Since writing this post I have been collecting new spring flower arrangement ideas that I'd love to share with you:
Wild Bunch Flowers
Tammy sells an exquisite range of bouquets during flower growing season (available from Spring onwards), and which can either be collected from her farm or delivered within a 15 mile radius. Find out more here: https://wildbunchflowers.co.uk/bouquets
How beautiful is this wild and abundant combination of tulips, narcissi, blossom, ranunculus, fritillaries and seasonal foliage?
You could also book yourself onto Tammy's Spring flower workshop and enjoy a blissful day at her farm too.
Here are a couple more images (both credit: Naomi Kenton Photography) from the Wild Bunch Spring flower workshops gallery to give you more of a flavour:
Floret is another great source of inspiration – including online workshops, books and other resources
As far as Spring flower growing/ideas are concerned, there are fab free guides to daffodils & narcissi and tulips (you just have to sign up to Erin's email list to receive them)
Follow Erin on Instagram for lots more inspiration and glimpses behind the scenes on the farm. How about these beautiful collections of daffodils/narcissi/snowdrops (below) and hellebores (above) on Erin's beloved flower shelf? She shares all the details you need to find out which variety they all are: hellebores, daffodils
INFORMATION
---
Are you a maker or creative course provider? Like to list with us and benefit from joining our supportive community? We'd love to hear from you. Check out the packages we offer on our Join Us page and get more details from our Information pack here
---
A PIN TO SAVE TO PINTEREST
If you've enjoyed discovering these Spring flower arrangement ideas, I'd love you to share this pin to your Pinterest boards!