How to paint floor boards the easiest way ever
It is this feature (about Charleston House) that I have to thank for my latest decorating project. It was something I wrote a few years ago when Annie Sloan launched a new collection of paints inspired by the Bloomsbury set. I was thrilled when Annie got in touch to let me know she'd really enjoyed reading the piece. It's an odd thing to admit, but it always takes me slightly by surprise to realise that people actually read what I write.
I love that Annie somehow found, and read, my feature (I am not good at tagging people into my content – feels a bit braggy and needy). I also love that she then felt moved to get in touch to say thank you and to offer me free paint for my next creative project.
Another thing I'm not great at is accepting freebies. So, whilst I was really touched by the offer, I felt more comfortable kicking it into the long grass with an avoidant 'thank you so much, I'll have a think…' response.
My next creative project: paint floor boards
Fast forward a couple of years and I was researching best paint for reviving my tired old rustic floor boards. Annie Sloan Chalk Paint kept popping up on searches. I was drawn by the claims that you can paint it over pretty much any surface, without the need for preparation. There's no need for sanding or priming – you can just dip your brush and get painting and it works on wood, metal, laminate, concrete and furniture. My kind of DIY!
So I ordered a few samples (I tend to order paint online via Brewer's Designer Paint because their delivery costs are low or you can opt to pick up from your local store for free). Soon my main living room floorboards had sizeable splodges of French Linen, Coco and various homemade grey/brown combos. French Linen is a cool neutral that takes inspiration from the colour of aged natural linen – a khaki grey. Coco is a soft brown taking inspiration from the warm pigment Burnt Umber.
I wanted to check how the different shades worked in different positions and lighting conditions. We're talking A LOT of splodges! I knew the look I wanted to create – a soft warm grey to tone with the natural linen fabrics on my sofa and blinds. French Linen by itself was a little too blue and Coco a touch too brown. As soon as I slapped it on, I knew that a 50/50 mix of the two was the perfect shade, so I sat down to order the paint and lacquer I'd need.
A quiet (often ignored) voice in my head urged me to get back in touch with Annie's PR person to ask if I could take up their kind offer. After all, they had made contact with me and with the express intention of offering free paint for my next project. And this was my next project, so why not at least see if their offer was still there..?
Why not indeed
'Why not?' was simple – having to write the excruciating 'Remember me and how you offered me free paint an absolute age ago…?' email. It sounds ridiculous now, but I would almost rather have just paid for the paint than risk being seen as greedy and grasping. Almost. When I totted up how much it was going to cost to do my whole living room, I managed to muster a little courage and fired off the email. I say 'fired'. It was more of a dithery eventual slow clicking of the 'send' button, followed by a red-faced cup of tea to recover.
Anyway, I'm aware this self-absorbed soul searching is dragging on a bit now, so I'll cut to the chase. I am tempted to throw a spanner in the works and tell you that I received a cease and desist order to the effect that if I ever so much as tilted my begging bowl towards Annie Sloan or any of her associates ever again I would be barred from direct contact with chalk paint for life.
The truth is Annie's team could not have been nicer in their response – or more generous – and promptly sent over all the paint and lacquer I'd need.
All I had to do now was get on with the job in hand. I've taken photos as I went so I can share the step by steps with you.
How to paint floor boards with Annie Sloan paint
First thing to do is to move away all furniture from the area you're painting and hoover really thoroughly.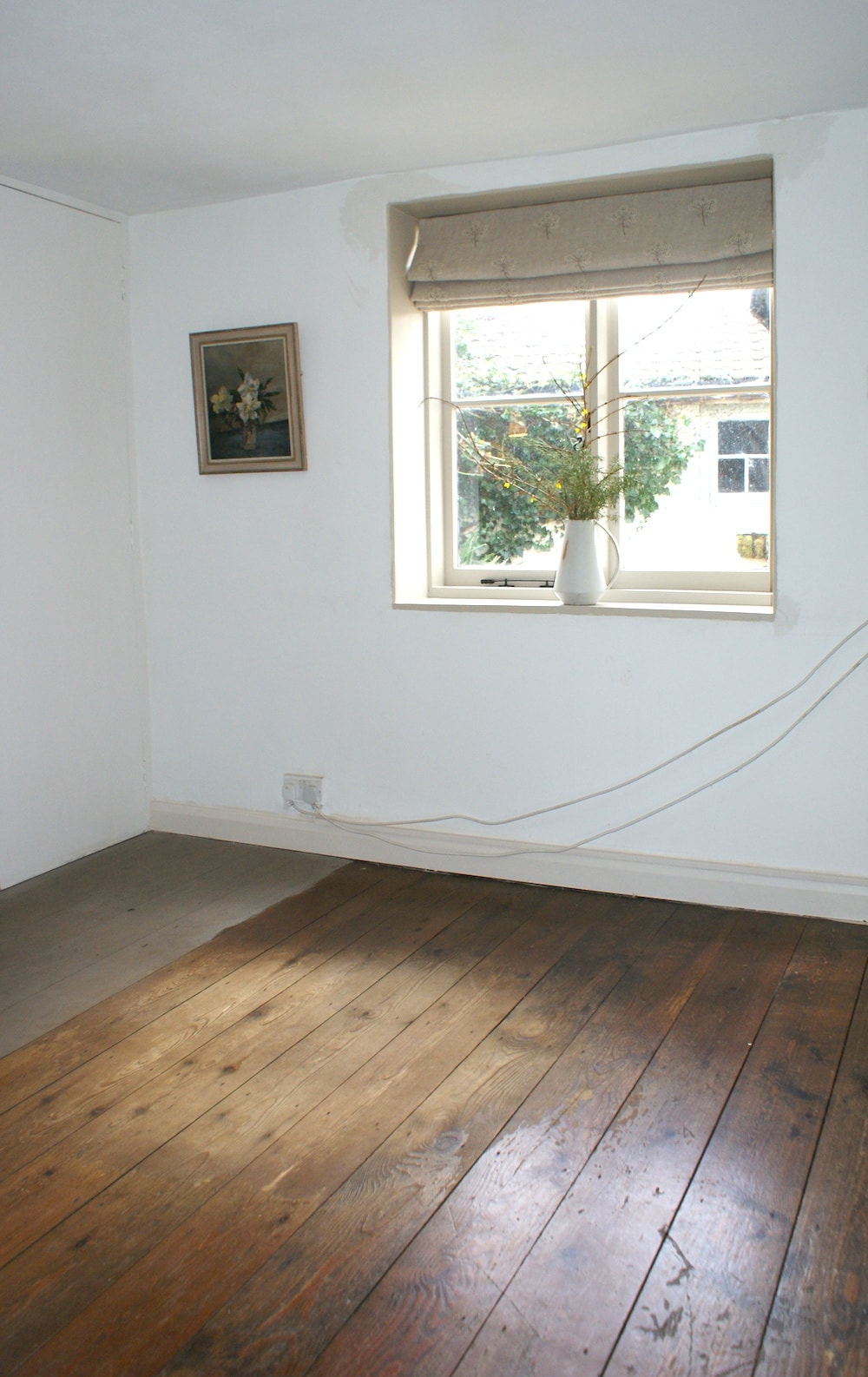 First thing to do is to move away all furniture from the area you're painting and hoover really thoroughly.
I was happy to leave uneven areas – all part of the rustic character of the old boards. If you want a smooth more even look, just fill and sand the boards until you're happy before painting.
Once I'd hoovered the area really thoroughly, I decided to give it a quick going over with a mop too. This made sure the whole surface was clean and dust-free.
To create my shade, I added a tin of Coco and French Linen to a paint kettle and mixed well. This made sure that I create identical batches each time time.
I found it works best to paint the floor with a large, soft brush and use a medium brush for the edges. If you're a bit slap dash (like me) it's easy to wipe off any accidents from the skirting board etc. Just have a damp cloth to hand would be my advice then you can clean up as you go.
It is such a pleasure to use this paint. It's creamy, rich, has amazing coverage and dries really quickly. And because the paint's water-based there are no horrid fumes or chemicals. I was interested to see if the old brown stain on the floor boards would start to show through but there is absolutely no sign of this.
Ready for lacquer
After the first coat had dried, I went on with a second coat which perfected the coverage. Once this had dried I was happy to move on to the lacquering stage.
There are two Annie Sloan lacquers for sealing chalk paint- matt and gloss. I'd originally decided to go for the matt finish, but was advised to go for the gloss as it's harder wearing.
The lacquer is milky white, with a subtle smell reminiscent of junior school glue) and glides on smoothly and easily. I slathered it on generously and added a second coat after the first had dried. The shine level reduces as it dries leaving a nice, natural sheen rather than a shiny gloss.
The finished result
It's important to let the whole area dry really well before moving furniture back. I was too impatient to start doing this and tried to move an old armchair when the floor 'felt' dry. I instantly regretted it, as the feet scratched the surface really noticeably. After a few days it feels like the surface has 'cured' and several weeks in now, it's really hard-wearing. I also had enough paint left over to upcycle this old midcentury wooden table that had seen better days.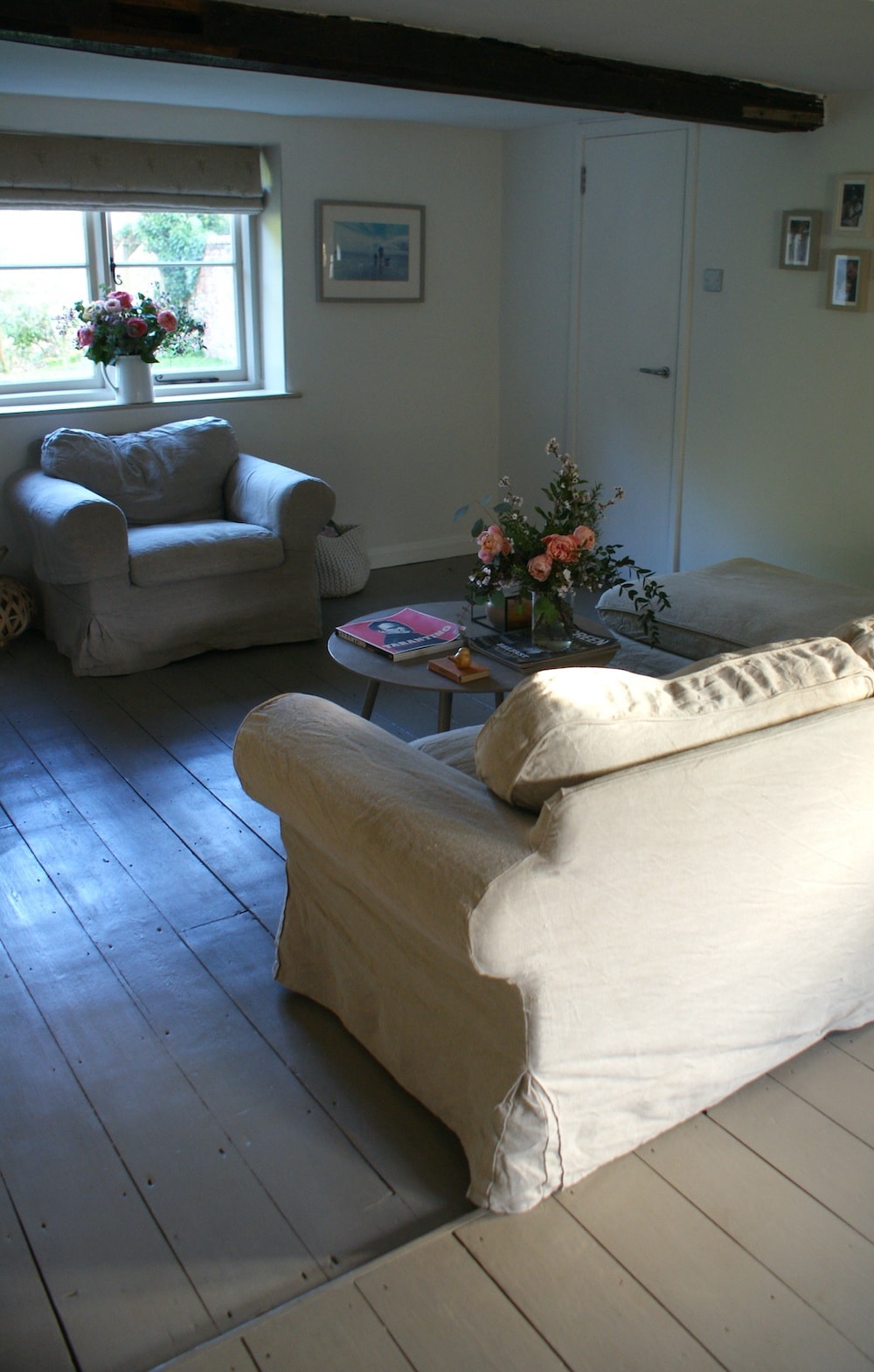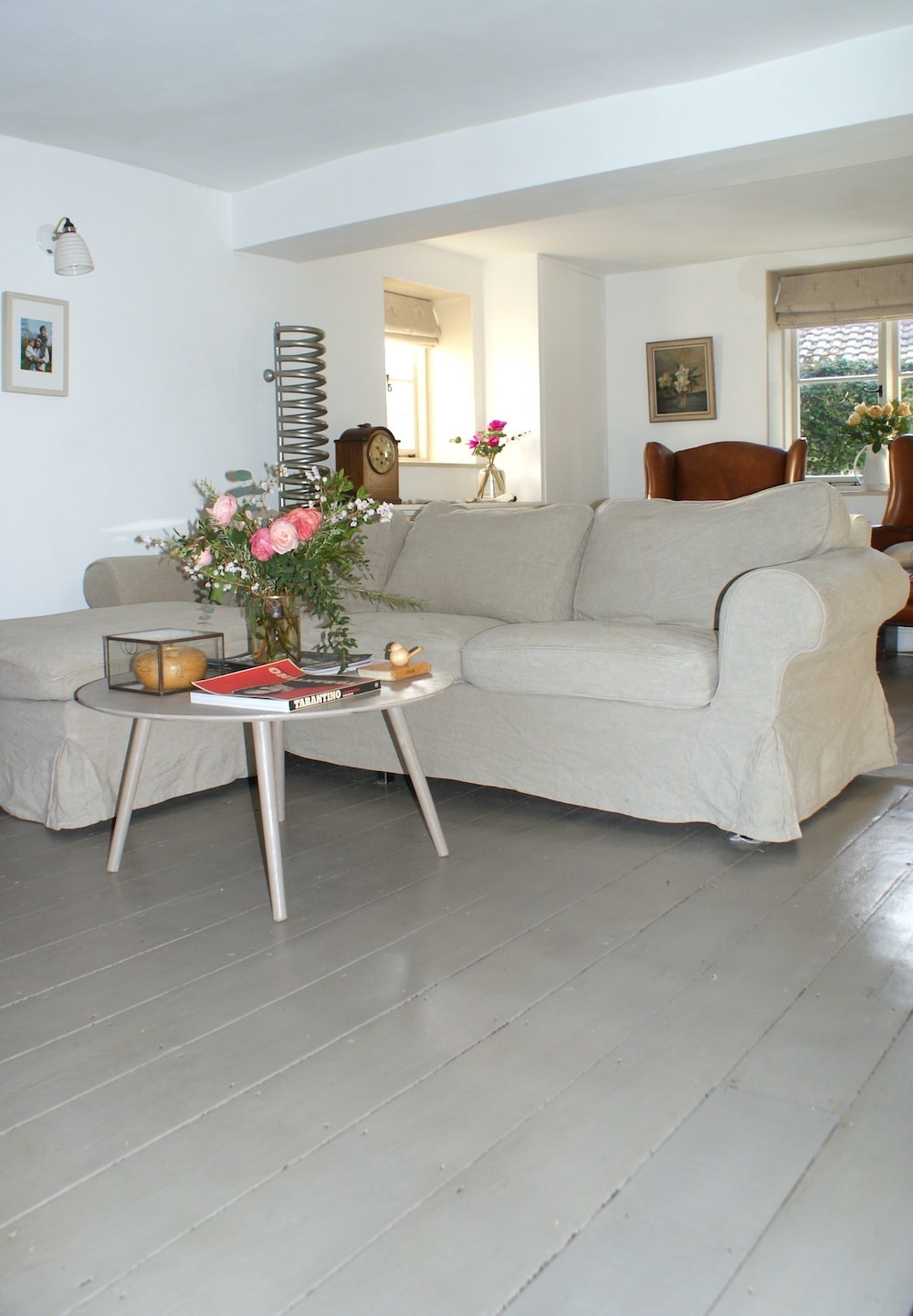 I absolutely love the fresh, new look this simple decorating project has given my living room. Annie Sloan chalk paint is the ideal choice if you're wanting to paint floorboards. There's no prep, there's no horrible fumes and there's no limits to the shades you can create by mixing up colours yourself.
Information
This article contains affiliate links, which means we may earn a small commission if a reader clicks through and makes a purchase. All our blog posts are independent and in no way influenced by any advertiser or commercial initiative. By clicking on an affiliate link, you accept that third-party cookies will be set.
To read more about the feature that led to this decorating project, read Annie Sloan Charleston Chalk Paint inspired by The Bloomsbury Set
Browse the Annie Sloan Chalk Paints on the Annie Sloan website here.
Buy Annie Sloan Chalk Paint in French Linen or Coco from Brewer's Designer Paint. Their delivery costs tend to be lower or you can opt to pick up for free from your local store.
Buy Annie Sloan Lacquer here
Annie Sloan Chalk Paints lists in the FBWL directory here
You might also like
How to chalk paint furniture with Annie Sloan
How to stencil furniture with Annie Sloan chalk paint
A pin to share to Pinterest