One question: why haven't I discovered crewel embroidery before? I stumbled upon the most beautiful images via Pinterest and something just switched on for me. I'm a sucker for pretty embroidery anyway, but there's a 3D feeling to crewel work that gives another dimension (literally). Crewel work is a traditional and ancient form of embroidery that uses wool to create a slightly raised feature, usually on a linen twill fabric background.
Crewel work was hugely popular in the late 17th and early 18th century and is often referred to as Jabobean embroidery. During the Arts & Crafts era of the late 19th century, crewel work enjoyed a resurgence in popularity. I love that there's a trend on both Pinterest and Etsy for it right now too!
So I headed over to Etsy on the hunt for practical ideas. Turns out there are masses of beautiful kits and patterns on there, so I thought I'd share a few of the favourites I found with you. Some are true crewel embroidery and some aren't. But I have decided to share the ideas I love that have a textural, shaded feel, rather than getting too hung up on whether it's wool or not. I feel I should point out that I have shared a kit to make a replica embroidery from the actual bedhead of Queen Elizabeth I of England's Lord High Treasurer. So I hope that means you can forgive me for playing fast and loose with the definition in places!
Crewel embroidery kits on Etsy
Tell me you don't think this little beauty from the Needlewoman's Studio is exquisite? It's called An English Bouquet and includes what looks like forget me nots, wild strawberries, wild roses, pansy and lavender. What do you think the pretty little white flower is? The kit includes soft white linen union fabric, Appleton's wool, needle and full written and visual instructions. The design is 6×6 inches, so you could easily incorporate onto a cushion, decorative box lid or stool top. I think it's so beautiful that I'd actually just stretch it over a canvas and hang as a piece of art!
BUY AN ENGLISH BOUQUET CREWEL KIT ON ETSY NOW
I love the art nouveau feel to the crewel kits by Melbury Hill in Weymouth. Find daffodils and narcissi, bluebells, swallows and more. My two picks from the collection are this Auricula Collector design and The Galanthus (snowdrop) collector (below). The designs are inspired by period artworks and would make very special pieces of art for your wall, don't you think? Lovely gift idea too…
All kits include 100% original linen twill, Appletons Wool, needle and full instructions. A 10 inch seat frame and 10 inch table clamp are recommended, which you can buy in the Ring frames & Tools section of their shop.
BUY AURICULA COLLECTOR CREWEL KIT ON ETSY HERE
All Melbury Hill crewel kits are made from top quality British materials including linen twill from Scotland, manufactured by time honoured traditional weaving techniques and Appleton wools, produced in London from the C19th and reputedly used by the great William Morris in his works.
Modern Branch Crewel free pattern by Mollie Johanson
This simple crewel work idea by Mollie Johanson has an Orla Kiely feel to the design and would make the perfect first crewel project. Click here to get all the info you need and to download your free pattern.
There's a good selection of Appletons crewel wool available to buy on Etsy:
This lovely embroidery design is just one element of this totally fabulous and best-selling craft kit by Craftpod in Bristol. As well as all the materials you'll need for the embroidery (5 inch wooden hoop, 100% cotton fabric, DMC embroidery threads), there's also a Liberty lawn tasseled bookmark to make in fabric design Field Flowers (below), wild strawberry vintage postcard and tea! Perfect for the summer and a brilliant gift idea for anyone of a crafty persuasion (or yourself!). If you're strict about these things, this embroidery isn't crewel (unless you choose to use crewel wool threads instead), but I didn't want to leave it out.
BUY CREWEL EMBROIDERY & BOOKMARK KIT ON ETSY NOW
I love the light, contemporary touch of the designs by The Stitchery Studio (from Castle Ashby). The kits come with pre-printed antique linen, instructions and plenty of threads. You will need your own hoop, needles and thread.
There are lots of exquisite designs to choose from, but how about this Winter White design for Christmas? It would make a lovely little cushion, decoration or piece of seasonal artwork for the wall. Again, this embroidery isn't crewel work – it's beautifully textured embroidery – and I love it.
Not only is this Foxglove design (from Annie M Embroidery in Devon) very pretty, but it's also suitable for total beginners. To make life easy, the design is pre-printed onto linen cotton fabric ready for you to embellish. The kit includes 6 inch wooden embroidery hoop, pen and ink illustration, backing felt, Anchor embroidery threads and instructions.
BUY FOXGLOVE EMBROIDERY KIT ON ETSY NOW
I also really like this Birdsong botanical embroidery kit by Annie M (the M stands for Morris by the way..!). And how about this embroidered tote bag kit?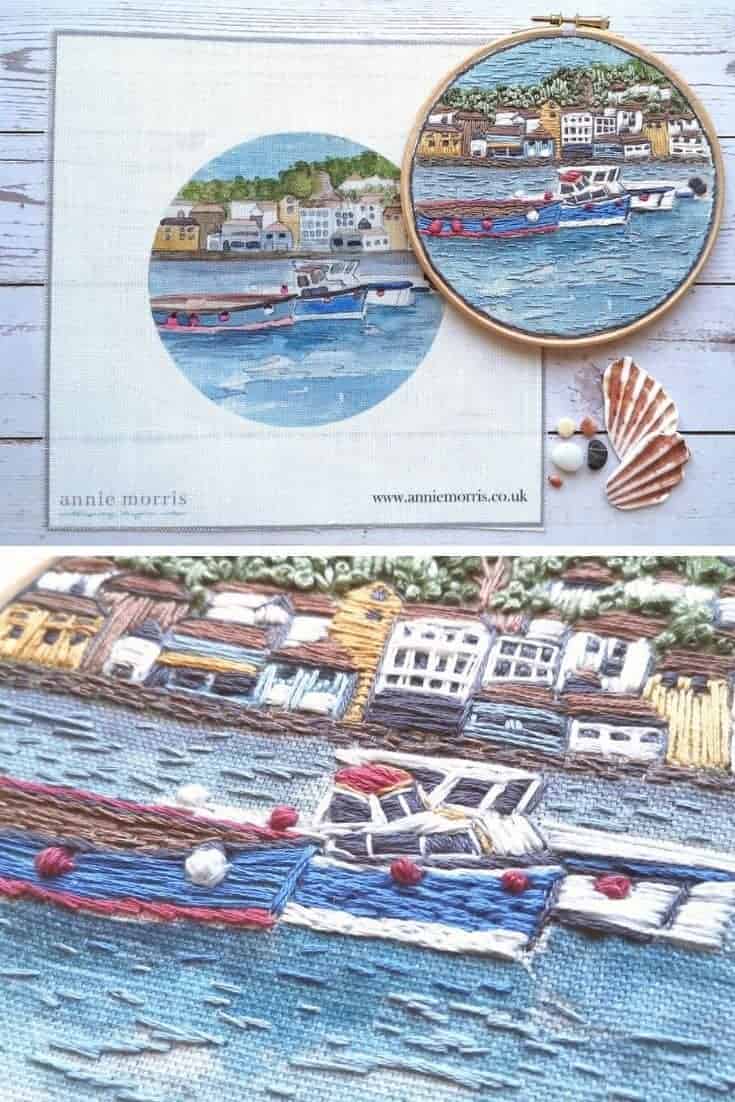 For a fresh contrast with floral and botanical designs, how about this coastal kit? It would be a lovely craft companion on holiday don't you think?
BUY COASTAL EMBROIDERY KIT ON ETSY NOW
Historic crewel work
I know I've been going off-piste somewhat, so I should probably share some serious, fully paid-up crewel work ideas too. You can find masses of ideas over on The Crewel Work Company website. Browse kits by skill level, from beginner upwards all inspired by original historic embroidery.
You can buy a kit to make a replica of a bedhead made for Burghley House in the mid 18th century. Burghley House was built for Sir William Cecil, later 1st Baron Burghley, who was Lord High Treasurer to Queen Elizabeth I of England.
The Crewel Work Company is a family business launched over 25 years ago by embroidery specialist Phillipa Turnbull and now run with her daughter Laura. They share a passion for historic embroidery and for keeping the designs and techniques from the past alive and thriving.
Their range of crewel work kits bring to life the designs, colours and techniques of the 17th to the 20th centuries. A great resource and I hope that sharing it with you makes up for my somewhat fast and loose approach to the subject.
Find a totally wonderful collection of how to videos on The Crewel Work Company website here.
This one talks you through the basics of that essential crewel work stitch: Satin Stitch:
Trish Burr
If beautiful embroidery patterns are what you're after, you need to know about Trish Burr. She sells an exquisite collection of patterns in her shop and also offers some wonderful free pattern PDFs and tutorials. She achieves such amazing shading – almost like painting with threads. Trish offers a range of online classes including three levels of shading technique classes.
There's nothing to stop you making her designs with crewel embroidery wools if you'd like.
I've picked out my own favourites to share with you here, but it's well worth a browse of Trish's website to see what inspiration you might find…
Dog Rose embroidery pattern PDF
Trish Burr Bird Collection embroidery patterns
I just had to share this lovely idea with you by Trish. Click here to get all the free pattern PDFs to make the fabric journal itself as well as all the beautiful free patterns to make the miniature embroideries to fill it with. Click here to get all the instructions you need to make up the journal once all the components are made.
Bluebird Embroidery Crewel kits
Bluebird Embroidery Co is another great place to find inspiring ideas and kits, like the bird of paradise and chaffinch kits (above). I also really like this Flower Cup design.
Other essentials
One key find for anyone who suffers with neck problems (like me!) is this embroidery hoop stand.
It's highly flexible with 360 degree rotation and fits all frames, Qsnaps (I say that as though I know what that means – I assume that you might!) or hoops up to 12 inches. The idea is that as well as easing the angle of your neck and shoulders, it will free up your hands to stitch more easily and to avoid cramps.
Appletons crewel embroidery wool
Object Book on Etsy sells a great selection of Appletons wool and also offer great value sale hanks
The Art of the Needle also sells a wide selection of Appletons wool and other embroidery threads and kit.
Brilliant pack of all sizes required for most kits. Size 5 is good for 2 to 3 strands of embroidery thread. Good quality needles with a larger than usual eye for easy threading.
Not all kits include the hoop, good needles or the right scissors, which is why this little companion kit from The Stitchery Studio is such a great find.
Useful books
INFORMATION
---
This article contains affiliate links, which means we may earn a small commission if a reader clicks through and makes a purchase. All our blog posts are independent and in no way influenced by any advertiser or commercial initiative. By clicking on an affiliate link, you accept that third-party cookies will be set.
You might also like:
Flower embroidery ideas to enjoy
Freehand machine embroidery with Poppy Treffry
Dried flower embroidery video tutorial
How to make embroidery hoop art with dried flowers
Are you a maker, grower or creative course provider? Like to list with us and benefit from joining our supportive community? We'd love to hear from you.
Check out the packages we offer on our Join Us page and get in touch…
---