Etsy favourites – my new addiction
When Etsy UK asked me to take part in a research interview a few weeks ago, I was happy to help. I imagined I'd be sharing my invaluable and incisive expert knowledge with them as a successful affiliate partner.
I think I was really useful for them, but more because I was utterly oblivious about the key function they were wanting to ask about – namely Etsy profile pages and favourites lists. Not something I had ever used – or troubled myself to even notice. I think they were a little thrilled to be able to observe me navigating my way through it all for the very first time and give them live feedback as I went.
An avid lover of Pinterest, it began to dawn on me that Etsy favourites satisfies and gives pleasure in a similar way. It's a really enjoyable way to collate and curate shops and items together – for your own reference – and to share with the Etsy community.
My Etsy favourites
I have only just set up my profile (you can see it by clicking here) and also created a few lists – but I'm already finding the whole thing pretty addictive and satisfying.
It's like opening up a brand new notebook and wanting to only use your best writing! I have 0 followers and am following precisely no-one yet – so I'd love you to connect with me over there.
It's a great way to share our favourite finds and latest loves with one another. To follow someone you need to click the + button on their Etsy profile page (mine is here) and then their favourites will show up in your activity feed. I'd love you to follow me so I can follow you back and we can share our finds over there and I'll also share special finds here too.
Here's a flavour of the handmade loveliness I've curated so far. I've gone for a bit of an Easter/Spring theme. Hope you find something you love too… X
(As I mentioned at the beginning, I am an affiliate partner of Etsy UK, which means I may earn a small commission (at no cost to you) if you click through and make a purchase. All my blog posts are independent and in no way influenced by any advertiser or commercial initiative. By clicking on an affiliate link, you accept that third-party cookies will be set)
Hand printed cards & artwork by Luiza Holub
Based in Sheffield, Luiza creates the most beautiful original hand printed cards, paper goods and prints. Keep an eye out for original one-off linocuts that get posted – and snapped up very quickly! Love this daffodils art print of Luiza's original print.
Based in Whyteleafe (the perfect address!) in Surrey, The Tsubaki collection of pastel handmade felt flowers and foliage is exquisite. Find peonies, ranunculus, roses, lavenders, eucalyptus, daisies and more. The creative possibilities are endless.
I have loved Stroud-based artist Tom Gowan's paintings for years now. He captures landscape, birds and nature so beautifully. This original oil painting of a blue tit with spring blossom is so pretty, don't you think?
The Nature of Paper is based in Truro in Cornwall, hand making the most exquisite collection of paper flowers, miniatures, cards, keepsakes, garlands and more. How beautiful is this daffodils keepsake card and miniature paper posy?
I think I actually said 'aah' out loud when I first clapped eyes on this sweet little duckling. This kit would make a wonderful gift for anyone of a crafty persuasion. You can buy the PDF pattern without the kit too – the perfect stash-busting project for this time of year! Based in Horsham, Little Conkers is heaven for lovers of crochet. Find kits, gifts, patterns and more.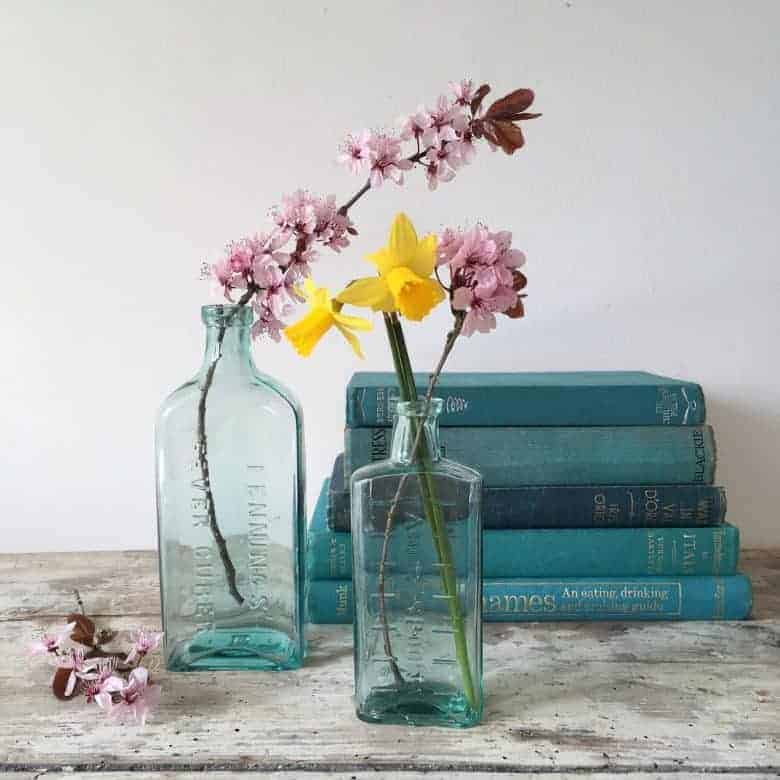 Because you can't have too many of these for arranging flowers and sprigs of blossom. I have built up a collection over the years and love how individual each one is and how beautiful they look holding seasonal snippings.
Originating from Sweden, this simple vintage oil painting is signed by the artist and really pretty. I have a bit of a thing for old paintings too…
I very nearly didn't share this because I had to fight the urge to buy it myself. I have a bit of an obsession for beautiful vintage fabric, and this length of printed cotton from the 1940s is really special. Trouble is, my cupboard is already full of other vintage fabric loveliness I haven't got around to using yet…
This piece measures 71 x 61cm and has the most beautiful trellis design featuring spring flowers including tulips, crocus, hyacinth, daffodils, primroses, lily of the valley and more. The more I look at it, the more I wish it was mine. Time to move away and share it with you instead… There's only one piece – so if you'd like it, you'll need to act fast.
If you make something gorgeous with it, I'd love to see photos!
Based in Frome, Somerset, Vintage & Botanica is a great shop for finding pretty vintage fabrics.
Hope you enjoyed discovering one or two of my finds. Hope to connect with you over on Etsy soon! x
INFORMATION
---
Are you a maker, grower or creative course provider? Like to list with us and benefit from joining our supportive community? We'd love to hear from you. Check out the packages we offer on our Join Us page.
Find more inspiration in our blog post Etsy UK shops we love or browse the Makers category of our directory.
---
A PIN TO SAVE TO PINTEREST
If you've enjoyed discovering my Etsy favourites it would be great if you could share the love. All you have to do is hover over the image below until you see the Pinterest button appear. Then share it to your boards. Thank you! X