etsy uk shops we love
If, like me, you love mooching around a local craft fair or makers market, don't you also really enjoy browsing Etsy? I know I do. For me, there's a bit of a thrill to be had in discovering new makers I haven't found before. And now that I've partnered with Etsy UK, I thought it might be nice to share a few of my favourite finds with you. I have to be honest, quite often I come across lovely things that I then discover have been made in the States. Quite often, it's beautiful linen goods from Lithuania. But I am quite strict with myself about this. I stick with buying from local sellers as much as possible, for environmental reasons. You can set the search to only show you Etsy UK shops – which helps to avoid temptation. I have to admit it is quite frustrating to find exactly what you're looking for, and then discover it would have to fly half way around the world to get to you.
So, with apologies for those of you not in the UK, here are my Etsy UK picks right now.
Etsy UK favourite finds
Based in Bath, there's a refreshing minimalism to Liu Ying's designs that I love. Every piece is made by her in the artist's studio in Bath and then packaged up to send to you in zero-waste packaging. Definitely a worthy Etsy Design Awards 2023 finalist. How gorgeous is this handmade speckled ceramic orange design mug?
Pretty gold or silver circle hair clip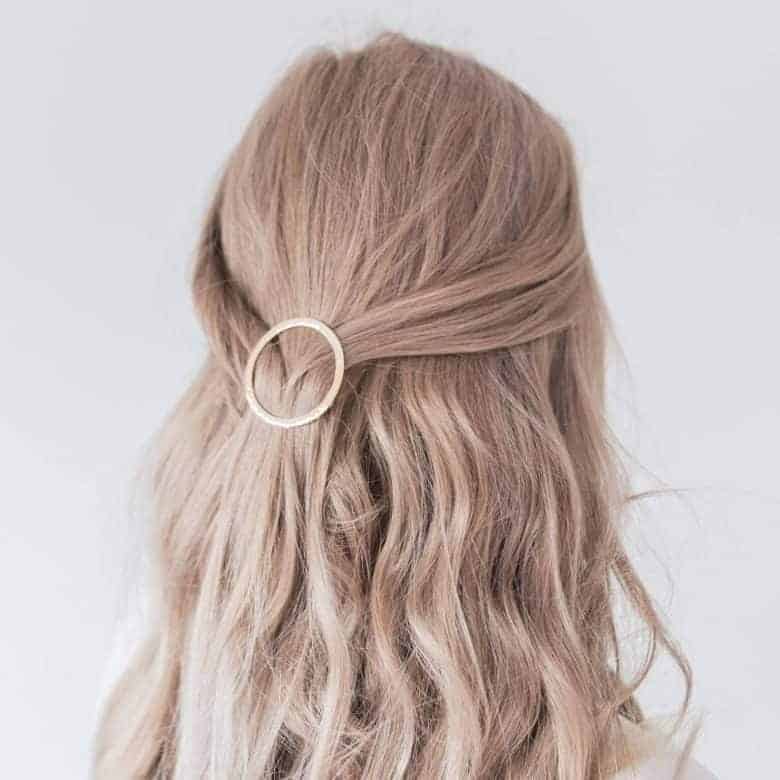 This is so pretty and understated. My hair has never been so long – and whilst I'm enjoying how shiny it is since my highlights have pretty much grown out, I do sometimes just need to get it away from my face. This would be perfect. It's handmade by LovelyLittlesandCo and has great reviews, many saying it holds hair well.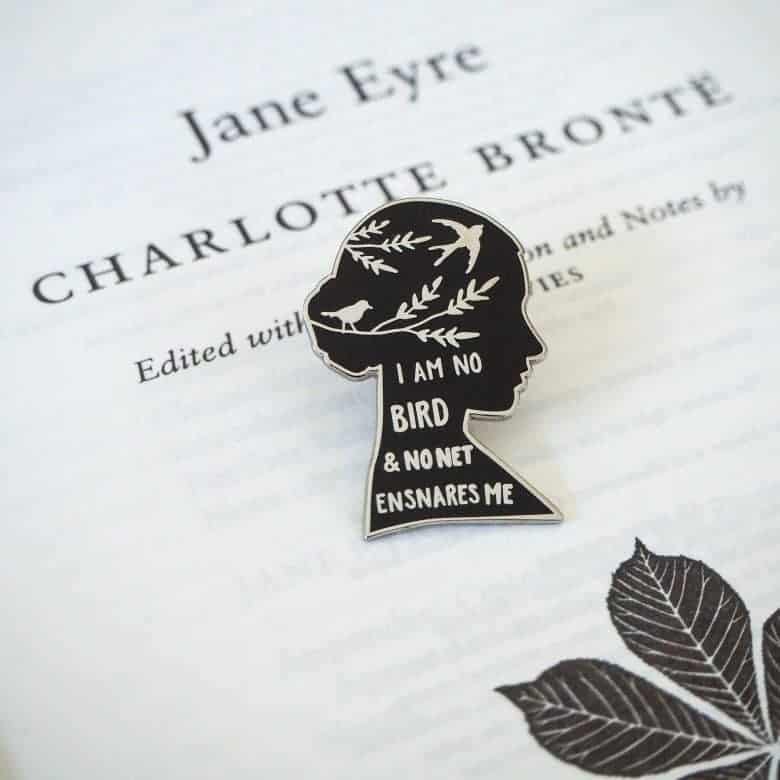 How cool is this brooch by LiteraryEmporium, inspired by the feisty words of Charlotte Bronte's heroine, Jane Eyre? Also by Literary Emporium is this Though she be but little, she is fierce brooch, taken from Shakespeare's A Midsummer Night's Dream. One friend of mine particularly springs to mind. You know who you are… Alison!
Literary Emporium is listed in the FBWL directory
Whilst we're on the subject of enamel pins, I couldn't leave out these cute collections by Little Paisley Designs
You can buy any two pins for £13 and there are lots of lovely unique designs to choose from.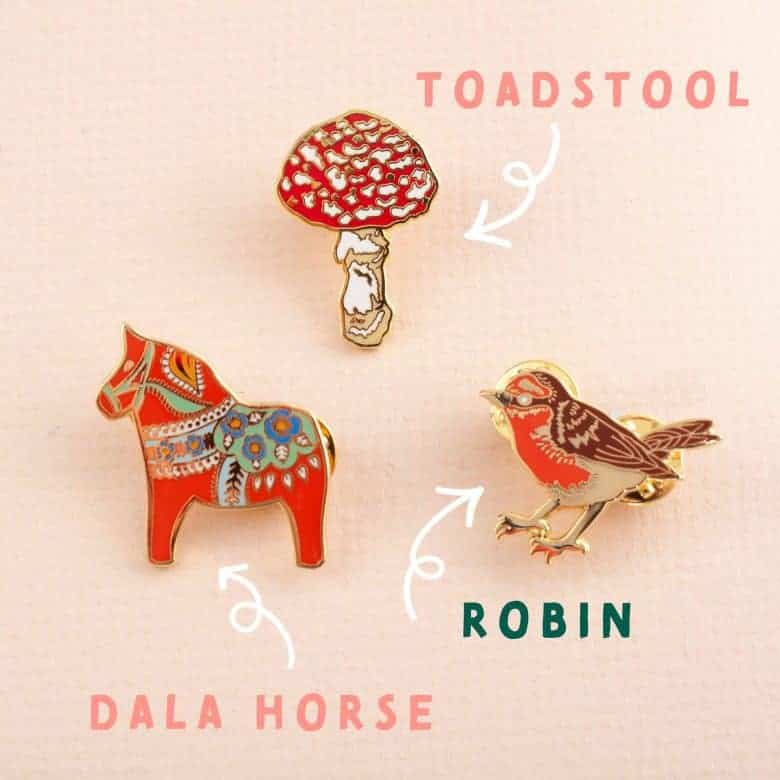 Little Paisley  Designs is listed in the FBWL directory
Handmade in brass with Swarovski birthstones and personalisable, this bracelet is perfect for any teenagers you have to buy for. So pretty and a great price for something handmade and unique.
Talking of perfect gifts for teenagers, these handmade silk butterfly hair clips with crystals are another great idea.
Handmade in silver-plated brass, I love the vintage style and sense of movement of this Swallow Bird Brooch.
Silk Purse Sow's Ear is listed in the FBWL directory here.
The perfect hand-knitted gift for any cat lover, I love that each of these hand-knitted fat cat key rings comes with a tiny tinkling bell.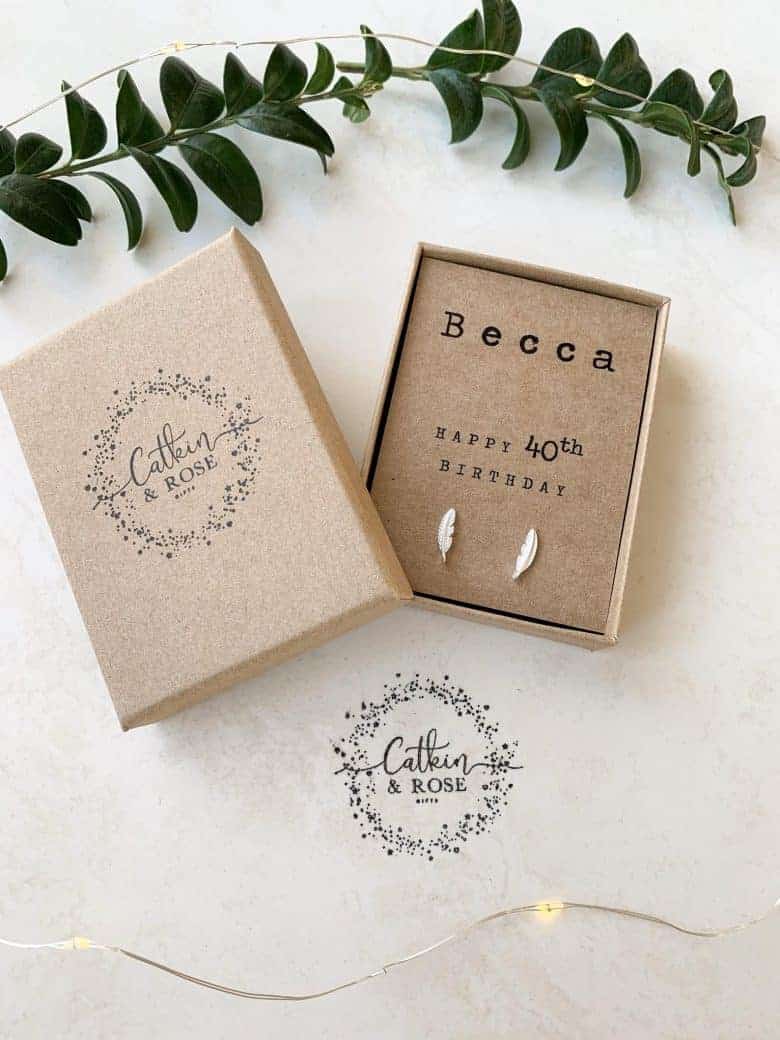 It's the personalised box that makes these pretty sterling silver earrings such a lovely gift idea.
Or what about these Green Leaf Earrings by SilkPurseSowsEar? I love the colour – achieved by treating and painting solid brass charms.
I absolutely love these vintage glass jar vases by Ineko Home. Originally pickle jars, they are perfect for arranging garden flowers. I love the different shades of green and blue and slightly different sizes. Love them grouped together and would add seasonal bits and pieces to each…
Continuing with the upcycled/vintage theme, how fab is this reclaimed wooden desk with black trapezium legs?
I also love these rustic open shelves made from reclaimed scaffold boards by GraceandOlivehome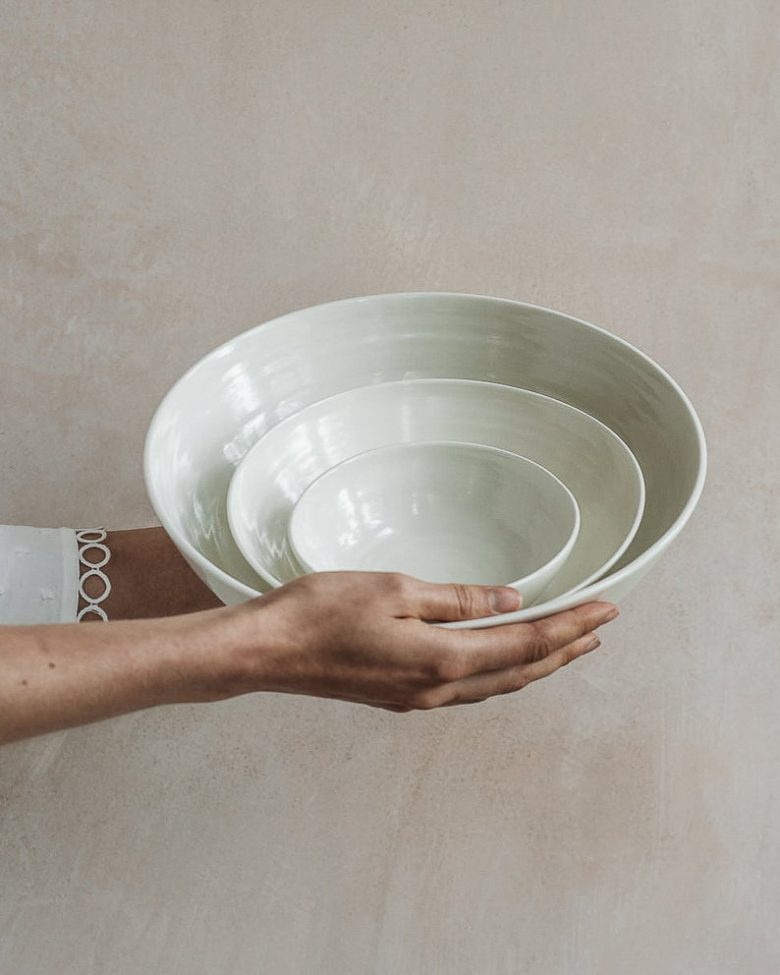 It's the milky white natural glaze and hand thrown texture that sets this nest of serving bowls apart. Just lovely and oven safe too. The sorts of bowls you'll love and use for years and years.
I love the simple, natural designs available in this Botanical Art Stamp. Choose from Rosemary, Pine, Spruce, Oak Sprig, Fir Cone  and more. Love how they look mixed together too.
I love this laser cut and hand-finished FSC certified poplar loom. It's made in the Wool Couture Company Yorkshire studio and is perfect for making wall hangings, small cushions, decorations… There's a range of kits available too, from starter to quintessential. A great crafty gift or treat for yourself.
INFORMATION
---
This article contains affiliate links, which means we may earn a small commission if a reader clicks through and makes a purchase. All our blog posts are independent and in no way influenced by any advertiser or commercial initiative. By clicking on an affiliate link, you accept that third-party cookies will be set. 
Find UK makers and growers in our Directory.
I've shared some of my favourite Autumn flower ideas How to Arrange Autumn Flowers
You might also like: Discover the new Autumn collection of handcrafted homeware made in the UK from These Two Hands
Are you a maker, grower or creative course provider? Like to list with us and benefit from joining our supportive community? We'd love to hear from you. Check out the packages we offer on our Join Us page and get in touch…
---
A PIN TO SAVE TO PINTEREST
If you've enjoyed discovering our Etsy UK finds, it would be great if you could share the love. All you have to do is hover over the image below until you see the Pinterest button appear. Then share it to your boards. Thank you! X