Sustainable Mother's Day flowers
Mother's Day is always bitter sweet for me these days. Sweet because I love celebrating and spending time with my own children. But the day is always tinged with sadness too – since the loss of my own mum. I'd love to think the cherry blossom tree I bought her one Mothering Sunday back in the 70s is still going strong in our old garden in Lancashire.
My lifelong love of garden flowers is something I learned from Mum. She would head out into the garden in all seasons and snip away. The house was always filled with vintage jugs and vases of garden flowers that she simply arranged with a true artist's eye for form and colour. She never went in for uniform, soulless shop-bought blooms, preferring to create with what was growing in the garden instead. Every year my dad grew scented roses and masses of sweet peas for her. She never followed the fashion of the day, following her heart instead.  As well as scented roses and sweet peas, I remember how she loved sweet william, azaleas, tulips, narcissi and spring blossom.
The more I think about it, the more I realise how ahead of her time she was. Embracing slow and seasonal flowers long before this was actually a thing.
Sustainable Mother's Day flowers
She'd have loved to discover the growers featured in the Sustainable British Flowers category of the directory. So, in honour of my mum and all that she taught me, I'd love to share my favourite sustainable mother's day flowers with you. Nothing says 'I love you' better, in my mind than simple, seasonal flowers grown with care. Hope you love my pick of sustainable Mother's Day flowers.
I love the Real Flower Company. Founder, Rosebie Morton, is a true pioneer. Back in the early 90s, she began to grow scented roses on her family farm in Hampshire. Since then, she has inspired many growers to follow in her footsteps. Join me on a visit to the RFC farm here: Discover The Real Flower Company flower farm Find out more about Rosebie and her seasonal inspirations here: Meet Rosebie Morton
Combining flowers grown on their farm in Hampshire, with scented David Austin roses grown all year round at their own sustainable, Fair Trade farm in Kenya, The Real Flower Company is really very special. There's a wide choice of Mother's Day flowers available to order for delivery from 17th-22nd March but these are my favourites.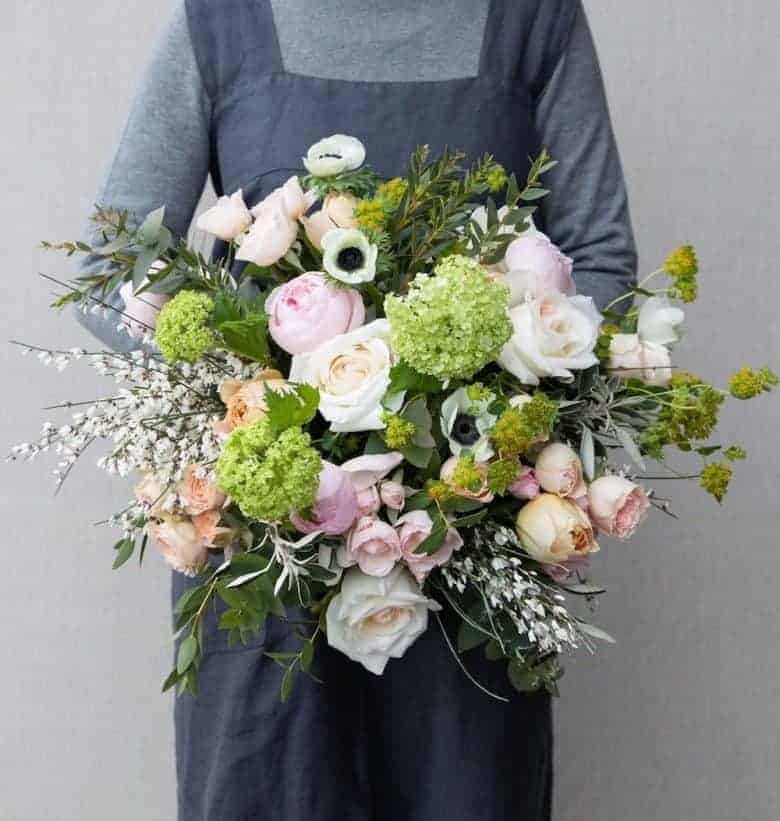 Choose this beauty and the RFC florists will hand pick and tie the very best scented roses, herbs, seasonal flowers and foliage from the day. I know first had how talented and creative the RFC florists are, so this is a great option. Buy here >> https://www.realflowers.co.uk/mothers-day-florist-choice
I am slightly obsessed with coral and salmon pink roses right now, so I love this cheerful Spring bouquet. Combining Candlelight, Caramel Antike and Rene Gosginney scented roses with pops of Asclepia, Bupleurum and Tulips, this is a joyful burst of very welcome Spring colour. Buy here >> https://www.realflowers.co.uk/mothers-day-spring-bouquet
How pretty is this hat box arrangement of  Café Latte, Paco Rabanne and Purple Parfumella scented roses mixed with rosemary, birch twigs, anemones and clematis? I love the colours and the way it captures the feeling of a slightly wild country garden. Buy here >> https://www.realflowers.co.uk/mothers-day-woodland-hat-box-arrangement
The Real Cut Flower Garden near Bridport in Dorset offers courses where you can learn wild floristry and pick from the flower gardens. As well as creating seasonal, slightly wild flowers for weddings, occasions and nearby River Cottage HQ, Charlie and her team will also create individual gift bouquets. Spring in their flower garden offers hellebores, fritillaries, ranunculus leading into summer with masses of fragrant roses, clematis and hundreds of garden flowers. If you're in the area and would like to create a very special Mother's Day posy for your mum, you can email Charlie and discuss ideas.
Churchtown Farm is on St Martin's – one of the beautiful Isles of Scilly – and they send out gift boxes of scented flowers all year round. Grown traditionally outdoors with plastic-free packaging, Scilly Flowers are sustainable and simply beautiful. Blooms arrive beautifully packed inside a strong cardboard box with brown paper sleeve and green tissue inside.
For Mother's Day, you can send scented narcissi – from 12 up to 100 – or choose from one of their Mother's Day bouquets, like the Mother's Day posy bouquet which combines scented narcissi and daffodils from Scilly with tulips and eucalpytus sourced from the UK.
Based on nearby Scilly Island, St Mary's, The Blue Box Flower Company also offers great options for sustainable Mother's Day flowers.
I love the little extras you can add in to your scented narcissi order – like this Little Island Chocolate company chocolate. You can also choose from Victoria Heaney ceramic jugs, handmade local fudge, scented candles made in Cornwall and locally made aromatherapy soaps and skincare.
The Mother's Day bouquet includes seasonal scented narcissi wrapped in beautiful tissue paper by Sara Miller and a matching ribbon. Inside the iconic Blue Box you can add a message printed on a notecard.
Visit the Green & Gorgeous gardens in Oxfordshire any Saturday (9-4) between March and October and you can buy directly from the Farm Gate. Wander row upon row of country garden flowers and leave with seasonal blooms for your mum, locally made ceramic vases as well as pretty gift cards by photographer Eva Nemeth (read Eva's blog post for us about flower photography here: Flower Photography tips and ideas by Eva Nemeth)
Founder of Green & Gorgeous, Rachel Siegfried, is someone many growers and floral creatives credit with inspiring them on their own sustainable flower journeys. If you're thinking of treating your mum to a flower workshop, I'm not sure you could do better than booking with G&G. Choose from growing, floristry, flower painting, flower photography and one-to-one classes.
Immerse yourself in the extensive cutting gardens, enjoy homegrown food, practical sessions and plenty of goodies to take home. Can't think of a nicer way to spend a day, can you? If you don't live nearby, there is limited B&B accommodation available. Find out more here: https://www.greenandgorgeousflowers.co.uk/courses/
Wild Bunch Flowers
During the growing season (usually between April to October), Tammy sells flowers from a shepherd hut in her garden on Fridays. For Mother's Day, you need to contact her by the Tuesday evening before and your arrangement will be available for collection on the Friday. Deliveries are available on Thursdays in a radius to up 15 miles from her farm (in the foothills of the Welsh Borders at the meeting place between Herefordshire, Shropshire and Powys).
Choose from a large Garden Bounty Bouquet (to fill a large feature vase) or a more modest Garden Posy (ample to fill a 2 pint mason jar). Get more details about the flower shop here: https://wildbunchflowers.co.uk/order-flowers/
I was lucky enough to spend a blissful day at Tammy's farm last Spring, learning a free and wild approach to flower design. You can read my blog post here: Flower Arrangement ideas using spring flowers from an English Country Cutting Garden
Another great suggestion would be to treat your mum and yourself to a Floral Retreat at Catkin English Country Flowers in Lincolnshire.
It's on 28 April and offers a day away from the world, immersing yourselves in the beauty of the walled garden at Doddington Hall. The description on the booking page had me at 'restore your weary soul'
Find out more and book your places here: http://www.catkinflowers.com/workshops
I love what Sarah Statham has created at Simply by Arrangement. With a flower garden and workshop set in the Yorkshire hillsides, Sarah is passionate about bringing the most beautiful seasonal flowers to the North of England and beyond. She designs for weddings, events, homes and magazines, as well as offering an inspiring collection of workshops.
Why not join Sarah, with your mum, and learn how to 'do the flowers'?
There are lots of different classes to choose from, but I particularly love the sound of Simply Spring (aka fettling with fritillaries on a Friday).
As I write, there's just one place remaining on Sarah's Simply Yorkshire class – and it sounds like utter bliss from start to finish. It's a 3-day restorative and creative floral retreat for flower and garden lovers. Guests will stay at award-winning Old Cragg Hall Barn and the days will be spent creating floral urns, centrepieces and bouquets at Sarah's home, garden and workshop. As well as creative fun with flowers, there's photography with Sarah Mason, botanical art with Julia Ogden, ceramics with Marie Canning, leather work with Catherine Edwards and a walk on the wildside with Lynne Howell of Bronte Country Walks. All meals are catered for – from breakfast at the barn to evening meals at the finest local restaurants and Inns.
If I was of a more selfish persuasion, I'd be booking this up for myself rather than sharing with you… It sounds like creative heaven.
Find out more here: https://www.simplybyarrangement.co.uk/classes/
No blog post about sustainable British flower arranging would be complete without mentioning Sarah Diligent of Floribunda Rose. The queen of foam-free floristry, and seasonal British flowers, Sarah offers a range of workshops at her beautiful Hampshire studio. Her new book A Guide to Floral Mechanics is due to launch soon, so watch this space.
For Mother's Day, her eco-friendly For Flower Lovers courses would be perfect. Choose from Spring, Summer or Autumn flowers. Then learn how to create a hand tied bouquet to take home, along with a vase.
If you already have a cherished vase, the Table Flowers workshop would be perfect. You bring along your favourite vessels and Sarah will teach you different techniques to use it as a base for creating beautiful seasonal flower arrangements.
I was lucky enough to spend a magical day with Sarah at her workshop, making Christmas wreaths. So I know what an inspiring Aladdin's Cave of a place it is. And how good a teacher she is. Read more about my day with Sarah here: Make a Contemporary Christmas Wreath
Hope you enjoyed discovering my favourite sustainable Mother's Day flowers and creative flower workshops X
INFORMATION
---
in the Sustainable British Flowers section of our Directory.
Are you a maker, grower or creative course provider? Like to list with us and benefit from joining our supportive community? We'd love to hear from you. Check out the packages we offer on our Join Us page and get in touch…
---
A PIN TO SAVE TO PINTEREST
If you've enjoyed discovering these sustainable Mother's Day flowers it would be great if you could share the love. All you have to do is hover over the image below until you see the Pinterest button appear. Then share it to your boards. Thank you! X