Find ethical gifts made in Britain with love and care for the environment.
I'm proud to be one of the sponsors of this year's #ShopEthicalInstead campaign as a response to the wasteful consumerism around Black Friday. It got me thinking about shopping in general and gift shopping in particular.
As a supporter of UK makers and producers, marketing and sales promotion is a tricky area when considering the ethics involved.I started by asking campaigner Natalie Fee from City to Sea for her take on ethical Christmas gift shopping:
Natalie Fee's approach to gift giving
'Giving and receiving gifts is a lovely thing, so I'm not going to say 'don't do it', but … if you're going to buy new stuff instead of second-hand, be really clear about making it plastic-free and/or reusable. Giving gifts at Christmas can be a brilliant way to introduce people to ethical alternatives to things they already use in their daily lives. Reusable bottles (get a Refill x Chilly's to help raise funds for our Refill campaign, win-win!), metal or bamboo razors, washable make-up remover pads, dental floss in glass jars, shampoo bars are just some of the plastic-free options available for planet-loving prezzies! And remember if you're shopping online to always ask for plastic-free packaging!'
As I was mulling it all over, I came across a really well worded Instagram post by Emily of ethical homeware brand Aerende (listed in the FBWL directory here):
'You probably don't need this plate. It's unlikely your life will change with this napkin. It's almost certain a table runner isn't up there on your list of essentials.
Let's face it, marketing is terrible, trying to sell things that people don't really need to people who already have more than enough.
It's definitely a conflict for conscious retailers. Our approach is to acknowledge that. We should all be shopping less. But when your soup is sloshing off the edge of your plate because you don't have a bowl, or your sleeves are covered in food because you don't have a napkin, then you should come to us.
The conflict of conscious retail
Because if you are going to buy a bowl, a plate or a napkin we can guarantee it will be one of the best you'll ever buy. Best because it looks beautiful, is timeless and will last for years. Also best because it's made in the UK & supports local makers who might not otherwise be able to carry out their craft. Best because hand making reminds us of valuable techniques and bypasses energy guzzling mass production methods. And because we're trying to minimise the detrimental impact of shipping (to us and from us). Best because it shows someone who might be struggling that they have a talent that's worth recognising. And because every penny of profit goes back into supporting our makers in many ways.'
Ethical gifts made in Britain
I couldn't agree more. So here are a few of my favourite gift ideas from the Aerende shop:
Cotton Hot Water Bottle Cover, Cream,
£34
Handmade in Hertfordshire from super-soft 100% Mariner Yarn heritage cotton, this original design comes with tactile wooden buttons for easy access.
Drinking good tea from a beautiful cup is one of my daily simple pleasures. I love the soft blue colour and tactile nature of these coffee cups and saucers. Each one is formed by hand in a mould before being left to dry for a couple of days while the handles are hand cut. They have teal glaze on the outside and pearl glaze on the inside. They feel fantastic to hold and and the saucer makes for a handy place to keep that biscuit in between sips.
Designed and created especially for Aerende by individuals living at The Grange (part of the Camphill Community), a residential estate in Gloucestershire for adults with learning disabilities (see the Aerende Makers page for more details). Each cup is stamped with the initials of the person who made it. A lovely gift idea – I'd wrap up with some really good tea or coffee.
Wearth London
A great website for browsing ethical, zero waste and plastic free gifts is Wearth London (listed in the FBWL directory here)I love this organic sleep gift set, dyed a pretty pastel pink by avocado stones and skins…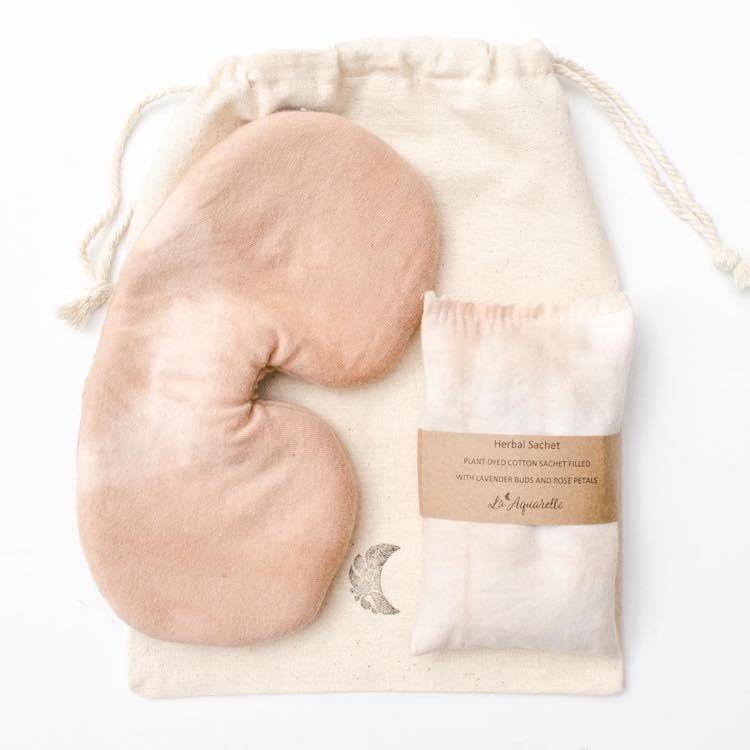 Organic avocado sleep gift set, £32
I can't look at a sleep mask without thinking of Audrey Hepburn in Breakfast at Tiffanys. Love the lavender herbal sachet that comes with this one. Lavender is a natural remedy for a range of ailments, from sleeplessness and anxiety to depression and mood disturbances, so it's perfect for putting under your pillow or beside the bed.
Keeping on a pink and avocado theme, these ethically sourced handmade bath salts are plastic free and naturally beautiful. Combining avocado oil and Pink Himalayan Salt, this will relax muscles and nourish the skin.
Pink Himalayan Bath Salts, £7.50
Brighton-based Corinne Taylor is a qualified aromatherapist and her range of natural skincare and home fragrance is right up my street. The ingredients she selects are always ethically sourced and eco-friendly, and the simply beautiful packaging environmentally friendly.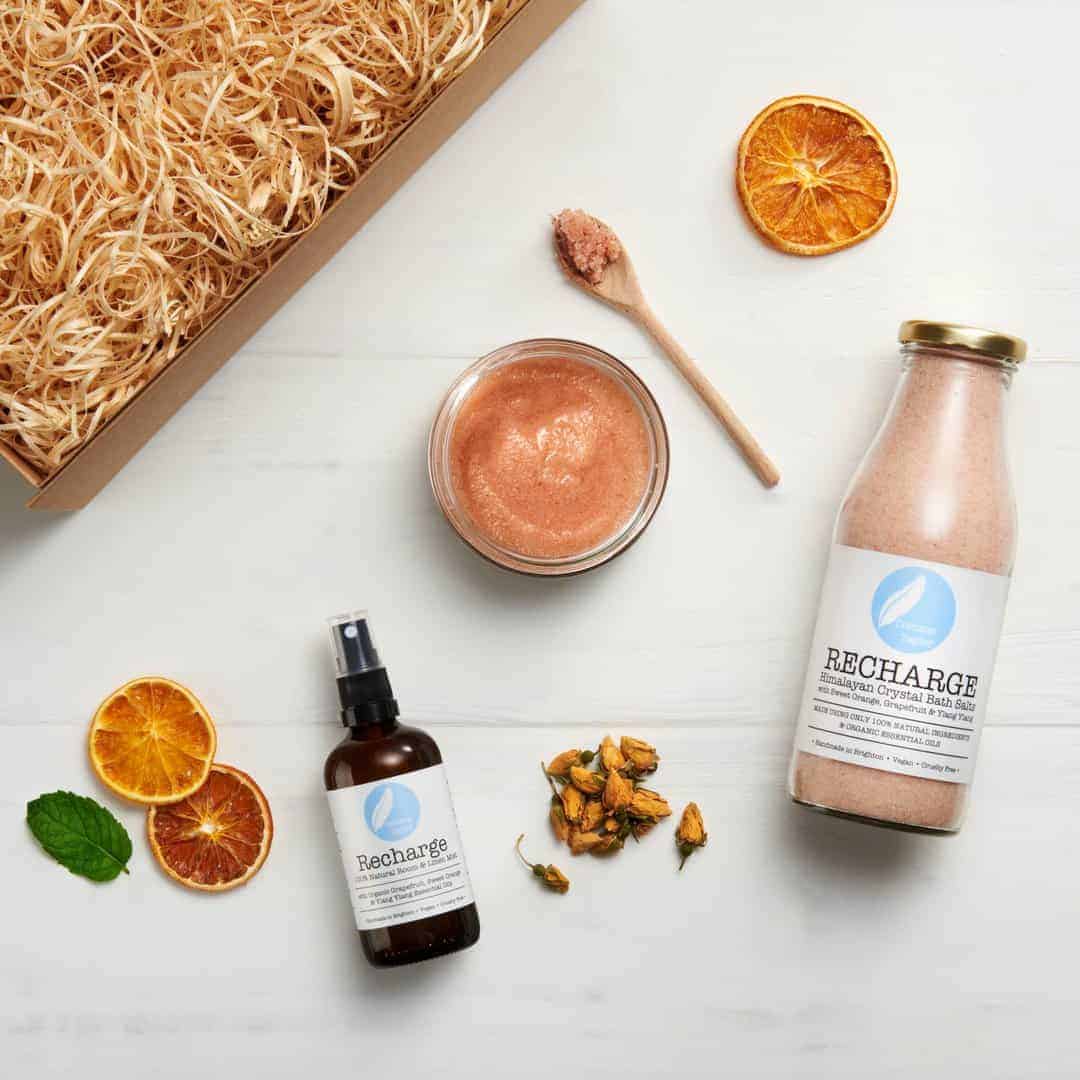 Contained in a recyclable high quality kraft card box, the Revive collection includes: Recharge Himalayan Bath Salts. 600g. Made with raw pink Himalayan salt, Coconut Oil and organic Sweet Orange, Grapefruit & Ylang Ylang essential oils. Uplift Himalayan Salt Body Scrub. 260g. Made with pink Himalayan Salt, organic Coconut & Hemp Oils with Spearmint, Tangerine, Lemongrass & Peppermint essential oils. Recharge Room & Linen Mist. 100ml. Made with 100% natural ingredients and organic essential oils of Sweet Orange, Grapefruit & Ylang Ylang.
Moksa is another great ethical and hand crafted skincare brand (listed in our directory here). Based in Devon, the range includes this fab Facial Ritual Kit.
Facial Ritual Kit, £25
I love the sound of the instructions for using this cute kit:
Breathe / Pour a small amount of cleansing oil into your palm and gently rub between hands. Cup your hands over your face, close your eyes and breathe deeply and slowly into your hands a few times and really feel the calming and euphoric effects of the lavender and chamomile.
Massage / Once you've calmed your mind, keeping your eyes gently closed, massage the oil into the face in upward circular movements really working into your face and pores. Be extra careful around the eye area but with your ring fingers just lightly massage into lashes to encourage the removal of any eye makeup.
Steam / Taking a cotton face cloth, run it under very warm water, squeeze out any excess water and place gently over whole face until it cools. This steaming method really helps to open the pores, allowing the oil to work its magic at removing all those impurities. Repeat as you feel necessary and really take your time, this is the relaxing bit!
Cleanse / Now the oil has had time to really work into the skin, take your cloth and using the slightly rough, exfoliating side, gently wipe away all traces of the day from your face. To finish, use the lovely super soft side around the eyes and again over the face.
Tone & Hydrate / Spritz a little Wild Rose Toning Mist and lightly press into skin.
Moisturise & Nourish / Using fingertips, gently massage a few drops of Wild Rose Facial Elixir, into your face. This is when you will really feel how silky soft your skin is!
Blissful linen
As someone who almost always has stiff neck and shoulders, this beautiful linen wheat bag by Blästa Henriët would give my family a break from my constant requests for shoulder rubs. It's designed to reach all the way around the neck and can be heated or cooled to help soothe tense muscles, pains or cramping.
Unlike other wheat bags I've owned, this one is divided into 6 sections to avoid all the wheat collecting at the ends. I love the simple, scandi-inspired design and that you can add fragrance with the Blästa Henriët range of organic essential oils.
Wheat Bag Linen, £25
Izzy Lane ethical knitwear
This lustrous wool scarf and mitts set, £120, in berry shades, would make the perfect ethical Christmas gift. It's made by Izzy Lane (listed in our directory here) up in North Yorkshire, using fleeces from her ethically made from wool that predominantly comes from our own rare breed Wensleydale and Shetland sheep. Most of which have been saved from slaughter.
And if you're going to buy or ask for a Christmas jumper, I'd personally love this because it's slouchy, bottle-sleeved and has been knitted on a hand-frame loom. The yarn is a blend of Shetland and Wensleydale wool from Izzy Lane's own flock. The grey is the undyed natural colour, which makes me love it all the more…
Christmas jumper with a difference
Talking of Christmas jumpers, this beauty by Sabinna is hand-embroidered in London's Brick Lane and made from pure wool.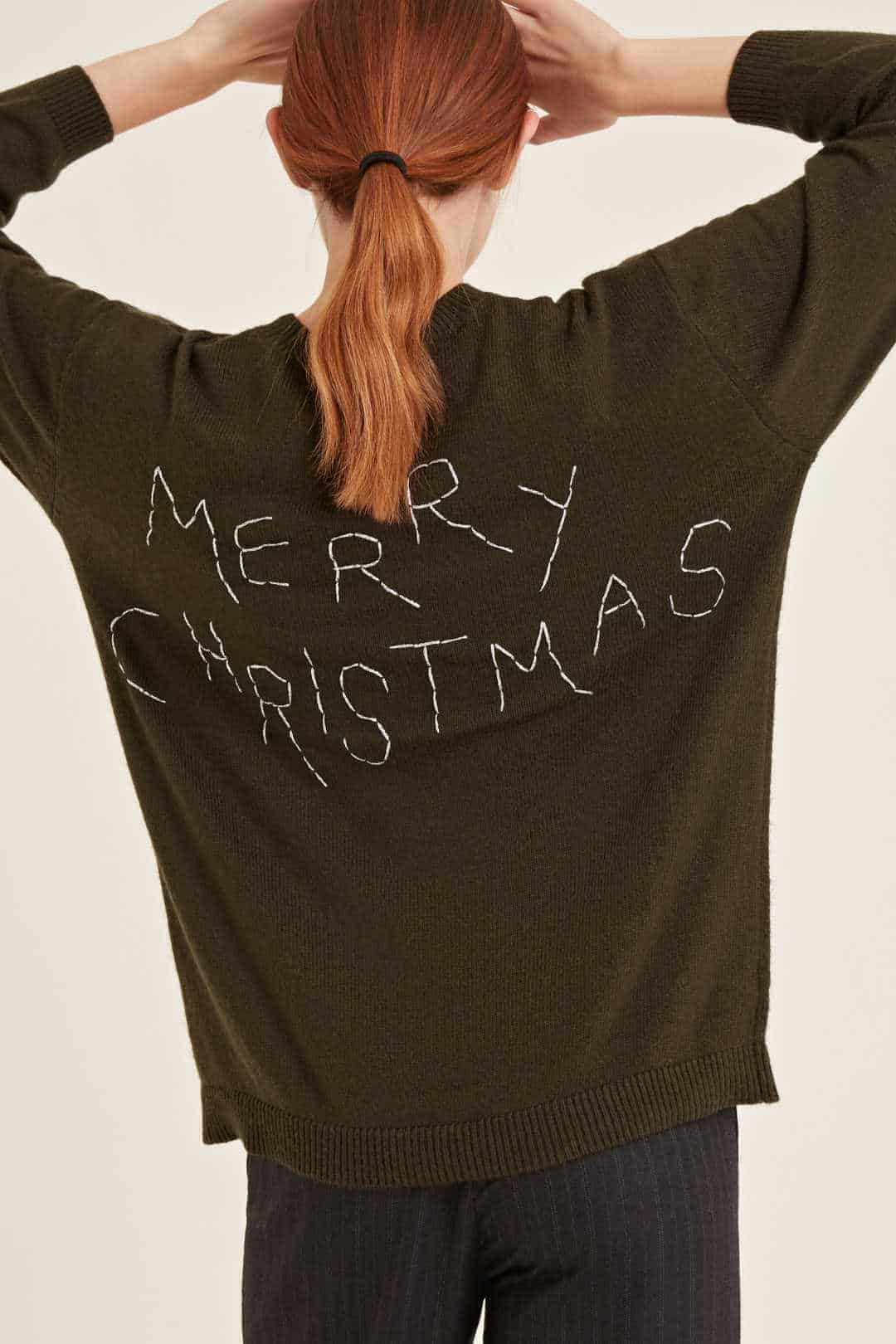 Merry Christmas Jumper, by Sabinna £180
The Future Kept (listed in our directory here) sells a wonderfully curated selection of thoughtful and ethical gifts including this Dreamy Bath Soak by MOA (also listed in our directory here)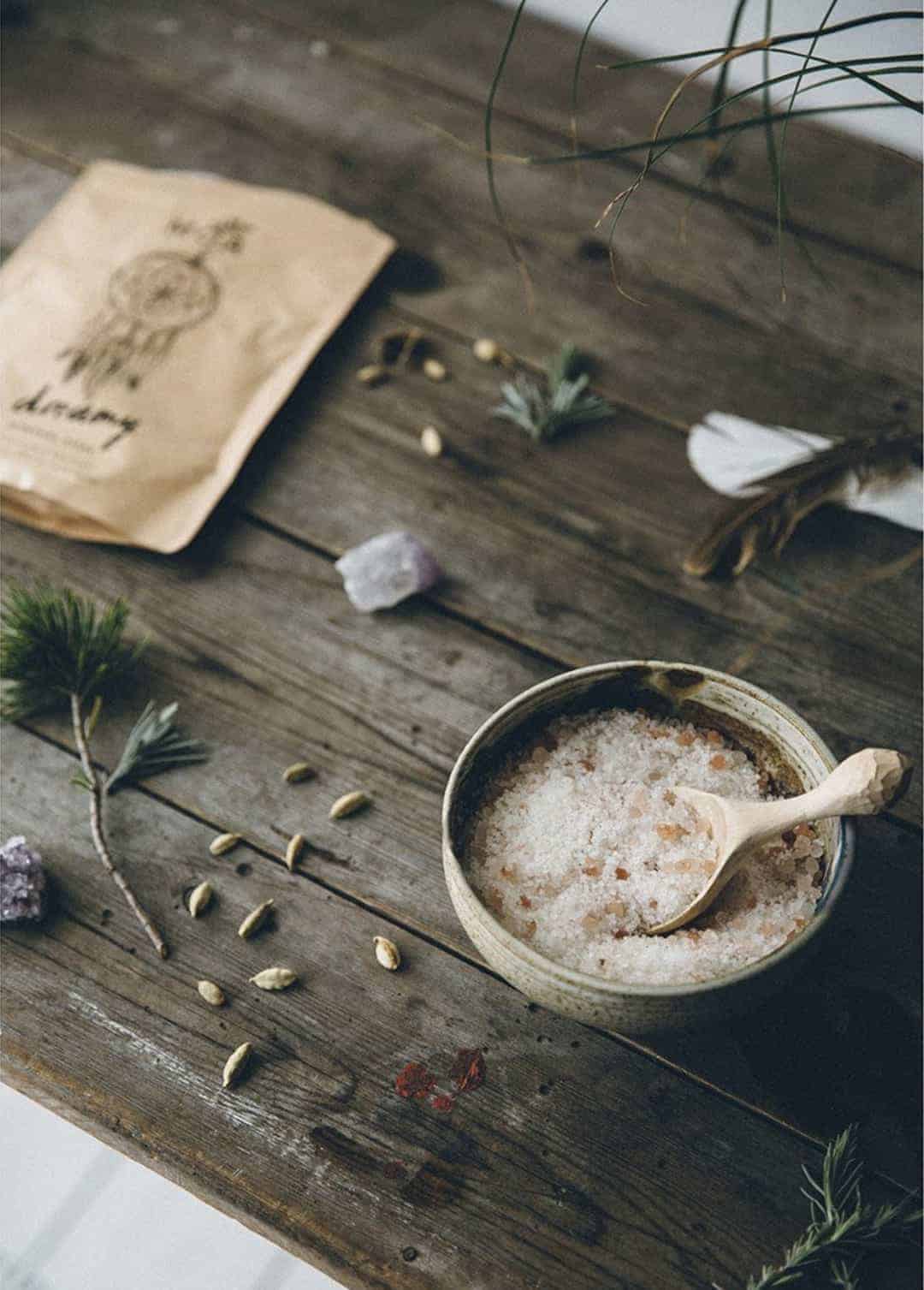 Top of my own Christmas wish list this year is a bag that will hold my DSLR camera and last me forever. I think I've found the perfect one. This beautiful oak tanned leather bag made for The Future Kept by Rural Kind will age beautifully and is lined with 100% wool felt to protect the camera.
I love it all the more because the leather is tanned using a long, gentle process that protects the natural fibres of the hide unlike modern tanning methods. The leather comes from the last remaining Oak Bark tannery in the UK who choose the best local hides and treat them in a sustainable process using natural products. Skilled craftsmanship at work and making each piece of leather unique.
A tote bag is always a faithful friend and I really love the hand dyed and repurposed bags handmade by Indigowares (listed in our directory here). This beauty is made from repurposed coffee sacks with vegetable tanned leather handles and hand dip dyed with indigo.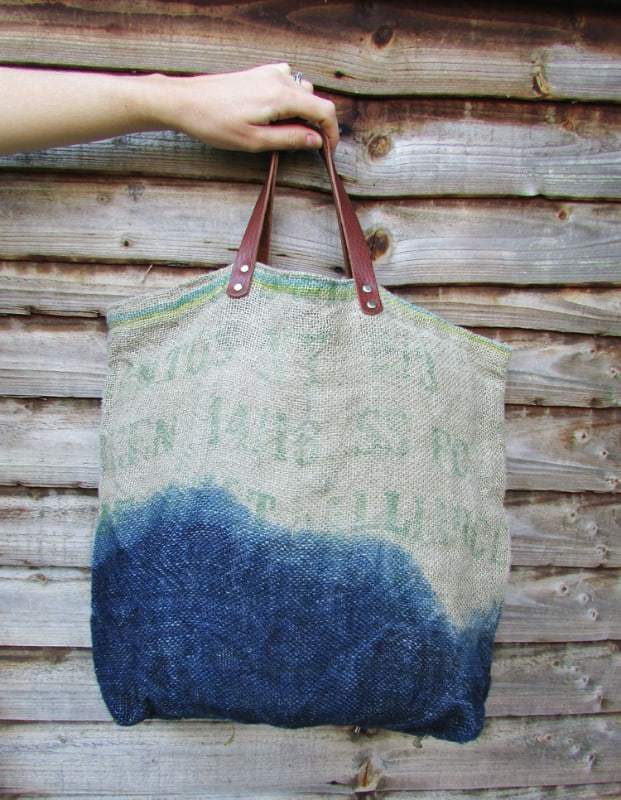 And I just love the soft blush pink of this Shibori pure silk scarf, hand dyed using avocado skins. It's long enough to wear lots of different ways and you can feel good that 10% of each scarf sold will be donated to breast cancer charity The Pink Ribbon Foundation.
And how lovely is this Christmas Sweet Pea Bundle by Grace Alexander Flowers and also from The Future Kept? The idea is that this beautifully wrapped up bundle of four Sweet Pea seed varieties will mean that even in the depths of winter, garden lovers can start these beautiful flowers on their way… and start dreaming of spring.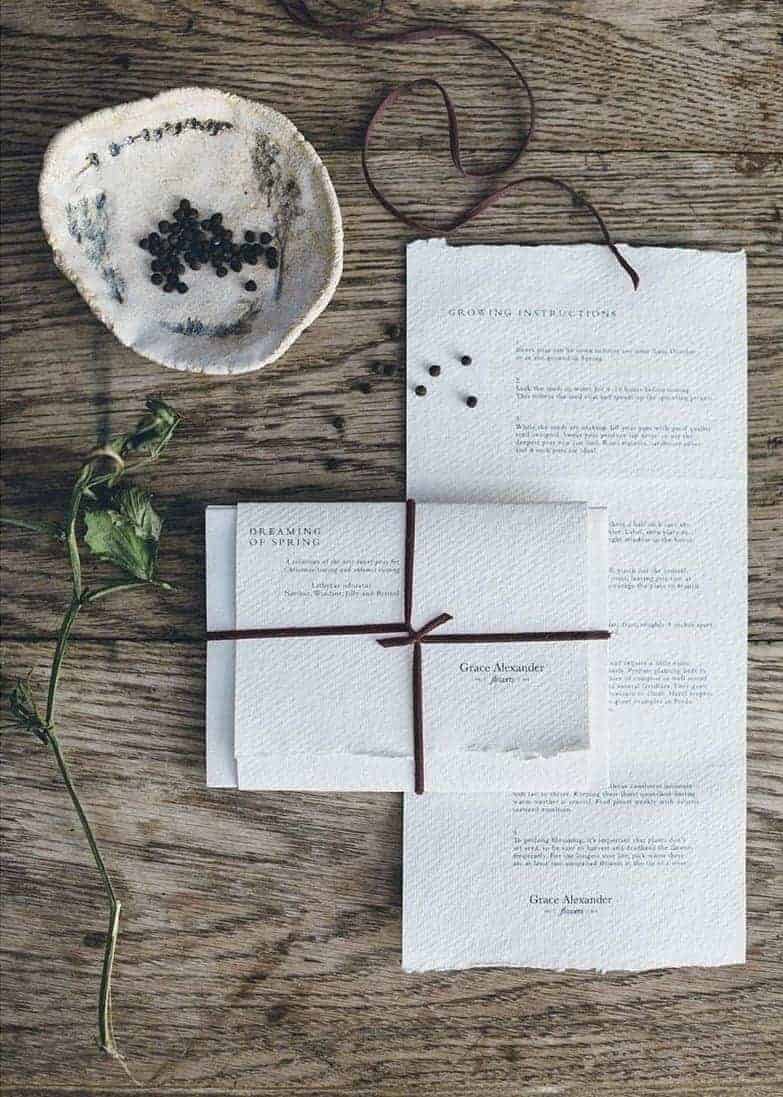 Christmas Sweet Pea Bundle, £12
And this ceramic refillable Hiems wood wick candle by Essence + Alchemy is a great ethical gift idea. Made using 100% natural eco-friendly ingredients, and combining the traditional aromas of winter: clove-studded oranges, warming nutmeg and cardamon and a hint of myrrh.
Hiems Wood Wick Candle, £22
Last idea from The Future Kept is this wonderfully tactile hand thrown ceramic teapot. Made in the north of England and embracing the Japanese concept of wabi sabi, this is a beautiful object I would enjoy using every day.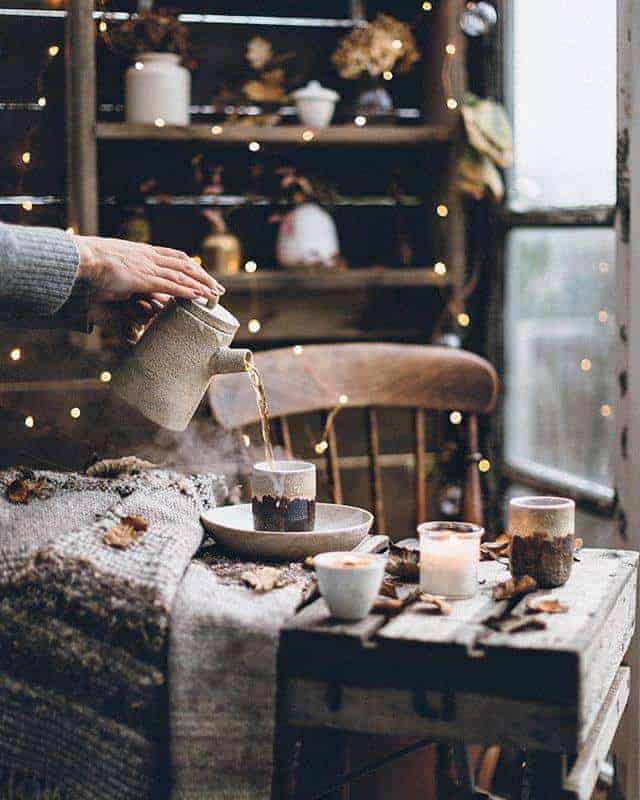 Elements Teapot, £110
I'll ask for some loose leaf tea from The Good & Proper Tea company (listed in our directory here) too… As a company Emilie and her team are committed to sustainability and their tea bags are 100% compostable and plastic-free. The outer packaging is recyclable but they are about to bring in compostable plant-based wrapping. My kind of company and definitely also my kind of tea.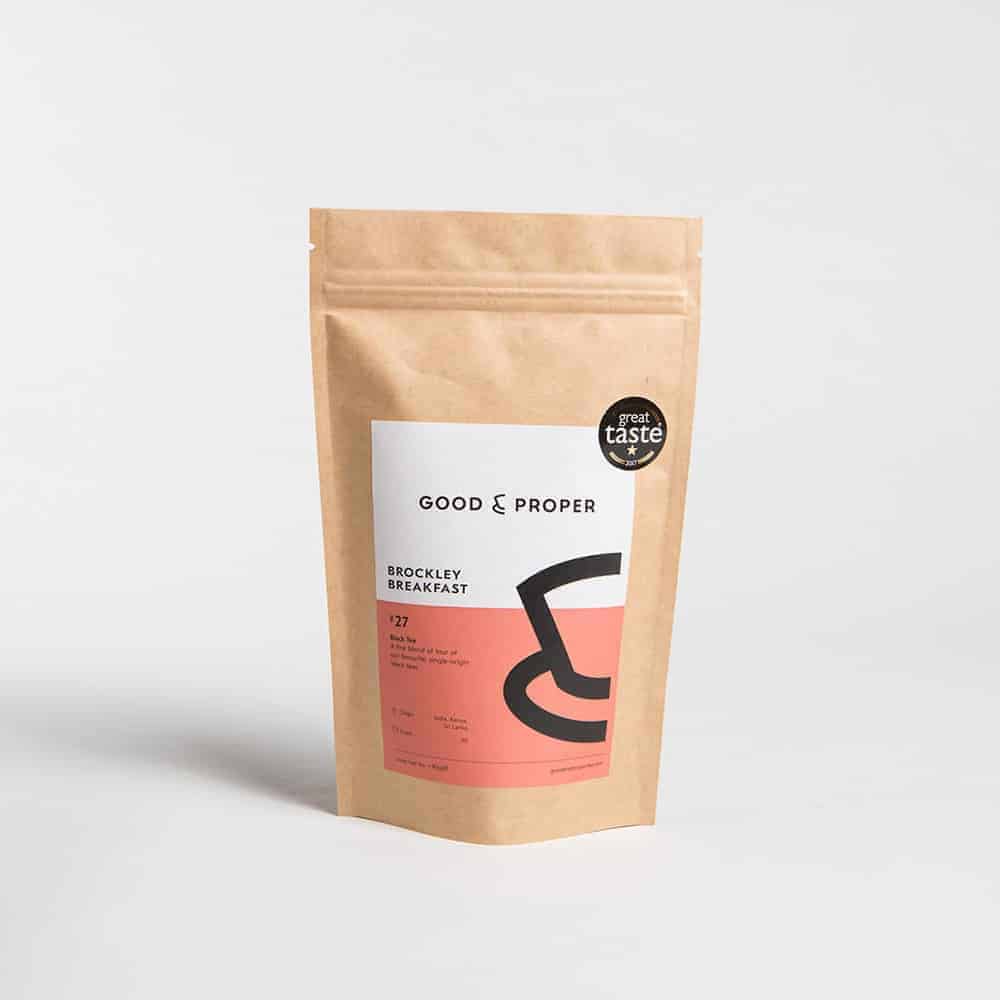 This book. The Wild Dyer by Abigail Booth (one half of Forest + Found, listed in our directory here) is another great ethical gift idea for anyone of a crafty persuasion. Full of inspiring ideas for creating natural dye techniques with foraged natural ingredients as well as beautiful patchwork and stitch projects.
Beautifully styled and photographed by Jeska at The Future Kept.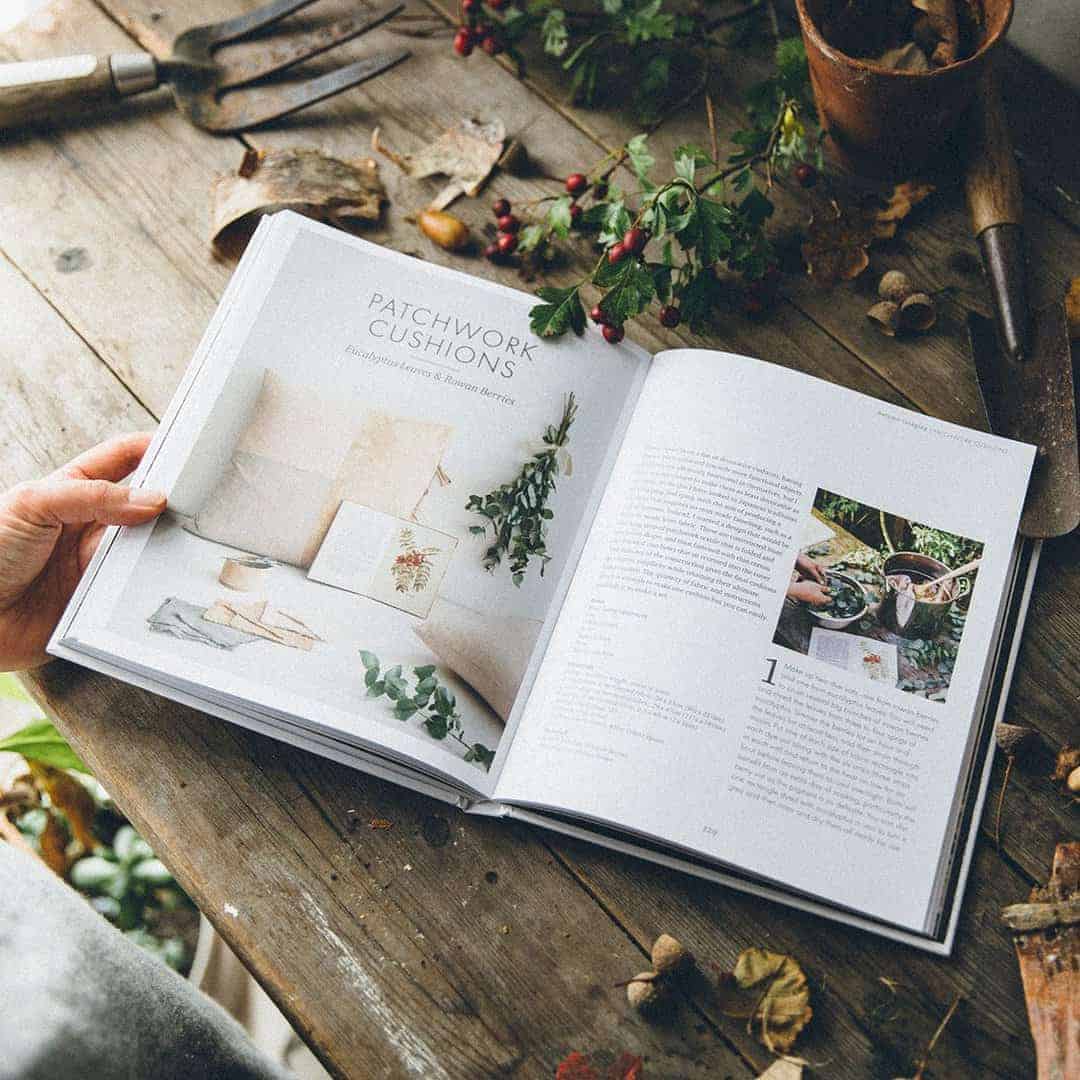 The Wild Dyer book by Abigail Booth, £17
One of my most loved gifts last year was a pair of these pink alpaca bed socks from very lovely online shop The Lewes Map Store (listed in our directory here).
They are still perfectly soft and fluffy and such a treat to snuggle into at the end of a day. How many mass-produced socks can say that? I'd much rather have one beautifully made long-lasting pair than a bumper pack that speed their way to landfill any day, wouldn't you?
Jayne Ireland, owner of Tom Lane puts it nicely: "With a love for the outdoors, Tom Lane is inspired by a sense of adventure and creating hand crafted products to go with this. Our aim is to create timeless products with durability and high performance. Our products are designed and manufactured in Britain to exacting standards; they are not produced in mass volume, instead we will take our time over each garment, using traditional manufacturing and craftsmanship techniques." That's why mine are still going strong 12 months in and counting…
Cosy slippers
Celtic & Co (listed in our directory here) have been passionate about slow, sustainable fashion since they started almost 30 years ago. Known originally for their cosy sheepskin boots hand-crafted in Cornwall (the sheepskins are always a by-product of the UK & European meat industry and are considered a waste material), the Celtic & Co collection now includes the most beautiful, everlasting, sheepskin jackets, gilets, coats and clothing. I also love that they offer a unique resole and repair service for their boots, so you never actually have to throw them away.
My favourite gift idea would be these heavenly Celtic house boots. They take slippers to a whole other level and craft them using quality UK sheepskin that is a by product of the meat industry.
Scarves, gloves and more
Quinton Chadwick (listed in our directory here) is always a great source of great gifts. Jess Quinton and Jane Chadwick are the two super talented designer behind the brand. They share a passion for keeping traditional knitting skills alive in the UK. They use specialist factories in Scotland and Nottingham as well as a co-operative of hand-frame knitters in Devon and I absolutely adore their use of colour and pattern.
Here are three of my picks from their current collection, all of which I would be utterly delighted to open on Christmas morning if any of my family are reading this…
Tweed Block Scarf, £80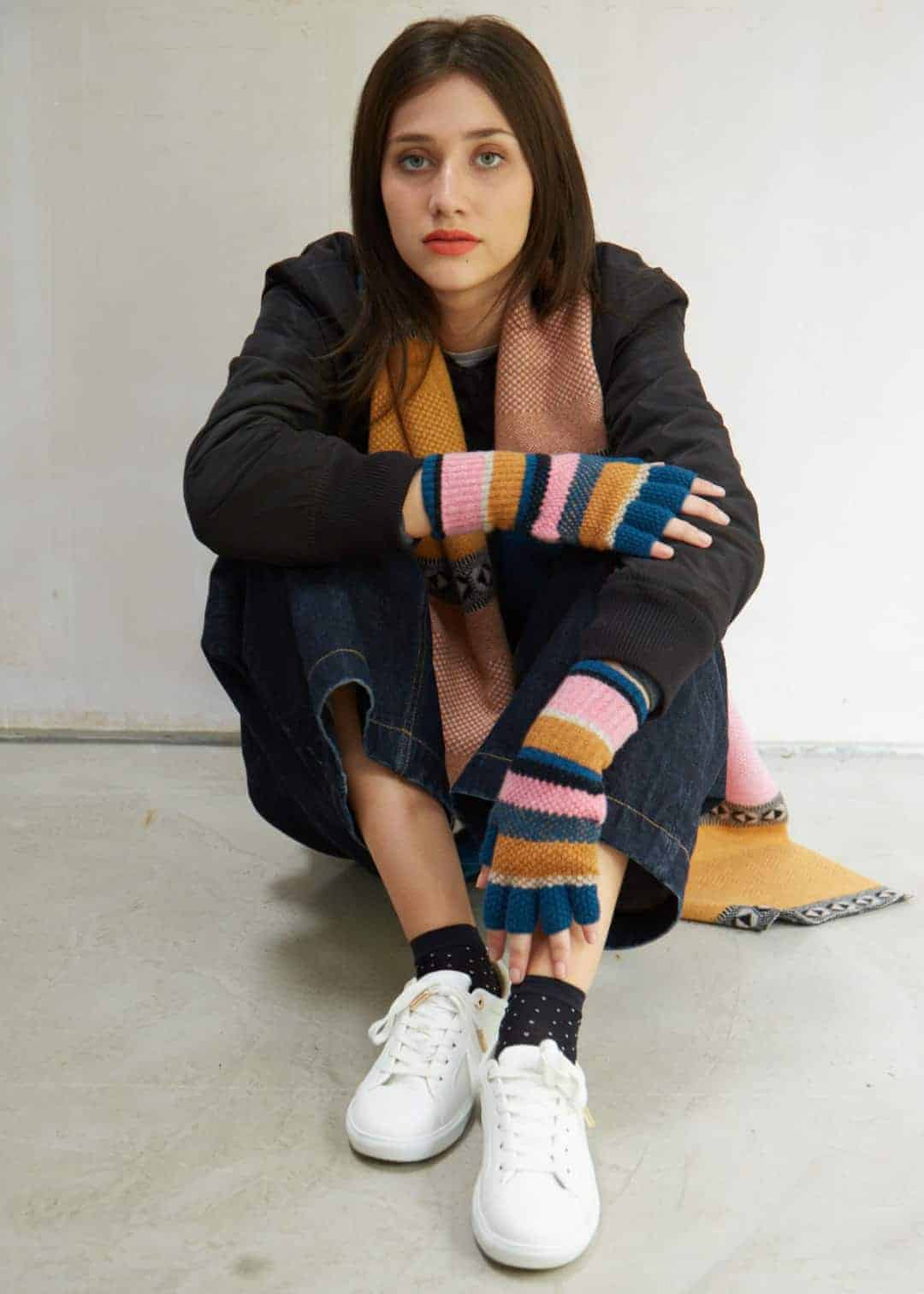 Fingerless Tuck Stitch Gloves, £35
Tweed Blanket Scarf, Nordic, £160
Scented candles are always a good gift choice when you're not quite sure what to buy someone don't you think? Among my favourites are Essence + Alchemy candles. They look beautiful in their simple glass beakers or jars, are hand crafted in small batches using all natural ingredients and pure essential oils for scent. I love that you can buy refills – so a great zero waste gift option!
Love this Unwind candle, made with a relaxing combination of floral lavender and sweet marjoram organic essential oils to help create a calming space and de-stress tired minds. It's hand poured into a British made hand-blown glass with a wood wick, which when lit will crackle and glow giving out a warm and calming, aromatic scent.
Large Unwind Beaker Candle, £45
This is my favourite of the jar candles for this time of year. Winter bergamot is designed to transport you to Southern Italy to evoke feelings of comfort. Perfect for slow winter mornings.
Winter Bergamot jar candle, £10
I love Trill Farm's ethos and the beautiful selection of seasonal and simple goods.
I love their Winter Gardener's, Box £50, Winter Beauty Box, £45 and Winter Kitchen Box, £50 but am really tempted to go for the Winter Hamper offer where you buy all three and save £10 by entering the code WINTERHAMPER at checkout before 7th December.
AS Apothecary
Another love of mine is wonderful A.S Apothecary, in Sussex. It's a small-batch distillery making natural scents, creams, aromatic waters and balms from natural ingredients they grow or pick wild. Packaging is simple and beautiful without outer cardboard boxes to avoid creating waste.
This golden balm glides on like silk and melts to the touch. Ten active botanical oils and five essential oils deeply hydrate, soften and rejuvenate your skin. Utterly heavenly by itself, or works perfectly with one of these Aromatic Waters:
And finally, probably the most perfect pampering beauty treat is this Festive Self Care box by BAO Skincare (listed in our directory here).
It includes £71 worth of products all made using natural ingredients with care for the environment. Founder of MOA, Beth, creates effective skincare that customers can trust. All her products use plant ingredients, including organic nut butters, essential oils and powerful plant and flower oils. The combination will nourish, repair and cleanse the skin naturally.
The time off around Christmas can be a welcome opportunity to give yourself and your skin some TLC. This beautiful gift box contains R&R Bath salts, Shea Mandarin body cream, Coconut Grapefruit Body Scrub, Foot Rescue and a set of 3 lip balms for good measure.
INFORMATION
---
Are you a maker or creative course provider? Like to list with us and benefit from joining our supportive community? We'd love to hear from you. Check out the packages we offer on our Join Us page and get more details from our Information pack here
---
A PIN TO SAVE TO PINTEREST
If you've enjoyed discovering ethical gifts made in Britain, it would be great if you could share. Hover over the image below until the Pinterest button appears and then share to your boards. Thank you X