Where to buy ethical fashion made in UK by hand-picked ethical British makers. Because how we choose to dress shouldn't literally cost the earth should it?
When you consider the environmental devastation caused by the fashion industry, how can even the prettiest, but recklessly made, tee shirt or dress be anything other than truly ugly? I am radically changing how much I consume in general. As for my wardrobe, the plan is to reduce the amount of new pieces I buy to the minimum. I haven't bought anything new for more than six months and counting. I feel okay about buying second hand or nearly new pieces that I actually need. Good quality knitwear, linen and dresses are all things I've picked up second hand and given a new lease of life to. It feels quite good to find bargains whilst slowing their journey to landfill at the same time.
I've enjoyed repairing and altering old favourites so that I can continue to wear them. But, with the best will in the world, sometimes you just need something new. That's why we all need to know where to find sustainable and ethically made clothing. Clothing to love for well beyond one season.
Shop now for ethical fashion made in UK
I have picked out some of my favourites to buy right now – hope you find something you love too!
Honest, slow fashion designed for all seasons made in Market Rasen, England. Find dresses, dungarees, trousers and more made in organic cotton and linen.
I love this navy blue/dark grey linen dress with boat neck, tie waist and cocoon shape. Forgiving and flattering in equal measure…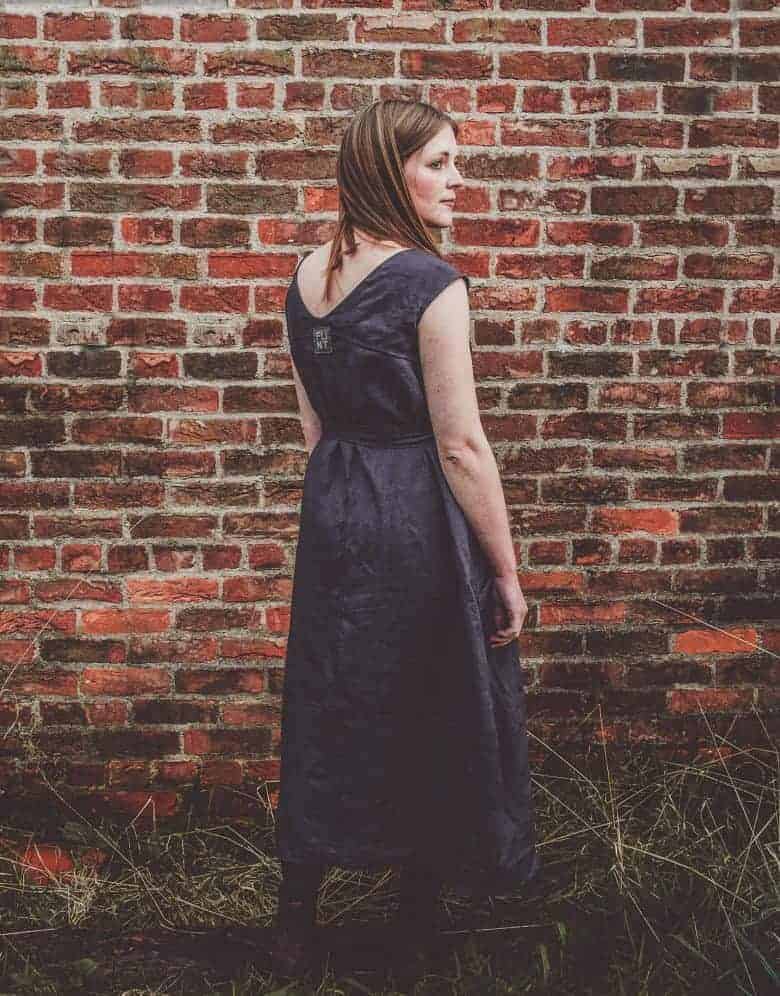 BUY NOW >>
Beautiful, wearable lingerie and loungewear handmade in Brighton, using ethically chosen materials. I love the old gold bralette which would be great when we can go to festivals again. But if I hand to pick just one item it would be this super pretty Lola white lace lingerie set. You can also buy just the bra if you prefer..It's the back that makes it isn't it?
BUY LOLA WHITE LACE LINGERIE SET NOW >>
Based in Dartmouth in Devon, Sister Organics hand makes beautiful dresses to order using organic cotton, hemp/silk natural and sustainable fabrics.
I just love this beautiful handmade lace bolero/shrug. Made to order using delicate white cotton English lace, it's the perfect little cover up for summer parties, weddings, festivals… It buttons up the back with little covered buttons. Just lovely.
BUY WHITE COTTON LACE BOLERO NOW >>
Sustainable simply beautiful linen summerwear made in the UK. Lovely linen kaftan and shoulder-tie dresses made in Irish linen. Chic and effortless essentials to wear for years and years. Linen is one of the most sustainable fabrics which gets softer and more beautiful with every wash. Linen is also is organic, biodegradable, recyclable and scores high on the ecological chart. I love the navy blue kaftan but I've chosen this shell pink version because the colour is just so beautiful.
BUY PALE PINK LINEN KAFTAN NOW >>
Ethical knits handmade in the UK using luxury, natural yarns.
This cotton loose-knit vegan shrug/cardigan in sheer flannel grey has a lovely fluidity to it. Slightly see-through it's very cool and comfortable to wear. If you feel like it, you can ask Suzy to add silver or gold sparkle. I've chosen the grey but there are many lovely colours to choose from.
BUY COTTON CARDIGAN/SHRUG NOW >>
Ethical fashion made in UK
Lemuel MC simple, ethical fashion made in London
I was so excited to discover Lemuel MC a few months ago. Founded by designer Marta Cernovskaja, the label's aim is to create 'perfect simple' linen staples that will be treasured for decades. Linen is a fabric that's easy to fall in love with – because of its textural beauty as well as its environmentally friendly credentials. It's grown without the need for fertilisers, pesticides and requires very little water. Linen is durable and only gets better with age.
I couldn't choose between the Linen Pinafore Dress or the long-sleeve button back Linen Dress, so I decided to share both with you. The two designs are available in a choice of different colours, are handmade in London.

Nadinoo sustainable fashion made in Rutland
Made with love in rural Rutland, Nadinoo clothing designs wear slow and pass the test of time. Each piece is made to order using a careful choice of natural fabrics and linens. My two favourites from the current collection are the Soro Soro Overalls in slate grey and the Cross Back Pinafore in Navy.
The ethos is to make down to earth clothing that offers simplicity, comfort, function and versatility. Nadia and her small team takes great pride throughout the process, from pattern cutting through natural cloth selection to careful individual hand making. These are special pieces of clothing. The fit is just right, the quality high and the wardrobe life is therefore longer. There is also a bespoke service so you can tailor your purchase to your needs. Switch the fabric, increase or decrease the hemline, change the sleeve length… Nadinoo loves custom orders…
Isle of Shee ethical fashion made in Scotland
Another great ethical UK fashion discovery is Isle of Shee (formerly known as A Woodland Gathering). Laurie and Lulu are the designers behind this wonderful collection of garments handmade in Scotland using textiles that are kind to the earth and your skin.
I love the attention to detail, the use of wonderful vintage Liberty fabrics and the classic, unashamedly feminine designs with a touch of contemporary quirk. My favourite piece is this Lena vintage style pinafore dress. I love the slightly A-line skirt, the pretty ruffle and the flattering shape of the bodice. It pairs perfectly with this Rhona blouse with Peter Pan collar.
Birdsong ethical clothing made in London
I love the ethos behind Birdsong – original wardrobe staples that are ethical, sustainable and made in London by women who face barriers to employment – from artists and printmakers to seamstresses and painters. There's a 'dress in protest' element to Birdsong that's really interesting. As well as creating their popular slogan tee shirts, the company is also passionate about creating a better fashion blueprint. In 2018 they provided 1,137 hours of flexible, London Living Wage work to 11 makers and paid £13,259 in wages to low income women, and £1,662 to charities that support them. This year the aim is £30,000.
Aside from their popular slogan tee shirts, wearing the Birdsong collection of original wardrobe staples is a protest in itself– against the fast nature of the fashion industry, against the obsessive pursuit of trends and against the systematic abuse of women in the production line.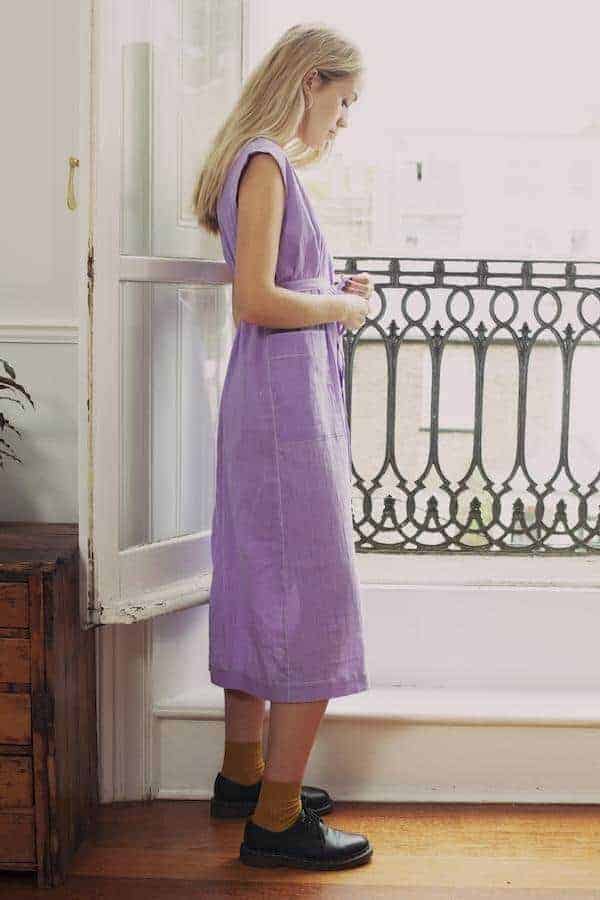 Discover cool and colourful jumpsuits, dresses, trousers and jumpsuits in a beautiful blue William Morris inspired floral as well as simple, understated dresses, shirts and workwear. My own personal favourite is this Merle button down dress with cap sleeves, buttons and simple tie waist. A dress to put on in seconds and feel nice all day. Ethical fashion made in UK and built to last.
Dolly sustainable fashion made in UK
I have two designs by Dolly – one a denim tunic dress I bought from their collection and the other a cross-back Japanese apron dress I made myself at one of their sewing worskshops. I absolutely love them both and wear and wear them. I've even been stopped in the street to ask where I got my apron dress from. The one I made myself! If you fancy having a go at making one yourself, I've shared how I made mine over on the blog: How to make an apron dress with cross back
Each of the ready-made garments in the Dolly collection is individually made in a small workshop in East Sussex. The natural fabrics used are ends-of-rolls, post production from the fashion industry, so are a beautiful way to cut down on landfill waste.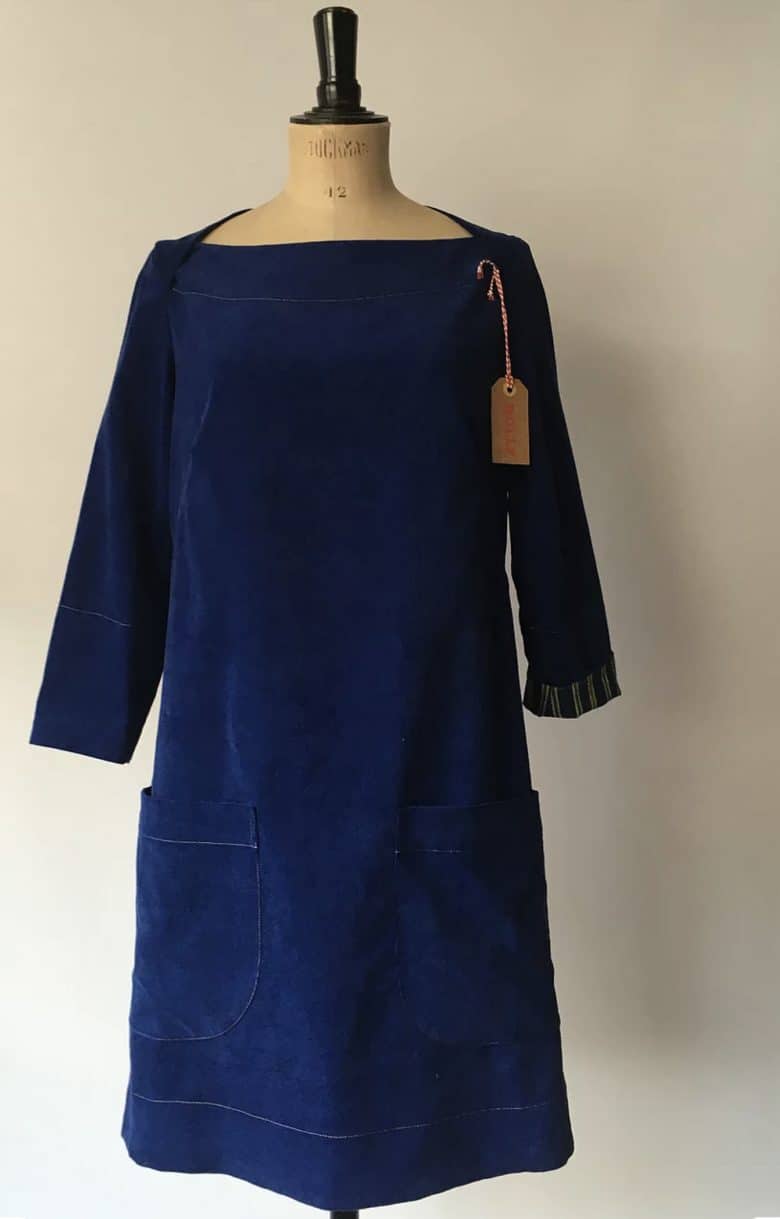 This is the Tunic dress I bought – each one is slightly different as the contrasting sleeve linings are made using different end of roll fabrics. I just love how well made it is. I've worn and washed mine many times now and it just gets better with age. I love wearing with tights and loafers on chilly days with the sleeves turned up to reveal my check mustard and white lining.
Make your own
You can buy a ready-made denim Apron or opt to make the Apron Dress at a course (like I did). If you're handy with a sewing machine, you can order Dolly patterns and kits – including the Tunic, Apron and A-Line skirt and make your own.
I loved chatting with Dolly founder, Diana, at the workshop I attended, and was really interested to hear about her Clothes Swap events and alterations service to breathe renewed life into clothing that might otherwise be thrown away. If you would like to know more, follow the links in the Dolly directory listing and discover sustainable fashion made in UK you'll love for years.
Ally Bee ethical and sustainable knitwear
Ally Bee ethical and sustainable knitwear was established in London in 2014 and creates luxury knitwear made from traceable, eco-certified and animal friendly natural fibre yarns. Worth knowing that Ally Bee won the 2019 Buy Me Once Excellence Award in Womenswear. This award celebrates the brands bucking the trend of obsolescence & disposability.
The yarns are soft and luxurious, and offer a more ethical choice to cashmere or merino. Unlike imported cashmere and merino fleece, by buying a luxury Ally Bee product crafted from the fleece of British-reared livestock, you are not only supporting British farmers and smallholders, you are choosing an annually renewable resource with zero air-miles in production. In addition you have the peace of mind the animals producing these fleeces are cared for in accordance with strict British animal welfare standards and are reared non-intensively in the British countryside
I love the simplicity of designs and the sheer natural beauty of the yarns used. My favourite is probably this cosy poncho jumper made in British Bluefaced Leicester wool. The yarn is sourced from a mill in Yorkshire and is dye-free. The jumper is knitted in the north of England in small knitwear studio using innovative seamless technology which results in minimal yarn waste.
I love the soft, natural colour and the poncho design would work well as a layer over jeans and long sleeve teeshirt, white collared shirt or even a pretty floral dress.
SABINNA sustainable quality tailoring & couture
Founded by Russian-born and Austrian-raised designer Sabinna Rachimova, SABINNA is based in London and has a commitment to sustainability. Browse clothing ethically made from deadstock here -like this 2-in1 Nora dress
And what about these gorgeous ruffle collars – made using deadstock material and all natural fibres, they're a great way to ring the changes with existing wardrobe pieces. Lovely over simple knits or plain tops.
Before setting up her own fashion label, Sabinna worked for the leading Parisian Fashion house Christian Dior and London brand Mary Katrantzou. This obviously stood her in good stead as her 2017 collection won the Fashion Futures awards presented by Decoded Fashion and the British Fashion Council.
Sabinna is also a public speaker, spreading the word about both FashTech and sustainable fashion. Recently she collaborated on an EU funded project with the innovation agency BRIA UK to transform end-of-life garments into new 100% recyclable and biodegradable materials.
I love this Love Fair Fashion organic cotton T-shirt shown here with handmade abstract glass bead brooches. And how beautiful is this cinched-in black and white gingham Poppy blouse? It's also in the sale right now!
A touch of Dior…
And I do feel Sabinna's time at Christian Dior has influenced this sublime classic Sophie Dress. I love how it's cut to drape, flatter and enhance feminine curves. This is sustainable fashion made in UK and perfect for fans of tailoring and couture.
Izzy Lane ethical fashion made in UK
Long before ethical fashion was even a thing, pioneering British luxury knitwear brand Izzy Lane started creating beautiful clothing from cruelty-free flocks whilst raising awareness of animal rights.
Using wool from their own sheep who live out their lives in the beautiful Yorkshire Dales, Izzy Lane collections are shown at London Fashion Week and in Paris, Milan, Berlin, Amsterdam, New York, Las Vegas and in a catwalk show for the Queen. This is very special knitwear and wool clothing to feel good about.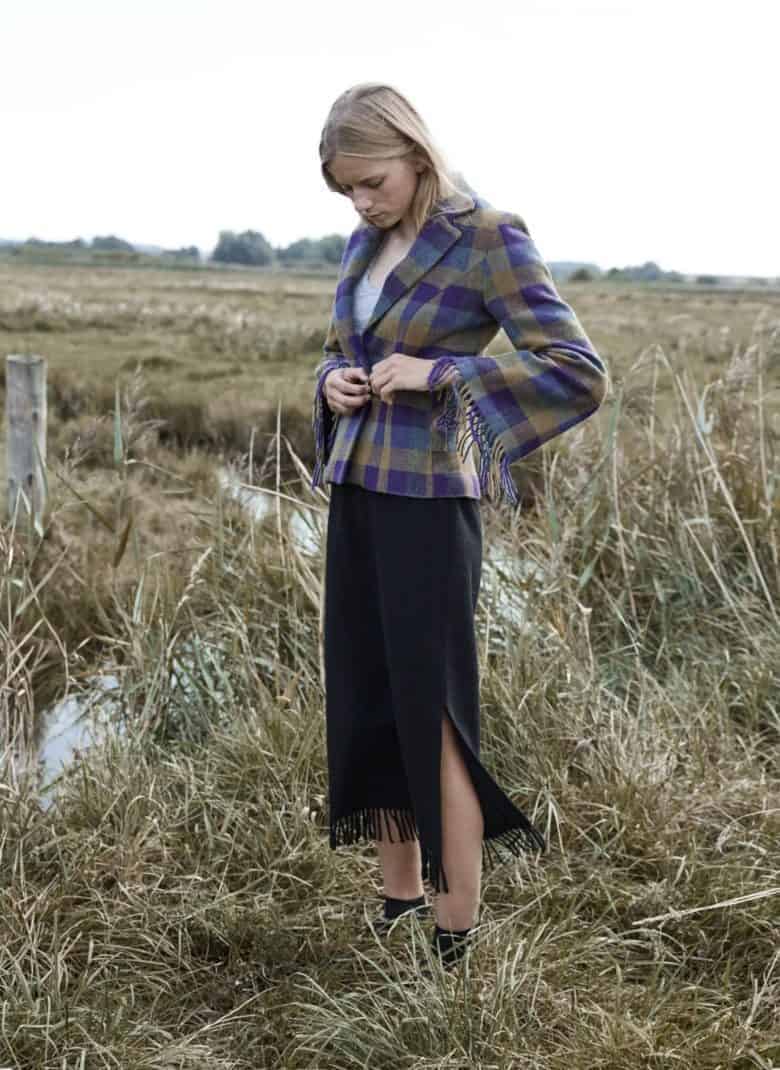 My two picks are this fab Kendal fringed wool skirt and totally timeless classic houndstooth Miner skirt with box pleats.

Izzy Lane creates sustainable fashion made in UK with love and care for the environment and the animals who provide their beautiful fleeces.
Celtic & Co
Having listed in the From Britain with Love directory from the beginning, I can vouch for the fact that sustainable & slow fashion ethics have long been at the heart of the Celtic & Co business.
Known originally for their cosy sheepskin boots hand-crafted in Cornwall (the sheepskins are always a by-product of the UK & European meat industry and are normally considered a waste material), the Celtic & Co collection now includes the most beautiful, everlasting, sheepskin jackets, gilets, coats and clothing. I also love that they offer a unique resole and repair service for their boots, so you never actually have to throw them away.
My picks from the current collection:
Celt house boots – the cosiest way to treat your feet at the end of a long day, surely…
Carrier Company workwear and sustainable fashion made in UK
A passionate gardener, I have loved Carrier Company for years now. I started with their eponymous classic garden carrier and then discovered their wonderful collection of workwear and clothing.
Inspired by tradition, the environment and the requirements of those who live and work there, Carrier Company is very much a local Norfolk business. Patterns are cut in the shed at Church Farmhouse in Wighton, and all the products are made by hand in other home enterprises found within ten miles of Carrier Company's home. Sandy, Malkit, Jenny, Katie, Doreen and Naomi do the sewing; Barbar packs and dispatches and when she isn't pattern-cutting, Mel is co-ordinating all activity from design through to quality control, picking, packing, dispatch and of course customer service.
Traditional, natural materials are carefully chosen for bags and clothing: sailcloth, drill, canvas, wool and jute, to create pieces which can be used again and again and will only look better with age.
My two picks from the collection are the Collarless Work Shirt and Women's Dungarees – either in navy or tan.
Brora quality clothing made in Scotland
My favourites from the current collection are this Gingham Linen Shirt Dress and Cross Weave Linen Shirt Dress
both timeless classics I'd wear and wear. But I do have my two dresses from last year, so I'm going to resist. Even though they are both currently in the sale… If you need a new dress, these would both be great buys in my book.
Palava sustainable fashion made in UK
If you love vintage glamour-inspired fashion, you need to know about this very special ethical fashion brand based in North Yorkshire. Every item of Palava clothing is made in a small family-run factory on the outskirts of London. Balbir is the main man there. He and his brother Satnam cut all the cloth and their talented team of machinists stitch everything together. Producing small runs of each of their designs – sometimes making only two or three of a style in each size not only means each Palava dress is rather special, but it also avoids 'deadstock' and therefore waste.
Palava makes their range of accessories from the left-over fabric after the dresses and skirts are cut out. Any scraps too small for accessories go to make up fabric bundles for crafters and home sewists. Impressively, after months of research and development, Palava are bringing in plastic-free packaging. Palava makes heir new garment bags from a bio-based resin and are 100% biodegradable.
My good friend Annie buys all her dresses here. She has a wonderfully curvy hourglass figure, a love of 50s styling and looks simply amazing in all of them.
My own personal favourite is this knockout Rita Red Pomegranate dress The shape is exceptionally flattering with wrap over neckline, nipped in waist and tulip sleeves. I love the fresh and pretty print too which takes inspiration from Victorian botanical drawings. If you are looking for a pretty summer dress, not sure you'd find better than this.
The Stitch Society hand-crafted aprons made in Yorkshire
Workwear is synonymous with being creative for me – my happy place. I spend a lot of time getting hands on at creative workshops for the blog as well as working in my garden and cutting patch. So I love a sturdy, quality apron that is truly fit for purpose. And Yorkshire-based The Stitch Society make some of the very best.
Hand-crafting each one using carefully sourced fabrics such as vintage cotton, linen and fine woollens, these aprons are the opposite of throwaway fast fashion. Indeed they are such good quality that each one comes with a 10-year guarantee! This collection does the job beautifully. Broad shoulder straps are comfortable and large front pockets invaluable for holding vital bits and bobs.
My favourite is this Gracie Artisan Workwear Apron in khaki cotton. I like the slightly shorter length to allow for free movement and the broad, crossover straps.
Quinton Chadwick ethical knitwear made in Britain
I do love a well-made scarf for adding texture and interest to a simple outfit. And my absolute favourites are from Quinton Chadwick.
Knitwear design duo Jess Quinton and Jane Chadwick came together with a mutual vision. To launch their company using only small family-run British factories. Concerned by the effects of fast fashion on environment they are passionate about textile design and craft that was traditional in communities around the uk.
They are based in London and Suffolk and have makers in Devon, Nottingham and Scotland. All regions where traditional knitting skills are part of the heritage of the area. Helping keep this local knowledge and craftsmanship alive is the founding principle of Quinton Chadwick. Along with the ethos of Slow and Sustainable Fashion. They use British spun 100% natural fibres and all packaging is recycled or biodegradable and their seamless hats and cut edge scarves are designed to ensure there is zero waste in production.
I just love how they use colour and texture in their designs and their graphic style sets them apart. Find scarves, shawls, hats, gloves and more in their online shop. Stockists include Liberty of London and Merci Paris. As well as flying the flag for quality British craftsmanship around the world, Quinton Chadwick is a label to be proud of. Sustainable fashion made in UK and to love for years and years.
My favourite from the current collection is this Fairisle jumper made in Scotland in a beautiful duck egg blue. It's spun and dyed in Scotland using water from the local Loch Leven which is known for its purity and softness, this water is then cleaned and returned ensuring the precious [wildlife brown salmon and pink footed geese ] are preserved in this beautiful RSPB nature reserve.
The yarn goes to the nearby small family run Mill that knits the sweaters one at time and hand finishes them, using traditional Scottish skills and patterns reinterpreted with Quinton Chadwick modern design and zero waste sustainable approach.
Old Town sustainable clothing made in Norfolk
I love this cross-over pinafore Bungalow Dress in blue linen. All Old Town clothing is made to order in their own Norfolk workshop, using quality natural fabrics and are designed to last. Lines are simple, styling minimal and timeless so wear them season after season. My kind of clothes. Sustainable fashion made in UK with simple, timeless design.
Find Old Town fabric and wallpaper designs at St Jude's
ETHICAL FASHION MADE IN UK: INFORMATION
---
Find Sustainable British fashion made in Britain in our directory
Since creating the Sustainable Fashion made in Britain category in the directory, I am seeing a massive growth in the choice of exciting ethical clothing makers, which is fantastic. But it's not an easy way to make a living. Margins are tight and the fashion market highly competitive. So, let's give our support to these inspirational makers – all passionate about offering us more ethical fashion options.
There are wonderful ethical fashion brands around the world, but if you have to fly something halfway around the globe, the environmental benefits start to evaporate, surely? Buying sustainable fashion made in UK surely makes much more sense. Find a constantly growing selection of ethical UK clothing makers in our Directory. I get to really know all the makers who list with us, and really love what each of them has created. I've spent a very happy few hours browsing their collections to find my favourites to share with you here. Hope you like my pickst. And watch this space, I'll be adding more makers very soon!
Find all the ethical and sustainable fashion made in UK by the brands featured in the Sustainable Fashion Made in Britain section of our Directory:
MC Lemuel * Nadinoo * Isle of Shee * Birdsong * Dolly * Ally Bee * SABINNA * Izzy Lane * Carrier Company * Celtic & Co * Brora * Palava * The Stitch Society * Quinton Chadwick * Old Town *
Are you a maker or creative course provider? Like to list with us and benefit from joining our supportive community? We'd love to hear from you. Check out the packages we offer on our Join Us page and get more details from our Information pack here
---
A PIN TO SAVE TO PINTEREST
If you've enjoyed discovering ethical fashion made in UK it would be great if you could share the love. All you have to do is hover over the image below until you see the pinterest button appear. Then share it to your boards. Thank you! X
This article contains affiliate links, which means we may earn a small commission if a reader clicks through and makes a purchase. All our blog posts are independent and in no way influenced by any advertiser or commercial initiative. By clicking on an affiliate link, you accept that third-party cookies will be set.