Win a dried flower embroidery bundle by Olga Prinku
I know just how many of you already love the work of dried floral creative genius Olga Prinku. So I am thrilled to be able to offer this wonderful prize bundle to one lucky reader. Olga is offering a signed copy of her beautiful book Dried Flower Embroidery (Quadrille, £15) as well as one of her brand new Flowers on Tulle Embroidery Kits (Dried & Floral, £45).
First off, let's take a peek inside Olga's new book. I've been hankering after it for some time now and definitely have it on my wish list for Christmas. If you don't want to wait, you can buy a copy of Olga's book now at most good book shops, including Waterstone's or Amazon.
Olga's Dried Flower Embroidery book
Dried Flowers Embroidery celebrates the craft of flowers on tulle (an art form that Olga pretty much invented all by herself!).
Discover how to dry your own flowers, make your own frames and techniques for embroidering onto tulle using nature as your thread. From the first page, it's a though Olga is taking you on a beautifully captured mindful walk through nature, teaching you her creative techniques as she goes. It's a joyful and inspiring place to be.
There are 16 projects to enjoy – from wall hangings to homeware and wearables – suitable for beginners upwards. What makes the book a particular pleasure is the exquisite photography throughout.
To give you a flavour, here's a peek inside…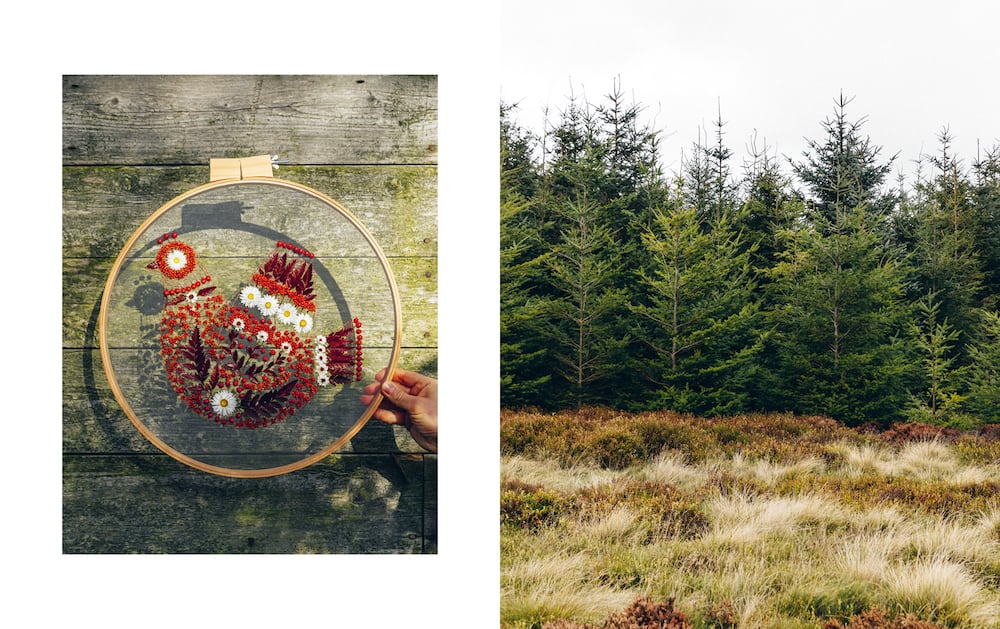 You can buy a copy of Olga's book at most good book shops, including Waterstone's or Amazon now. To enter our competition for a chance to win a signed copy, as well as Olga's new Flowers on Tulle kit, please scroll down to the How to Enter section of this post.
Now let's take a look at Olga's beautiful new dried flowers embroidery kit.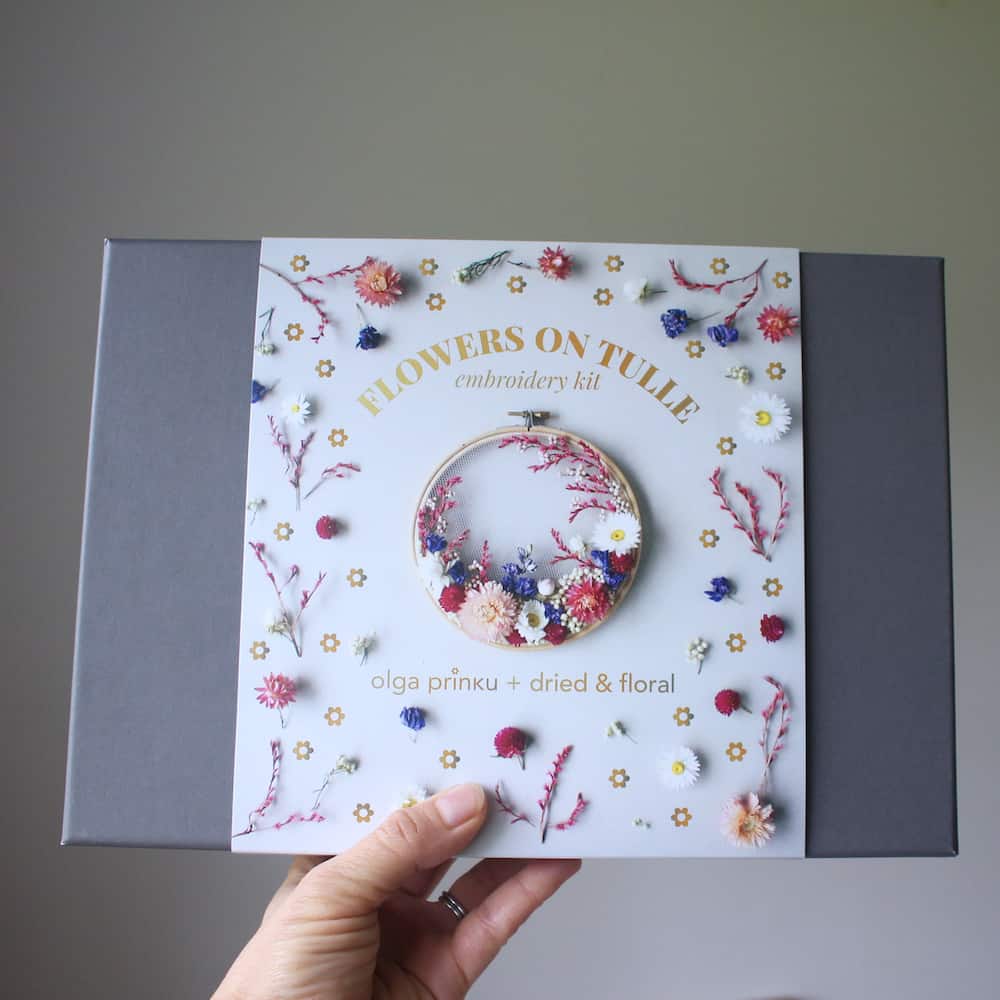 These limited edition kits are available to buy through the Dried & Floral webshop and Etsy and include the materials you need to make a beautiful piece of dried flower embroidery hoop art.
Learn how you can create your own stunning dried flower embroidery works of art, or copy one of Olga's trusted designs following her step by step instructions. This beautiful kit is full of everything you need and more.
Each kit contains an embroidery hoop, tulle, an abundance of stunning dried flowers, plus tools with glue and a full brochure explaining the techniques you will need. Dimensions of each boxed kit: 31cm x 21.5cm x 5cm.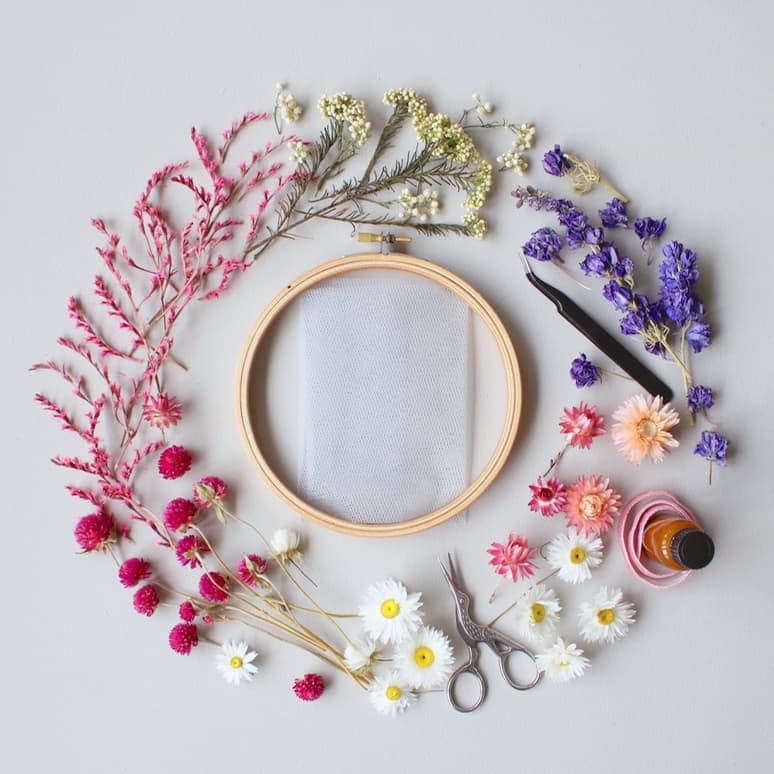 How to win this Olga Prinku prize bundle
For a chance to win this special prize (worth £60): Flowers on Tulle kit and signed copy of Olga's Dried Flower Embroidery book, all you have to do is tell us what you love most about Olga's designs. Pick a particular favourite or talk in general – it's up to you – and please feel free to be as creative as you like! If you could do with some further ideas and inspiration to help you, this blog post: How to make embroidery hoop art with dried flowers, has lots more images of Olga's work towards the bottom of the post.
Please post your entry as a comment at the foot of this blog post.
You won't see your entry appear immediately when you add it to a comment box, but it will come through to our admin area once you click the 'post comment' button. Once we've logged your entry we'll publish it.
Please note that this competition is only open to residents of the UK.
Good luck and hope you enjoy! We'll be choosing the winner at the end of December, so why not enter now?
INFORMATION
---
Olga Prinku is listed in our directory – find all the links you need to connect with her
This article contains affiliate links, which means we may earn a small commission if a reader clicks through and makes a purchase. All our blog posts are independent and in no way influenced by any advertiser or commercial initiative. By clicking on an affiliate link, you accept that third-party cookies will be set.
RESOURCES:
Dried Flower Embroidery is available to buy from most good book shops, including Waterstone's or Amazon now.
Flowers on Tulle embroidery kits are available to buy from Dried & Floral
Are you a maker or creative course provider? Like to list with us and benefit from joining our supportive community? We'd love to hear from you. Check out the packages we offer on our Join Us page.