How to make embroidery hoop art with dried flowers – Olga Prinku
I can't quite remember what first brought me to Olga on Instagram, but what I do remember is stopping in my tracks and having to find out more. What I'd seen was a photograph of the prettiest tulle-filled embroidery hoop hand decorated with dried flowers. I discovered all sorts of other beautiful creations by Olga as well as a collection of hugely helpful tutorials for anyone wanting to have a go at creating botanical embroidery hoop art.
Before I knew it I'd made contact with Olga to ask if she might like to share an idea or two with us here. With Spring, Easter and Mother's Day all approaching, I'm thinking that making your own embroidery hoop art with dried flowers would make great gift ideas – whilst giving you simple, creative joy along the way.
Here's Olga's step by step to creating a mini Spring themed hoop inside a presentation box. Scroll down to see lots of other inspiring dried flower embroidery design ideas by Olga – all made using the same technique. Once you've mastered it with the help of this free tutorial, you'll be able to try your hand at any design that takes your fancy. Hope you enjoy.
materials:
4" embroidery hoop
A pice of tulle fabric big enough to cover the hoop (tulle with big eyelets). You can buy English tulle by the yard here
Dry flowers and foliage: I'm using dry small poppy heads, dry grasses, dry eucalyptus leaves and seeds, dry yellow helichrysum Immortelle, dry hydrangea.
You can find all of these dry flowers and more on etsy
Little scissors
• Please note that this tutorial is for personal / non commercial use only
step by step
1.Stretch the tulle over the embroidery hoop, tighten and trim the excess.
2. Pick 3 single hydrangea blooms making sure there's a bit of stalk left. Weave the stalk through the net so the flower is secure in place. Attach all three hydrangea flowers at the bottom of the hoop as closely as possible to each other.
3. On the right hand side of the hydrangea place a couple of eucalyptus leaves weaving the stalk of the leaves in the same way as with hydrangeas.
On the left hand side place some dry eucalyptus berries.
4. Now Attach the poppy heads. Trim the stalks at an angle for ease of weaving. I've used mine in between the eucalyptus leaves and one just above of the hydrangea blooms.
5. Weave in a couple of grasses at an angle on the same side as the eucalyptus leaves. Trim any excess grass stalks.
6. Snip each single helichrysum bloom leaving at least 7mm of stalk and weave 4 or 5 of them on the left hand side of the hydrangea flowers following the curve of the hoop.
7. Now do the same on the other side – fill the gaps between the hydrangea bloom and grasses on the right hand side.
8. Depending if you have any gaps underneath the hydrangea blooms weave in a few more of the small helichrysum to fill in as well making sure the end of the stalk is hidden underneath the hydrangea petals.
Display! Best way to display is in a shadow box frame behind glass to protect the flowers from dust and sunshine.
Sourcing Supplies
You can find all of these dry flowers on etsy as well as masses of others. See the individual links in the materials list above for individual flower suggestions.
Find bamboo embroidery hoops on Etsy too
English hexagonal tulle is perfect for this project and is available to buy on etsy here in pure white, soft white and ivory.
Olga Prinku hoop art kits to buy
Dried flower kit number 2
Dried Flower Embroidery Book by Olga
This beautiful book by Olga has masses more ideas, tips and ideas for you to try. It's available to buy in hardback from Waterstones and in paperback or for Kindle from Amazon.
Make your own dried flowers
The wonderful Everlastings book by Bex Partridge of Botanical Tales has all you need to know about drying your own flowers. There are masses of inspiring creative projects to enjoy too. You can buy a copy here>>
Other creations by Olga to give you some ideas and inspiration
I love this reconstructed Cowslip design by Olga – watch her wonderful video tutorial that takes you through step by step how to make one just like it for yourself. 
 

 

View this post on Instagram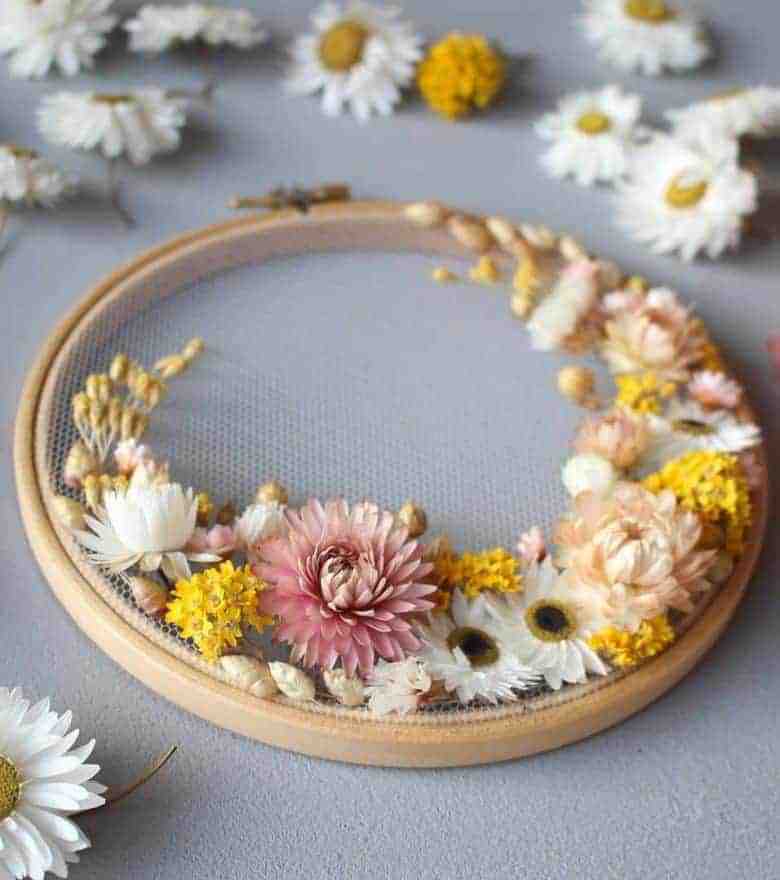 If you'd like to delve deeper and see more of Olga at work, there's Dried Flower Embroidery Tutorial here (It's £19.99 and includes tips on how to dry and preserve found flowers, how to work  with embroidery hoops, selecting flowers, techniques and design tips. colour and pattern tips, preserving your artwork and also includes a PDF guide. There's trailer you can watch here if you're not sure whether or not to sign up.
Other ideas you might enjoy
You'll find designs like this one one by Laura and Wildflower Co on Etsy – taking the embroidery hoop again, but this time using natural string to secure the dried flowers in place. 
Scottish Flower Shop sells a pretty range of ready-made pressed flower embroidery hoops too like the one below.
INFORMATION
---
Olga Prinku is listed in the From Britain with Love directory here >>
This article contains affiliate links, which means we may earn a small commission if a reader clicks through and makes a purchase. All our blog posts are independent and in no way influenced by any advertiser or commercial initiative. By clicking on an affiliate link, you accept that third-party cookies will be set.
Are you a maker or creative course provider? Like to list with us and benefit from joining our supportive community? We'd love to hear from you. Check out the packages we offer on our Join Us page and get more details from our Information pack here
---
A PIN TO SAVE TO PINTEREST
tains affiliate links, which means we may earn a small commission if a reader clicks through and makes a purchase. All our blog posts are indpendent and in no way influenced by any advertiser or c