Cutest toy knitting patterns and crochet patterns (three free!)
I know how many of you love to knit toys for loved ones or charity and so I thought you might like to see my pick of the cutest toy knitting patterns around. It wasn't easy whittling the choice down, but I only added those patterns that literally melted my heart. I would love to know how you get on making these – you can send me an email or connect on social media. I always love to hear from you and about your creative stories. If you scroll down you'll see that patterns number 5, 6 and 15 are all free ones – hope you enjoy!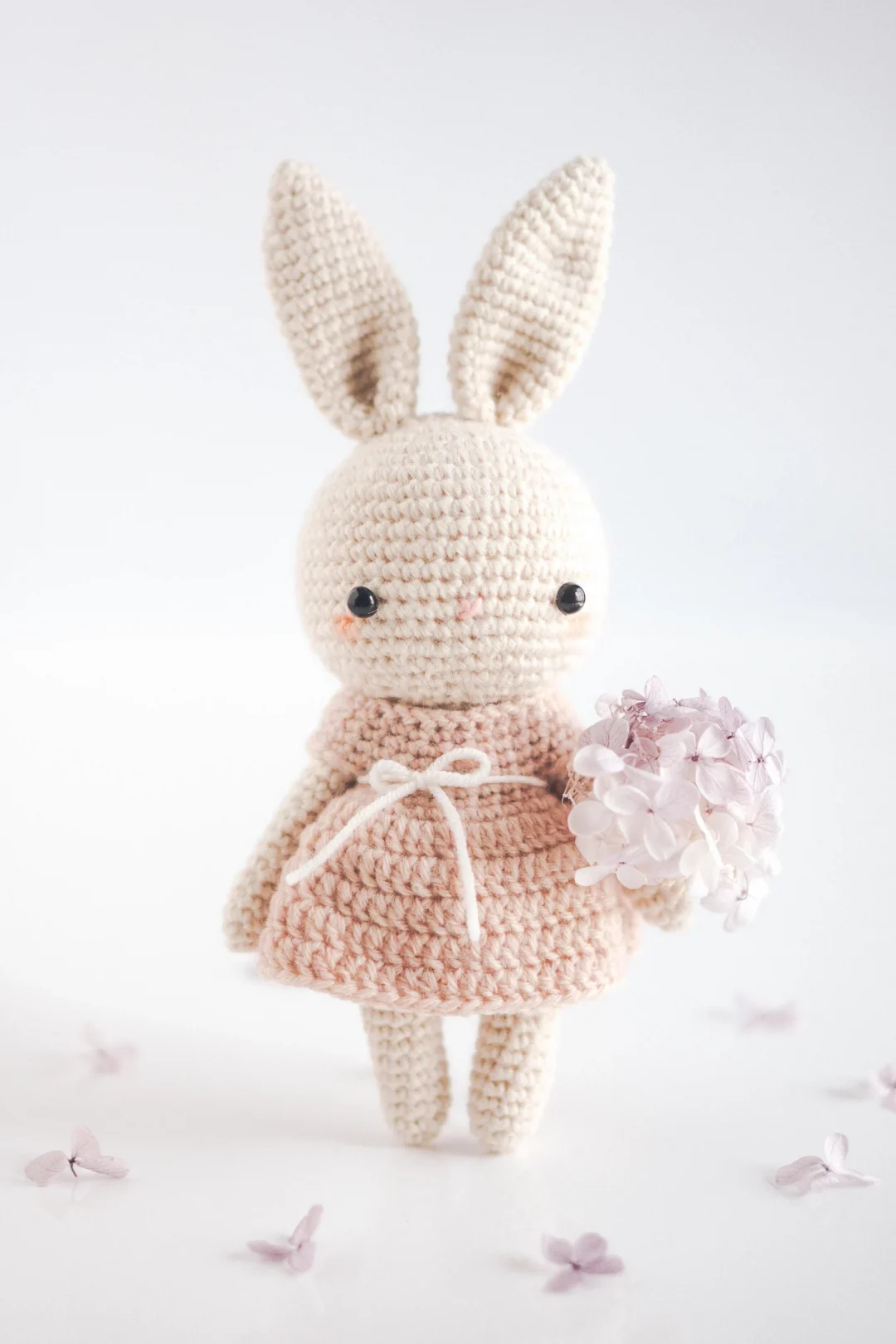 This adorable crochet bunny pattern includes 6 pages of detailed instructions and images and is suitable for anyone with basic crochet skills. So cute.
These bunny rabbit patterns are available to buy on Etsy as instant PDF downloads.
Toy knitting pattern 2 Crocodile Doll
I just love this new pattern by Claire Garland. How adorable is this little crocodile soft toy doll pattern? It's available to buy as a PDF download on Etsy. Included in the pattern are the two items of clothes:- Knitted Tee and a comfy pair of relax-wear leggings
Toy knitting pattern 3 'To the Moon and Back' Hare
I defy anyone not to fall a little bit in love with this adorable pair. It's by the wonderful Claire Garland and available to buy on Etsy as a PDF digital download. Inspired by the classic children's story book How Much Do I Love You? this pattern includes masses of instructions and how to photos to help you make both hares. I think what sets Claire's patterns apart is how she manages to capture a heart-melting sense of character and lifelike gentleness.
Claire and I were chatting before Christmas and she wanted to give my readers a little New Year 'gift'. So, if you buy the pattern before the end of February 2022 you can save 50%. Apply the Shop discount code FROMBRITAIN50OFF to your Etsy basket beside the label icon where it says 'Apply shop coupon codes' to take 50% off the standard price (usually £4.80 – so you'll pay just £2.40). IMPORTANT: don't enter it in the Etsy discount code box as this won't work. Discount valid until end of the day on 28th Feb 2022.
Toy knitting pattern 4 Little Teddy Bear
There are a lot of teddy bear patterns out there, but this one stands out for me. The shape is just right, the face kind and gentle and there's something about the baggy trousers that really makes your heart melt. It's by Mary Jane's Tearoom on Etsy and available to buy for knitting In the Round and Back and Forth.
Toy knitting pattern 5 Vintage Kangaroo and baby Joey
Knitting pattern 6 Miffy (free!)
Both of my children ADORED Miffy, so I wish I'd known about this knitting pattern when they were little. It's by Knitterbees and you can get the free pattern here as well as on Ravelry here. I think this one would do really well at charity sales – or as gifts for babies and children. You don't need me to remind you (but I will anyway) that you should replace the bead eyes if you're planning to give this to a baby or small child due to the potential choking hazard. I made a soft elephant for my youngest when he was a baby and used black felt for the eyes – which are still going strong 20 years later…
How adorable is this little rabbit doll pattern by Dot Pebbles? It's available to buy on Etsy (at a special introductory price at the time of writing!) and includes pdfs to make the rabbits, the trousers and the dress plus a simple sewing pattern to make the felt coat.
Why not knit this cute fluffy duckling by the super-wonderful Claire Garland of Dot Pebbles Knits? It's available to buy on Etsy as a PDF download. Claire has included lots of how to make images and the ducklings are knitted flat on 2 needles. Yarn recommendations if you'd like to make ducklings like Claire's:
YARN
For the Beige-Grey Duckling
Small amounts of :
Yarn A – 4-ply Alpaca in pink, Drops Baby Alpaca Silk 3125
Yarn B – fine crochet cotton in beige, DMC Petra, 3-ply shade 5712
Yarn C – 4-ply Alpaca in beige, Drops Alpaca shade 2020
Yarn D – silk mohair in yellow, Rico Essentials Super Kid Mohair Loves Silk shade 017
For the Yellow Duckling
Small amounts of:
Yarn A – 4-ply Alpaca in pink, Drops Baby Alpaca Silk 3125
Yarn B – silk mohair in yellow, Rico Essentials Super Kid Mohair Loves Silk shade 017
Yarn C – Alpaca in gold, Drops Sky shade Curry
Yarn D – silk mohair in yellow, Rico Essentials Super Kid Mohair Loves Silk shade 017
In case you're not actually a knitter, how about these adorable ready-made hand knitted ducklings? They're made by The Pink Elephant Knits on Etsy using the pattern above.
Panda crochet pattern #11
I know this isn't a knitting pattern, but I had to include it here because it's so cute. It's by Stephanie Lau and is available to buy as a PDF printable pattern on Etsy or you can read it for free on her website here: https://www.allaboutami.com/fleece-panda/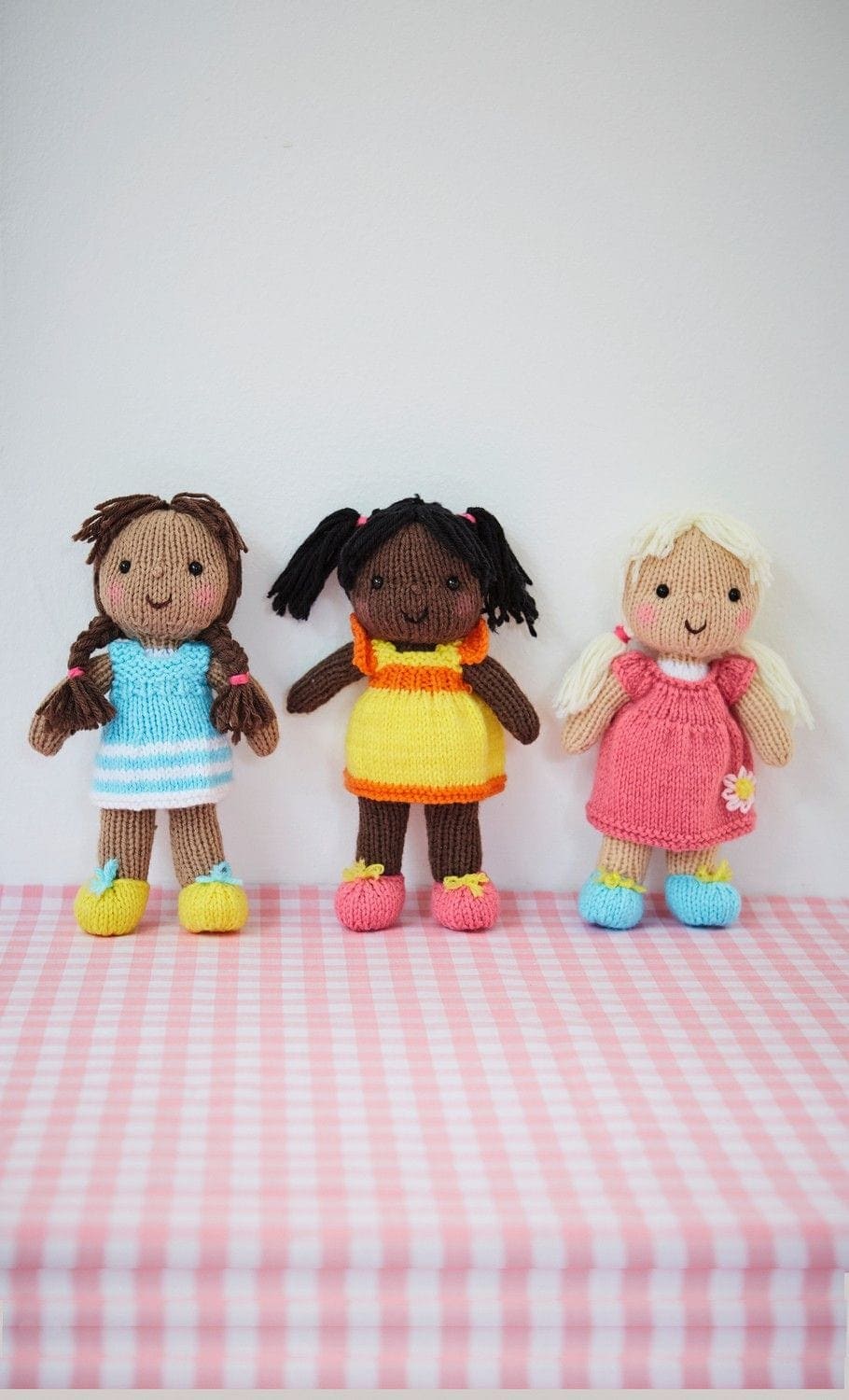 How sweet is this friendship dolls knitting pattern available as a paper or PDF download? Each of the dolls comes with their own outfit – click through to buy the pattern and get all the Sirdar Snuggly wool you need…
No selection of toy knitting patterns would be complete without a vintage teddy bear and this one's a beauty. It's to make a family of bears – daddy, mummy and baby bears – and it's a pattern from the 60s. Knitted in soft cotton yarn with embroidered eyes, it's a great choice as a handmade baby gift.
Flower bunny pattern #14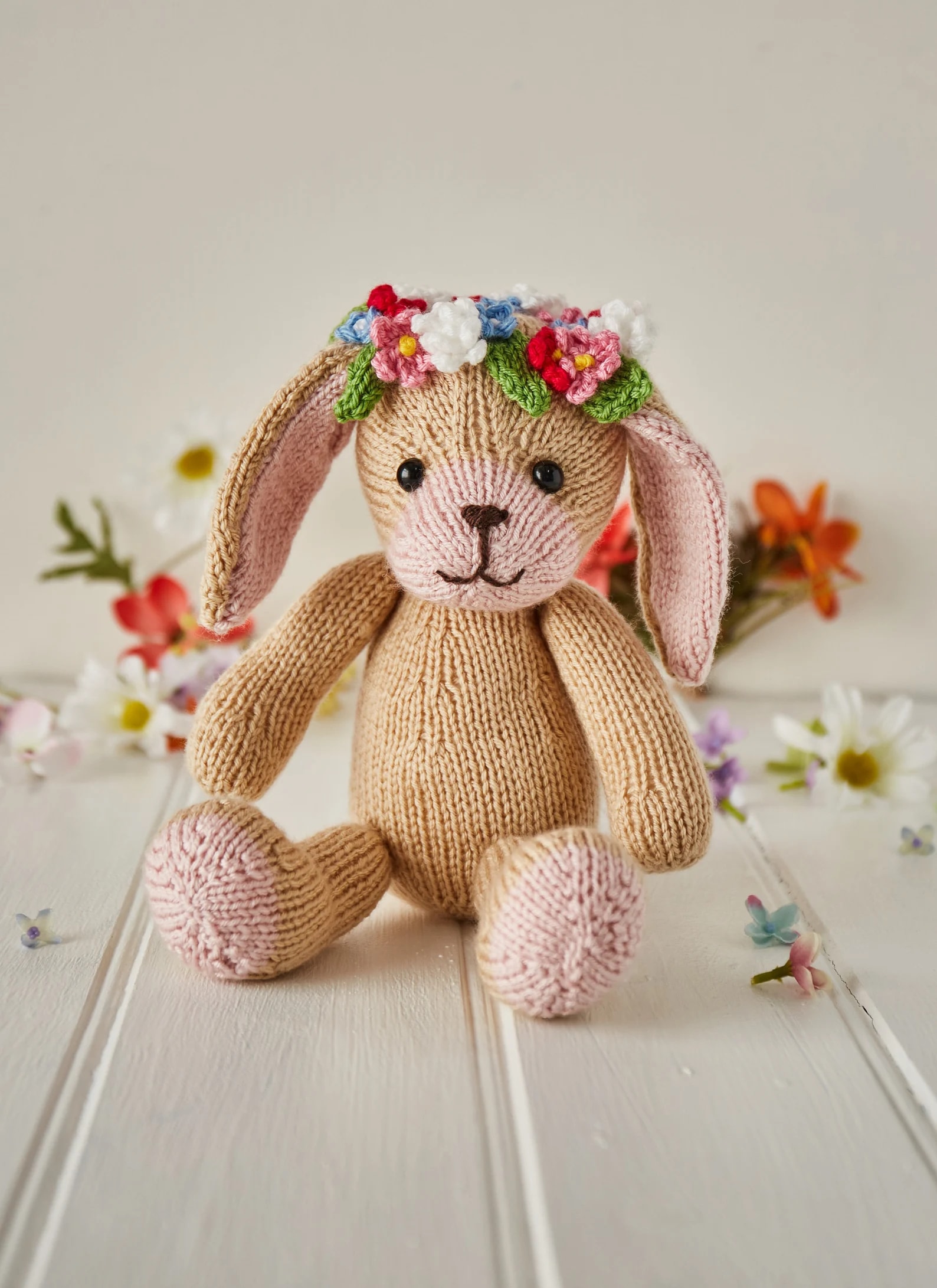 How gorgeous is this Flower Bunny rabbit knitting pattern by Sachiyo Ishii on Etsy? It's worked in flat pieces and seamed and the stitches used simple. Sachiyo recommends taking your time with sewing up for a neat finish.
Free Polar bear pattern #15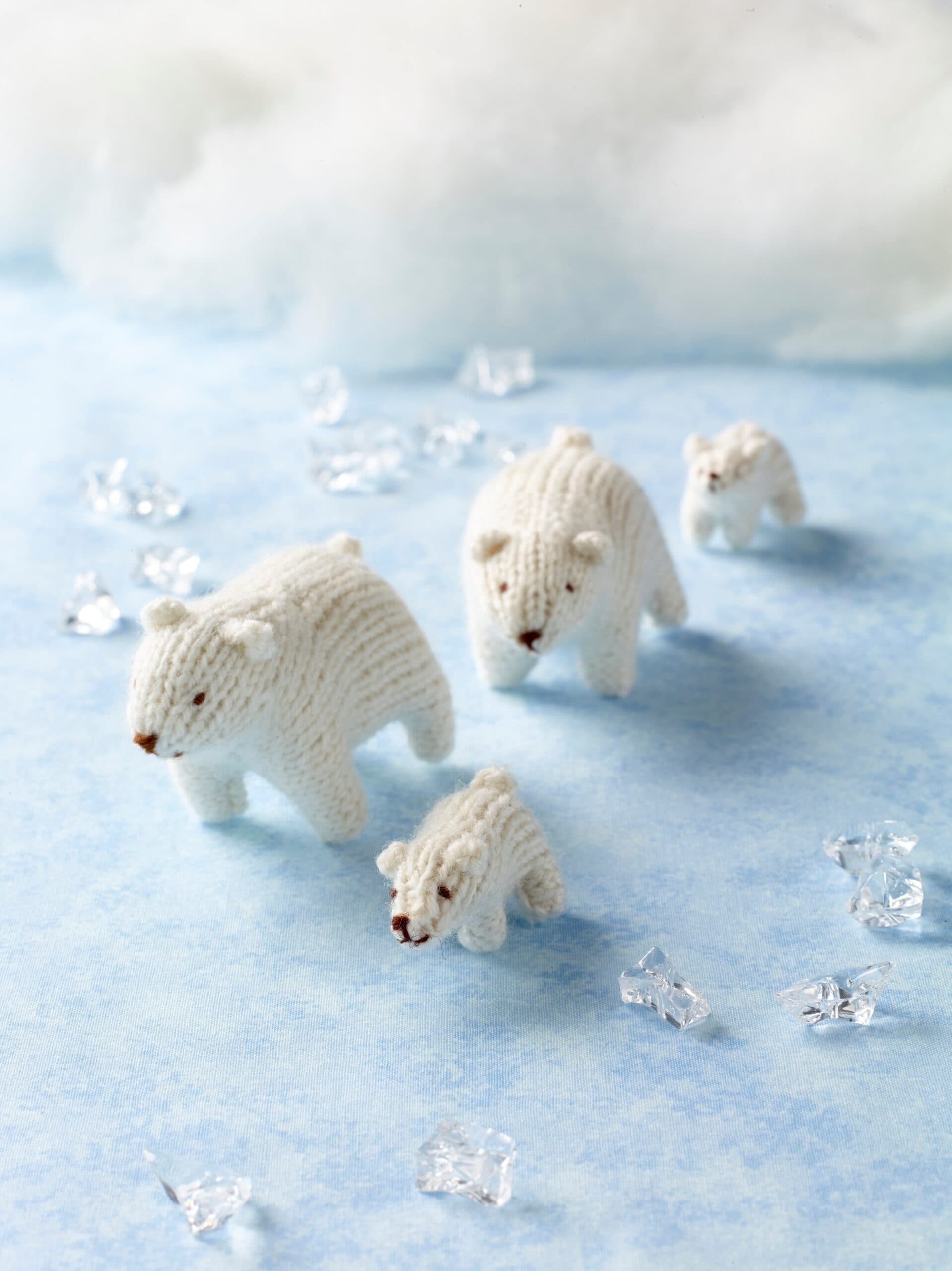 Another lovely pattern by Sachiyo is this polar bear family (taken from her book Mini Knitted Safari ) and available for free on Ravelry here: https://www.ravelry.com/patterns/library/polar-bear-37 If you're lucky, you can sometimes buy this adorable polar bear family knitted by Sashiyo herself on Etsy too: https://www.etsy.com/uk/listing/1318838088/mini-knitted-polar-bears-a-polar-bear
You might also like
Free puppy dog knitting pattern by Claire Garland
How to knit a lamb – free pattern and step by step tutorial
free amigurumi crochet patterns you'll love to make
INFORMATION
This article contains affiliate links, which means we may earn a small commission if a reader clicks through and makes a purchase. All our blog posts are independent and in no way influenced by any advertiser or commercial initiative. By clicking on an affiliate link, you accept that third-party cookies will be set.
Find more inspiring ideas in the Knitting category of the From Britain with Love blog and Knitting Patterns and yarns to buy here
Are you a maker or creative course provider? Like to list with us and benefit from joining our supportive community? We'd love to hear from you. Check out the packages we offer on our Join Us page.
---
A PIN TO SAVE TO PINTEREST