Meet Sophie English, founder of So English beachwear and save 15% on all purchases until June 30th 2023 with our exclusive discount code (scroll down for details)
I can still remember the sheer joy of being wrapped up warm in a 70s towelling beach dress after a breezy splash in the sea on family holidays. Mine was an A-line affair with giant orange pop art flowers and a large silver hoop at the top of the zip. I seriously loved that little beach dress and it still plays a vivid role in happy childhood memories of ice creams melting quicker than you could lick them, billowing wind breaks, sandy sandwiches, and the serious business of souvenir shopping. Over the years, I brought home multiple bottles of violet perfume (a pungent green liquid that seemed magical) with Cornish/Devonshire pixies sitting on top as well as a small army of little dolls in shawls with either Scottish tartan kilts or Welsh hats and red skirts/white aprons.
I fear I am disappearing down a rabbit hole of self-indulgent nostalgia. I did have a point when I started writing, which is that So English towelling beachwear really, really resonates with me. Founder and designer, Sophie English, has created a sustainable collection inspired by exactly that happy, cosy feeling I can remember as a girl as well as her lifelong love of 70s towelling fabrics. I'm so happy to welcome So English to the From Britain with Love directory and also to share a peek behind the scenes with Sophie. I hope you enjoy 'meeting' her as much as I did. And to save 15% on all purchases at So English until 30th June 2023, enter our unique discount code BRITAIN15 at checkout.
Please tell us a little bit about the story behind your business
So English is a towelling beachwear brand. We offer a range of cover-ups and dresses that are distinctive, beautifully made and super comfortable. We also believe in slow fashion, with the emphasis on producing timeless styles that are made to last, season after season and from one holiday to the next.
The first So English dress was designed about 15 years ago, I designed a dress/cover up from some vintage towelling found in a London market. Old school towelling with a retro floral print. The dress was simply cut, knee length with open sleeves and a Moroccan inspired neckline. Over the years I've made versions for friends and I think it was an idea waiting for an opportunity.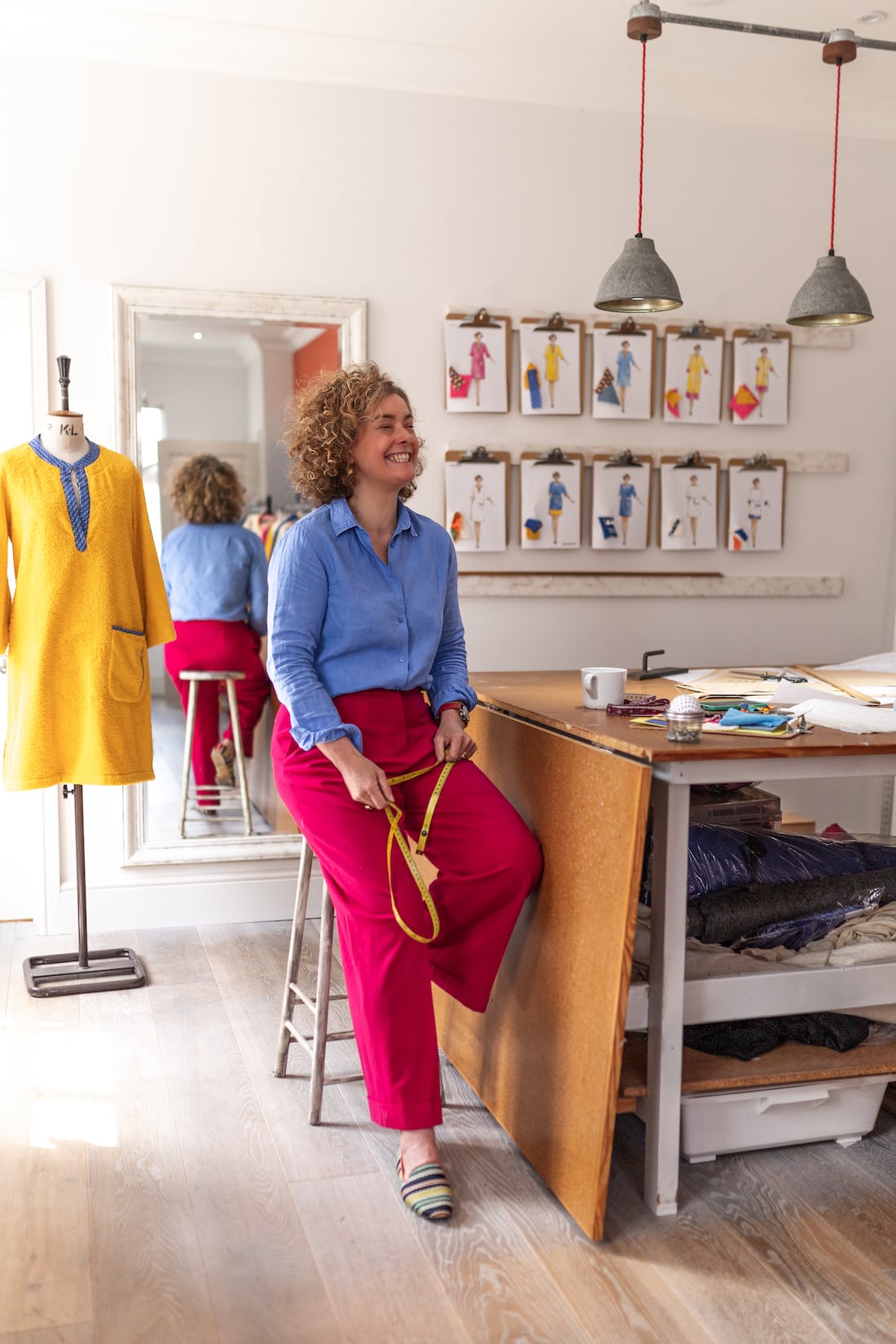 In my previous life, I designed and manufactured uniforms for 'front of house' staff at hotels, restaurants and city firms. That stopped with lockdown. I kept busy producing scrubs as a volunteer for the Scrub Hub in Brighton but it also allowed creative time in my studio and the chance to do what I love – designing clothes that I wanted to wear. I'd had the idea for towelling beachwear for a few years but not the opportunity to explore it.
As a regular (warm weather) swimmer at my local Sussex beaches, I wanted to create an easy yet stylish way to get warm after a bracing dip in the Channel, so the towelling dress was re-born.
Please describe your designs and what makes them special
From a young age I've had a love affair with towelling. I remember my mother and her stylish friends in the 1970s wearing vibrant dresses, the colours and prints were so vivid and memorable.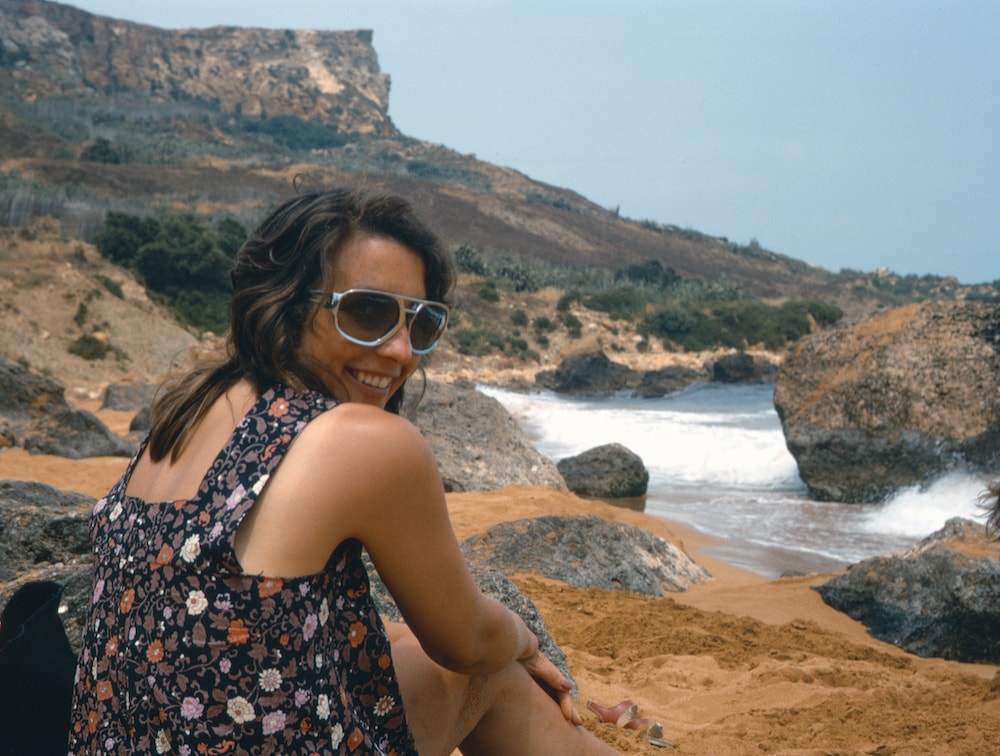 Towelling was just the best thing for the British beach. Straight out of the sea and no actual towel required!
Each piece is designed in house, tested on the Sussex coast and produced in small batches by experienced makers here in the UK.
We offer two collections:
So Classic: Featuring our core designs. The colours and the features may evolve but the styles remain the same from season to season..
So Limited: Unique pieces incorporating vintage or bespoke fabric. Limited fabrics means runs of between 10-20 pieces.
With care our dresses will last for years and where possible, we will repair your garment if it suffers a mishap.
Our aim is to make clothes that will be loved, will last and will collect memories you'll cherish
Any new designs or upcoming launches you'd like to share with us?
The collection is constantly evolving.  Rather than bring out a new seasonal range, we introduce new styles and fabrics as soon as they are ready.  So, in the pipeline is a bespoke print in a vibrant super retro design screen printed in the North of England. A sleeveless dress and more of our 'So Limited' offerings that are made with the same Italian towelling but trimmed with orginal vintage fabric.  When they're gone, they are gone!
Please can you talk us through your creative process?
I love a retro vibe and have been collecting 60s and 70s towelling from around the world for many years. A bit like a Magpie, I collect inspiration from all over the place – flicking through racks of vintage clothes, old films or watching people on the beach and around Brighton. I also love listening to our customers and hearing what they like and want to wear.
It all starts with a sketch once I have a vision for a new design.  I then cut the pattern and make a toile (tester garment), followed by a towelling sample.  All our garments are made by local skilled machinists or factories in the UK.
I have endless designs and ideas, sometimes I struggle with pulling back and keeping the collection simple and uncomplicated.
I'm not sure a design is ever fully 'finished' as a good garment gradually evolves.
As a child, what did you want to be when you grew up?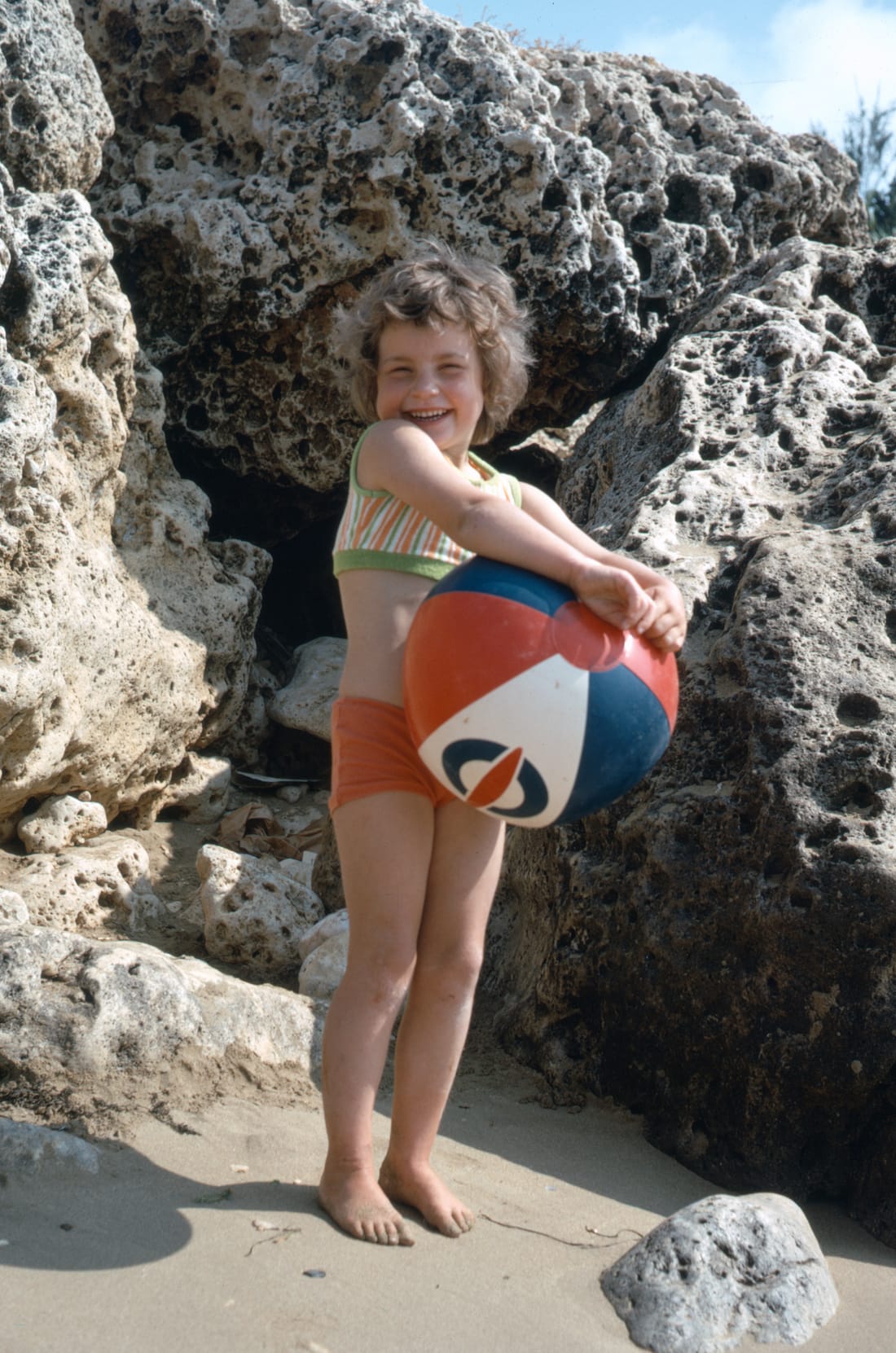 As a child, I'm really not sure what I thought my career path would be, but I loved playing with Sindy dolls and making clothes for them, so maybe that was a start of things to come!
Favourite way to start the day?
In an ideal world, I start the day with a little bit of yoga in my PJs, then breakfast. Several cups of coffee later, I'm ready to start work.
What's your morning routine?
Every morning I start with my 'to-do' list. Making any tweaks to the collection, liaising with machinists and planning pop up events to meet our customers. The studio is a lovely light filled space and the hub of So English. There's a large pattern cutting table, racks of card patterns, sewing machine, stored fabric and most importantly, garment rails filled with the collection.
What are your top tips for enabling creativity/wellbeing?
Creativity and ideas strike at any time and in my experience, usually when I'm relaxed and not actually thinking about anything!  Trips to galleries and museums are a great creative boost.  My favourite museum is the V&A, which  endlessly offers inspiration.  As for wellbeing, making sure I get out of the studio and keeping up regular exercise even when life is busy.
Favourite season and why?
Without question it's summer – light mornings, twilight evenings and endless opportunities for impromptu walks, swims and meeting up with friends
What are your greatest simple pleasures?
For a few precious weeks a year, I love early mornings in the garden with sunshine, listening to the birds, drinking coffee and planning the day.
Share a real hidden gem with us – the sort of place we'd never find in the guidebooks
I couldn't create the collection and find inspiration if I wasn't near the sea with regular visits to Brighton.  There is nothing better than wandering around the Lanes and flicking through the racks of vintage clothes in shops like the fabulous Snoopers Paradise
Favourite walk and why?
There are so many tracks and paths along the South Downs that we are spoilt for choice. I have cycled, hiked and meandered all over the 100 miles from Winchester to Eastbourne over the last 20 years, with many happy memories.
Best local find for lovers of craft?
Sussex has a strong creative heritage and home to the Bloomsbury group. We are lucky to have Charleston Farmhouse on our doorstep as well as West Dean College, a fantastic residential study centre offering short and full time courses in the arts and crafts.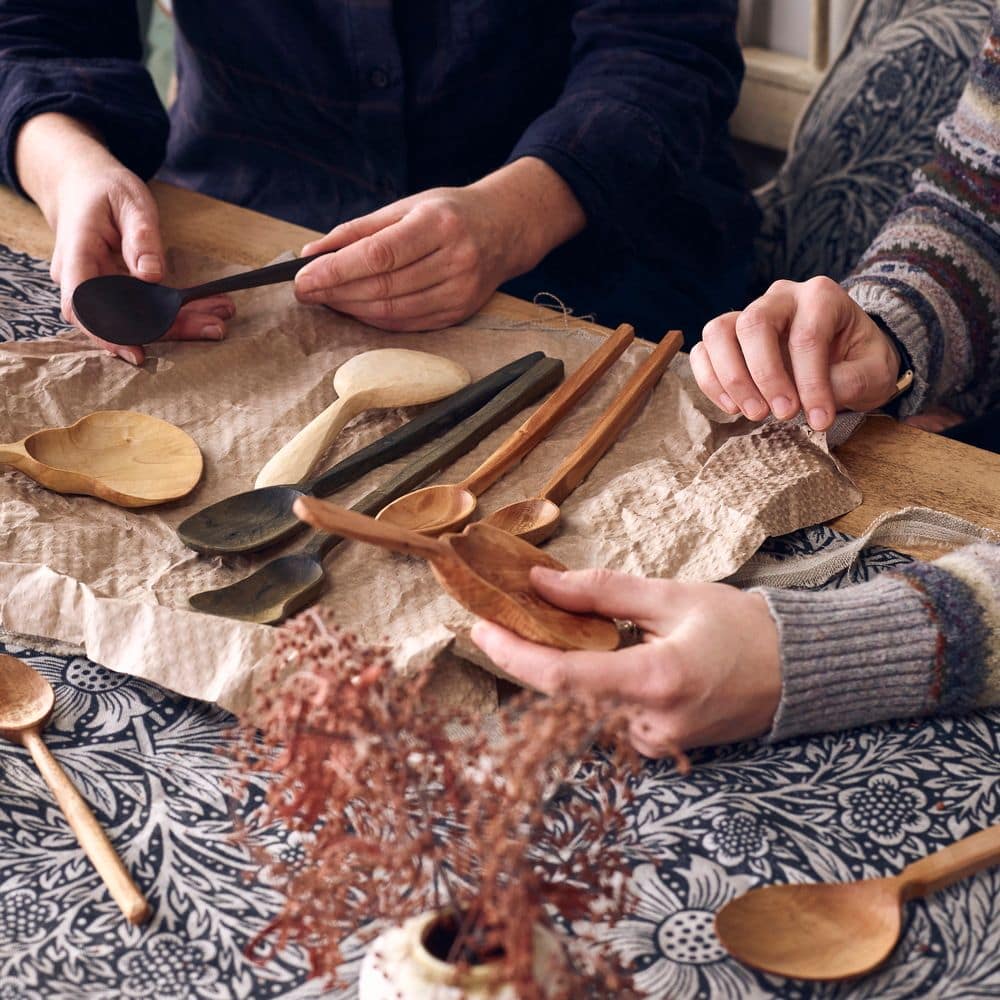 What measures do you take to support plastic-free and zero waste?
Good things come in sustainable packages. We have sourced biodegradable and recyclable mailer boxes to ship orders and certified paper swing tags.
How important is ethical production to you?
So English is a super fan of slow fashion and committed to producing small runs to avoid unsold stock. All our garments are beautifully made with reinforced side splits, double stitching and bound edges. They are proudly Made in England by skilled machinists who are paid fairly and work in modern, safe conditions.
Vivienne Westwood summed it up with: 'Buy less, choose well, make it last'.
What are your goals for the future?
To spread the So English word! We've been very low key so far but have attracted interest from the US, Australia and New Zealand so we are exploring export opportunities.  In the studio we are planning to expand the range, combine towelling with other fabrics, and experiment with new prints, colour options and, along the way, enjoy the journey.
Information
Connect with Sophie English and discover more about So English via her FBWL directory listing.
Browse the So English shop
To save 15% on all purchases at So English until June 30th 2023, enter our unique discount code BRITAIN15 at checkout.
A pin to share to Pinterest
If you've enjoyed meeting Sophie English and discovering So English towelling beach wear, it would be great if you could share this pin to one of your Pinterest boards. Thank you! x