Meet Emma Lycett of Hibou Home (listed in our directory here). Emma is the founder of this exciting children's designer wallpaper brand Hibou Home.
From her Kent studio, Emma Lycett has created a distinctive and original collection of children's wallpapers for Hibou Home, which are fun enough to appeal to kids yet stylish enough to sit comfortably with the style of your home.
Q. Tell us a bit about yourself and what inspired you to start the business…
A. My career was in the automotive industry working for iconic British car and 4 x4 manufacturers. I started out as a buyer and then held various managerial roles in sales and marketing and product development so I gained a fantastic set of business skills. Relocating to Kent prompted me to put all those valuable skills to good use by setting upHibou Home after I'd spotted a gap in the market for inspiring, sophisticated children's wallpaper that would suit stylish, modern interiors.
Q. Where is your business located?
A. My studio is based deep in the Kentish Weald, surrounded by beautiful rolling countryside. It's just idyllic really – a wonderfully relaxing place to be all day and the peacefulness really helps the creative thought processes.
Q. Do you use any specialist techniques or equipment to produce your goods?
A. All our wallpaper designs are printed by the UK's premier wallpaper manufacturer. There are lots of different methods of printing wallpaper and I opted for the more expensive rotary screen-printing process because it deposits a lot of ink on the wallpaper. This gives our designs at Hibou Home a wonderful depth of colour and a lovely chalky, matt finish for a stunning result.
Q. What are the most popular products in your range?
A. It's our debut wallpaper collection and it's all selling incredibly well, but the Enchanted Wood design in Peony Pink is the individual best seller at the moment. People are really drawn to the sophisticated simplicity of the designs and we get so many wonderful comments about the quality of the papers and the muted colour palette we have used. Work has started on developing matching fabrics (to be made in Britain of course) and the next wallpaper collection!
Q. What's the best thing about what you do?
A. I absolutely love everything about what I do! On the business side, I love being the master of my own destiny and seeing my vision become reality. I love the fact that my 11 and 8 year old boys are really involved in what I do and are learning about what it takes to launch and run a business. Seeing your designs being sold around the world and the orders coming in is obviously a huge thrill but the icing on the cake is the lovely comments from customers. One lady recently told me that her newborn baby girl was in Neonatal Intensive Care and she had decided to decorate her nursery in our Enchanted Wood wallpaper because her daughter 'deserves the best room ever!' That was very special.
Q. Why do you choose to make your products in Britain?
A. This was a very simple decision really, partly because we are lucky enough to have a world-class wallpaper manufacturer still based in Britain but also because I think it's important as a brand for Hibou Home to be designed and made in Britain – it has a resonance with customers around the world. Being a new business, it's also great from a practical point of view as it's less time out the office for factory visits etc.
Q. What's been your proudest moment?
A. It has to be being selected as a supplier at the
Liberty London 'Best of British Open Call'
event last year. Gaining Liberty as our first stockist before we had even launched was a huge coup! Liberty are hugely supportive of new British brands – Hibou Home recently featured on the Liberty London Facebook page and the wallpapers got an amazing response. We are also delighted to have been shortlisted for the 2012 Junior Magazine Design Awards. It's been a very exciting first 6 months!
Q. Where do you sell your products?
A. We sell our wallpaper through our own online shop
www.hibouhome.com
, and it's also available in store at Liberty London and a number of other stores and online shops in the UK and overseas.
Q. Which other British producers inspire you and why?
A. I'm a big fan of Donna Wilson and her quirky, instantly recognisable designs. As someone who was always making dens out of blankets as a child, I think her House Throw Play Den Set is a brilliant idea.
Q. Do you make an effort to buy British when food shopping?
A. Absolutely, I really don't like the idea of my fresh food clocking up thousands of food miles before I buy it. Kent is known for being the "Garden of England' so we are very lucky to have lots of fabulous farmers markets and farm shops selling delicious local, seasonal produce right on our doorstep.
Q. Where is your favourite place to holiday in Britain?
A. Our last family weekend away was on the Jurassic Coast in Dorset. We stayed at the charming and very family friendly The Bull Hotel in Bridport. The highlight of the weekend was a fascinating three hour guided fossil walk on Lyme Regis beach (bookable through Lyme Regis Museum). We can't wait to go back!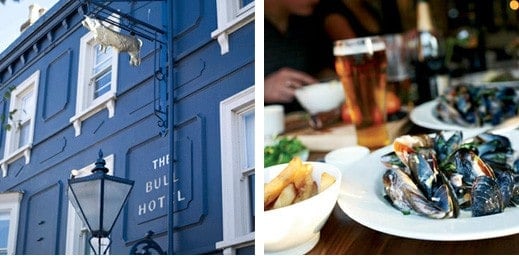 Q. And finally, what do you do to relax and unwind when you're not busy working?
A. A new business doesn't allow for much downtime but when I do get some free time it's spent with my husband and boys usually on a long walk in the woods or cycling to the local pub!
Find all the details you need to connect – and shop – with Hibou Home in their
listing here >>