Woodblock and linocut prints – beautiful finds by UK artists
There's something so individual and handmade about woodblock and linocut prints. It's something to do with the artist's marks and the fact that no two prints will be the same. I also love the sheer amount of craft process that goes into each creation. Each colour has to be created as a single layer, carved in relief. So this is a highly skilled creative process.
I've picked out some of my favourites by UK artists on Etsy to share with you in the hope that you maybe find something you'll treasure for years to come.
Linocut prints & woodblock prints – my pick 💚
Matt Underwood
Matt Underwood is a Lincoln-based artist and with a joyful way with colour and composition. Find jugs of flowers, birds, garden details and more. I've picked out my 3 favourites from his current collection.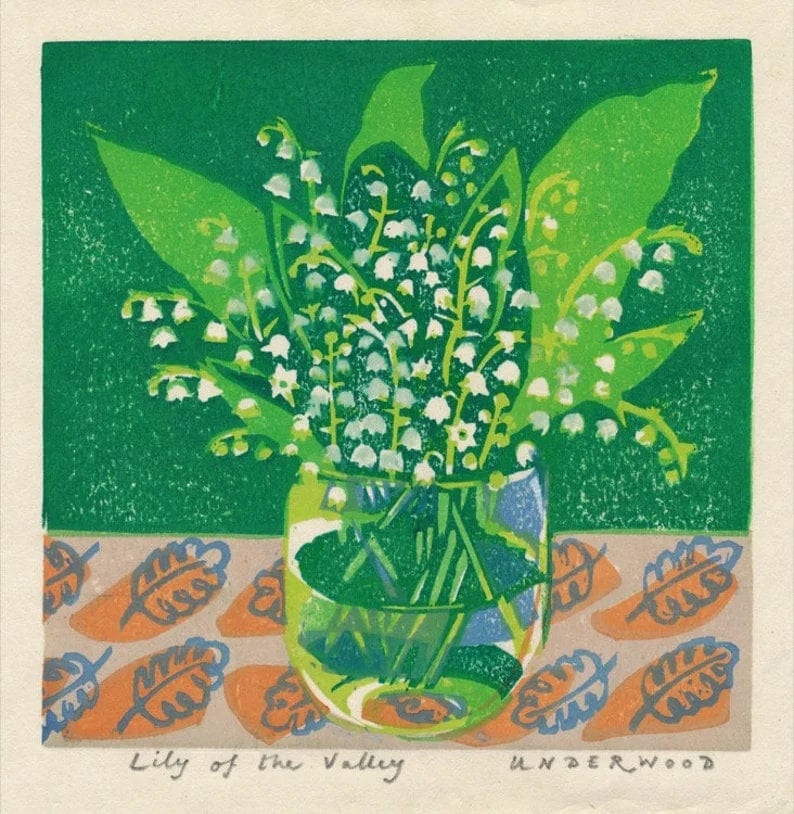 How beautiful is this vibrant Lily of the Valley print? Printed using woodblock and gouache on handmade Japanese paper, I love the sense of depth created and that you can almost smell the fresh Spring fragrance.
A colourful and individual way to mark this jubilee year – but act fast if you'd like it as there's only 1 left at the time of writing!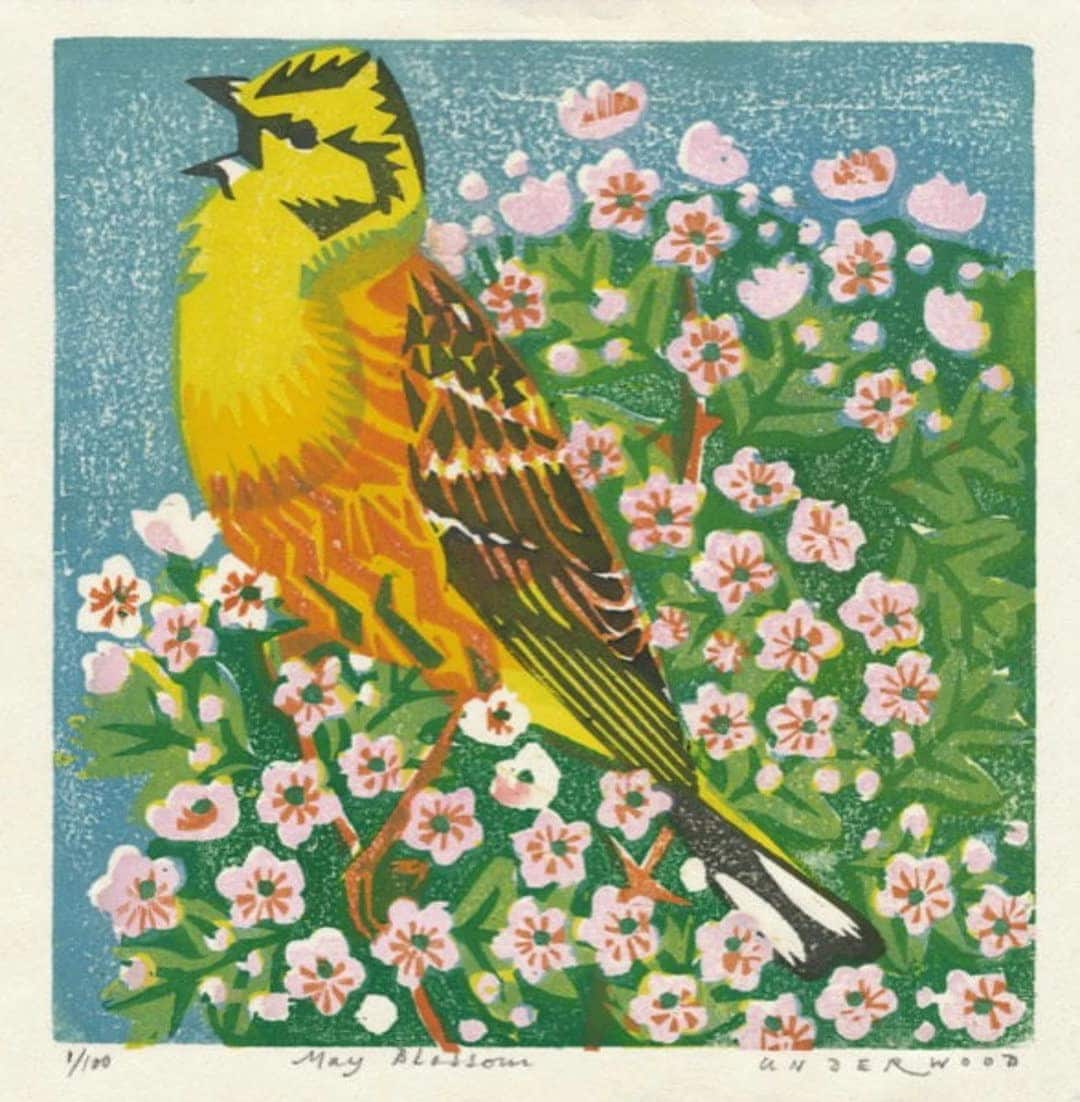 Another limited edition of 100 hand pulled woodblock prints, I love the combination here of May blossom and garden bird (I think it's a yellow hammer). Just lovely and again, it's the last one left right now!
Mike Kendall
Based in Bristol under the shop name Striped Pebble, Mike creates very beautiful linocut prints of birds, the natural world and coastal scenes. I love the simplicity of his lines and how he manages to capture a sense of movement and atmosphere. The colour palette is much more muted but no less beautiful for it. My favourite three from his current collection:
I love the soft blues and Japanese feel of this piece. These little birds are always a joyful sight when they arrive in my garden and this really captures a sense of this. Printed in two layers and just lovely.
I tend to be drawn to anything with swallows – there's something about their grace and movement I've always loved. This is a beautifully textural piece that somehow captures their patterns of flight and as sense of the swelling ocean below. This linocut is hand printed onto handmade Iokta paper and measures 24cm by 16.5 cm.
This could be me with one of my two when they were little. It perfectly captures those precious moments when you introduce your babies to the ocean. Holding them up as they decide whether or not to splash the sea with their feet. One of mine would splash with wild abandon and the other would hold his feet above the water for ages, not at all sure about dipping them in. I've read the comments from customers who have bought Mike's work, and it really seems to speak to people in the way that this one does with me.
Roanna Monaghan
Based in Elgin in the Highlands, Roanna Monaghan is a Scottish print maker who describes herself as 'carving the mountains, sky, sea… and everything in between. Absorbing the outdoors. through print making.'
I've stayed in a cosy Highlands croft cottage just like this one and this evokes memories of being cosy inside whilst the elements swirled and buffeted around us.
I've loved Luiza's work for some time now. Based in Sheffield, she has a strong, graphic style all her own.
Luiza does sell original linocuts too, but her beautifully printed cards are a really cost-effective way to source artwork to frame for your walls. I love this design in it's own right, but more particularly because one of my closest friends sent this card to me in the depths of the first lockdown. I've kept and framed it and it always makes me remember just how glad I am to have her as a friend.
I love the strong, almost midcentury lines and bold colour of this print. It's printed on 300gsm Tinteretto Gesso paper with a hammered texture and is taken from Luiza's original linocut piece.
This Maidstone-based artist creates quirky and original prints and hand-printed cards.
How pretty is this original linocut of a glass jar of honeysuckle? It's printed on 270gsm Bread & Butter printmaking paper and is the third and final edition of this print (limited edition of 28 signed and numbered prints).
The artist, Rachel, designs and carves each layer into lino before inking the plates and hand printing them using Alma, her 130-year-old cast iron manual book press. I'm fascinated by this photo of the three layers she has carved that combine to create this print. It really brings home the intricate craftsmanship of this art form don't you think?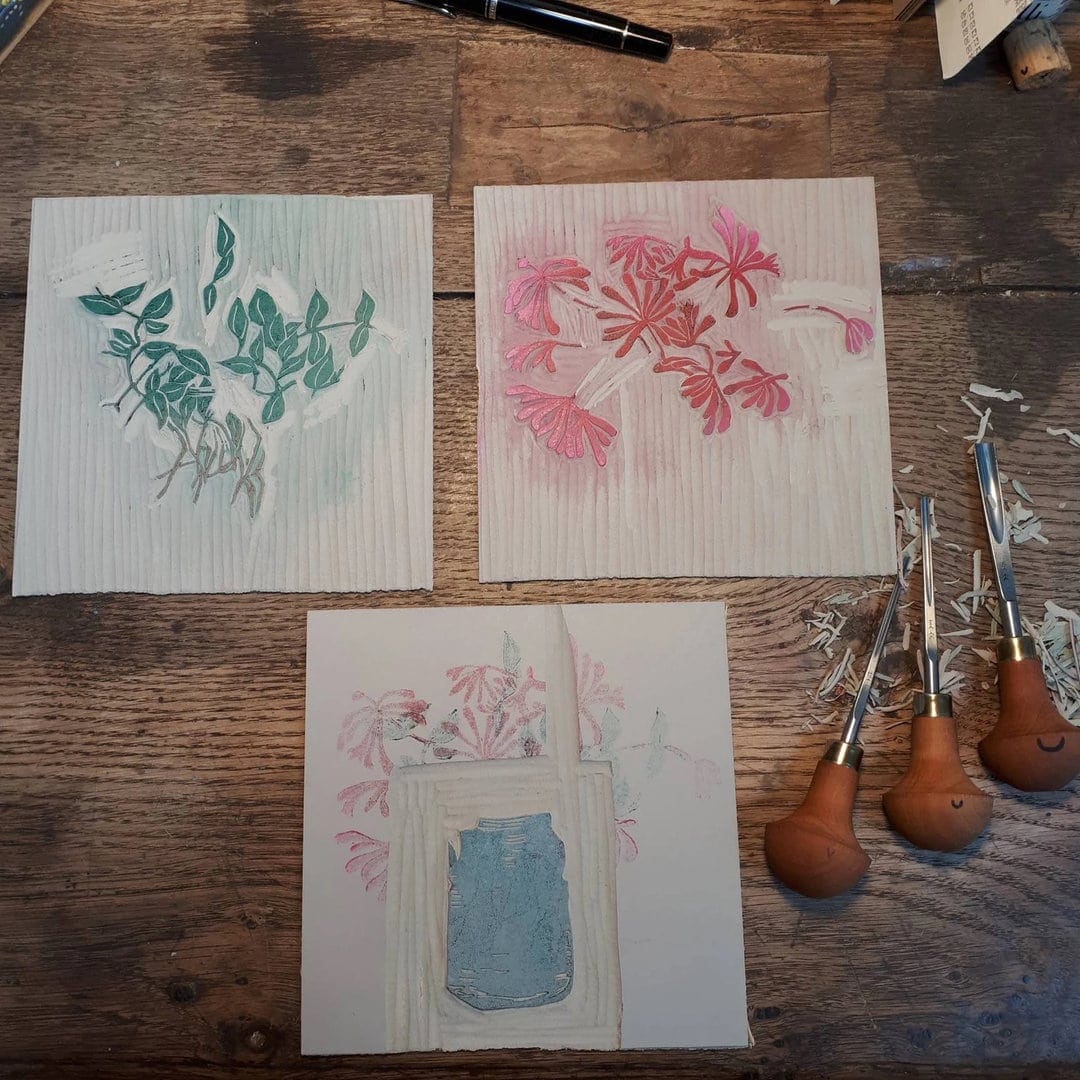 No feature about lino printing would be complete without mentioning York-based Gary and Heather of Little Ram Studio. Their work has been featured in Country Living Magazine, The Sunday Telegraph and is really accomplished. There are so many beautiful piece to choose from, including birds, animals, flowers and still life, so it wasn't easy just picking out three to share with you here:
I love the colours of this print and the way the background allows the flowers to really stand out. I'd guess it's Japanese lanterns, cow parsley and echinacea – the contrasting shapes of which work so well together in this composition.
How pretty is this blue and yellow combination of marigolds and cornflowers in a vintage Burleigh jug? A lot of work must have gone into carving the detail of these layers. I think I am drawn to this partly because my mum had a collection of Burleigh china that I have inherited and that brings back so many lovely memories of her. We always had some snippings or other from the garden that she'd simply arrange in pretty old jugs just like this one.
If I had to pick just one from all the linocut prints, I think it would be this one as it really captures the simple of joy of a moss-topped bowl of spring flowers at the end of Winter.
Information
This article contains affiliate links, which means we may earn a small commission if a reader clicks through and makes a purchase. All our blog posts are independent and in no way influenced by any advertiser or commercial initiative. By clicking on an affiliate link, you accept that third-party cookies will be set. 
You might also like:
Cambridge Imprint Cloud of Butterflies kit
Shallow Waters print Luiza Holub