Coastal interiors – how to get the look
There's nothing quite like the feel of salty sea air on your skin, the roar of the ocean and the colours of beach life. We've put together a Coastal Interiors mood board on Pinterest with images we love and find inspiring… Hope you enjoy creating coastal interiors in your own home.
Coastal Interiors – 10 easy ideas
Coastal interiors idea 1: mix soft whites, warm greys and natural textures
I love the pared down simple coastal styling of this cottage in Mousehole, Cornwall. It's called The Oyster Catcher and you can book it through Unique Home Stays >>
What I love about this interiors is that the colour palette is so restrained yet still feels easy going. Soft whites and warm greys are softened with vintage finds, texture, fresh simple flowers and natural textures. I love this – don't you?

Coastal interiors idea 2: let the fresh air in
Few of us are lucky enough to look out on crashing blue ocean waves, but allowing the light and fresh air to flood in is key to creating a successful coastal interior. Love the pale dusky pink curtains that don't distract from the view, providing a soft and subtle frame for the window. This is another really special property available to book through Unique Home Stays – Alba Beach House. Ocean blue-green stained floor boards, non matching vintage wooden chairs and neutral linen chair covers add personality and interest.
Coastal interiors idea 3: white wooden shutters
Is there a nicer way to frame a sea view than a pair of white-painted wooden shutters? The image above is from: Alba Beach House
The gorgeous bedroom shutters below are from The Chalk House (also available to book through Unique Home Stays)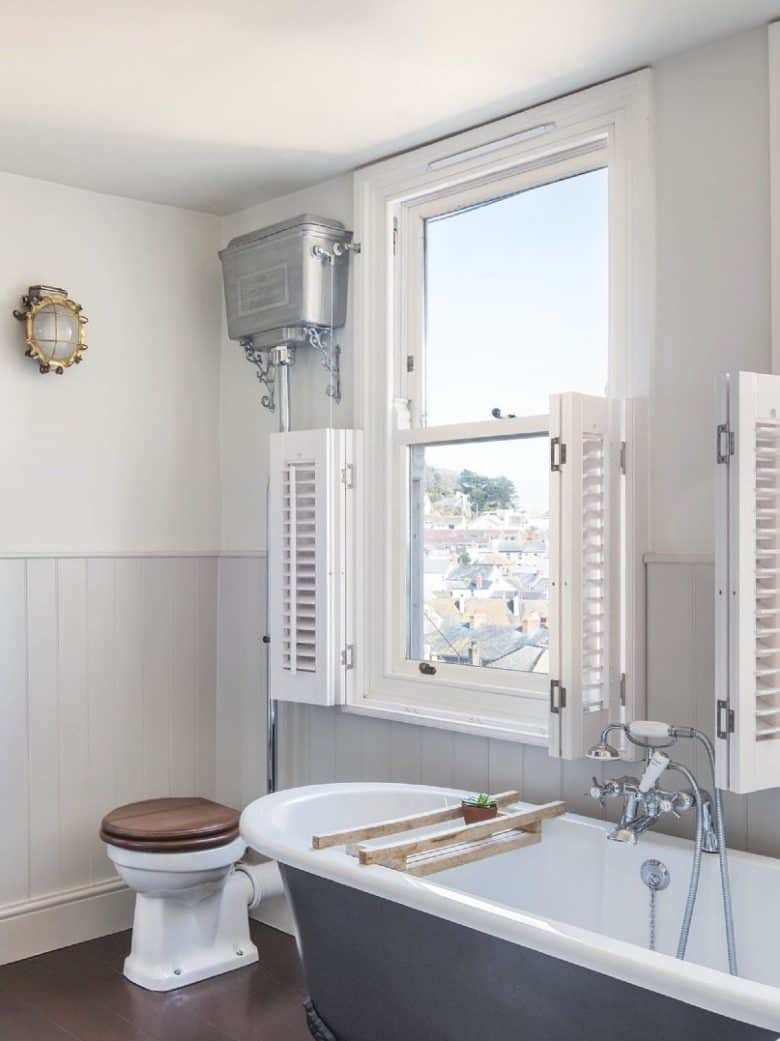 Coastal interiors idea 4: stone and white washed wood
This pared back bedroom interior is from The Meadows in Newlyn, Cornwall, again bookable through Unique Home Stays.
Love the combination of exposed old stone with whitewashed wood to create a simple bed headboard. Add crisp white linen and marine stripe cushions/throw and you're good to go.
Coastal interiors idea 5: go for stripes
Talking of stripes, there are none better than the fabrics of Ian Mankin, beautifully made in Britain.
Synonymous with stripes for over 30 years, Ian Mankin Fabrics has the most comprehensive collection of British-made striped fabrics, all woven in-house at the brand's family-owned and run Lancashire mill, including 44 stripes as well as mix and mix checks, florals and plain fabrics.
Check out their fresh nautical stripes crisp ticking – the perfect way to bring some seaside freshness into your home. Pair with white washed walls and floors and pale natural rattan, driftwood and seed heads.
I absolutely love this Hayle stripe fringed throw woven in the UK from recycled wool fibres.
I also love Meg Morton fabrics and wallpapers, all made in England and they offer some beautiful stripe designs as well as soft, contemporary florals. Love this Dorset Blue stripe linen
Idea 6: put a bath in your bedroom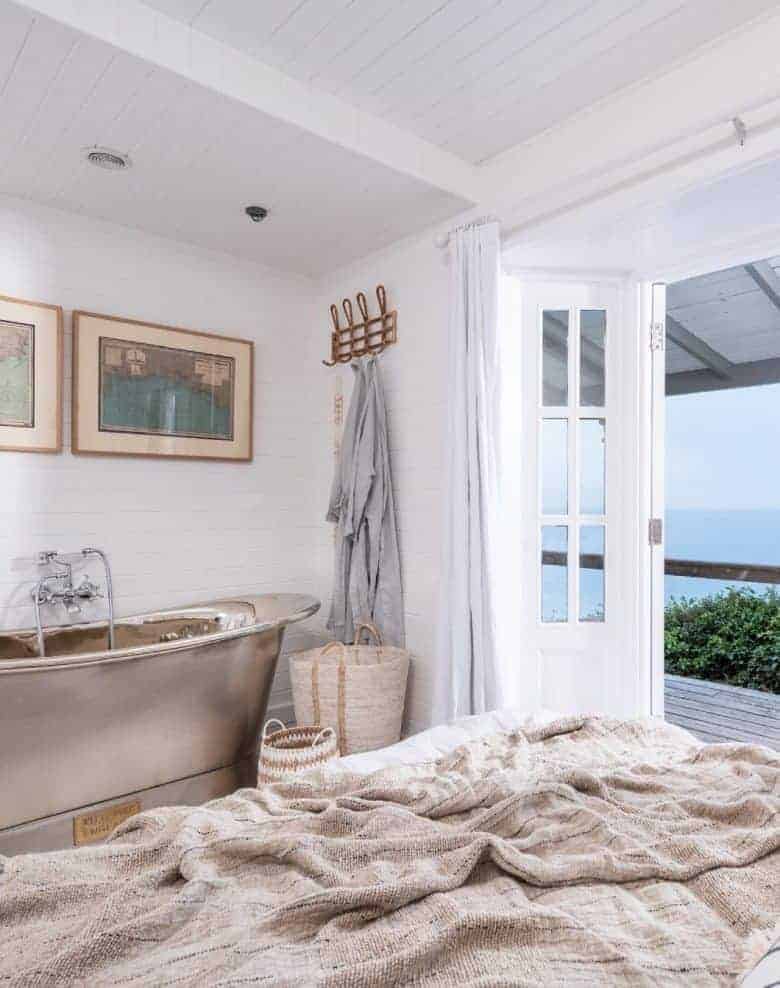 Why don't we do this more often? It feels like something that would feel like a holiday treat and yet there's no reason why we can't have a bath in our bedroom at home too. All the better if you happen to have french doors you can throw open onto a sea view terrace.. This dreamy property is The Shipwreck in Portwrinkle, Cornwall, available to book through Unique Home Stays.
Idea 7 display seaside findings
What says seaside more than glass jars of shells or pebbles picked up from the beach? I also love the idea of white washing or painting an old chest to double up as a side table.
This idea is from The Oyster Catcher in Cornwall as is the window seat idea below.
Idea 8: create a window seat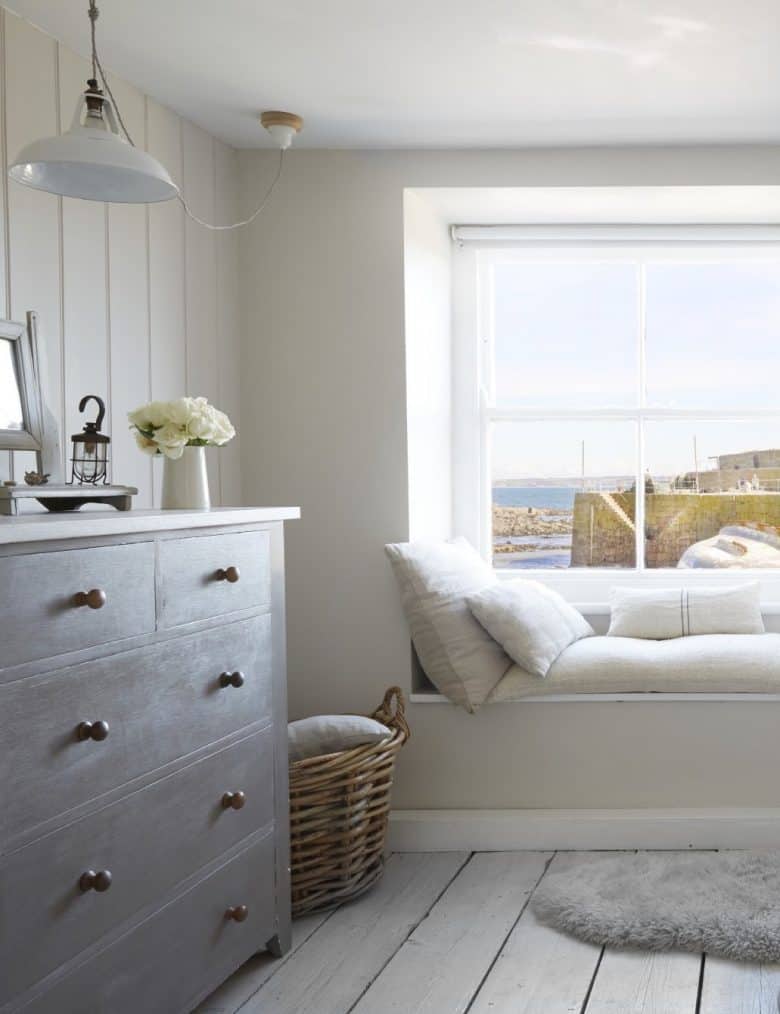 Idea 9: Use reclaimed and whitewashed wood
I love this cool coastal kitchen design – it's from Ammonite in Rye, East Sussex and I love the confident mix of reclaimed old wood to create the cupboard doors, white-washed floor boards and beautiful old kitchen table as central island. Zinc panels with a lovely patina as splash backs are a really creative idea too.
Idea 10: Source natural toiletries inspired by the ocean
I bought this Tales of the Sea Salt Scrub from The Future Kept and it really is the next best thing to swimming in the ocean. It's designed to invigorate and awaken the skin, leaving you tingling! It also looks great in a coastal bathroom on a textural ceramic dish.
INFORMATION
---
Find Ian Mankin, Meg Morton, and The Future Kept in the From Britain with Love Directory.
Find special coastal holiday lets at Unique Home Stays
For more ocean-inspired ideas, you might also like: Seaside Interiors we love
Are you a maker, grower or creative course provider? Like to list with us and benefit from joining our supportive community? We'd love to hear from you. Check out the packages we offer on our Join Us page and get more details from our Information pack here
---