Love… a Japanese cross-back apron
It's not exaggeration to say that I actually love my trusty old linen japanese pinafore cross-back apron. The straps are wide and cross over at the back. The front pocket is good and roomy. The cut just right. I love how it feels and looks and given half a chance could easily wear it every day. I think part of my love stems from the fact that I wear my pinafore apron when I'm being creative. Whether it's a creative workshop I'm attending to write up later for the blog, or simply weekends spent pottering in the garden or cooking in the kitchen. Happy simple pleasures, and always in my pinafore apron.
I've noticed that this style of apron is increasingly popular within the creative community. I see lots of beautiful aprons at the creative UK workshops I attend. There are a lot of us who feel the same way about the aprons we wear when we're being creative. So I thought I'd share a few of my absolute favourites with you.
cross-back apron love #1
In the Making Aprons is a beautiful collection of artisan cross-back aprons handmade in London by Lisa Bennett. There are denim, ticking and linen beauties to choose from. Love the classic cross-back artisan apron as well as the pottery aprons (with deep split to allow for easy access to the potter's wheel). Also love the Japanese Bero style patchwork denim waist apron. Check out the whole collection here, but my four favourites are these:
Cross-back pottery apron, stripe denim No 72. BUY NOW >>
Very distinctive and striking potters cross-back apron. A beautiful combination of bright red soft herringbone straps and sturdy navy/white stripe denim. Carefully designed for the needs of artists and makers, the split skirt allows plenty of movement whilst ensuring each leg is covered when sitting at the wheel. A wide pocket is positioned high on the waist to stow tools whilst working, additional breast pocket and slanted tab loop for cleaning cloth etc. Adjustable straps fit a wide size range and accommodate extra layers in a chilly studio!
Here's the beautiful back view with size-adjustable bright red straps: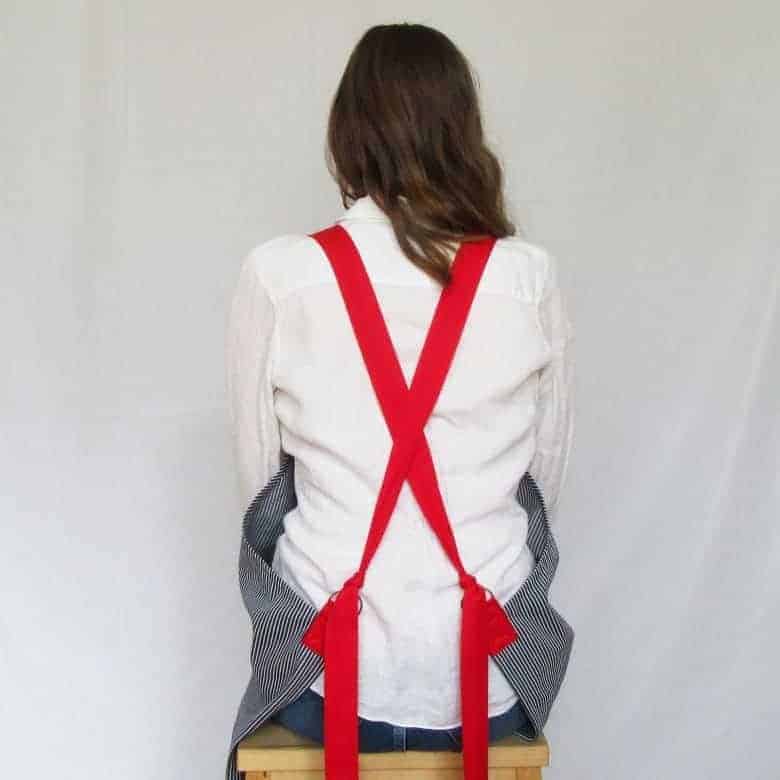 Cross-back pottery apron, stripe denim No 72. BUY NOW >>
This is a very flattering shape – and I love how the belt ties in a pretty bow at the front. It's halter neck rather than cross-back, but definitely one of my favourites.
PLEATED COTTON TICKING POTTERY APRON BUY NOW >>

It's the vivid blue that makes this one for me – and love how it combines with red stripes! Again, this is handmade in heavyweight fabric that will last and last. Fantastically comfortable cross-over straps mean no ties around the neck the bib pocket is good and roomy too. The perfect apron for any creative or artist.
Violet Blue cross back denim apron BUY NOW >>
I also love it in the Ochre denim colourway don't you?
Cross-back ochre denim apron BUY NOW >>
My final pick from In The Making is this:
Handmade in navy white railroad stripe denim (an American workwear classic), this cross-back apron is again perfect for potters, artists, creatives and artisan apron lovers.
Hickory Railroad Stripe Denim cross-back apron BUY NOW >>
cross-back apron love #2
Teal linen handmade cross-back apron
Teal linen apron handmade in England and available to buy from The Prancing Hare Etsy shop There are two styles available – choose from square pinafore or apron dress. Made by Irene Sheyko, you can also personalise her apron designs too.
And how lovely are these linen Mother and daughter aprons also handmade by Irene? Available to buy separately or as a pair.
cross-back apron love #3
The Erin crossover apron by The Stitch Society is a real beauty. I love the slightly shorter length, the beautiful shell buttons and wide crossover straps. The Stitch Society aprons are so well made they actually come with a 10 year guarantee! LOVE!
The Stitch Society is listed in our directory. Get all the info you need to connect and browse their beautiful collection of aprons from the listing here
BUY STITCH SOCIETY APRONS NOW >>
pinafore apron love #4
I love Cotswolds based Swedish House at Home – and this linen Japanese style crossover pinafore apron is specially handmade for them. I love the crumpled textural linen and the flattering shape. Pockets are just right too…
pinafore apron love #5
Linen pinafore apron handmade made in England by Nadinoo has fab dungaree style straps at the back and I love the generous loose fit and the coarse texture of the linen. Available in natural, grey and midnight navy.
Nadinoo is listed in our directory. Get all the info you need to connect and browse their beautiful collection of simplewear from the listing here
pinafore apron love #6
I love this classic and robust cross over apron made in East Anglia for Spry Workwear. You can't go wrong with navy blue sail cloth can you?
other pinafore apron love
Grey linen cross-back pinafore apron BUY NOW >>
Cotton cross-back apron BUY NOW >>
Other blog posts to enjoy
I made a cross back apron dress at one of the workshops that Dolly founder, Diana Uprichard, runs in Lewes. Here's the apron dress I made. Click through to see the step by step images.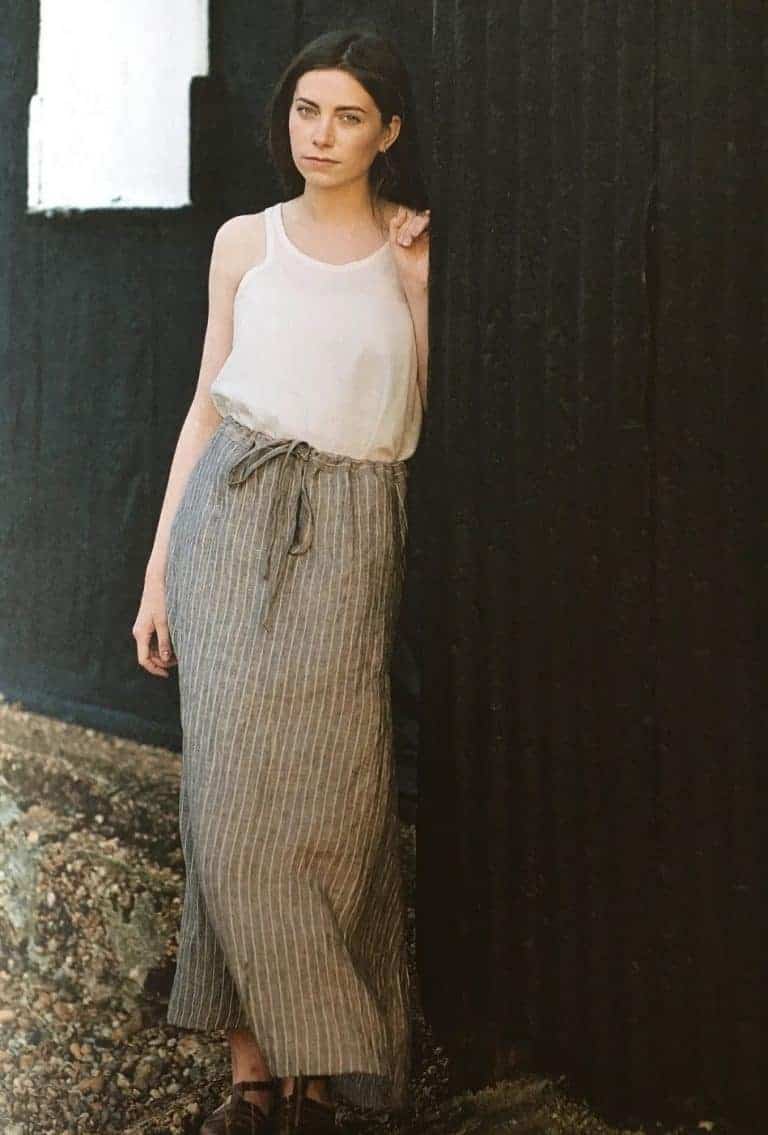 Easy step by step DIY tutorial to sewing simple skirts including this lovely linen skirt pattern by Merchant and Mills.

Ethical fashion Made in the UK
Discover hand-picked designer makers creating sustainable and ethical fashion made in the UK in our beautiful Directory.
INFORMATION
---
Are you a maker or creative course provider? Like to list with us and benefit from joining our supportive community? We'd love to hear from you. Check out the packages we offer on our Join Us page and get more details from our Information pack here