February and March are when I fill my home with spring flowers and bulbs as a taste of the new season just around the corner. For me, simple spring flower arrangement ideas need to be fragrant, unfussy and natural. I buy lots of bulbs in pots and then really enjoy hunting around for the perfect container to plant them up in. Sometimes it will be an old enamel jug, oil pourer or watering can. Recently I've been re-using old tins too rather than chucking them into the recycling.
The sun is shining today, so I thought I'd take some photos to share with you and hope you like some of my ideas.
I love how my mum's old Mason Cash mixing bowl looks with narcissi bulbs planted inside. I top it off with moss that I take from a damp wall in my garden. I lost my lovely mum six years ago, so when I plant up her old mixing bowl like this it feels like a beautiful connection with her. I can remember my mum making amazing apple pies when I was little, helping her to make the pastry in this very bowl. She did make very good pastry. 'Cold hands,' she'd say. 'pastry is all about cold hands and a light touch.'
Filling this bowl with pretty flowers has given me so much pleasure – and brought back so many lovely memories. That's what possessions are actually for, surely?
I also love to plant up attractive tins once the contents have been eaten. I liked these tomato and fig tins, so washed them out and planted up too… what do you think? The figs were way too sweet and an unappetising khaki colour, but if I'm honest it was always all about the tin. It was in the window of a local greengrocer and I went in specially. I also came out with some amazing local watercress, kale grown by a Lancashire farmer I know really well and the best eggs I've eaten in ages. So I don't feel too guilty about not eating most of the figs…
The old enamel olive oil pourer was another car boot find. I like the interesting shape and it's just the right size for planting up with narcissi. The blue hyacinths on my coffee table needed a contrast so I added one of the bright red tomato tins planted with narcissi. I really love how it looks, just wish I'd turned the daffodils around for the photo below so you could see them better. But hopefully you get the idea…
I have a bit of a thing for old white creamware jugs, so have quite a collection in different sizes that I've picked up over the years at car boots and junk shops. I love how these simple white hyacinths look in this old jug There's a slight chip on the spout, but that doesn't take away from the beauty at all for me. If anything it adds to it. It makes me wonder how it got there. Was it maybe pouring custard many years ago? Did it get chipped by a tap when adding water for other flowers in another life?
I also love my old Fortnum and Mason pudding bowl which I remember picking up for 20p at a car boot sale years ago. I put lemons, eggs, all sorts in there and really like the way the slightly smudgy old type looks.
If you feel inspired to get creative with spring blooms yourself, you can source lots of fragrant and unusual blooms direct from the grower.
Spring flower suppliers from our directory
There are lots of wonderful hand-picked independent UK flower growers in our directory. Here are a few of my favourites for buying spring blooms direct from the farm…
Blue Box flower company
Steeped in heritage, The Blue Box Flower Company is the first point of call for luxury flowers in the UK. Based on St.Mary's, the Isles of Scilly, recognised internationally for its historical industry of Scilly flowers, they are a wholly unique online florist. Specialising in the traditional Isles of Scilly flowers, Scented Narcissi, their Seasonal fresh flowers are delivered across the UK and are carefully wrapped in bespoke gift packaging, and placed in an iconic blue box.
Blue Box flower company is listed in the From Britain with Love directory here >>
Scilly Flowers
Scilly Flowers at Churchtown Farm is a family farm based on St Martins in the beautiful Isles of Scilly just off the cost of Cornwall. They specialise in growing scented flowers. In the winter they grow the traditional island flower crop of scented Narcissi and in the summer they grow scented show pinks. You can buy directly from the farm.
Scilly Flowers are listed in the FBWL directory here >>
Fentogollan Flower Farm
Fentongollan Flower farm – fresh Cornish flowers bulbs & vegetable plants delivered straight to your door.
The same family has been farming just under two and a half thousand acres of beautiful and fertile Cornish countryside for over 130 years.
They grow over 400 varieties of daffodil, including many that are new, unique and rare. You can buy directly from the farm.
Fentogollan are listed in the FBWL directory here >>
I've also made a simple blooms board on Pinterest if you want to browse some more ideas. Here are a few of my latest favourites.
I spent a wonderful day with Sarah from Floribunda Rose and love her approach to flowers. She is passionate about seasonal, British flowers and loves to include beautifully scented locally grown flowers and foraged foliages at every opportunity. I just adore these arrangements she did for a spring wedding, photographed by Julie Michaelsen Photography
Florbunda Rose is listed in the From Britain with Love directory here >>
Love these seasonal spring posies from The Real Flower Company.
The Real Flower company grows and sells a range of beautiful seasonal hand-tied flowers as well as their distinctive hat boxes filled with scented garden roses, aromatic herbs and garden foliage.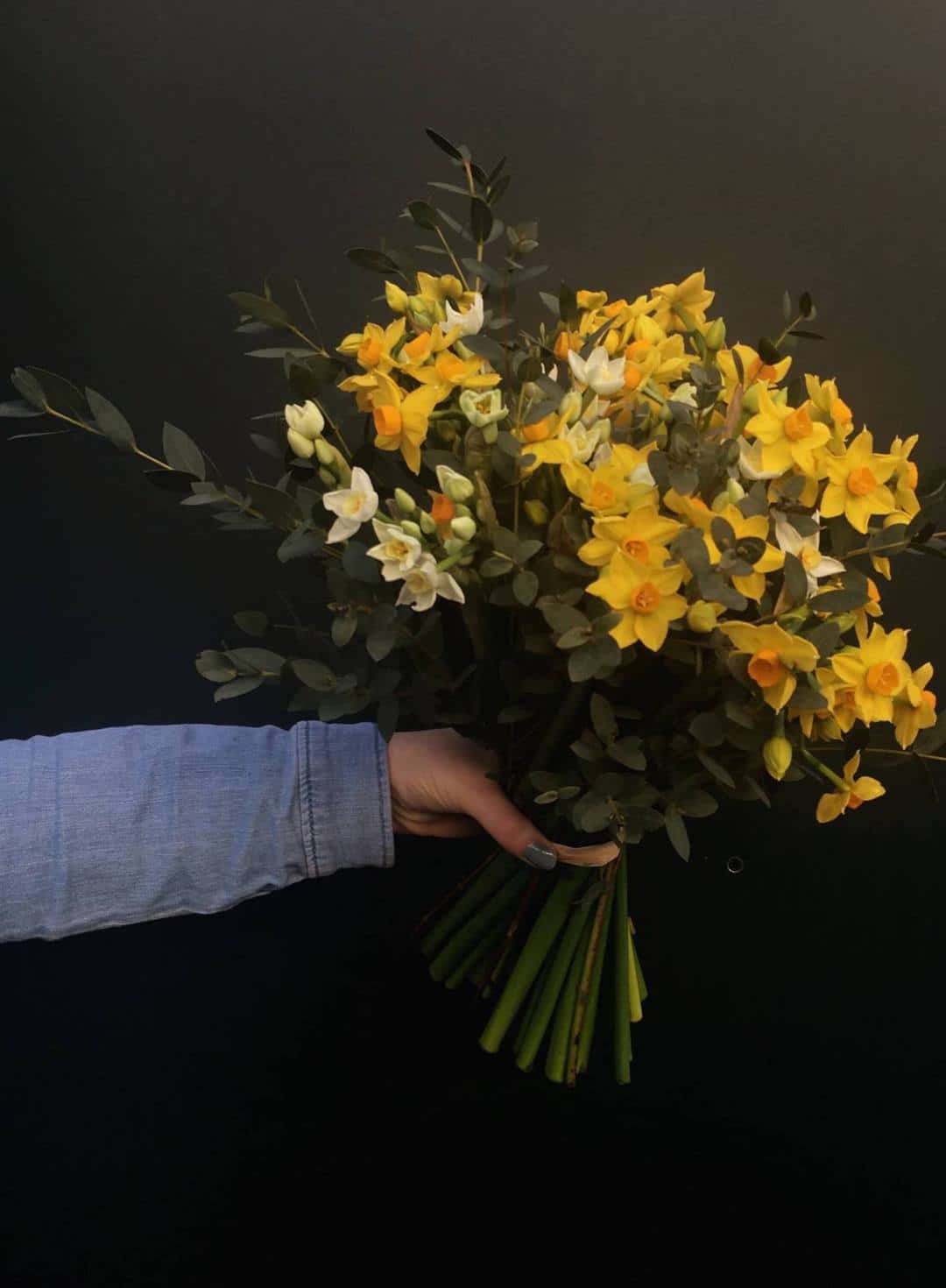 Love the ethos – and also the individual look of Petalon flowers – all wrapped tightly in hessian.
Petalon has a weekly choice of two bouquets that go up on the website every Monday morning. They deliver by bicycle to central London and by post to mainland UK. All of packaging is either biodegradable or recyclable.
As a wonderful rich change from the whites, blues and yellows of spring, I do really love these dark claret hellebores with touches of bright green. Love how they look very simply grouped together in a clear glass vase by Philippa Craddock flowers (listed in our directory here)
Philippa also sells a beautiful range of faux flowers, including the Cafe au Lait dahlia, white peonies and some really pretty bridal bouquets… I do like to mix one or two faux flowers with fresh seasonal blooms. The white peonies and cafe au lait dahlias could make simple garden flowers and foliage go a long way.
And what about this dahlia hairpin?
If it's big, blowsy old-fashioned roses you're looking for, you might like to know about these, also by Philippa: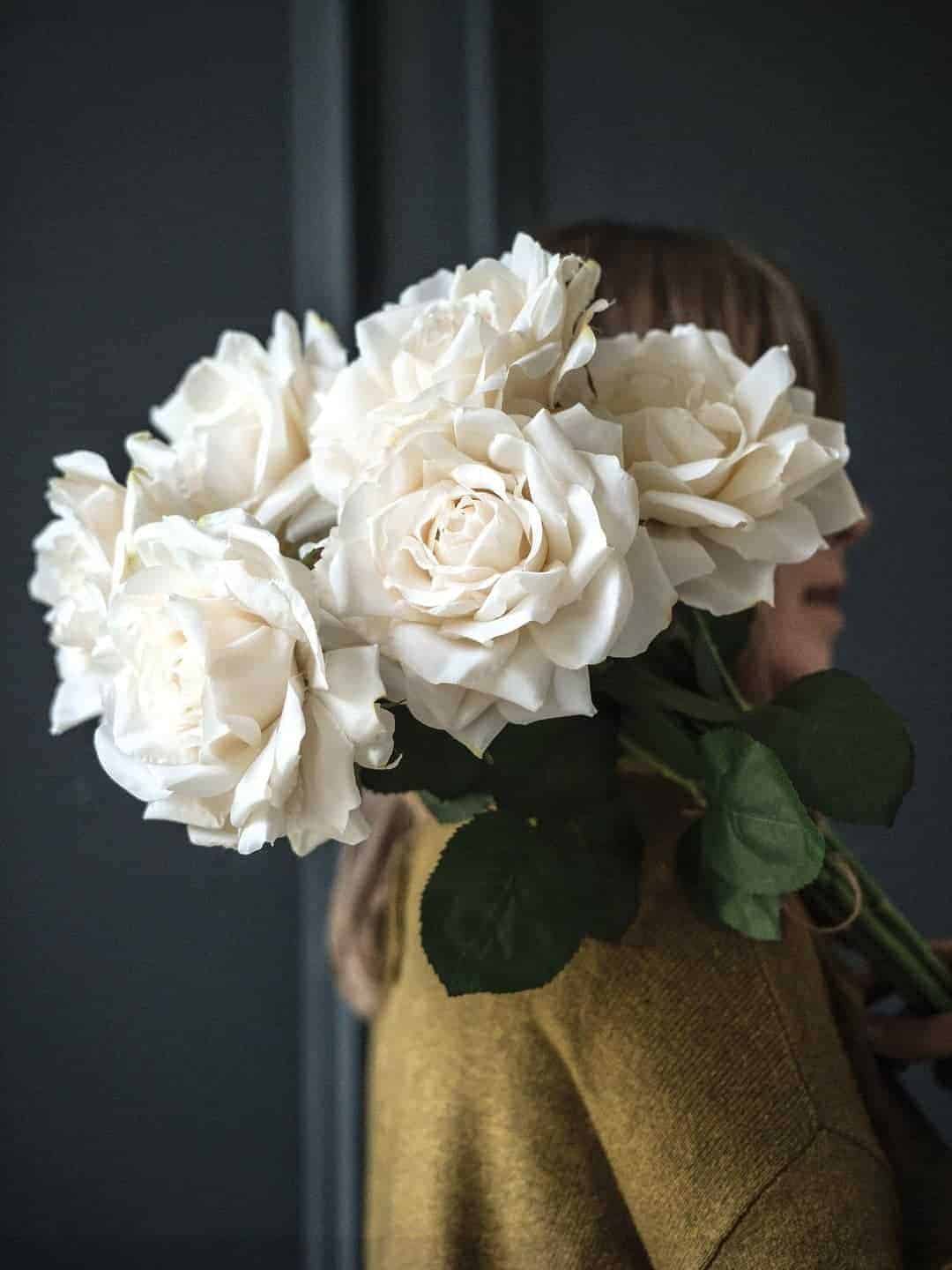 I also love these parrot tulips in shades of blush pink lime green and white. Just beautiful. I love tulips and like to display them in generous bunches of the same colour in simple jugs, jars or vases.
Philippa Craddock is listed in our directory here
I love Worm. creative floral designers in London (listed in our directory here) Always a great source of inspiration – book up workshops, order flower deliveries within their London delivery area…
Love these spring flower ideas:
And I love this image of pink blossom by Peony & Sage. Find the most beautiful floral wallpapers and linens over on their website. All beautifully made in England. This bunny design is available in various fabric and wallpaper variations too, in case you're interested!
Whilst we're on the subject of cherry blossom, how beautiful is this simple idea by The Natural Wedding Company? It's a great resource if you're planning your big day and want to find ethical suppliers to help you make it eco friendly as well as beautiful.
Sarah Raven (listed in our directory here) is always a great source of inspiration as well as seeds and bulbs to buy by post.
Love these spring ideas by Sarah: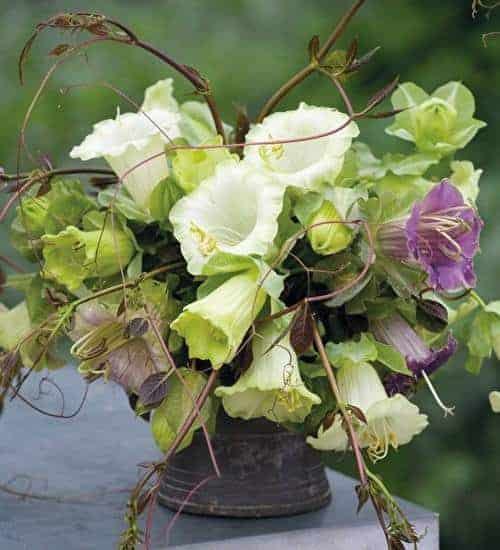 INFORMATION
---
Find flower growers and independent florists in our directory here >>
Are you a maker or creative course provider? Like to benefit from joining our supportive community? We'd love to hear from you. Check out the packages we offer on our Join Us page and get more details from our Information pack here
---
A PIN TO SAVE TO PINTEREST