I'm just back from a blissful stay at Tiny Homes Isle of Wight (listed in the FBWL directory here) and couldn't wait to share it with you. Tiny Homes is a new venture by Helen and Fraser Cunningham (who also run highly successful Vintage Vacations airstream camping on the island). Newly built architect-designed eco homes sit within an expansive wild flower meadow, just a stone's throw from ancient Parkhurst Forest.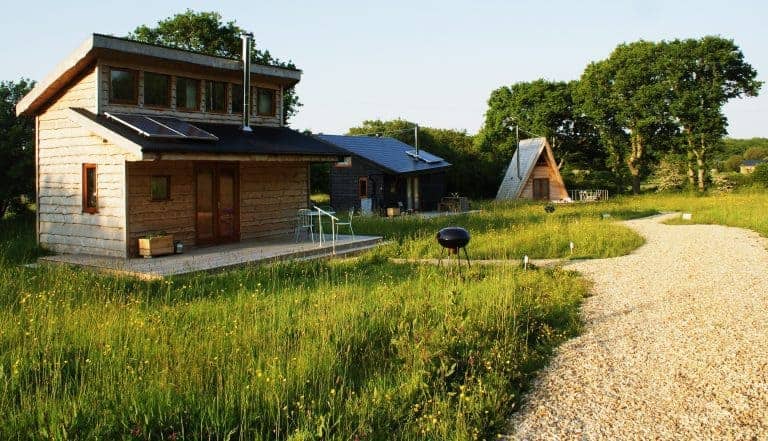 The dream behind the venture is to create an all year round sustainable boutique retreat. To offer guests the quirkiness and ethics of glamping but with the added comfort and benefits of staying in a well built cabin-style house. There's a bit of a Tiny Homes revolution going on right now – it's all about bringing a practical solution for radically down sizing living space to escape the 'work, eat, sleep, repeat' routine. Downsizing your space to upsize your free time. Living slowly and simply whilst treading lightly on the planet and taking care of the environment. I love that idea. Even if just for an inspiring break from the everyday.
We were to be staying at Hygge and, as the glass french doors opened, what hit us first was the heavenly natural fragrance inside. I could detect geranium essential oil, possibly cedarwood and something fresh and green that I couldn't identify. It was the natural diffuser, I discovered. Handmade by Mrs B on the island using a simple glass science flask and carefully blended oils.
I am already familiar with Helen's talent for vintage styling, so I expected her Tiny Homes to be individual and eclectic. The reality was even better than I'd hoped. 'Ethical luxury' best describes the look and feel. 'Delicious' best describes the tin of welcome homemade chocolatey cakes waiting for us in the kitchen. It took just moments to unpack. Living Tiny means travelling light and making full use of the ingenious ideas for storing and hanging your things.
Hygge has ply-panelled walls giving a fresh, light and natural look. Space has been used ingeniously with cleverly made furniture that works hard for its place. The modular sofa, for instance, is easily unlatched and wheeled into a different configuration to create a spacious double bed. Bedding is stored within. Linen is crisp, white and high quality. Towels pristine white, soft and fluffy.
There are carefully chosen vintage pieces and artwork, giving character and individuality but without adding clutter. The beautifully simple 'Cove' Charnwood wood-burning stove in our house was backed with a stunning enamel heat protective panel designed by Mini Moderns. Based on the Island, Charnwood makes a wide range of high quality stoves and Helen tells me she can't recommend them highly enough.
Two ladders (one foldaway) leads to two mezzanine platforms. One with spacious twin/double bed and one with a foldaway bed and further storage/sitting space. A simple glass jar of wildflowers gathered from the surrounding meadow made a lovely welcoming touch.
There's a proper (nicely powerful) shower with hot water on demand. The loo, I knew in advance, is of the compost variety. I'll be honest. I was slightly dreading this bit.
I was reminded of compost toilets I've endured at festivals and camp sites in the past. I'm trying not to remember the time my iphone dropped from a great height into a compost loo at Eweleaze Farm campsite in Dorset. Too late. I've remembered it in horrible detail. All I'll say is that a very kind farmer got my phone back for me and it was still working. There was Dettox involved. Lots of Dettox. And a new case. But I never felt the same way about it again.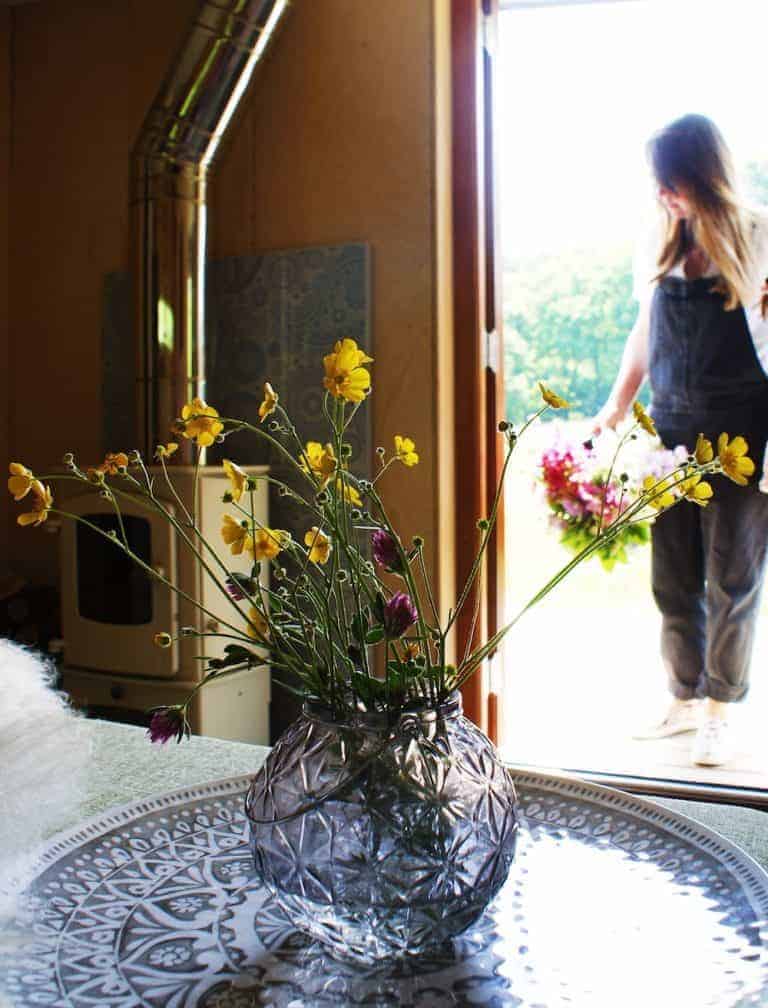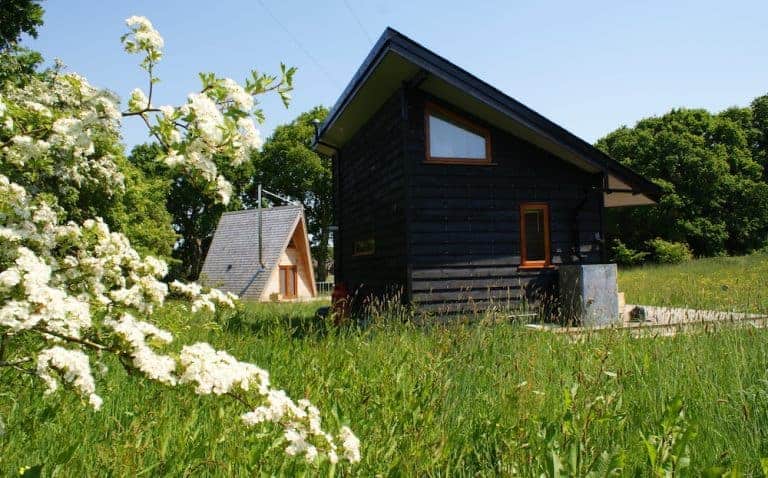 Anyway… I can honestly say there is absolutely nothing to fear about the compost toilets at Tiny Homes. You have to be quite specific about how you use them but they do the job brilliantly. We stuck rigidly to the rules and were repaid with not a single problem or hint of unpleasantness. I think that's enough about toilets.
Kettle boiled, food put away in the full-size fridge, we made tea to wash down a homemade cake or two whilst sitting on our deck. What we noticed first was the peace and quiet. As you tune into the wildflower meadow around you, however, you realise just how busy and full of noise it actually is.
Bees are everywhere, making frenetic repeat visits to old-fashioned purple clover and sunshine yellow buttercups. Tall grasses blow and rustle in the breeze. Nearby old forest trees bend with the wind and sound like distant ocean waves.
Hygge sleeps up to four – either in one king and one double beds or two singles and a double or three singles and a double.
Before other guests checked in, we were also given a tour of the other two Tinies:
Silva
Silva is all about the forest (Silva is the latin word for forest or woodland). Natural wood and exuberant splashes of 70s kitsch and colour combine to create an individual and very welcoming space. It sleeps up to 4 in one king bed, 2 singles and a single futon. The swing seat by the triangular window was hard to leave…
Eilidh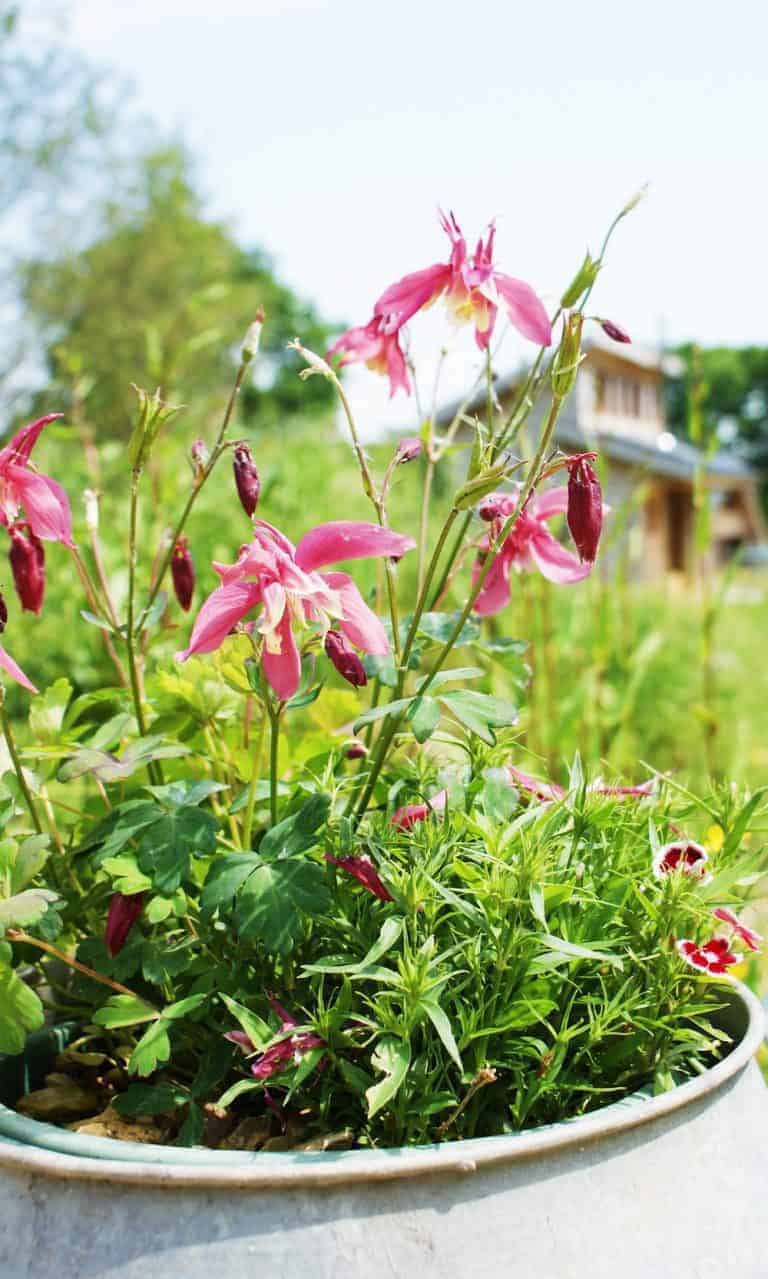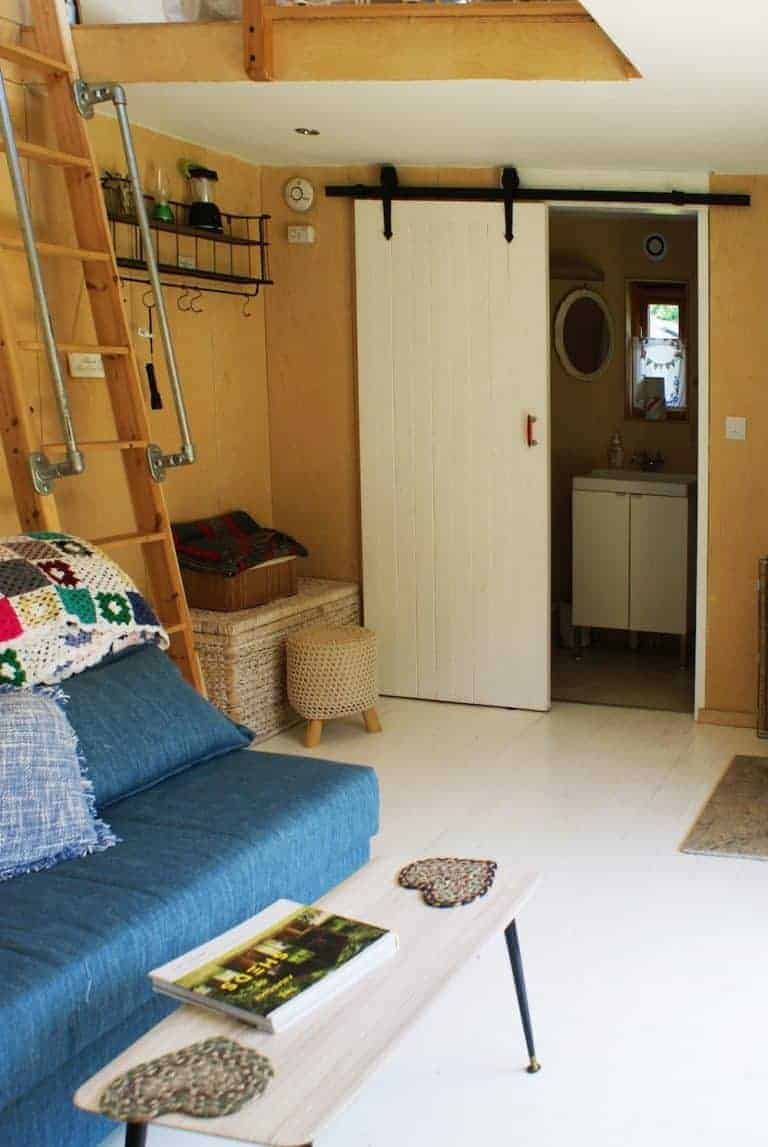 Eilidh is all about light (its name is the Gaelic word for light). Pale, clean colours, natural textures and simple styling create a relaxing feel.
Sleep up to four – either in one king and one double sized beds or two singles, one double or one double and three singles.
The Forest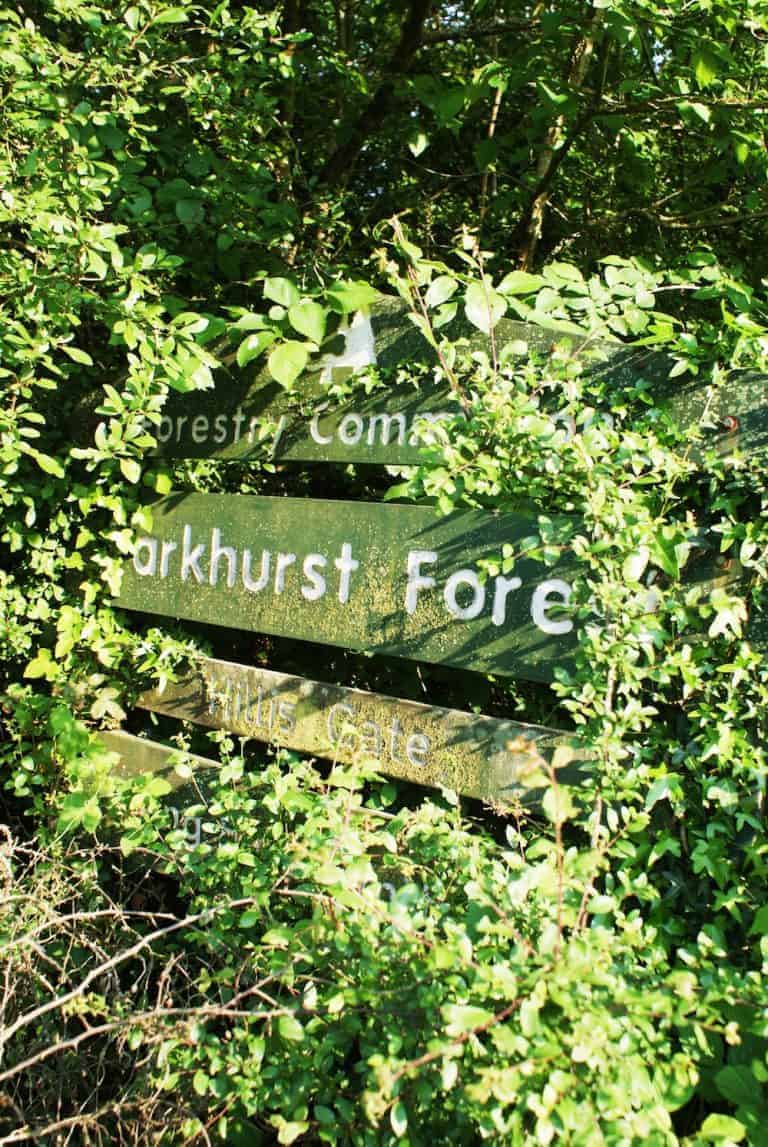 Ancient and huge, Parkhurst Forest could tell a tale or two. It was late afternoon as we set off to explore, the light honeyed. There's a particular quality to the sound and atmosphere of a real forest isn't there? I recently read about the Japanese natural preventative therapy shinrin-yoku or 'forest bathing' and, as I sat on a log really listening, looking and breathing in the air around me I think I got a sense of it. There's a primeval quality to forests don't you think?
By the time we were headed back, the light was fading and the atmosphere magical.
The evening was spent on the terrace, with a glass or two of wine and a simple feast of breads, cheeses and salads we'd picked up at the local deli. And crisps. Jalapeno crisps from M&S in Newport. Followed by strawberries, raspberries and chocolate. Really good chocolate. The type you can tell yourself is actually good for you. As night fell, we watched an owl silently and patiently hovering over the meadow. We drank in the sights and sounds around us. Islanders tell you there's a particular quality to the fresh air.
All I can say is that I could barely keep my eyes open as we snuggled into our beds. I don't think I've had a better night's sleep for years. The next morning was blissful. We sipped tea on our deck, watching the meadow as it got going again. We sat inside too, the door open, taking time to ease into the day. I wish every morning could be like this. The only decision to be made was how to spend the remaining hours before having to head home.
Places to explore
The island is a rich source of vintage finds so we decided to take in a few of the places we'd been recommended to visit by Helen and her team. We started with a browse at Doreshill Farm and Cowshed antiques and also fitted in time at Dig for Vintage in Ryde before heading to the ferry.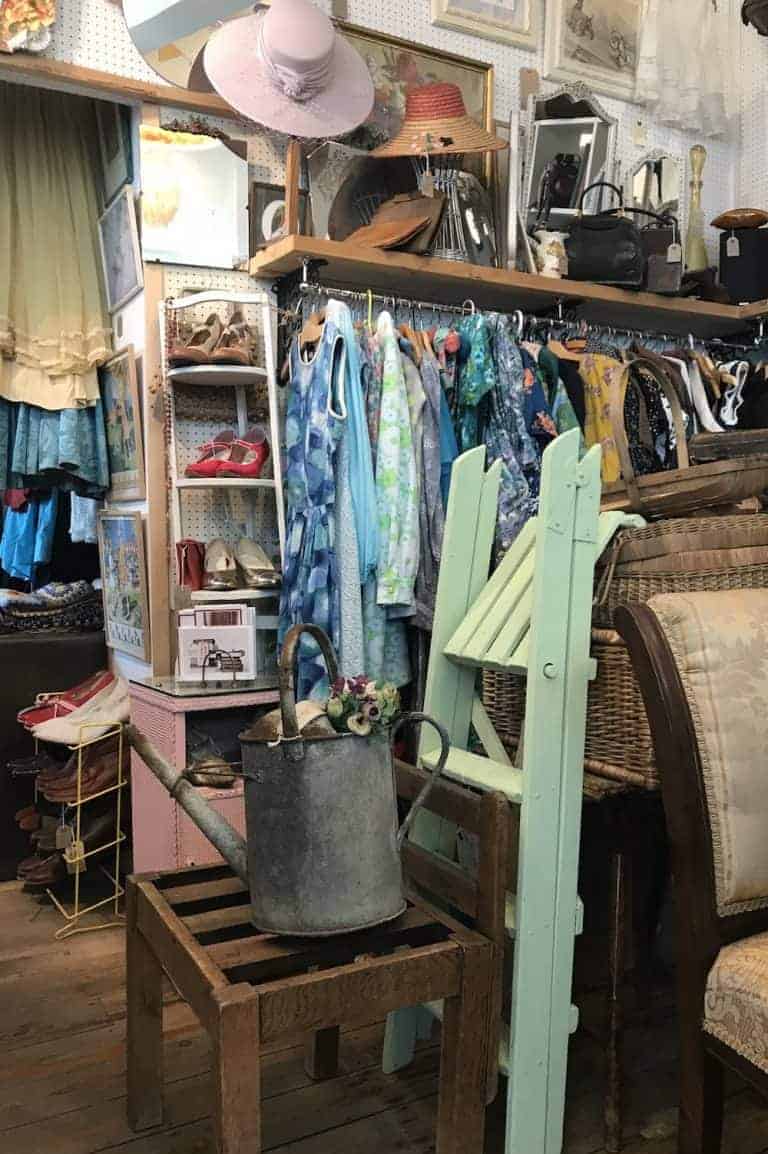 I found the perfect vintage metal bottle crate that I've been hunting for ages at the Cowshed. Quite reasonable I thought, for £20 – perfect for holding the glass recycling bottles outside my back door. I also found a beautiful Wild Flowers vintage Observer's book too for just £3 from Doreshill Farm.
Nearby Cowes is a pretty – and quite smart – seaside town with great places to eat and shop. For well-chosen vintage and contemporary homeware and gifts, PHG Cowes is definitely worth a browse.
Newport, the nearest town, also has some elegant buildings and interesting streets. I loved Adrienne Wroath handmade jewellery and gift shop. There's also a great 'secret' tea garden behind B&B and restaurant 1 Hollyrood complete with overly familiar sparrow who is utterly fearless when on the hunt for crumbs.
All too soon it was time to head to the ferry and home. There is so much more I want to explore here. I left feeling re-energised, inspired and with an idea of how to share some of this with you… I want to come back to Tiny Homes and invite you to join us there. To enjoy the same peace and relaxation I did, with extra creativity and inspiration planned in. I decided to mull over how best to do this, and who to invite to collaborate with us. This is pretty much all I've thought about since leaving the island and I am so happy with how the idea is coming together already.
Join our first ever Retreat
We're planning to host a creative retreat at Tiny Homes in September, with workshops, good food and relaxation all designed to help you find your creative self – the one that lies beneath the everyday self in all of us.
We'll be offering a full day of Conscious Creativity workshops with Instagram queen and artist Philippa Stanton (aka @5ftinf) which I am beyond excited about. I was chatting through ideas with Philippa today and I can't wait to share them with you very soon. I know first-hand just how inspirational Philippa is. I was honestly blown away when I got to take part in her Consciously Creative course earlier in the year. She got me really seeing, feeling and creating. There are few real originals and true creatives in this world but Philippa is definitely one.
There will also be simple relaxation to ease into the weekend with meditation and pilates teacher Sarah Moore. We'll share home-cooked food by candlelight, with flowers from The Real Flower Company, in beautiful surroundings. You'll get the chance to make an individual – and sensory – souvenir of your stay at a scented diffuser making workshop lead by Mrs B. There'll also be welcome Prosecco and lots of hand-picked ideas for making the most of your free time on the island. Before leaving for home, Helen always sends her guests off with home-baked muffins for the ferry. Watch this space for more info soon… Hope to meet you in September! x
INFORMATION
---
Tiny Homes Isle of Wight is listed in the From Britain with Love directory here >>
Visit their listing in our directory to find all the information you need to browse upcoming workshops and retreats and to connect with them on social media.
Are you a maker or creative course provider? Like to benefit from joining our supportive community? We'd love to hear from you. Check out the packages we offer on our Join Us page and get more details from our Information pack here
---
A PIN TO SAVE TO PINTEREST