Linen dress ideas we love
It was whilst devouring last week's Sunday papers, that I decided dresses could be the way forward.
There was a feature in one of the magazine supplements all about this season's fashion essential 'the market dress'. A somewhat pretentious way of describing what is essentially a simple button-through dress, mid calf in length and figure skimming (not hugging). More often than not made from linen or a printed cotton floral. Worn with simple sandals or white pumps and accessorised with a basket. I did snort a bit. Particularly at the paragraph which explained that the basket needs to be large enough to hold a baguette, a simple bunch of wild flowers and seasonal gourmet produce bought from the local (probably southern French) market. The snorts were fair comment, I feel, for obvious reasons.
But the feature did get me thinking. As someone who tends to live in jeans, the idea of adding some simple and flattering linen dresses to my wardrobe really appeals. I do love the texture, look and feel of linen and it's ages since I had a linen dress.
I spent a happy half hour browsing Etsy for handmade linen dresses made by independent makers. Here are my picks of what I found:
The IDA Dress by POULI is hand-cut and sewn in a small studio in Kent, England. It's the perfect summer dress – easy to throw on and sure to keep you cool on hot days. It's carefully made from pure natural 100% European linen fabric. I love the narrow vertical natural beige (not-dyed linen yarn) stripes. The dress has been softenend, is slightly sheer and made for comfort – the labels are made in soft cream cotton canvas & sewn on so you can easily detach without harming the fabric.
Also made by POULI, this Mili wrap dress is another beauty. It's made from 100% soft white textured linen and is just so pretty. There are only 3 available, so if you would like this individual and hand-made dress, act fast….
BUY WHITE LINEN DRESS WITH FRILL SLEEVES HERE >>
It's the frill sleeves made from gauzy textured linen that really make this dress. The bodice is slightly shaped with darts to give a touch of flattering fit, and the rest of the dress is loose for flow and comfort.
BUY BLUE LINEN WRAP DRESS HERE >>
I like the simple shape of this easy to wear dress. Effortlessly chic with simple white pumps.
What I like about this double weave chambray grey linen dress is the sweep of the shoulder. Everyone needs a smock dress in their wardrobe – perfect for wearing when you just need something easy and forgiving…
BUY FRENCH BLUE LINEN SMOCK DRESS HERE >>
This is a great dress – such a lovely shade of blue and a touch longer. Lovely as a summer dress, but also perfect with tights in Winter.
After Etsy I headed to the From Britain with Love directory to see what some of the makers in our Sustainable fashion made in Britain section are up to. It didn't take me long to find some really lovely ideas (broadening my search to linen dresses in general). Then I spent more time than I'm prepared to admit on Pinterest looking for more ideas. And, if I'm honest, falling down a rabbit hole. To make myself feel better I decided to put all the ideas I'd found to good use and share with you here. I hope you find something you love. Hope you avoid spending far too long on Pinterest like I did, searching for Nordic lakeside cabins…!
So, how pretty and simple to wear is this Liberty print tea dress by Brora? On a hot summer's day I can't imagine anything nicer to wear can you?
BUY LIBERTY PRINT TEA DRESS HERE >>
And, as anyone who knows me knows, I do love pinafores and dungarees. So, this cute cross navy linen pinafore dress, also by Brora, would definitely be on my list. I like the buttons, the roomy pockets and the flirty little side splits. Very cute indeed…
BUY LINEN PINAFORE DRESS HERE >>
I have loved ethical London-based Lemuel MC for ages now. Find a beautiful collection of linen clothing designed in simple, classic lines and made to last and last.
Linen dresses by Lemuel MC
This off-white linen dress is one of my favourites:
BUY OFF-WHITE LINEN DRESS HERE >>
Also love the simplicity of this simple white linen summer dress:
BUY WHITE LINEN SUMMER DRESS HERE >>
How beautiful does this peach linen dress look with dark skin?
My last pick from the Lemuel MC collection is this 3/4 sleeve dress in fine stripe linen. It's their signature dress in a loose fit with pretty buttons down the back.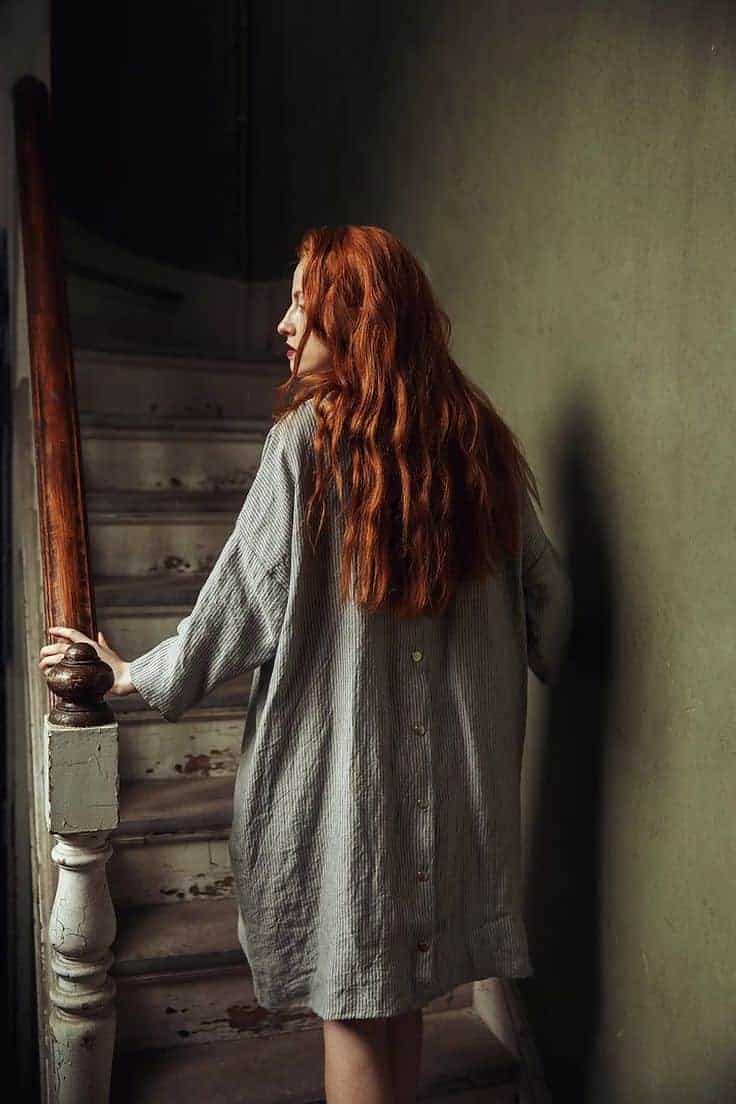 BUY GREY STRIPE LINEN DRESS HERE >>
Justine Tabak gingham dress
Also love this Cotton gingham Primrose Hill dress by Justine Tabak.
If you're of a handy persuasion and fancy making your own linen dress, you can't go wrong with Merchant and Mills patterns. Really like this The Factory dress.
BUY THE FACTORY DRESS PATTERN HERE >>
Theresa Green linen dress
I couldn't talk about linen of any kind without mentioning Teresa Green. I have loved her designs for years and am very excited to discover that she makes the perfect simple linen slip dress. Perfect for wearing over a simple top (or stripes like shown). Love the bright red clogs…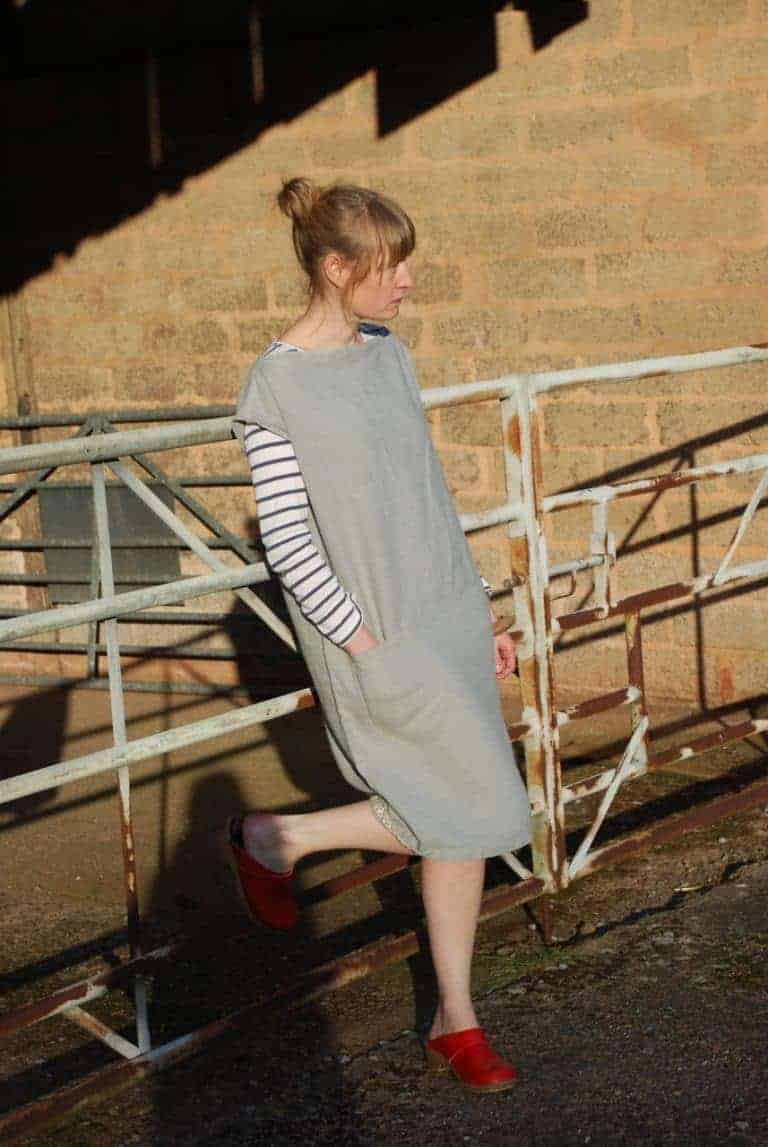 What I love about this scarlet red linen shift dress by Plumo is the relaxed simple A line shape and notched scoop neck. Oh and also the amazing true scarlet colour. Bound to put a bit of a spring in the step.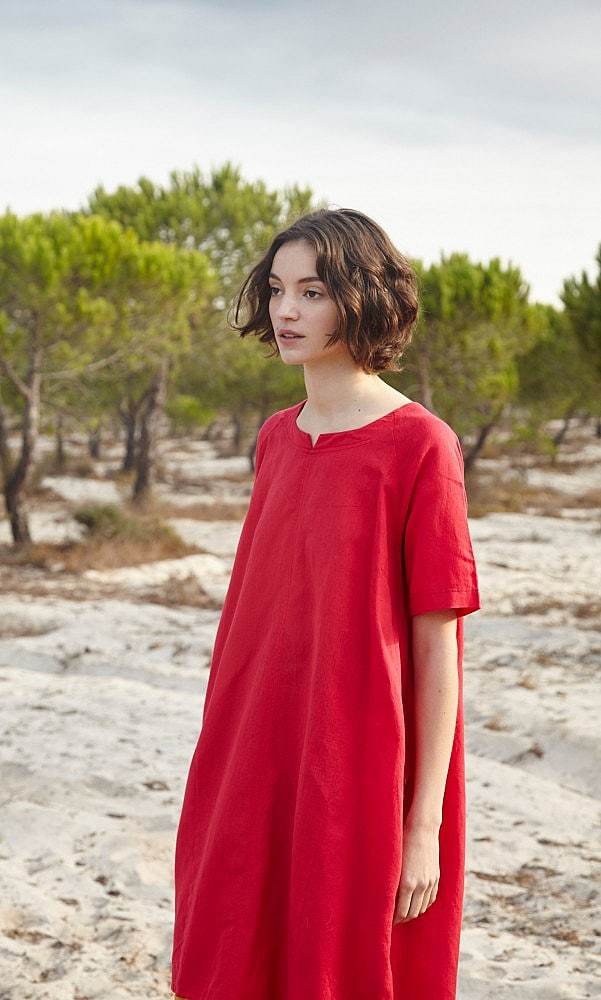 I always like to check out Margaret Howell's collections as I love the simple lines, the quality of the fabrics, attention to detail and workmanship. This Naval dress in linen silk poplin would both work really hard in any wardrobe. It's simple and understated enough to carry off the sailor collar. It's a super-relaxed pull-on dress that would be a joy to wear.
BUY NAVY LINEN NAVAL DRESS HERE >>
Cabbages & Roses (listed in our directory here) is always worth a look for beautifully made linen dresses and coats. What about this beautiful Diana linen coat dress?
In a stone coloured natural linen that has been washed and tumbled for softness, this beauty is empire line and has a double row of buttons and is fully lined. Love how swingy it is…
And how pretty is this Cathy dress in Beatrice floral pink/peach fabric? Very cute and also so summery. Think my days of teaming with a floral headdress might sadly have passed though…
And finally, this has to be the most perfect off white linen dress ever. With Peter Pan collar, nipped in waist and pretty cap sleeves, this is just so pretty.
BUY CLASSIC WHITE LINEN DRESS HERE >>
I can imagine slipping it on to wear around a southern French market, basket in hand. Feel free to snort now… X
INFORMATION
---
This article contains affiliate links, which means we may earn a small commission if a reader clicks through and makes a purchase. All our blog posts are independent and in no way influenced by any advertiser or commercial initiative. By clicking on an affiliate link, you accept that third-party cookies will be set.
Teresa Green is listed in the From Britain with Love directory here >>
Brora is listed in the From Britain with Love directory here >>
Cabbages & Roses is listed in the From Britain with Love directory here >>
Lemuel MC is listed in the From Britain with Love directory here >>
Visit their listings in our directory to find all the information you need to browse and shop from their websites or to connect with them on social media.
Are you a maker or creative course provider? Like to benefit from joining our supportive community? We'd love to hear from you. Check out the packages we offer on our Join Us page and get more details from our Information pack here
---
A PIN TO SAVE TO PINTEREST