I'm looking for wallpaper ideas for my bedroom and living room so I thought I'd share a few of my favourite finds with you. I started by looking in the From Britain with Love directory as I know there are some great independent wallpaper producers in there. Browse the Paint & Wall Coverings category here >>
Living in an old, low-ceilinged oak-beamed country cottage, a part of me wants to go full-on pretty. I struggle slightly with this idea as I do love clean, simple and pared back living too.
Cabbages & Roses
Cabbages and Roses have a charcoal grey black and natural version of their floral sprig design, Hatley that would look contemporary. I love how it looks contrasted with dark grey don't you?
They also have this pretty pink sprig Catherine Rose Pink paper which I do like mixed with distressed vintage finds. I have quite a few of those, so maybe worth considering. I also live in a house with a husband and two sons, so I'm thinking they might find this a touch girly. All the more reason to go for it maybe…? I wouldn't want it to look quite as cluttered as this, but with fresh white linens, it could be the right side of pretty maybe?
Meg Morton
I do also really love this exquisite Hydrangea wallpaper by Meg Morton. It would be really pretty on a feature wall in a bedroom don't you think?
Olive + Daisy
As well as beautiful fabrics, Lincolnshire-based Olive + Daisy also designs and makes some very pretty wallpapers. I really like this Josephine wallpaper in Nordic and Marine Blue.
Hibou Home
Whilst we're on the subject of pretty.. how lovely are these wallpaper ideas for little girls by Hibou Home?
There are also some great wallpapers for little boys' bedrooms. Love this Into the Wild wallpaper. This would definitely have been my choice when my boys were little.
And how cool is this Raindrops wallpaper in blue or grey or Castles and Dragons in blue?
Deborah Bowness
Back to my own search, however. I am really drawn to this super individual wallpaper by Deborah Bowness.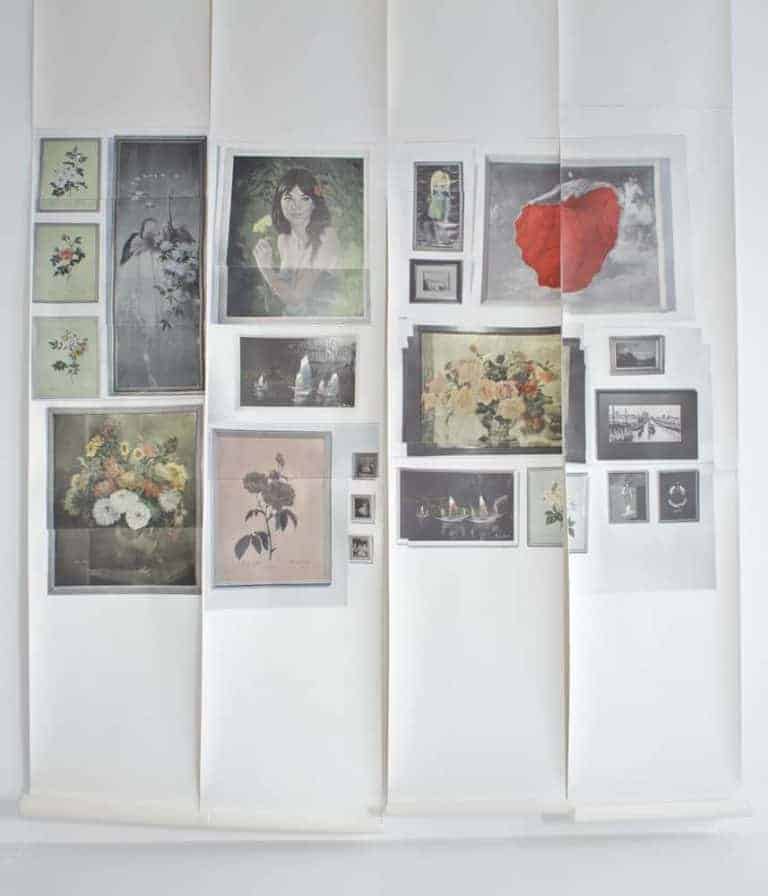 Monochrome machine print with hand silk screen printed colour and hand painted detail on wallpaper. I love that each roll of this wallpaper is hand painted and therefore unique. Signed by Deborah, so a piece of ar really too. Love Deborah's hanging suggestions:
Four drops make up the complete picture wall, however it is possible to hang the two drops that make up "Lady in Red Dress" as a smaller piece or hang "Red Rose" or "Flamingo" as single drops. Consider adding real pictures.
Also love this Frock wallpaper
Hanging Suggestion: Hang as single dress or in sequence with other wallpaper frocks. Paste up permanently or suspend as a scroll. Frock comes packaged with everything needed to hang as a scroll.
St Jude's
St Jude's is always worth a browse for wallpaper and I do really like this Edward Bawdon paper Seaweed. I love how it looks with wild/foraged greenery and flowers.
Also like this Spey Stripe and Nature Table wallpapers by Angie Lewin.
Vanessa Arbuthnott
Vanessa Arbuthnott is another must-visit when looking for wallpaper or fabric inspiration.
I'm feeling quite drawn to this pretty buttercup yellow Songbirds wall covering
MissPrint
This Foxglove wallpaper by Missprint could look amazing on a feature wall don't you think? Sort of midcentury modern meets country cottage vibe?
How fabulous is this bright yellow Songbird wallpaper with birds in Summer?
Little Greene
Launching in January 2019, Little Greene's London Wallpapers V is a new collection of heritage designs including these two beauties:
Above: Brodworth features birds and floral motifs that are slightly raised and incorporates rich gilding detail. Based on early 18th-century french textiles and furnishings and encompassing panels, scrolls and cross hatching, this wallpaper was found at Brodsworth Hall in South Yorkshire, an elegant, Victorian home and was used in the library and morning room.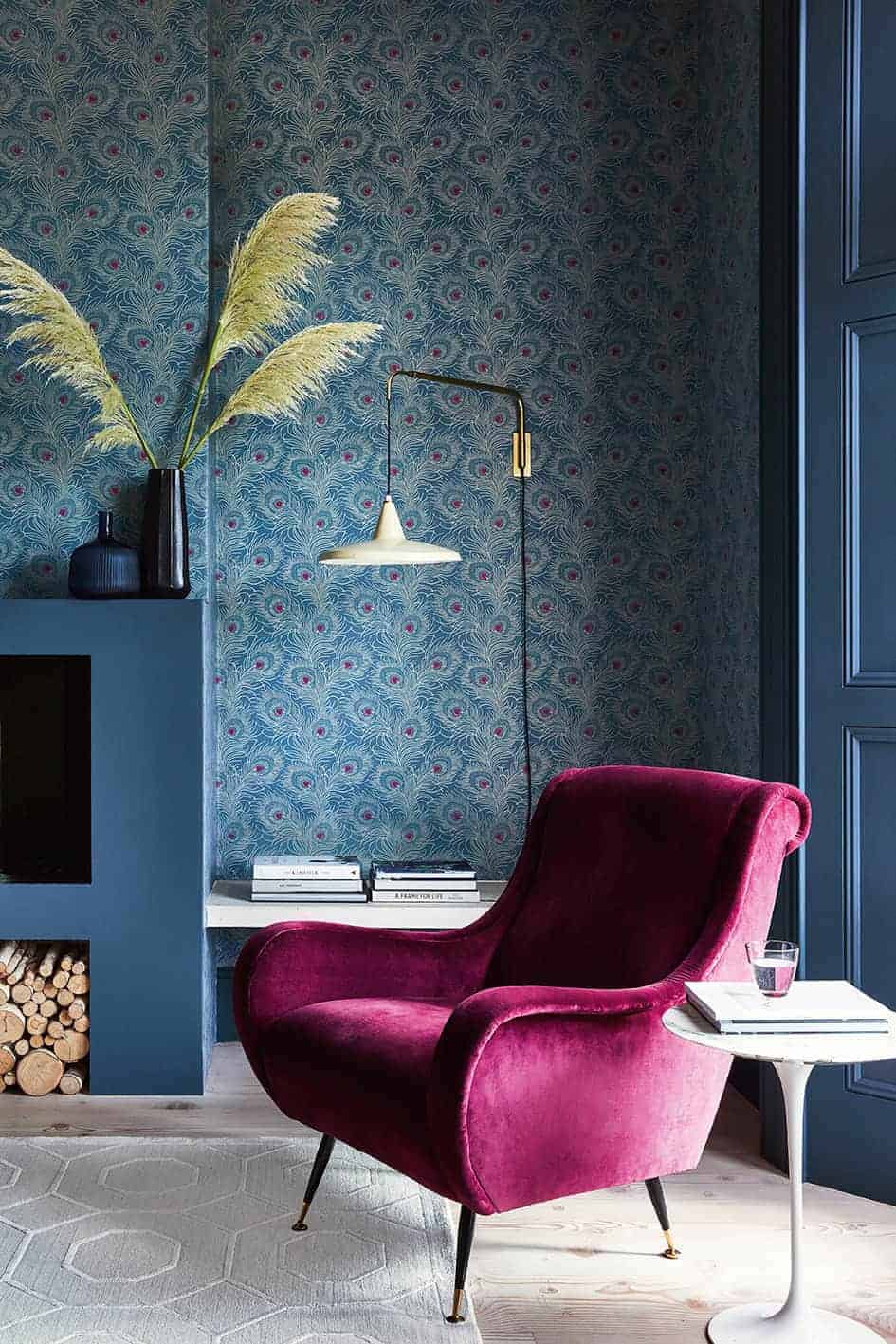 Above: Carlton House Terrace is a flamboyant peacock feather design found in the attics of 18 Carlton House Terrace, a beautiful stucco-faced London town house overlooking The Mall. Originally machine-printed in green on a yellow background, the contemporary surface-printed technique use to recreate it accurately reflects the original, whilst a wonderful splash of colour in the feather provides something new and contemporary.
For the prettiest floral wallpapers, Peony & Sage are always worth a browse. These are a couple of my favourites to give you an idea: First: Delilah floral wallpaper:
And for a little girl's room how about this Delilah's Rabbit floral bunny design? I would have LOVED this when I was little.
There's also a beautiful pure linen with sage green bunnies in case you're interested!
I'll add more ideas as I find them, but I hope you've discovered something you like too…
INFORMATION
---
Cabbages & Roses is listed in the From Britain with Love  directory here >>
Meg Morton is listed in the From Britain with Love  directory here >>
Hibou Home is listed in the From Britain with Love  directory here >>
St Judes is listed in the From Britain with Love  directory here >>
Deborah Bowness is listed in the From Britain with Love  directory here >>
Vanessa Arbuthnott is listed in the From Britain with Love  directory here >>
MissPrint is listed in the From Britain with Love  directory here >>
Olive + Daisy is listed in the From Britain with Love directory here >>
Little Greene is listed in the From Britain with Love  directory here >>
Visit the listing to find all the information you need to browse – and shop from – their websites or to connect with them on social media.
Are you a maker or creative course provider? Like to benefit from joining our supportive community? We'd love to hear from you. Check out the packages we offer on our Join Us page and get more details from our Information pack here