We love a wooden lampshade. Browse our selection of the best wooden lampshades around, from steam bent beauties made in Cornwall by Tom Raffield, to John Green's award-winning Tab shade. Tom Raffield and John Green are both listed in our hand-picked directory.
There's something about the way wood and light marry together, the grain coming to life and magical shadows created.
Check out these designs and more great lighting in our Directory.
1 Oak Tab lampshade by John Green Designs, £80
Tab is a flat pack wooden pendant light shade, made in England and designed for simple home assembly.
Tab borrows manufacturing techniques from the packaging industry and uses them in a pioneering way. Opal acrylic is used to diffuse the light evenly whilst disguising unsightly light bulbs. Simply sensational.
2 Walnut Tab lampshade by John Green Designs, £85
Made exactly the same way as the oak shade above, using rich, dark walnut veneer. Using the darker wood, however creates a totally different look and feel.
3 Tom Raffield Scots Light, £295
Inspired by the trees in Tom Raffield's own woodland, the Scots Light wooden lampshade is hand made. Individual leaves of wood are cut and steam bent to create an organic shape reminiscent of fallen pine cones.
We love the way the layers of ash wood disguise the bulb whilst playing with the light to cast a serene glow into the room. The oak and walnut options work brilliantly as downlights for surface illumination and to create mood.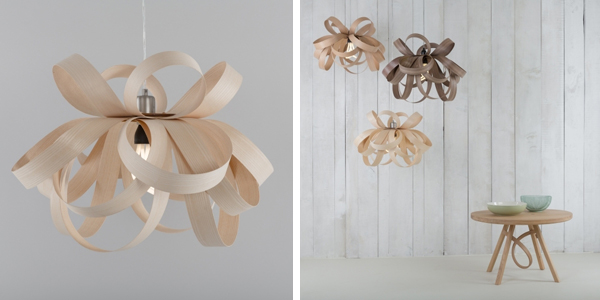 4 Tom Raffield Skipper Pendant Shade, £165
A smaller version of Tom's well known Butterfly Pendant, we love the minimalistic design of the Skipper shade. Hand made from petals of sustainably sourced ash, oak or walnut and inspired by Scandinavian design principles, the Skipper Pendant allows the beauty of the wood to be fully appreciated.
We love that all Tom Raffield's products are crafted in Cornwall from sustainably sourced wood and finished with an eco-friendly, non-toxic varnish.