Poppy Treffry (listed in our directory here) creates charming tea cosies and other embroidered delights from her studios in Cornwall. We caught up with her to find out what inspires her and where she loves to spend time.
Cornish textile accessories designer Poppy Treffry creates charming tea cosies and other embroidered delights.
With their whimsical motifs and words inspired by her coastal surroundings, Poppy's designs are all lovingly created by hand so each one is truly unique. We caught up with Poppy and her talented team in their harbour-side studio.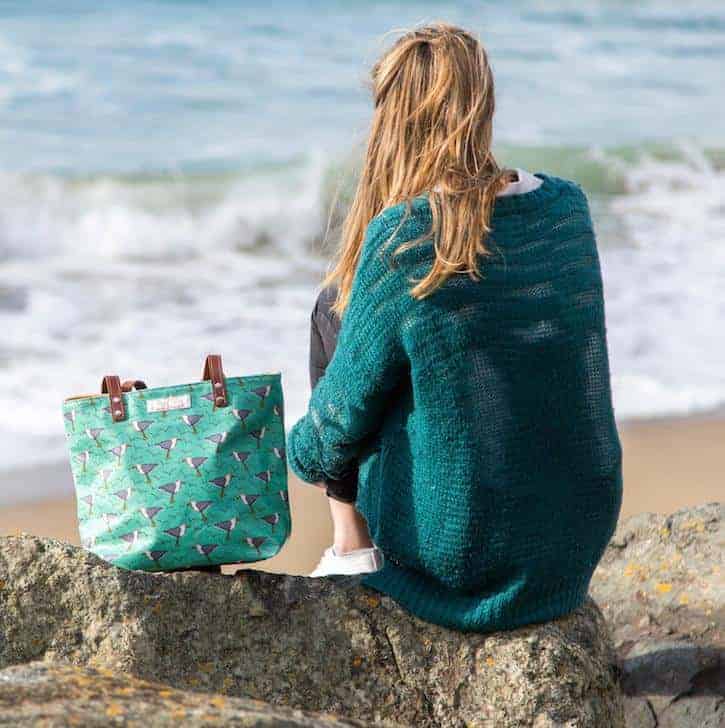 Q. Tell us a bit about yourself and what inspired you to start the business…
A. I did a textile design degree at Winchester and then volunteered with a craft co-operative in Guatemala, helping women to develop their business skills and supporting them in setting up a local craft shop. I'd only intended to stay a year but I got so involved in the project that I ended up staying for three.
On my return to Cornwall in 2003 I began making bags for a local shop, having taught myself freehand machine embroidery on an old Singer sewing machine that my granddad found on a dump! A business advisor from Creative Kernow (who are no longer around) saw the bags and helped me to find a workshop and set up my own studio. At first I had a part time job as well, but after 18 months I took the plunge to go full time and we've now been trading for about five years.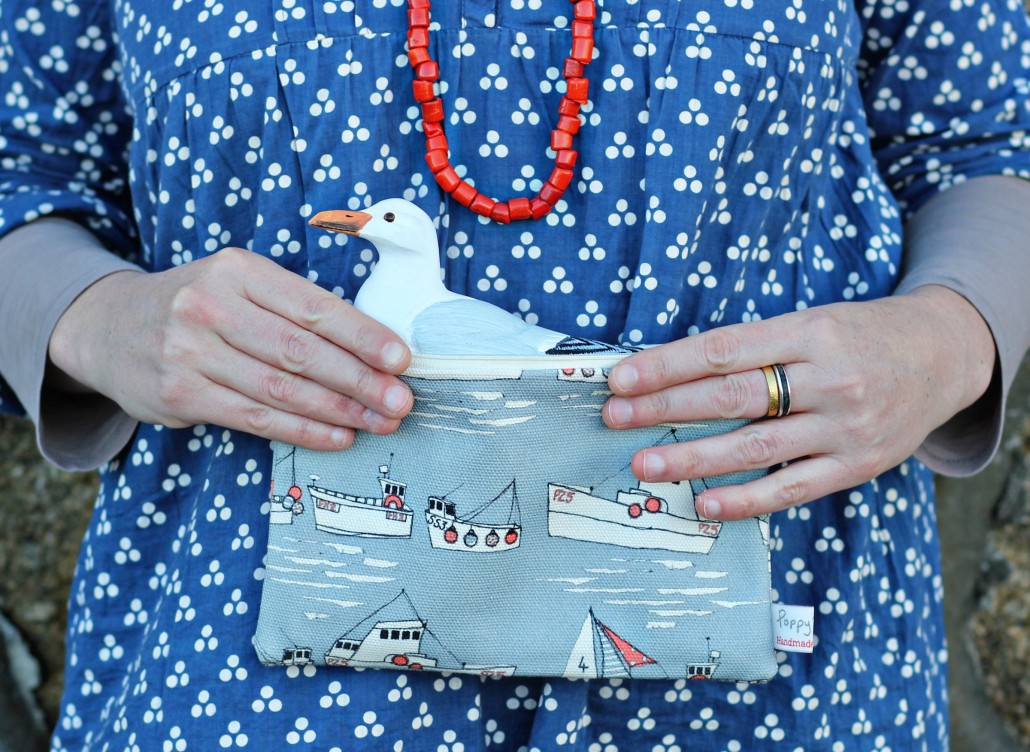 Q. Where is your business located?
A. The studio is in Newlyn, near Penzance in the far west of Cornwall. It's a busy, working fishing village and we can see the fishing boats bobbing around in the harbour from the window of the studio. I also now have a shop in St Ives (I'm standing in the doorway below!). I'm constantly inspired by the local surroundings and this feeds into my work.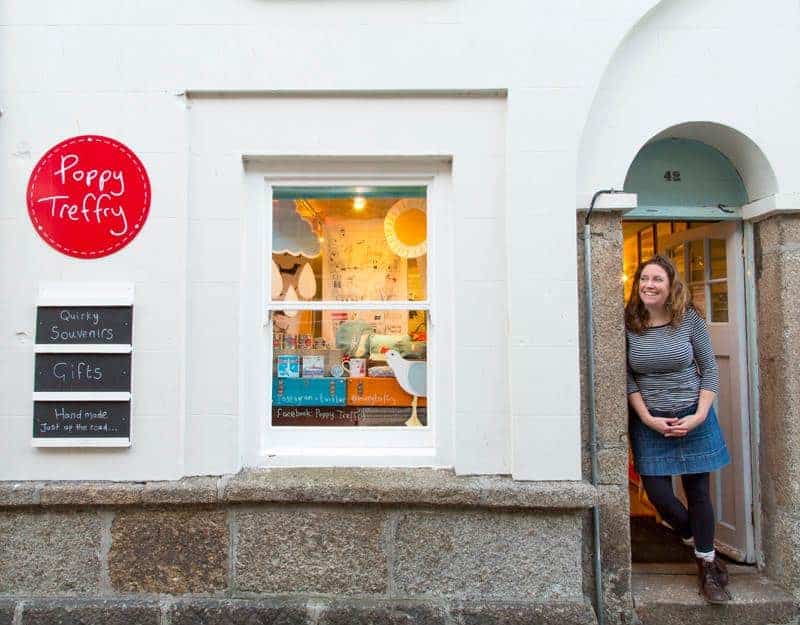 Q. Do you use any specialist techniques or equipment to produce your goods?
A. We use freehand machine embroidery to create the designs and it's all done on 1930s Singer sewing machines, which you can see in action in the video about us made by The Eden Project. I've never found a modern machine that can take seven hours of embroidery! We use a mix of vintage and modern fabrics – the art is in picking the colours and weights of fabric.
Q. What are the most popular products in your range?
A. The best selling products are the tea and coffee cosies and the most popular design is 'Tea by the Sea' which is one of our original designs. We've also recently launched a range of ceramic mugs and teapots which are made in Stoke-on-Trent and have proved very popular.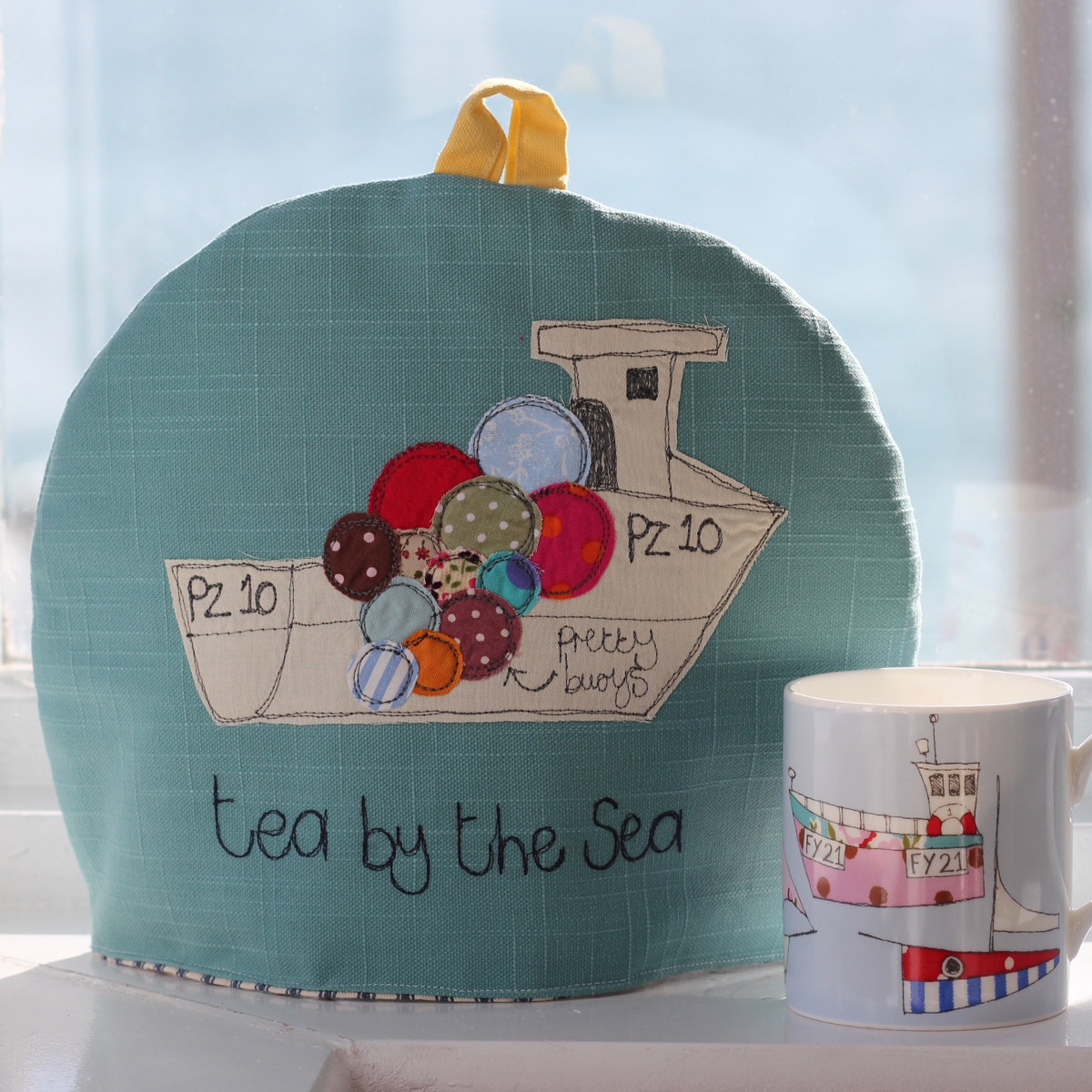 Q. What's the best thing about what you do?
A. Having a licence to buy as much fabric as I want! No seriously, I enjoy being my own boss and the flexibility it gives me, especially as I now have a baby daughter, Biba.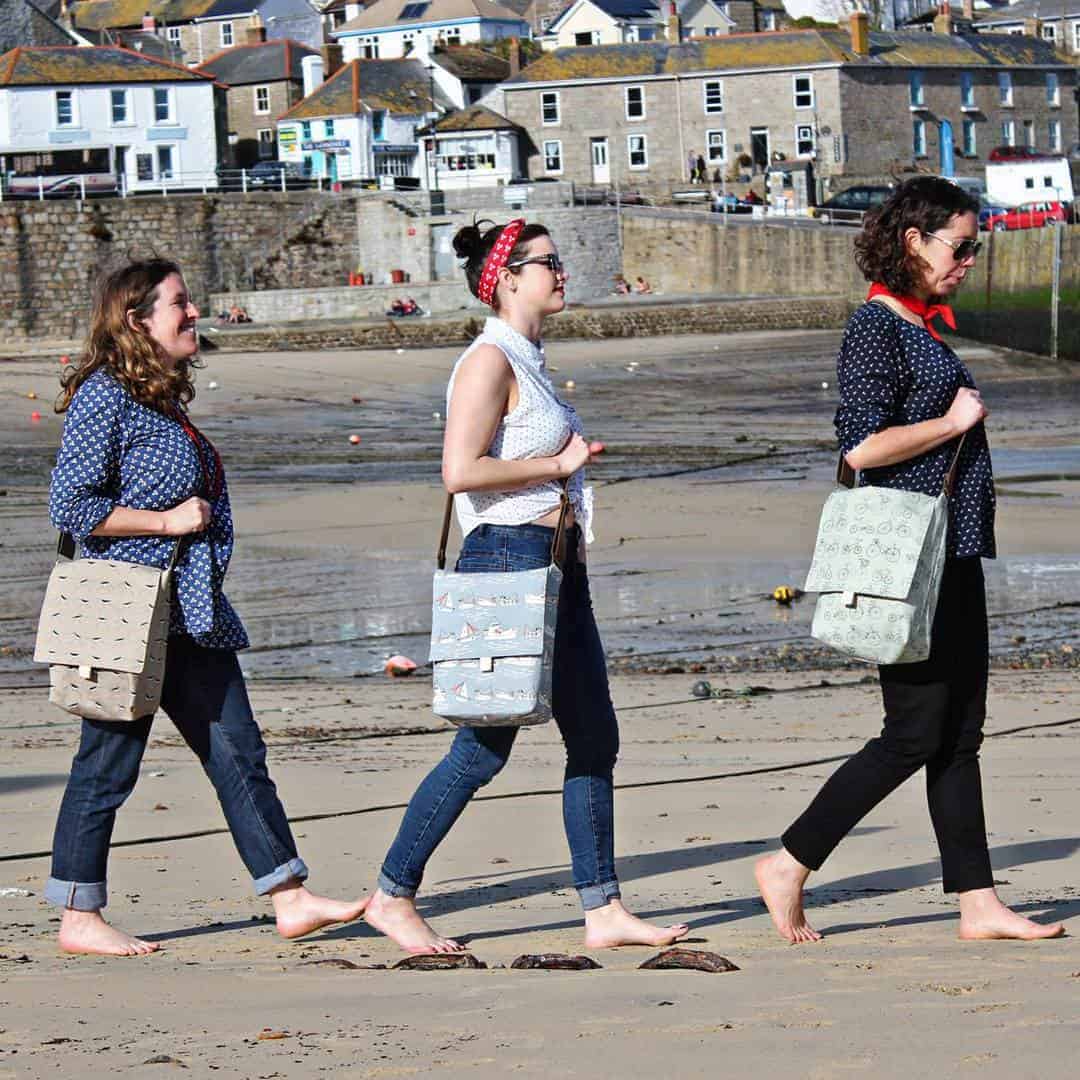 Q. Why do you choose to make your products in Britain?
A. It's great to be able to create textile jobs in Cornwall and I also like being hands on and having control over how the products are produced. As everything is designed and made here in the studio, we can tweak designs and try out new ideas as we go along.
Q. What's been your proudest moment?
A. Being featured in The Guardian's eco gift guide – as this is the paper my dad reads and meant he finally accepted that making tea cosies was not such a bad career choice for his daughter (he really wanted me to be an architect!).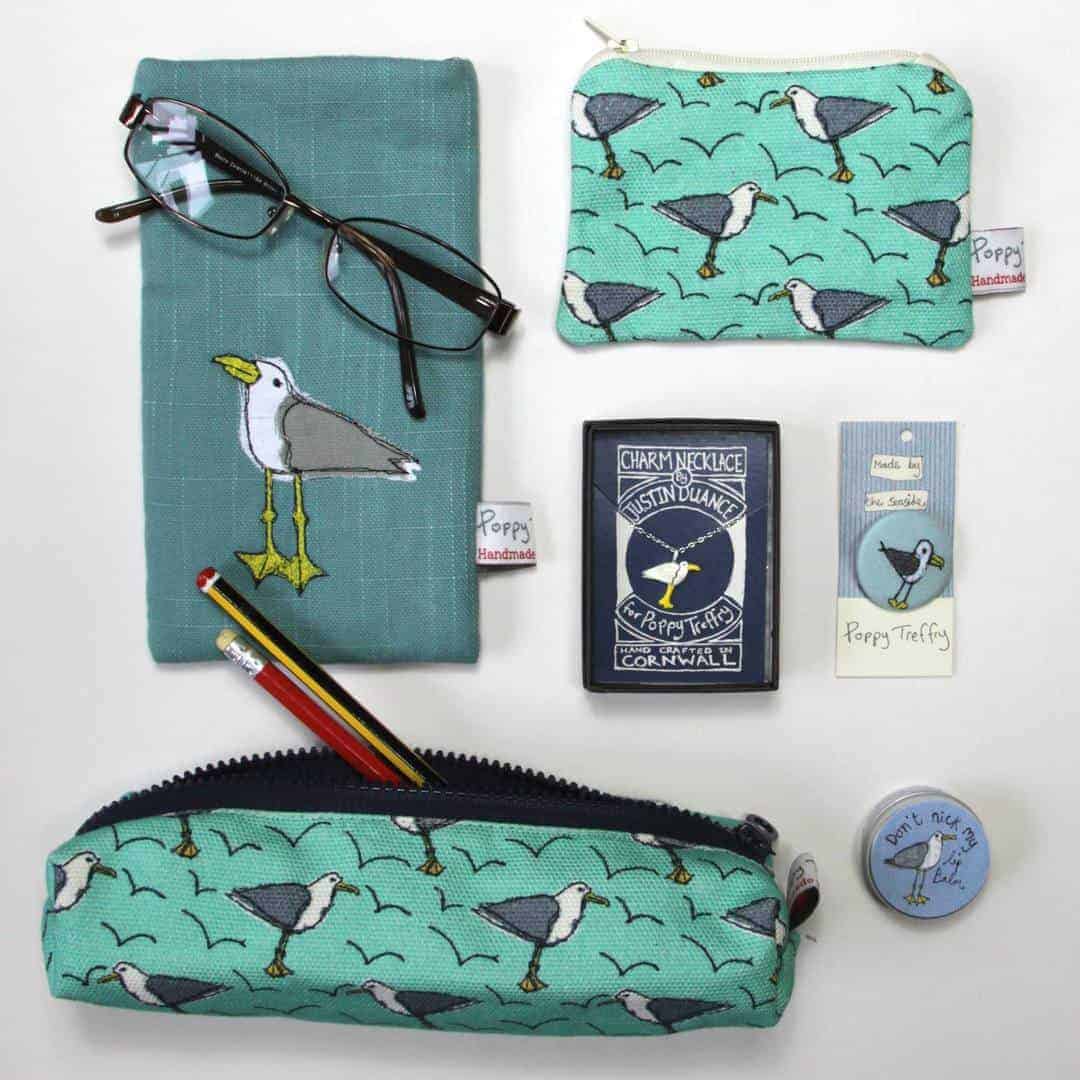 Q. Where do you sell your products?
A. We sell online through our own website www.poppytreffry.co.uk  A large part of our business is wholesale and we supply shops all over the UK and further afield.
Q. Which other British producers inspire you and why?
A. I love The Black Rabbit which is run by my best friend Lindsay Marsden. I also love Teresa Green's screen-printed linens, Anorak's outdoor products which are perfect for camping. For beautiful handmade bags I love Hope & Benson, and of course my partner Justin Duance who creates his wonderful handcrafted jewellery in the studio next to ours.
Q. Do you make an effort to buy British when food shopping?
A. Yes, being located where we are there's a constant supply of freshly caught fish. The restaurants around here also make the most of local produce. We like The Bakehouse in Penzance and I love to grab a Newlyn crab sandwich at The Rock Pool cafe in Mousehole. We're also big fans of the Lafafa falafel wagon which tours events in the South West, such as the Newlyn Fish Festival.
Q. Where is your favourite place to holiday in Britain?
A. For a short break we like to visit Porthcothan in North Cornwall between Padstow and Newquay (below). We stay in a lovely cabin right on the beach called The Red Buoy.
We also love St Agnes in the Isles of Scilly where we camp every year at Troy Town Farm (below) which is the most south-westerly campsite in Britain.
There's a great place to eat on St Agnes called High Tide (below)which is a beach cafe during the day and a seafood restaurant in the evening, serving local produce such as freshly caught crab.
Q. And finally, what do you do to relax and unwind when you're not busy working?
A.  A walk on the cliffs is always a good way to unwind. I also walk to and from work – it's about a 20 minute walk along the seafront from our home in Penzance to the studio in Newlyn, which makes the perfect start, and end, to my day.
Why not buy Poppy's book…. Free and Easy Stitch Style
This treasure trove of projects includes home accents such as cushions and curtains, and accessories such as handbags and purses to show off your sewing in style. Step-by-step instructions, illustrations and photographs combined with a fresh and funky design mean that 'Free & Easy Stitch Style' is bursting with needlecrafting personality and creativity!
---
A pin to share to Pinterest