Sustainable fashion – 5 essential pieces for all seasons ethically made by hand by Lemuel MC.
There's something very special about the Lemuel MC brand created by Marta Cernovkaja. Based in London, the ethos is founded on the principle (fact?) that the future of fashion must be ethical, sustainable and environmentally friendly.
Linen is the key fabric at the heart of the brand's designs, given its sustainability (linen is grown without the need for pesticides and needs less water than cotton) and wearability. It's also a fabric for all seasons, being both breathable in hot weather and perfect for layering up to create warmth when the temperature drops.
This is what got me thinking about the idea of creating a capsule wardrobe for all seasons with just a handful of essential pieces. I ran the idea past Marta and she loved it. We've put our heads together and between the two of us we've created a beautifully wearable, and sustainable, wardrobe to take you through from Winter to Summer and back again. Year after year – because everything is double stitched to last and the linen itself will only grow more beautiful as it softens with age. I can't think of a more polar opposite to fast fashion.
Marta has shared her own particular favourites and I've picked out mine. The sum of the two parts is a wardrobe that will adapt to fit with your life and how you like to dress. Hope you enjoy!
Sustainable fashion – 5 key linen all season pieces
1 The classic dress
Marta's number one choice: 'Definitely my all year rounder. I wear it non stop no matter the season. I also love wearing it as a light coat in the summer. On colder days I like to layer the 3/4 dress under the classic dress. It was also the perfect dress to take me through pregnancy and breastfeeding.'
This is my number one pick too. It's hard to think of a piece that will work harder for you or look more effortlessly chic. Sustainable fashion doesn't come more versatile than this. Love it worn simply like this (above), with the buttons done up down the back in Spring and Summer. Also really like it worn open as a loose top layer/light coat over the 3/4 sleeve dress with tights and chunky boots for Autumn and Winter.
I'd go for grey myself, but this green with peach detailing is a lovely colour combination too…
BUY BROWNISH GREY CLASSIC DRESS HERE
BUY CLASSIC DRESS IN GREEN WITH PEACH DETAILING HERE
2 Loosie trousers
Marta's second essential choice: 'Lately I'm loving my new Loosie trousers. These ones (below) made out of heavy linen (Earth Stripe) took me through Winter beautifully – they are just so comfy! The ones made out of lighter linen are perfect for Spring and Summer days.'
I'm not usually a fan of wide trousers. I am not the tallest person in the world and have a slight frame, so I can feel swamped in a voluminous trouser if I'm not careful. These Loosie trousers look more like a skirt/trouser hybrid that I think might actually suit me. They do sound very comfortable. And have large concealed pockets which can only ever be a good thing.
3 Jumpsuit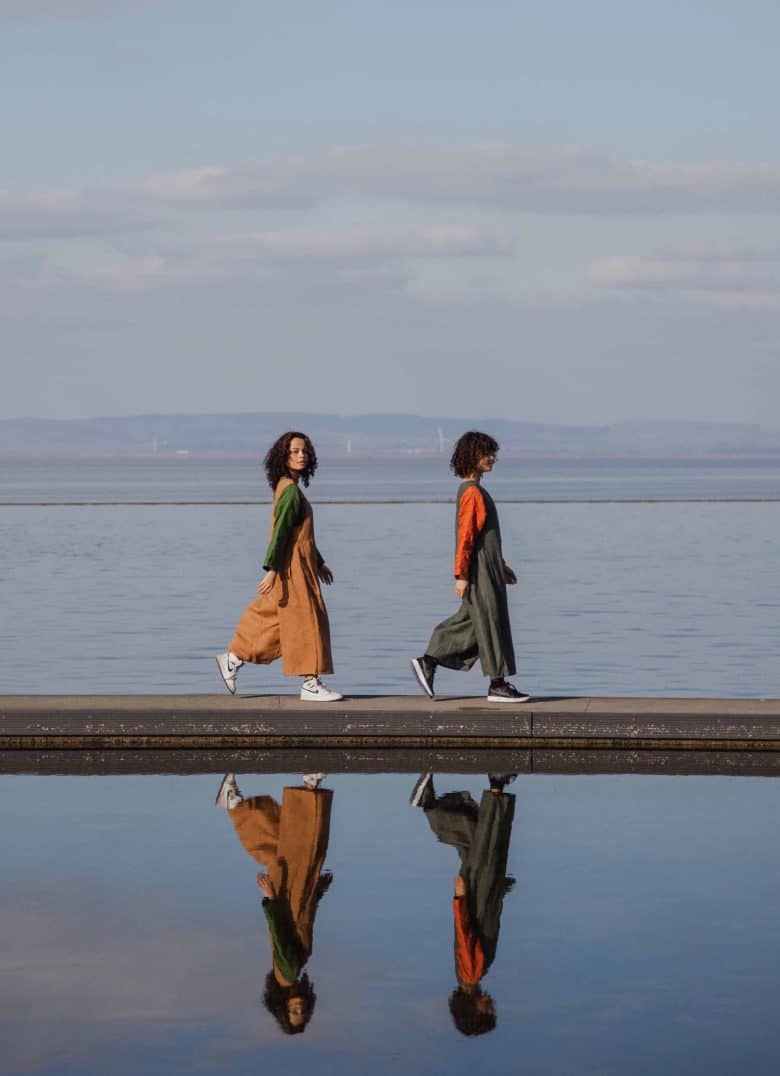 Marta's final pick: 'I love my new jumpsuit as it's just so easy to layer things under and on top. I just generally love the layered look and I found it works in the UK climate when the weather changes so often.'
Anyone who knows me will know that I love a pair of dungarees – I live in them most of the time at home. And I adore a pinafore or apron dress. So a jumpsuit is the logical next step as it's almost a mix of the two. I'm thinking that the warm Earth colour option would look great teamed with simple white under layer(s) and my white trainers. It's all coming together quite nicely isn't it?
4 Three quarter sleeve classic dress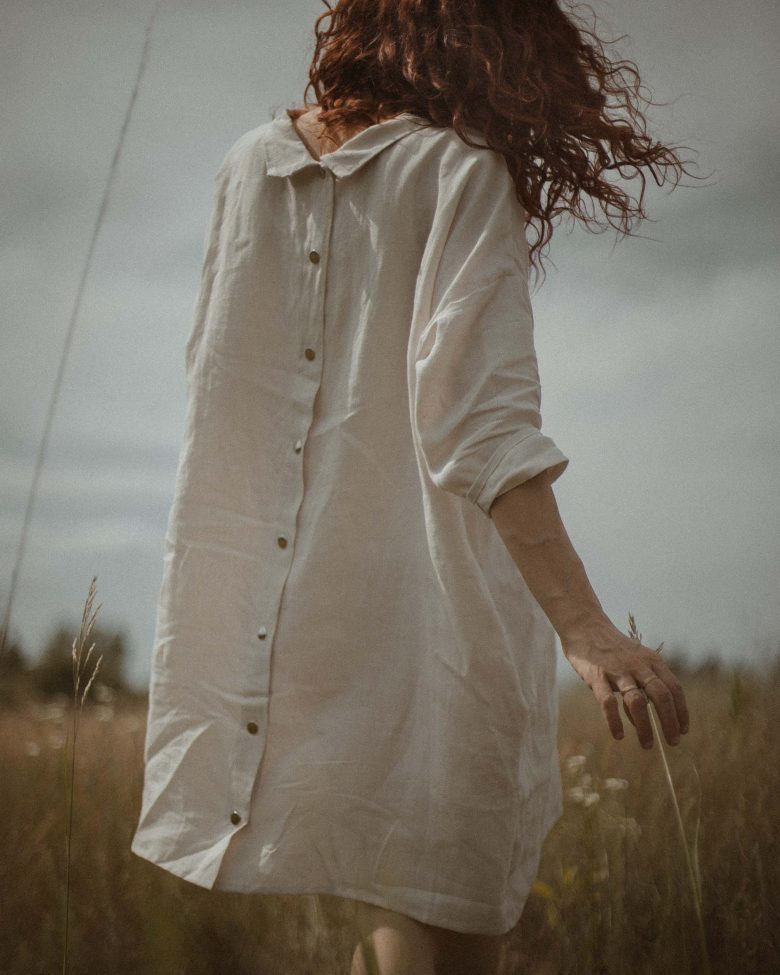 Made with thinner linen than the signature Classic dress, this variation is perfect for hotter days and for layering. Looks fab under the Classic dress and also really like it in this combination of milky white and sand linen 3/4 sleeve dresses worn together.
The beauty of the design is that you can wear with buttons down the back or the front. I just love these two pieces and I know I would wear and wear them.
BUY OFF WHITE 3/4 SLEEVE DRESS HERE
BUY SAND 3/4 SLEEVE DRESS HERE
5 Pinafore
I am, as I've already admitted, a sucker for a good pinafore or apron dress and this one's a beauty. Made in softened 100% grey linen, this is the perfect piece for layering. In Winter I love the idea of wearing over a soft palest of pinks recycled cashmere sweater by Ally B. Also gorgeous layered with the 3/4 sleeve dress. Told you this was going to be a versatile wardrobe!
BUY WHITE 3/4 SLEEVE CLASSIC DRESS HERE
These 5 key pieces will see you through the seasons beautifully – and effortlessly. The tricky bit is narrowing down the colour choices because there are so many beautiful shades to choose from.
Marta's tip for creating a capsule wardrobe is to choose the colours you know suit you and that will work well together, as that gives you so many more options of what to wear with what. I'd go for off white, white, sand and grey. Marta would go for darker, earthier greens and browns. You can easily take the basic idea of these 5 pieces and apply to the colour combination that works best for you.
I have tried really hard to stick to just the 5 pieces, which is the whole idea of this feature. But I just can't quite leave it there.
There are another couple of pieces I want you to know about:
Firstly the Rosalind 83 top is a real statement piece and sometimes you need something standout and special like this, don't you? I think the description sold it to me: 'Just as in As You Like It, today's Rosalind is resilient, resourceful, independent and beautiful inside and out – like our new top of the same name. 80s-inspired ruffles are brought up-to-date with raw edges and multiple ways to wear it, helping you transform from dressed-up to casual or however you feel, in a sustainable way.' I think I'd feel like literary heroine in this top – so it's surely worth every penny?
And this simplest of simple summer dresses would be perfect for hot summer days by itself and it would also layer up beautifully. I'd wear it over my swimsuit or bikini on holiday too. Maybe even as a summer nightie too because it would feel so lovely to sleep in cool, soft linen… or am I taking the hard-working capsule wardrobe idea too far now?
You might also like:
Where to buy ethical fashion made in UK
INFORMATION
---
Lemuel MC is listed in the Sustainable Fashion category of the From Britain with Love directory
Are you a maker or creative course provider? Like to list with us and benefit from joining our supportive community? We'd love to hear from you. Check out the packages we offer on our Join Us page.
---
A PIN TO SAVE TO PINTEREST
Hope you enjoyed this sustainable fashion blog post. It would be great if you could share the love by pinning this to Pinterest. Simply hover over the image until the red Pin it symbol appears and share! Thank you X