Creative business idea number 2: photography tips for makers and the importance of investing in great images.
To my mind, it's impossible to create an engaging and powerful website or product offering without using top quality photography. So I thought I would share these photography tips for makers, based on my own experience and contacts.
Choose the right photographer
Allow some budget for professional photography if you really want to stand out from the crowd. If you don't have the budget to shoot everything, you could invest in a few professional lifestyle 'hero' images to create the look and feel for your brand, then supplement with simpler images you take yourself. This can work particularly well if you have an online shop that needs regularly updating with new products.
Yeshen Venema
The go-to photographer for designer makers is Yeshen Venema. He is so easy to work with and offers the perfect range of options to suit small creative businesses. I asked him to share his thoughts on the matter with us:
Yeshen: 'Every day I see how professional photography and websites can transforms sales, brands and even personal confidence. It's a big investment but if you want to be taken seriously by the press, galleries, trade and retail customers it's crucial to present yourself and your work professionally.
In this visually saturated world, having an individual look can make all the difference, so get off Pinterest and Instagram and sketch, shoot, print and tear to build you own mood personal brand moodboard.'
I love that advice and I'm determined to follow it more myself…
Here's a selection of Yeshen's photography to illustrate just how much quality images can give you…
Yeshen, has also written a really helpful guest blog post: Yeshen Venema's Top 5 Tips for taking great product photography.
I absolutely love the ethos of Curious Rose – Caroline Gurtler's collection of upcycled wool blanket hotties and accessories. The products themselves are lovely, but when Caroline listed in our directory I knew that the photography she was using was not doing her any favours. She was wondering about investing in some professional images and so I recommended Yeshen and encouraged her to take the plunge. The difference this has made is amazing and her lovely products are now able to sing as they should.
I asked Caroline to share a few of her thoughts with us:
Starting my own business, I thought it would be easy to combine all my previous talents and head off into the sunset with everyone loving my products… it's amazing how naïve you can be even in your 50s.  Some things you know you will need help on, like computer technology and website design, as the world is changing so rapidly, and being patronised by teenagers is often the only way to keep up.  But photography I thought I could be good at, it's only nice composition and pressing a button right?  And I'm ok on Photoshop, so I could easily tweak errors, yes?  But no.  Could I get a good clear photo? No I jolly well couldn't.  Despite investing in some entry level lighting, and learning to curve wallpaper down to the desk, it did not go well.  I ended up with half the dining table covered in boxes propping up backdrops, and climbing over light stands and cables to manoeuvre in and out with products.  And getting more than a little grumpy.  Turns out product photography is a specialist gig after all.
So after over two or three years of bodging around, I finally accepted the advice of friends and mentors and went to a professional photographer.  And what an amazing experience.  We felt very cool going to a trendy studio in Islington with our boxes of props, but it took the professional stylist to show us how to keep things simple and use just a few small objects to dress each shot.  Yeshen, our photographer, discussed the feel of our brand and how to communicate that through the different photographs.  I could only afford half a day, and it took me ages to get the courage to even book that, but we ended up with nearly 80 marvellous images that I can use on the website, Pinterest, Facebook, display stands, and I get to feel so much more confident in my marketing.   It sounds weird, but we kind of fell in love with our products again, seeing them presented so well.
Caroline sums it up beautifully. My advice is simple: if you are hoping to sell your creations online, and you have money to invest in anything, use it to create some great photography. It really can make all the difference.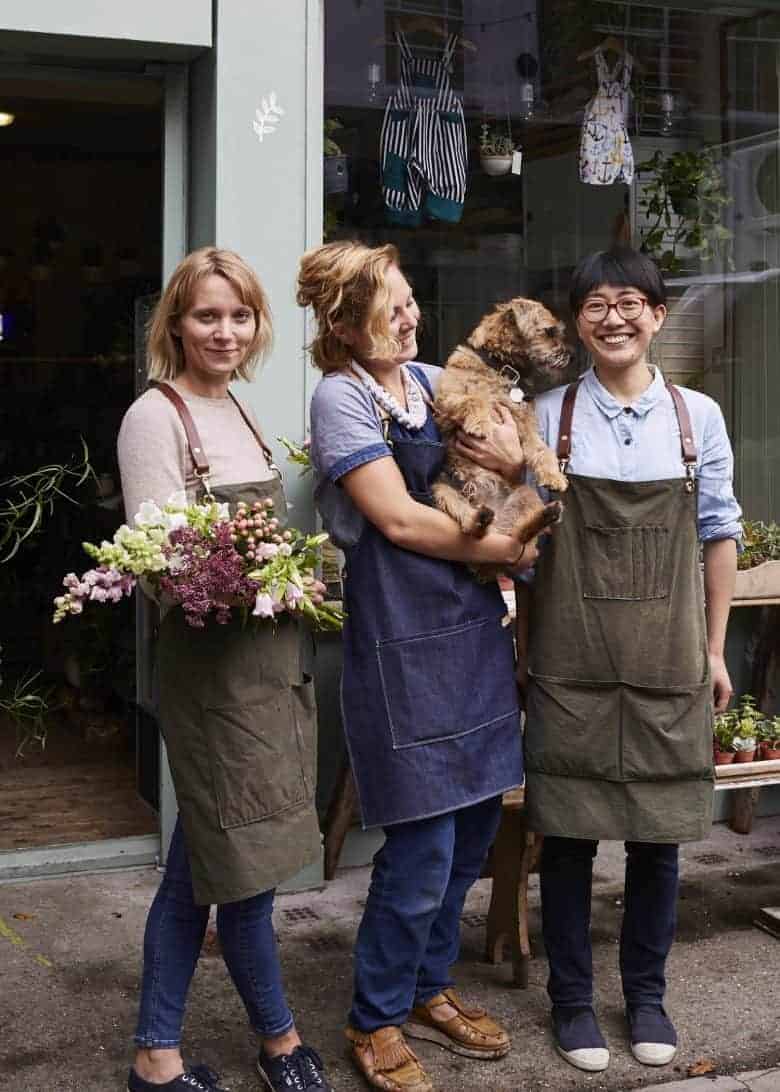 This lovely shot by Yeshen of Botanique flower shop and artisan store in London really communicates a lot about the creative ethos behind the business, don't you think?
Polly Wreford
For interiors and lifestyle photography, I also love Polly Wreford. She was first choice for important shoots back in my magazine days and she was also my choice when launching my first website back in 2005. I still love these images that she took for me then and they worked so incredibly hard for me for years. Worth every single penny – especially when you consider that they're more than a decade old now…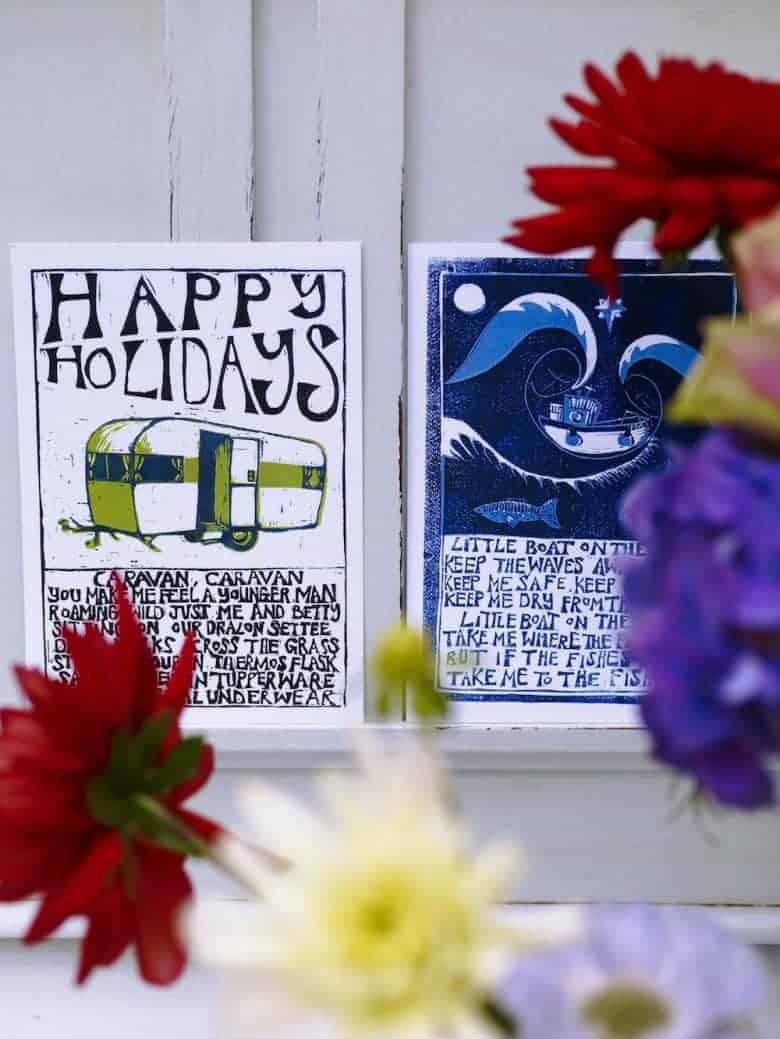 When I needed fresh images or something seasonal (for Christmas for example) I've also enjoyed working with a couple of other photographers in recent years: Joanna Henderson and Donna Eaves.
Here are a few of my favourite images from the last few years:
Book a stylist to add some magic
I love to style my own smaller scale photography, but for larger shoots, a really good stylist is definitely worth his or her weight in gold. I can heartily recommend Rose Hammick (who also offers her home and rustic garden cabin as locations, Hilary Lowe and Elkie Brown. I love the above photo which shows the back of Hilary Lowe's car packed with surfaces, props and all manner of loveliness ahead of a location shoot in Wales. I also fondly remember Rose arriving at my house with a van load of treasure including a victorian sink complete with wonderful old brass taps, rolls of the most exquisite vintage fabrics & wallpapers as well as armfuls of garden flowers picked early that morning. Seemingly a random collection, but the bits and pieces she brought to the shoot really helped bring our images to life, gave them individuality and a sense of story.
It was a similar experience when I picked Elkie up from the train station for another rural location shoot. I couldn't quite believe just how much treasure she'd managed to pack into a suitcase on wheels to cart across London by Tube and then onto a train to Hampshire. Beautifully rustic antique linen, vintage brass cutlery, textural surfaces, rolls of antique braids, lengths of fabric in faded shades of oyster pink and shell grey to use as backdrops… We used almost everything.
Yeshen Venema works with a carefully selected group of stylists too, including Mugdha Sapte, Clare Nicolson, Charlotte Love and Hilary Lowe.
Pick the perfect location
The white country kitchen and dining images above were photographed at Place Farmhouse in Sussex which we booked through Light Locations. There are some really great locations on their books – here are a few of my other favourites:
Above: dark grey painted London summerhouse
Above: The Grey House at Camber Sands
Above: The White House at Camber Sands
For light and airy coastal locations, Beach Studios & Locations is another great resource.
If you decide to work with Yeshen Venema, he offers his own London studio as a location as well as running several 'shared' on-location shoots throughout the year. Recent locations include Lyme Regis (below, top), The Forge in Hampshire, Harp Cottage (below, middle) and The Welsh House in Wales (below, bottom). Because the overall location cost is shared between a number of different makers, this is a great way to gain a really strong set of images for less.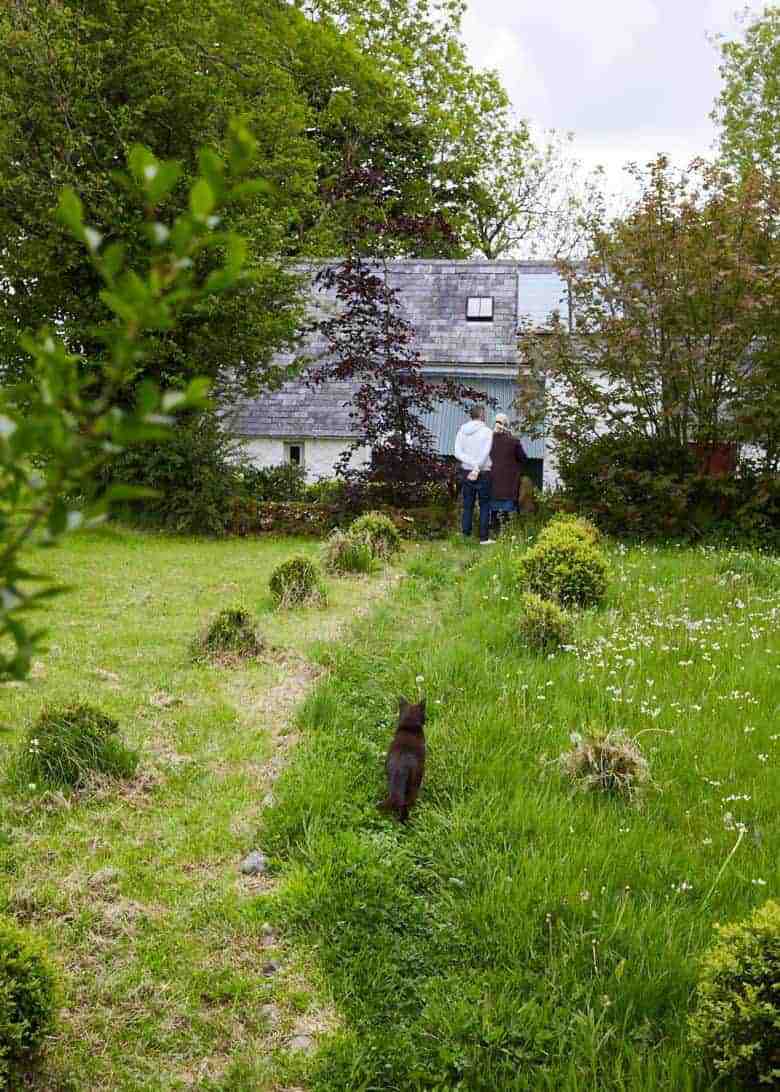 Learn to take great images yourself
A Year with my Camera
Another great resource I wanted to share with you is A Year with my Camera by photographer Emma Davies. It's a free online course with the aim of taking you from the basics of automatic camera photography to advanced manual techniques. There's a workbook you can buy through Amazon if you'd rather have a tangible record and reminders in one place. There's also the A Year With my Camera app (which I use) to keep all the information together on your phone and to work through at your own pace.
I found this image of Emma's on there and really love the atmosphere she has managed to capture.
I asked Emma to share her thoughts about the benefits to a small, creative business, of improving your own photographic technique:
'Hiring a photographer and stylist can give you a bank of stunning images to use as you build your creative presence online. But if you are able to supplement these shots with more in-the-moment and behind-the-scenes images I believe you will become much more memorable. How many bland, safe Instagram feeds are there out there? And who do you actually enjoy following? Speaking for myself, I engage much more with creatives who run honest, flawed, spontaneous Instagram stories than those who are polished and distant. 
That doesn't mean your own photography should be badly lit and messy (unless that's your brand). A few simple steps around lighting and composition will lift your shots above average and help you bring a moment of joy and delight into the lives of your followers. If you have a big camera, do learn to use the aperture and shutter speed settings — they will open doors to much more creative photography. If you use your phone, try getting much closer to your subject for a bigger impact.'
Really good advice. I am halfway through Emma's A Year with my Camera course as we speak and have already learned so much and gained in confidence. I take a lot of photographs at the various workshops I write up for the blog. And I often feel self-conscious and flustered by trying to work out how to get the best shot in limited time. This course is giving me the confidence to feel like I actually know what I'm doing and to be more creative.There's also a really lively closed Facebook group where you can post your images and share feedback.
I also really like the sound of Emma's The Art of Flower Photography – Online Course which will starts in May next year and will be open for enrolment from next April. Maybe see you there…?
A Quiet Style
Talented stylist, lifestyle photographer and Instagram influencer Emma Harris of A Quiet Style (listed in our directory here) also offers a selection of inspiring visual courses including her Improving your Photography One to One workshop. Based at Emma's home in Brighton, the workshop includes tips and ideas for taking camera phone images you feel confident and happy with. Topics covered include switching from auto to manual, finding a style of photography you love, setting up and styling scenes, visual story telling, finding your editing style and editing tips and app suggestions. Emma also offers seasonal small group photography workshops and is about to launch a series of photography e-courses covering specific areas, including flower, still life and food photography and styling.
I asked her to share a few thoughts with us here:
'Great photography is so important these days for any creative business, as we live in such an image led world.  People often use social media and Pinterest as a way of searching for products or suppliers they might like, or even venues for events. And if your imagery doesn't stand out, you will just get lost.  I think the general consensus is that good photos mean desirable when it comes to the product. As an example, if you were looking for a wedding florist, you would choose one whose images were beautiful, and sparked something in you. Not mediocre.  Imagery sells, and for those independents who already have a lot on their plate, it is a vital part of the business repertoire.'
Emma also wrote a great blog post where she shared a few of her tips and ideas for finding creative inspiration: Meet Emma Harris of A Quiet Style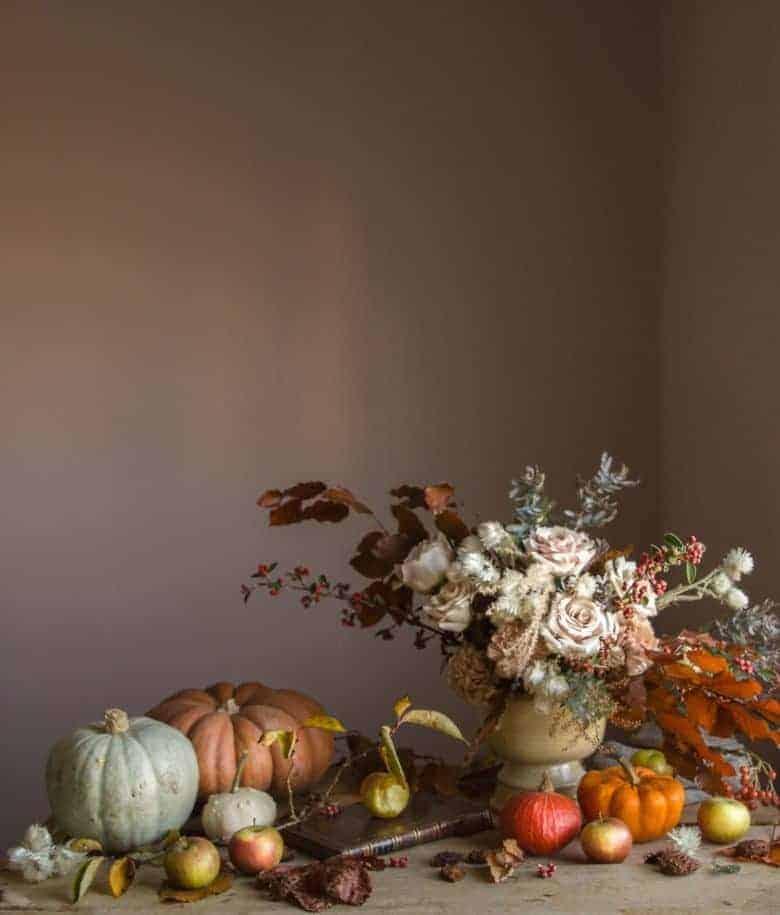 If you invest in a few 'hero' shots with a professional photographer to help create the look and feel for your brand, being able to take your own simple, high quality images from there on would be invaluable.  Of course you also need strong, engaging images if you're going to do well on Instagram, Pinterest and other social media too.
Yesterday I shared Creative Business idea number 1: website design inspiration using WordPress and Squarespace
You can read my own creative business story here: Creative business ideas to help you live the life you dream of
I'll be sharing my key 10 Steps to Creative Business Success over the next 10 days or so, as well as a PDF with all the information in one place for you to download and keep.
The 10 steps I'll be covering are:
---
INFORMATION
Photo credits: Photographers: Yeshen Venema (Sue Pryke; Rachna Garodia; Thornback & Peel; , Jacqui Ramrayka & Hend Krichen)
Emma Davies (A Year with My Camera); Emma Harris (A Quiet Style); Polly Wreford
Stylists: Mugdha Sapte; Hilary Lowe, Rose Hammick;  Elkie Brown
Are you a maker or creative course provider? Like to list with us and benefit from joining our supportive community? We'd love to hear from you. Check out the packages we offer on our Join Us page and get more details from our Information pack here
---
A PIN TO SAVE TO PINTEREST