I first met Emma Harris of A Quiet Style at a workshop to launch mutual friend, Philippa Stanton's book Conscious Creativity at the end of last year. We spent the most wonderful day in a small group together at atmospheric Regency Town House in Hove and got chatting over cups of tea, good cake and torch exploration… It was only at the end of the day, when we came to swap contact details, that I realised she was the same Emma behind inspiring @aquietstyle who I already followed on Instagram. To give you a flavour of the slow and seasonal inspiration you can find over on Emma's insta, website and online courses, I asked her to share one or two simple pleasures, seasonal loves and tips for finding inspiration. Hope you enjoy X
Please describe what you do and tell us a little bit about your story
I always find this a tricky question, as what I do is multi-faceted, which I think is often the way these days.  I guess it is easiest to start with the journey. When I first started working, I ended up doing a pretty boring office job, and although there were aspects I liked, I always had a creative yearning.  I therefore became a serial course undertaker; floristry, jewellery making, interior design, ceramics, quilt making.  When I had my second daughter, I decided to start blogging and unintentionally, all the courses I had done started to come together.  I joined Instagram, and my following grew rapidly. Beyond my wildest dreams. I started getting offered work as a stylist and photographer off the back of it, which leads me to where I am now.  I guess in a nutshell, I do some styling work for a magazine each month, product styling and photography, content creation both for my social media and brands, collaborations, workshops and one-to-ones.
Please describe what you offer and your ethos
I am heavily influenced by the seasons in all aspects of my life. From what I eat, to how I decorate my house, and of course, my passion for flowers.  My online courses teach how to style each of those aspects both for living but also for social media/blogs.  My aim is to teach people how to take beautiful photos with what they have around them and what is available seasonally, whilst discovering and developing their own visual style.
What's your favourite way to start the day and when do you start work?
In an ideal world, I would start the day in quiet, sat in the garden with a peppermint tea listening to the birds sing before the kids wake up, but in reality, that hardly ever happens.  It is a treat when it does though.
I start work after the school run. Most of the time I work from home as I have a studio upstairs, so I usually sit down up there at about 9.30 once I have done a few household chores.
My workspace is a north facing room at the top of the house. The light is perfect for the style of photography I like. The walls are painted the palest pink, and I have a lot of storage for props.  You will always find flowers somewhere in the room too.
What keeps you going through the day?
Vegan chocolate mostly!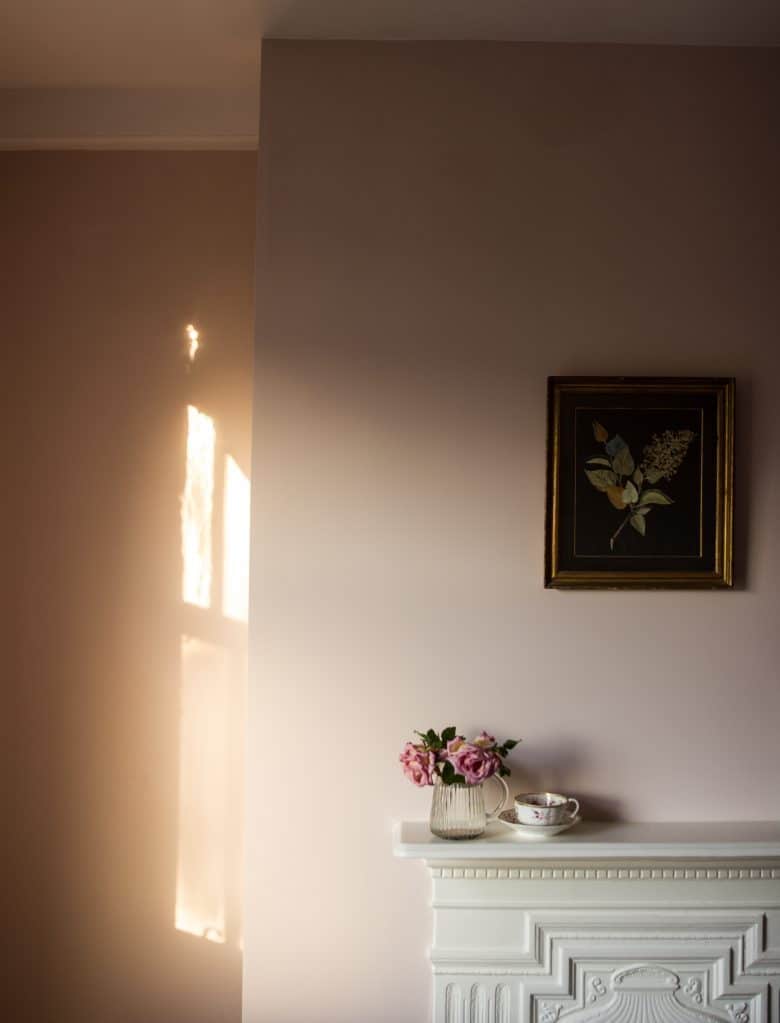 What are your top tips for enabling creativity?
Space, quiet and time outdoors.  I think we are all influenced by other's work. We live in a world where we are inundated by imagery, so I think it is good to get away from a screen from time to time. To try and find our own creative paths.
Favourite season and why?
I have two; summer, because I need sun. It is almost like a primal urge for me. I hate being indoors when the sun is out, and let's not forget the roses being in bloom.  My other is Autumn, because nothing beats the golden hour when the light is at its best.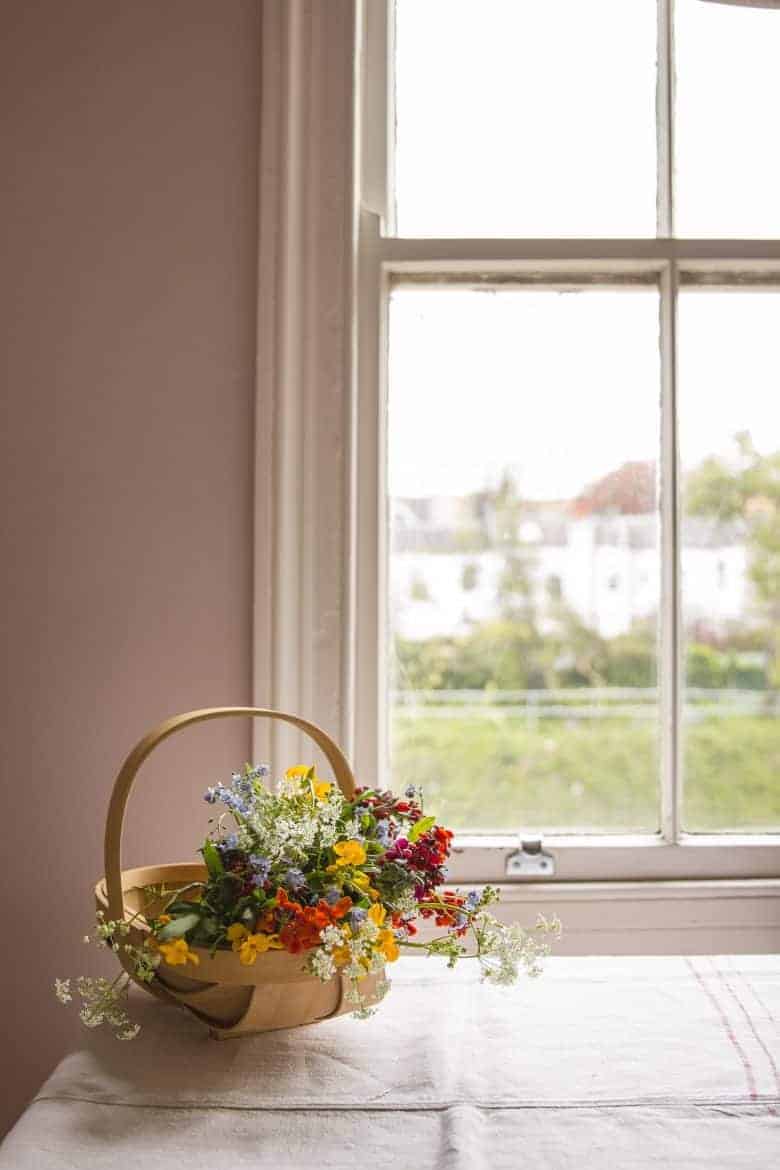 What do you do when struggling for creativity?
I don't think I do anything, because creativity ebbs and flows for us all.  So it's just a matter of accepting that and knowing it will return.  If I am working on a project, I usually find something will spark an idea. It might be an image or a colour or just something I spot in the street.  But I always get there eventually.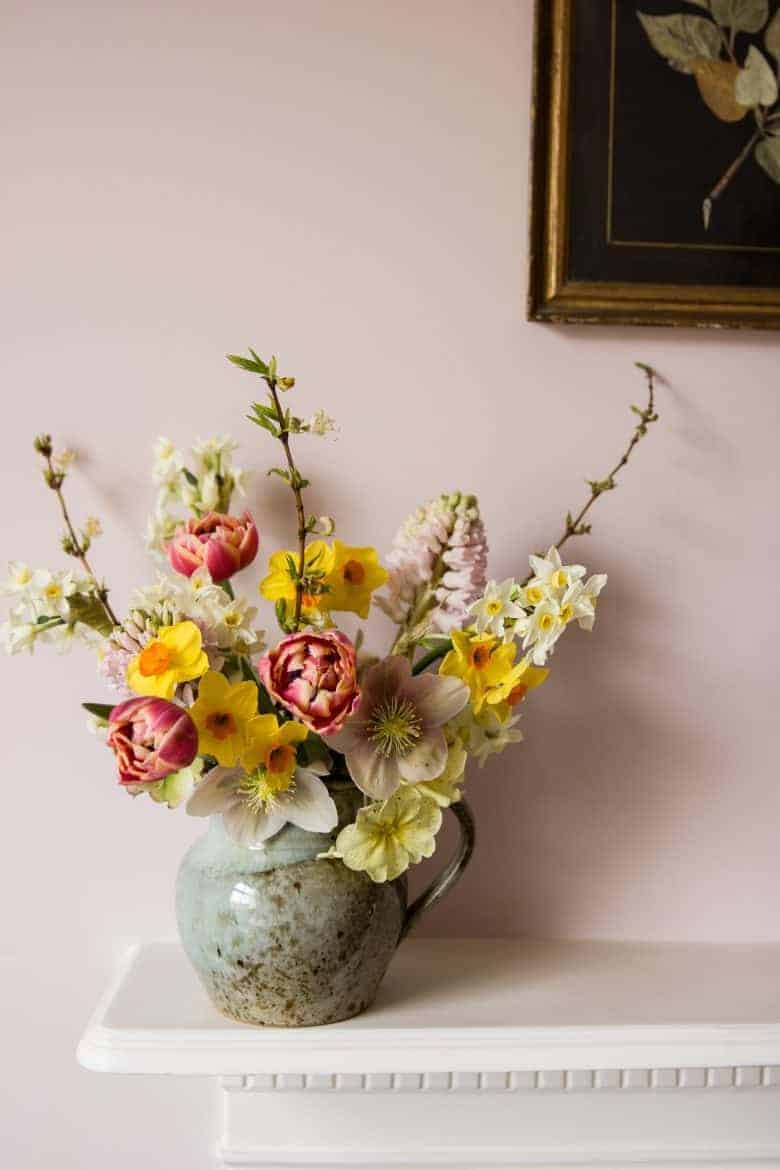 Favourite flower (or flowers) from each season?
Spring – it would have to be sunset peonies, the way they change from coral to the palest peach over the space of a few days is just magical.
Summer –  roses; I am obsessed with garden varieties.
Autumn – lots of my followers know me for growing dahlias, I have a tiny garden, but manage to grow them in pots each year, and they are such a joy
Winter – either snowdrops or hellebores, both are a reminder that there is still life even when the trees are bare.
Any ideas you can share for styling the seasons with flowers?
If you can, grow some of your own.  A few pots are all you need and if you grow cut and come again varieties like cosmos and ammi, they will keep you going all summer and sometimes longer.  A handful in a jug of either are a simple but effective way to bring nature in.
I also have a twisted willow wreath base, that I change every season.  If you pick flowers that dry well, then it will look good for weeks.
Finally, get outside and do a bit of foraging.  There are rules concerning picking flowers though, so make sure you read up on them before setting off.
What do you like best about where you live?
We have lived in Brighton for nearly 12 years now, and it still gives me pleasure when I walk along by the sea.  I love it whatever the time of year from the power it demonstrates on a windy winter's day to the calm inviting serenity when the sun is at its hottest.
How important is seasonal living to you?
Seasonal living is so important for me; I always feel so grateful for living in a country where the seasons are distinct.  During the summer, you will find me outside at every opportunity, and in the winter, I like nothing better than being at home when the wind is howling and I can hear the sound of the rain hitting the roof.
With regards to work, when you take photos in natural light, they are heavily impacted by the seasons, and the time of day it is best to take photos changes dependant on the time of year.
Favourite shop and why?
I don't have one favourite, but I do prefer to shop at the local Brighton independent stores, places like Workshop, iGigi, Nola Boutique and Tidy Street store, we are very lucky to have some great shops.
Most treasured possession?
My Gran's engagement ring; I was very close to my Gran, and she had a huge impact on me. I will eventually pass it on to my eldest daughter.