Join me as I spend a highly inspirational and fun day at home – and in the shed – with Instagram queen 5ftinf, aka abstract artist Philippa Stanton. You know how you just know when you first meet someone? Philippa welcomed me with a cup of tea into her colourful, eclectic and utterly wonderful Brighton home. We sat chatting with Cheeks the cat looking on and, within minutes, I felt like I'd known her for years.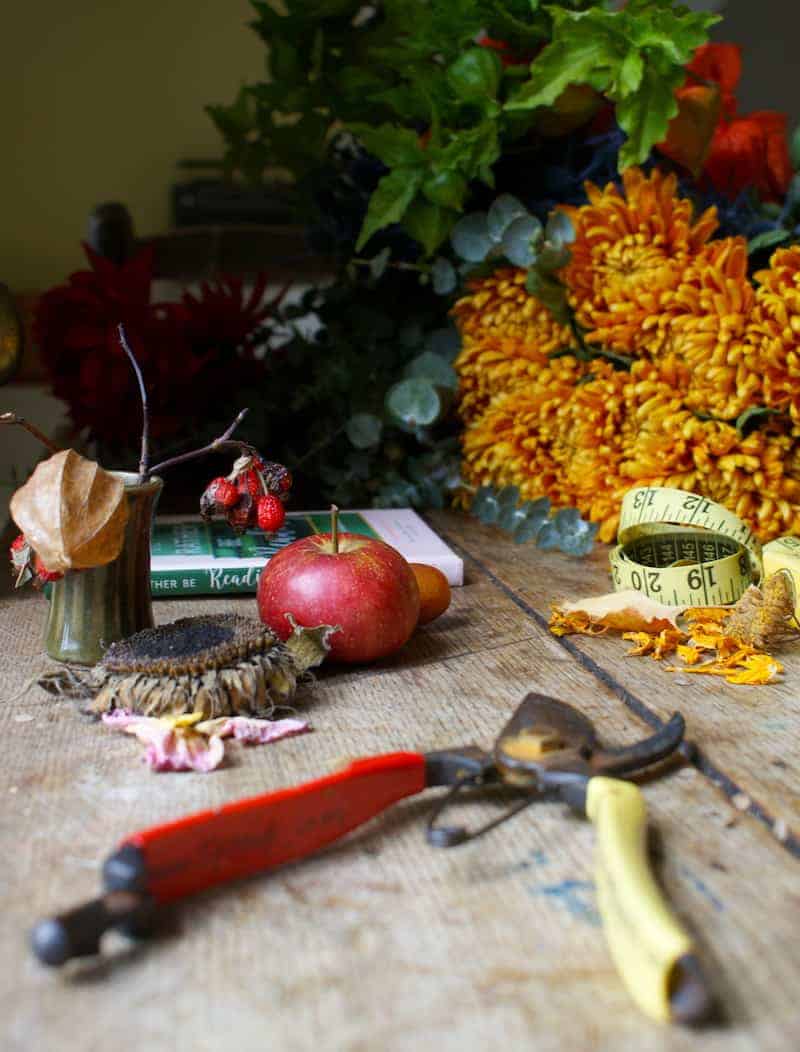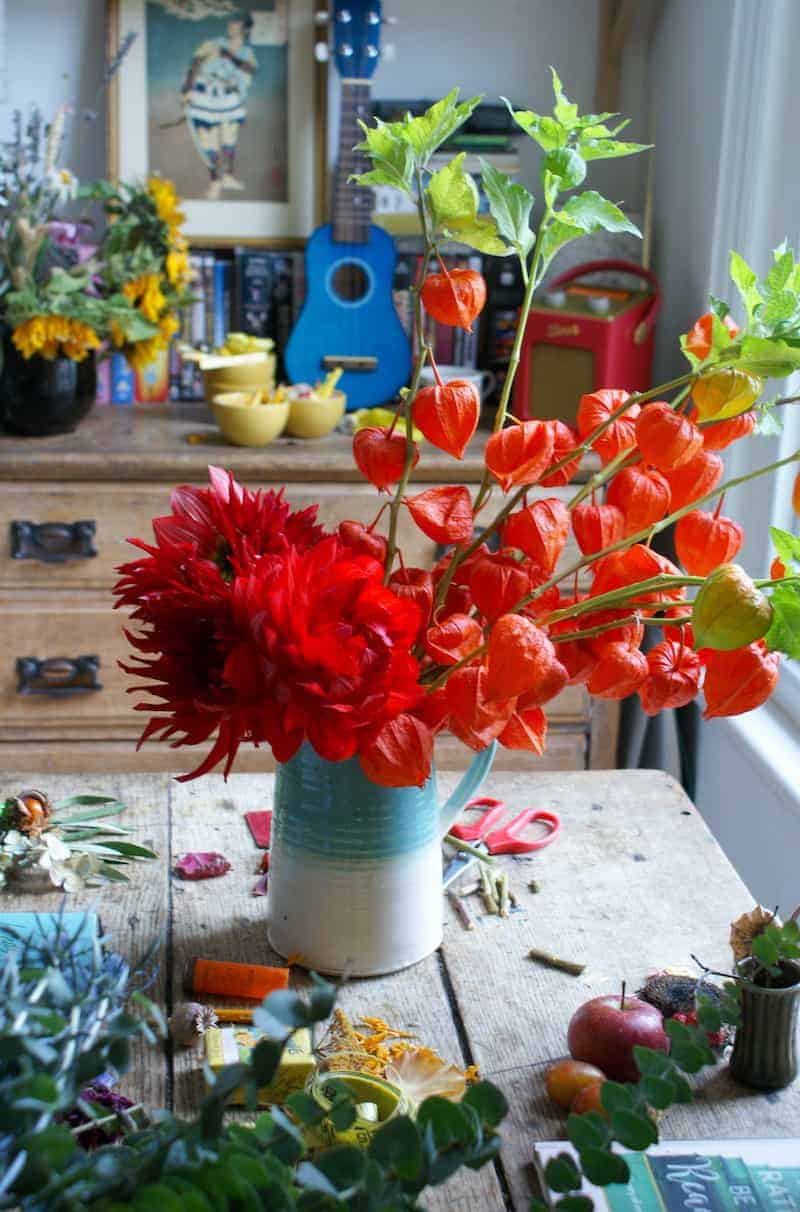 I'd first come across Philippa via a lovely account I follow on Instagram – thewelshhouse. I saw some intriguing posts on there about Philippa's stay at the lovely old welsh cottage, getting creative with lichen, textures and natural finds. She mentioned that she was playing with the Japanese concept of wabi sabi, and I wanted to know more.
I discovered that Philippa has over 400K Instagram followers (at 5ftinf) and that her feed is a richly coloured, joyful, highly original and inspiring compilation of wonderful images.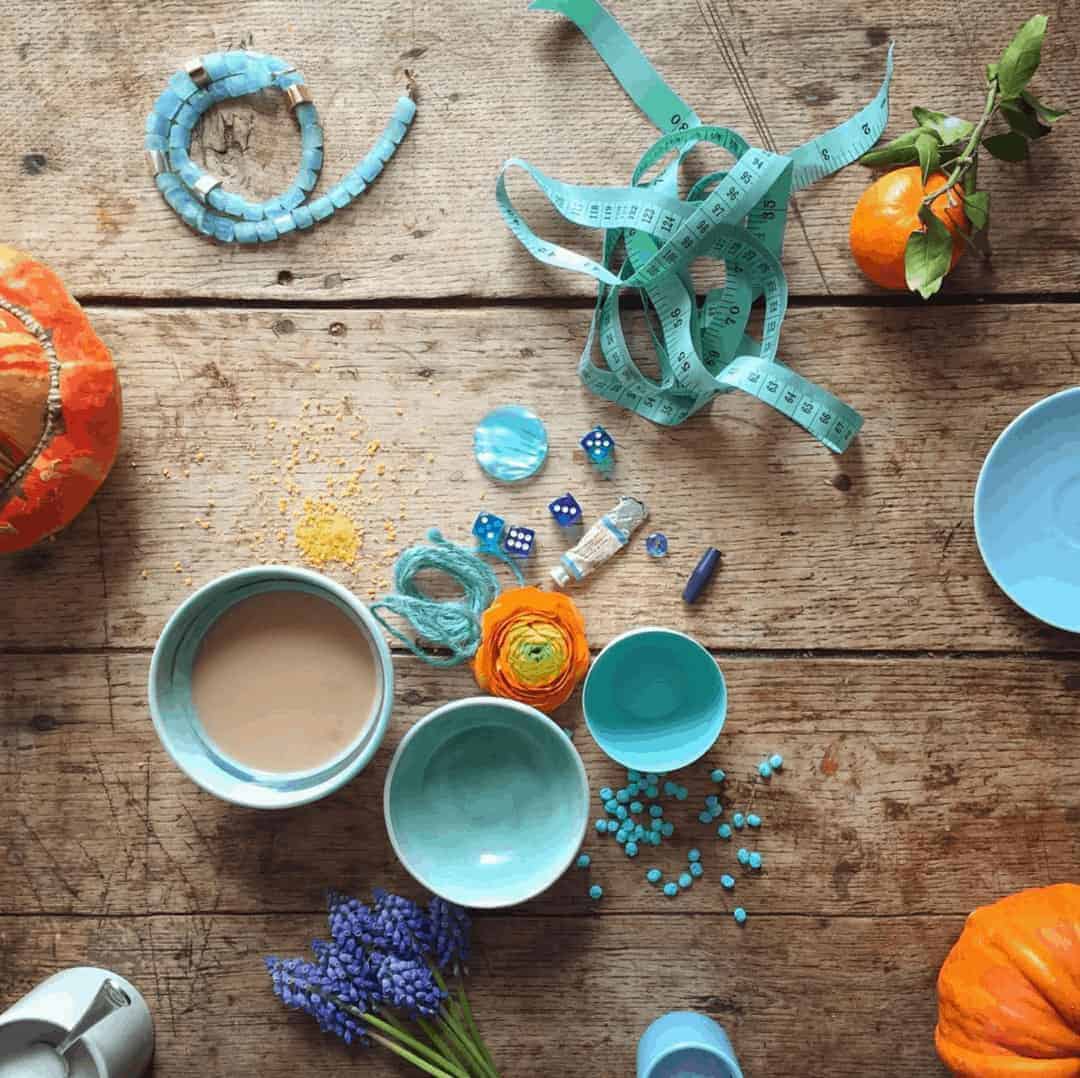 Philippa was creating her table flat lays in the early days of Instagram, long before many of us were even that aware of its existence. In case you're not familiar, a table flat lay is a photographic technique, now hugely popular across Instagram and beyond, and is exactly as it sounds – items arranged on a table top and photographed from above. I really like these two examples from Philippa's instagram page (above).
Wonderfully detailed flat lays arranged creatively by colour, shape and texture have become a signature 5ftinf look. Their beauty lies in the particular, unique way Philippa places objects together. Her images are not about achieving perfection. More about creating, and connecting with, a feeling and a moment. I came across a yellow-themed post (below), and was delighted when I spotted a tiny yellow cowboy in amongst the petals, pencils, tape measure and cornucopia of other objects. I'm not entirely sure why it made me smile so much. But it really did.
I decided I wanted to meet Philippa – to discover more about how she works and what inspires her. So here I was, sitting on the sofa, with a second cup of tea, beside her trusty old wooden table which was laden with seasonal flowers. Philippa had been to the flower market early that morning and brought back armfuls of bright red dahlias, Chinese lanterns and burnished gold chrysanthemums.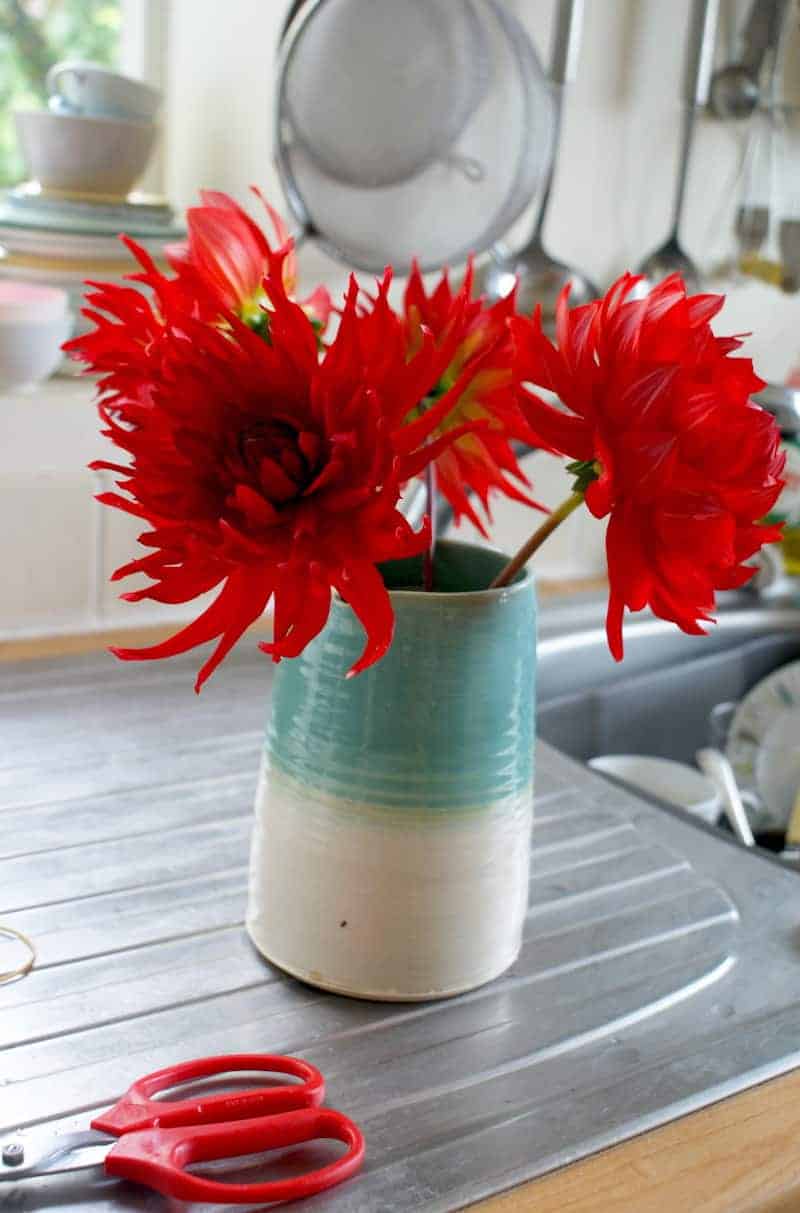 As we chatted, Philippa cut some stems and plunged them into a beautiful handmade turquoise ceramic jar full of water. As soon as she placed them on her table, a sort of magic happened. Philippa had already put some old scissors with red handle on the table, along with little arranged groups of blue, red and yellow objects. Looking through my camera lens at what she'd created was really visually exciting.
I mentioned about the little yellow cowboy and loved that Philippa enthusiastically rooted in a china pot of yellow objects until she found him.
As we drank more tea, I enjoyed hearing Philippa's story. She trained at RADA and has worked as an actress in theatre and TV. I discovered that her instagram name – 5ftinf – came from a nickname she was given by fellow actors. She was playing the character of the Infant Phenomenon in Nicholas Nickleby at The Chichester Festival theatre. Infant Phenomenon got shortened to 'inf' and the '5ft' bit came from the fact that she's 5 feet tall. When not acting, Philippa spent time painting. She has so many great stories. I loved that she spent a night alone in Derek Jarman's house in Dungeness. She painted the little house next door, with its lights on, surrounded by the dark, ruinous landscape. It's hanging in her living room and I loved it.
Then it was time to go to Philippa's shed. If you're one of her followers on Instagram, you'll know all about her shed – and what an important space it is for her. So I was intrigued to see it myself. As soon as the door opened, I was in love. What a space. Vintage wall cupboards open to reveal a collection of old clocks, strings of coloured lights crisscross overhead and all manner of intriguing found objects sit higgledy piggledy on shelves. There's a stack of various old boxes (below) which Philippa had used to create The Scented Shed at one of her very popular Open Houses. The idea was born following a digital project of Philippa's, which included a visit to historic perfume makers Floris of London.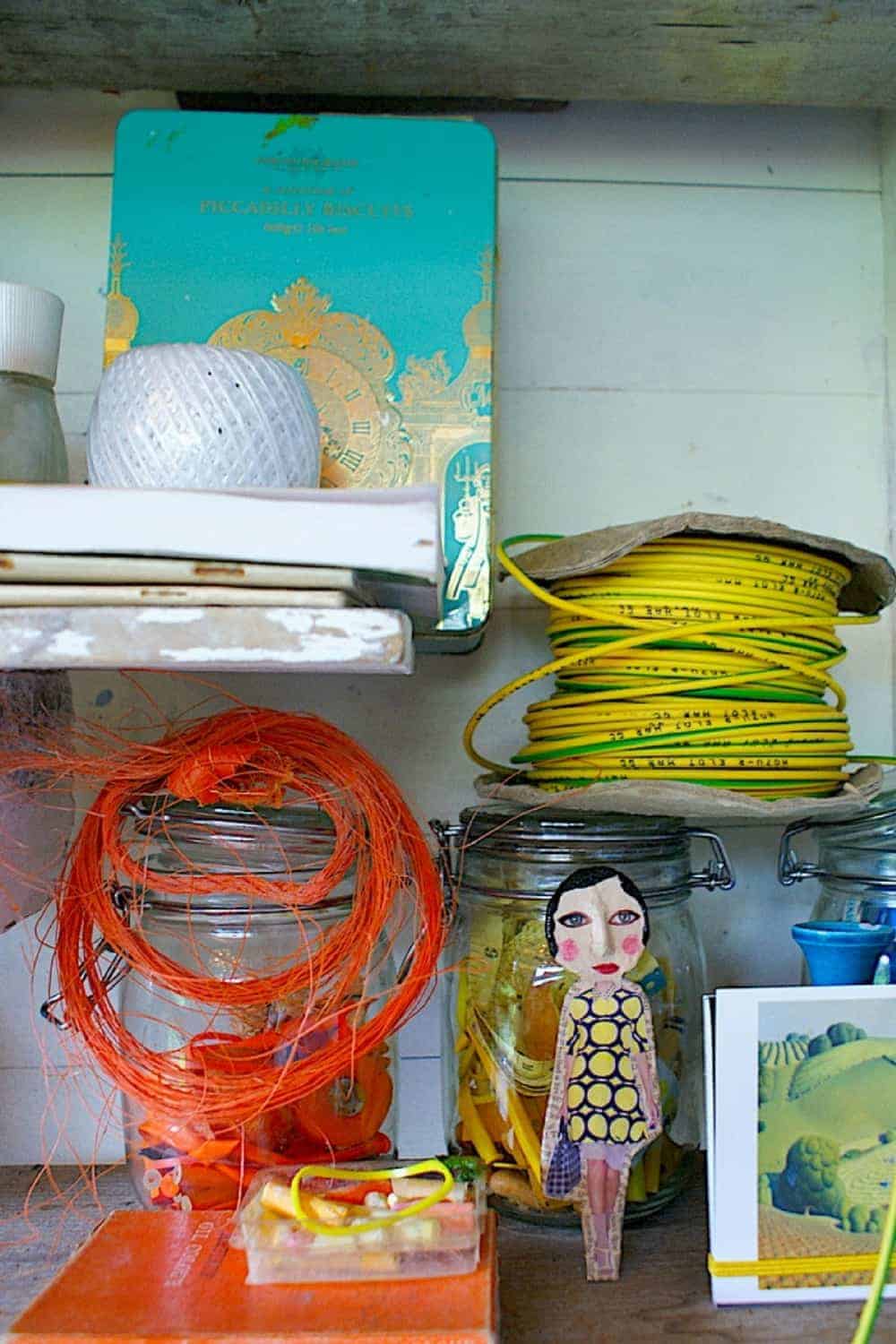 'As an abstract painter, I enjoy emotional responses rather than representative,' says Philippa. 'And was completely taken by surprise when I found myself weeping at the scent of Floris perfume 'Iris', having emotionally revisited one of the happiest times and places of my life 30 years ago, for a matter of seconds. I couldn't believe the gravity of emotion tied up with the sense of smell.'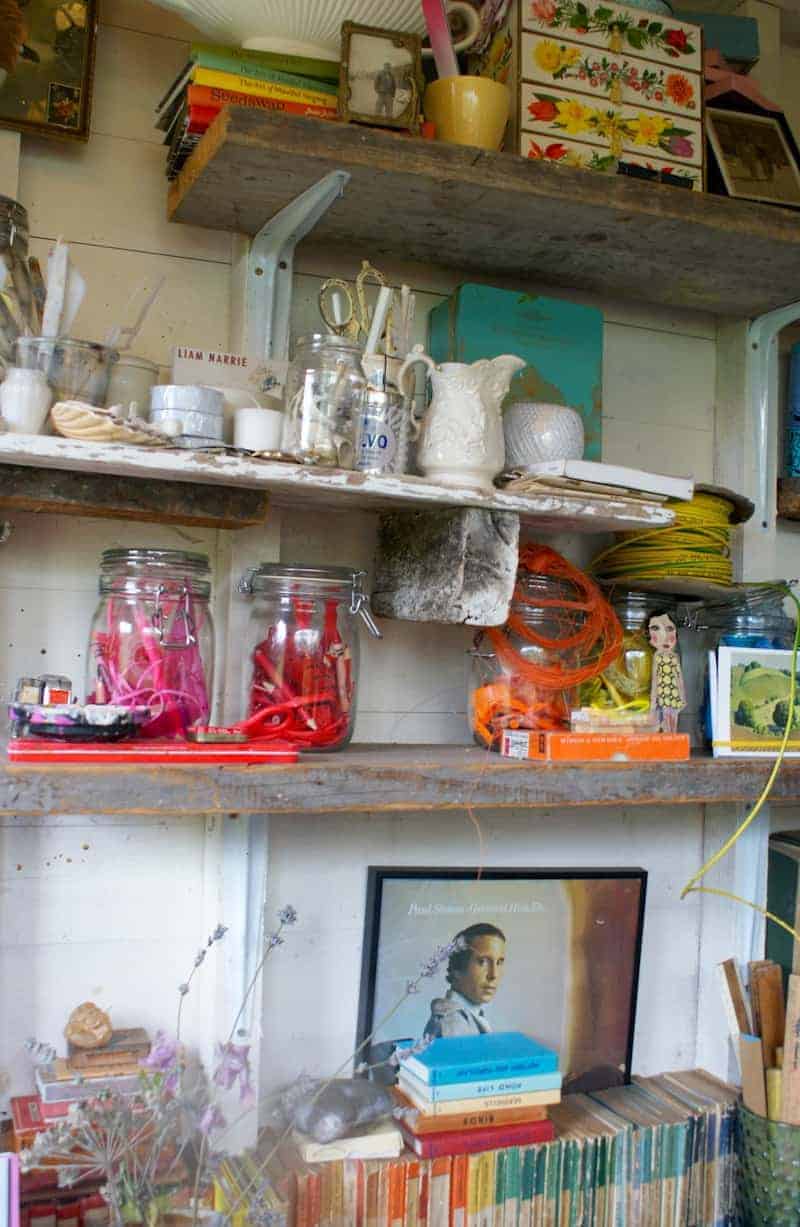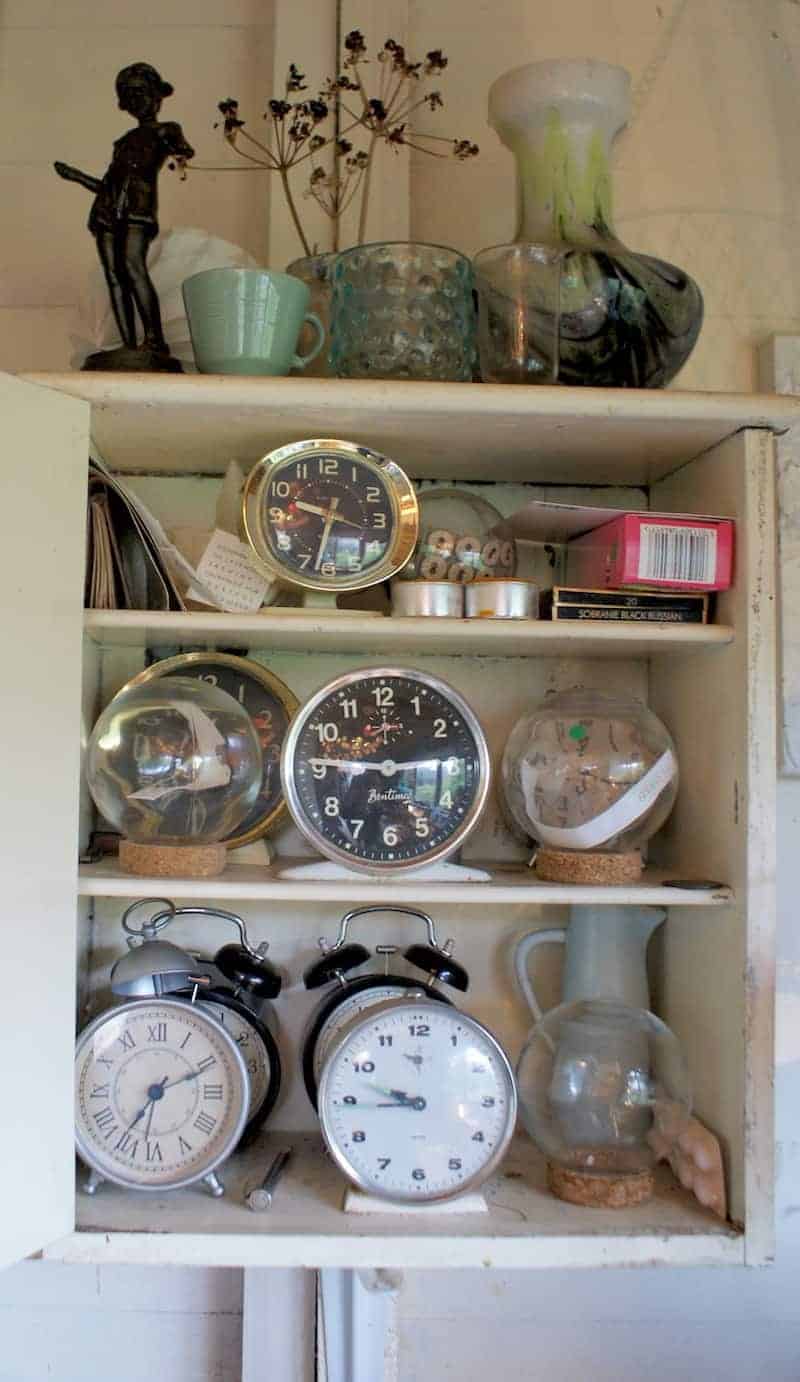 The idea of a 'Scented Shed' was formed – an interactive installation that includes 75 smells which you can experience in boxes, jars and drawers. And an old vintage handbag. I loved sniffing all the boxes and we did laugh so much. But it was the bag that particularly resonated with me. It took me straight back to my Nana's bag in the 1970s. A powdery, lipsticky and musty smell – because Nana always kept her bags in an old wardrobe in the slightly damp spare room. I could see in my mind, as clear as day, the starched white lace edged cloth she kept on the top of the chest of drawers to the left of the 'handbag wardrobe'. And the art deco photo frame with a snap of my dad and his sister together as children. My lovely dad died earlier this year, so this definitely connected with some very deep, if fleeting, emotions for me.
You can read more about The Scented Shed in Philippa's blog here 
I left the day feeling like a weight, that has been sitting on my chest since my dad died, had been slightly lifted. Taking time out of an always-hectic work schedule to be purely creative is so important for wellbeing. Sniff a vintage handbag or two. Enjoy finding a tiny yellow cowboy. Share the stories of your life with someone who enjoys listening. These are the moments that connect you with who you really are. Beyond what keeps you busy.
I'd discovered that wabi sabi is a Japanese concept based around the idea of finding beauty in imperfection and authenticity. It celebrates cracks, patina, rot and all the other marks that time and weather and use leave behind. I am finding myself very drawn to the idea that to introduce wabi sabi to your life takes a mind quiet enough to appreciate muted beauty and an openness to accept things as they are. The ability to slow down, to shift the balance from doing to being, appreciating rather than perfecting. This whole idea switched something on for me. So I was delighted when Philippa asked me if I'd like to take part in her new 5ftinf Consciously Creative online course. I'll be writing all about it soon, so watch this space.
The 5ftinf Shop
5ftinf is listed in our Directory here, where you'll find all the contact details you need to connect with Philippa, sign up for her courses or buy her individually printed silk scarves, pocket squares, jigsaws and very popular calendars (above).