Madder Cutch & Co is a fresh, new textiles design company hand-printing a range of simply beautiful linens using sustainable and natural plant dyes. Already stocked in inspirational London fabric boutique Tissus d'Hélène, Madder Cutch & Co (listed in our directory here) is definitely a name to watch. We asked founder, Nicola Cliffe, to share a little bit about the story – and inspiration – behind her fledgling creative business

Please tell us a little about the story behind what you do
I think the title I give myself these days -it took me ages NOT to say teacher – is Textile design and printer. Or you might catch me saying I print my own fabrics in the back garden! Essentially that is what I am doing. A lifelong love of drawing has finally been unleashed and is the starting point for my designs, which I screen print onto linen using natural dyes.
I learnt how to screen print whilst completing an MA in sustainable textile design, at Chelsea college of Art and Design. It had been a childhood ambition of mine to go to this art college. It was a failed promotion in my first career as a chemistry teacher, that made me re-evaluate my life and apply. Somehow everything fell into place. That seems to happen so easily these days. It's that saying 'the harder I work the luckier I become'.  My first degree is in chemistry and my business has been founded using my skills in this area as much as for my love of textiles.
The use of unregulated chemicals in the textiles industries overseas, and my knowledge of Azo dyes was the real trigger to embark on the MA offered at Chelsea. I am a real fan of William Morris and the chemist Henry Perkins and enjoyed investigating their work further during my studies, whilst my aim was to bring back the beautiful colours from nature that plants can give us so sustainably.

Where does your love of craftsmanship come from?
I have worked out over the years, that some people are thinkers and the others are doers. Definitely I'm the latter. I can think too, but it has to involve a written list.  It was my father who taught me how to do so many practical things. Like wall papering, basic carpentry and we even changed a car engine together. This was back in the days when cars were just an assembly of mechanical parts. I learnt to sew at primary school and really got into using a machine when we had our first home. My mother in law taught me how to make curtains and with the help of a very early Laura Ashley book. Working with my hands was a way to give my brain some down time during my teaching career.
How do you like to spend Christmas?
Always with family, I love cooking on Christmas day and the food is the most important part of Christmas for us all. I like minimal and simple decorations, I don't like clutter or taking it all down. Hyacinth bulbs in old china pots and hellebores in terracotta are my favourites.
What's your favourite way to start the day?
A cup of tea in bed, my husband makes one every morning and has done for the 27 years we have been married.  Once I have packed Jonathan off on his bike to work and my son, Bertie to school on the bus, I take Ernie, my dog, for a long walk and work commences around 10.00 am.
Describe your work setting for us.
I have a contemporary looking studio in the garden. Its basically a big box built on a stainless steel frame and clad with vertical larch timbers. Its quite big, 10 Metres by 5 metres to accommodate my 7 metre print table, my screens, work table and a gym area for the boys.
What do you like best about your area?
I love Stamford, I grew up close by and have lived in the town for nearly 20 years, I know so many people, I can walk to the shops, restaurants, cinema/arts centre and the train station. We have lots of home grown businesses in the town and lots and lots of artistic and creative talent.
Share a real hidden local gem with us
Easton Walled Gardens, up the road (A1) near Grantham. Beautiful grounds of an old mansion, restored by the current owners. I am very fond of drawing flowers and I love the layout and planting that has been going on over the years of its restoration.
Closer to the town is the meadows and its secret areas to walk along an old canal. Since getting Ernie, I have discovered more of this lovely walking area.
Favourite British design icon?
William Morris….what more can I say!
Describe your typical working day for us – best and worst bits?
Every day is different and involves going through the list I made the night before. Any tasks not completed get carried forward. All parts of what I do are enjoyable, although funny as it might seem I don't actually like getting my hands dirty! I do love it when I can tick everything off my to do list.
What keeps you going through the day?
Cups of tea and my dog, Ernie.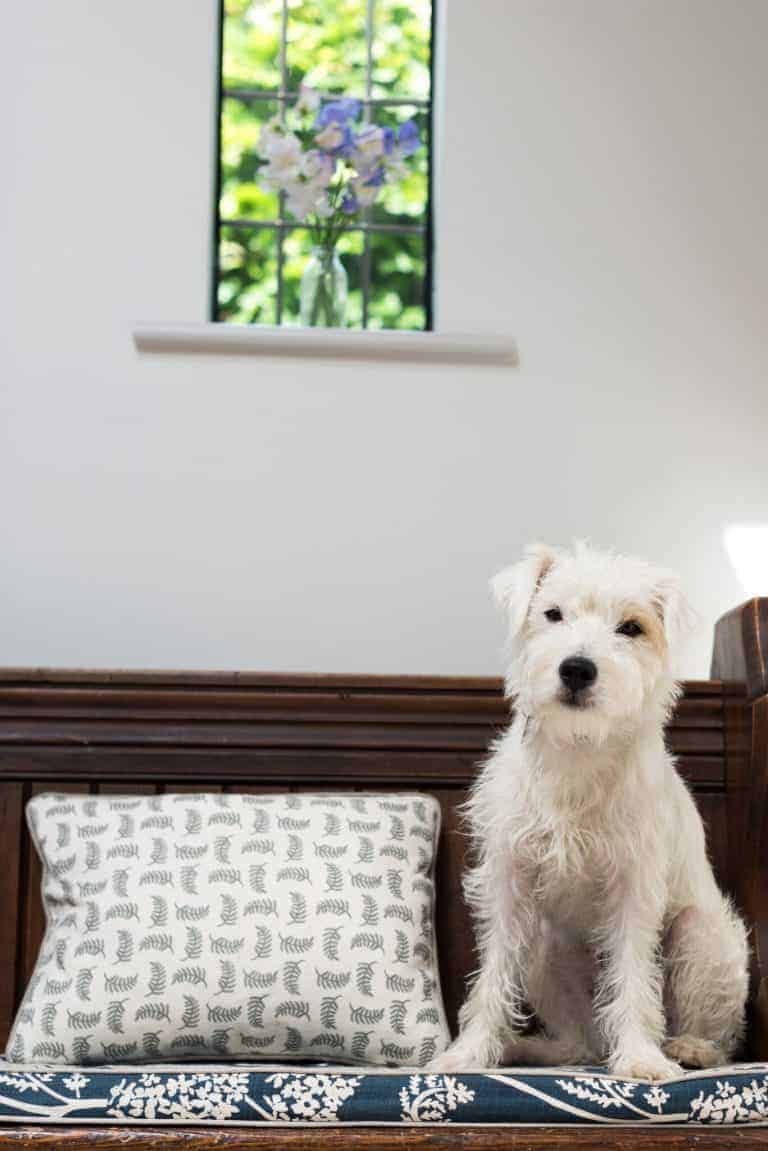 Best moment so far in your business?
My fabrics being stocked by London fabric boutique Tissus d'Helene.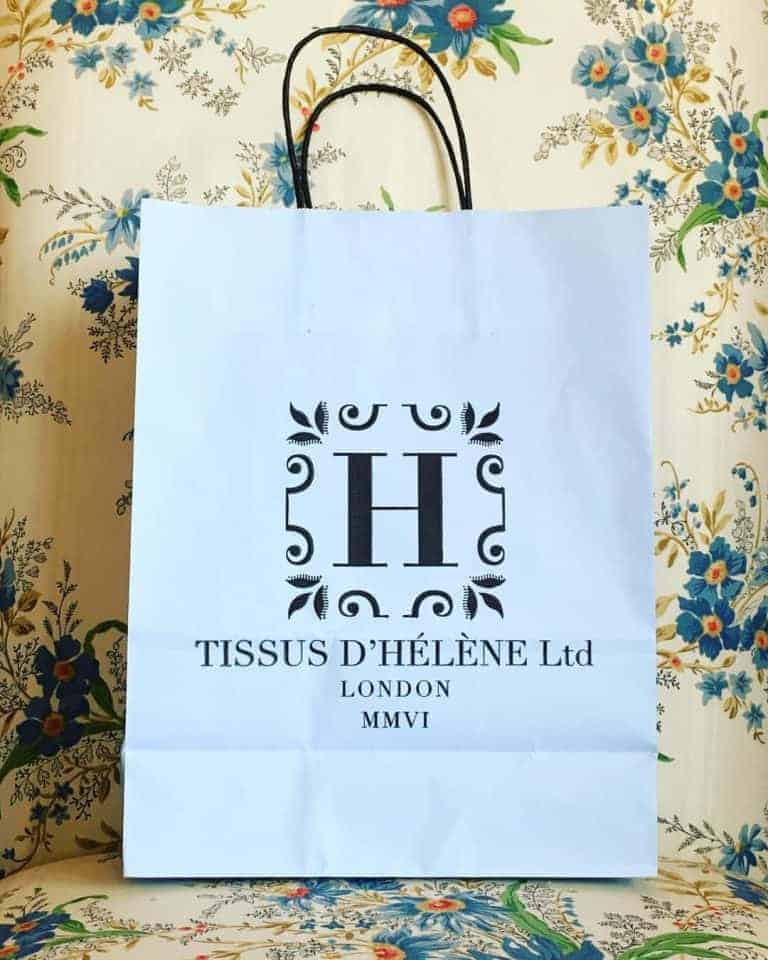 What are you most proud of?
Learning how to use Photoshop!
Best piece of advice you could share?
Keep going and stick to what you believe in.
What's the creative process behind your designs?
I love gardens and drawing flowers in their natural form. It's not just about drawing plants for me, though. Sometimes I find an old sketch or drawing I have done and instantly see how it could work in a pattern. I am a real beginner at this and most of what I have created so far has just happened, but I think as I gain in experience a process may materialise.
What's your favourite design and why?
It has to be the 'Achillea ground small', a design that came out of my college days and the first print I did that actually looked good and gave me some hope that I was doing the right thing. It was printed in indigo on a natural linen background. I will keep this sample piece in my little black sample box for ever.
Where are you headed creatively right now?
I have an array of designs I would like to bring to the print table, I hope that I can grow a collection of fabric designs that are well loved and used in many homes.
In a nutshell, what's special or unique about what you do?
Screen Printing with the plant dyes in a way that doesn't require lots of water, energy or plant material.
If we could only buy one thing from you, what would it be?
One of my rectangular linen backed cushions. I print them in  a beautiful selection of colours. Each one is a little statement piece and such a comfortable size.
INFORMATION
---
Get all the info you need to connect with Madder Cutch & Co from the listing >>
Feeling inspired? Take a look at the Creative Workshops category in our Directory, where you'll find a variety of inspiring courses, from art and crafts to fashion and beauty, interiors, cooking and flower & gardening.
If you run a creative course that would interest our readers, please get in touch. Email us at editor@frombritainwithlove.com
---
A pin to share to Pinterest