Meet Hilary Lowe of Damson & Slate
I first met Hilary Lowe on a location shoot with photographer Yeshen Venema. She was the stylist and had come prepared – with a van packed to the gills with jugs, jars, blossom and all manner of wonderful props. As we chatted, it turned out we'd both worked for the M&S magazine around the same time in the 90s and had some similar stories to tell – of Christmas lunch shoots in sweltering summer heat and alfresco summer living shots in blizzard conditions at Camber Sands.
I instantly liked her and was impressed by how effortlessly styling clearly comes to her. Not surprising really, when you consider that she has styled interiors for a wide range of titles including The Sunday Times, Elle Decoration, Coast, Livingetc and many more. When I discovered that Hilary had moved to rural Pembrokeshire and would soon be photographing her own collection of homeware made in Wales, I made a mental note to make sure I kept up to date.
I follow Hilary on Instagram and recently saw some lovely images Yeshen took of Hilary's collection – Damson & Slate (listed in the FBWL directory here). I decided the time was right to find out more so I asked Hilary to share some of her local loves, inspirations and passions.
I really like the fact that she never sets any goals, preferring to seize and enjoy the opportunities that come her way. I also love the image of her hauling a bench to the riverbank so she can listen to the water each day and would definitely enjoy sharing a good glass of red with her as we watched a Scandi noir on TV…
Q&A with Hilary Lowe
Please describe what you do and a little bit about your journey there
I design, source and edit the collections sold through Damson & Slate and I also work as a stylist. Damson & Slate is a natural progression from selling products from around the world to selling those made in Wales as I have now lived in Pembrokeshire for 10 years. I appreciate the skills involved in the craftsmanship and like to then add my own colour palette and sell to the markets I know – interior designers and architects.
My journey started with my own business, supplying interior designers and stores with goods I sourced from around the world as well as objects I product designed and had had made in Vietnam and Cambodia. My clients included Selfridges in London, Designer's Guild, Barneys New York, Browns and The Cross. From there I went on to be interior stylist for the Style section of The Sunday Times, forecasting and styling interior trends, commissioning photographers, locations and models as well as putting together the weekly shopping page. I also renovated and interior designed many properties in London.
in 2003 I decided to take the plunge and went freelance as a stylist, working with glossy magazine titles including Livingetc, delicious, Coast, easy living and Elle Decoration alongside regular commissions from the Sunday Times and You magazine.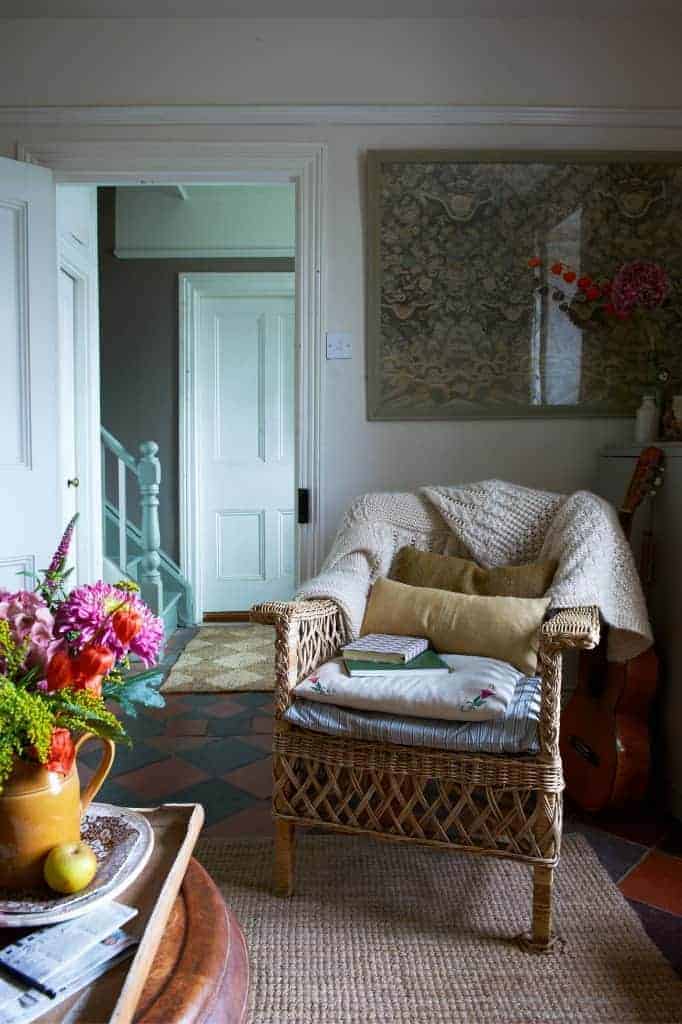 In 2008 I moved to a rural farmhouse in Pembrokeshire (above) and continued with styling projects for companies such as Elanbach fabrics before setting up Damson & Slate in 2010.
Please tell us a little about what you make
I don't actually make anything as I have no patience and am always rushing with a head full of ideas. I can sew, knit, dye, upholster and work a potters wheel. But not for very long and not with any great end result!
The latest editions to the collection are a Peony design printed linen fabric (above). The artwork being done by my late paternal grandmother who was a prolific artist and produced many watercolours in her life. Technology means these can be translated through a computer into a pattern repeat and make for original and gorgeous fabrics. Wild garden (above, top) is another of her watercolours available on linen…and more to come. Another new design on linen is 'Stitch' (below). I use old welsh weaving patterns and quilts as inspiration.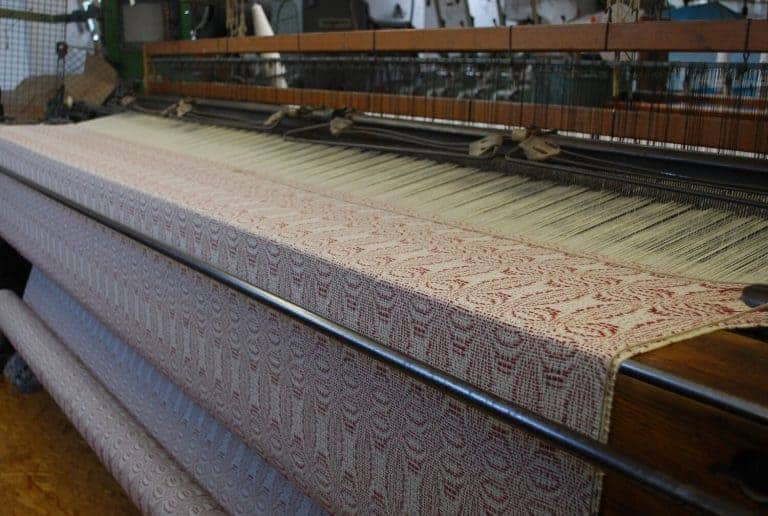 I also have a new colour range in the bedspreads woven for me in West Wales, 30 of which recently went to a boutique hotel in Spain via a London Interior designer.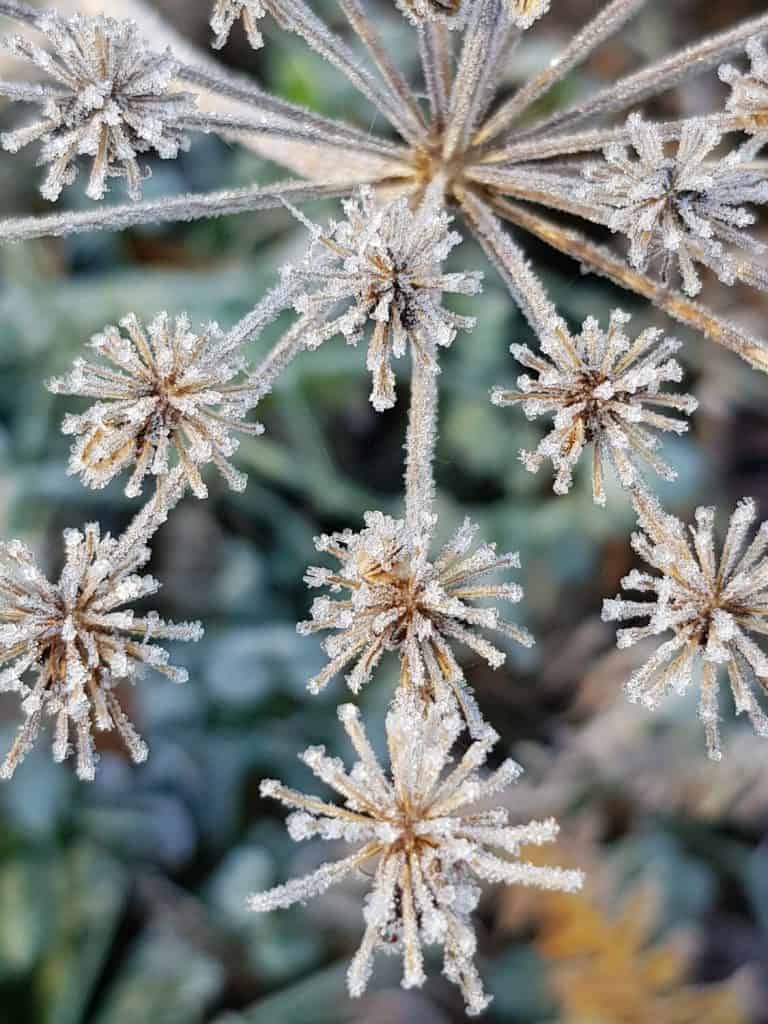 Favourite way to start the day?
I always start the day, come rain or shine, with a walk around my lovely grassy meadow accompanied by the dog. The area of meadow that borders the tributary off the river Cleddau is designated SSSI and is partly ancient woodland with wonderful flora. I managed to haul a bench down to the meadow and always sit and listen for a while before heading back to emails and Instagram.
What's your morning routine?
My morning routine is dictated by two early school runs – one to the bus for secondary school at the top of the long farm track and then hot footing it by car to the local village primary school. This is then followed by my meadow walk and then I cross the yard to my studio, housed in the old farm cottage opposite the farm house. I renovated the old cottage about four years ago. Just the upstairs, enough to house my computer, desk, piles of fabrics, blankets and a plethora of props and stuff I like . Twigs with lichen..haha. It's a fabulous work space with a corrugated roof that lends itself to listening to the rain and feeling cosy. Or the new stable door open to let sunshine flood in.
Please describe your typical working day for us
Every day is different – orders to pack, images to edit, colours to play with, coffee with friends, gardening. I love my work and also love stopping and switching hats when the kids come home. I love cooking and plan our suppers two weeks in advance. So by 3pm I am sorting school bags and cooking.
What keeps you going through the day?
Radio 4 is a must in the background during the day and I have just the one coffee. I use specialist ground coffee sent fortnightly by Pact. They source coffee from very small growers around the world.
I love the excitement of new products and ideas coming together so I keep going regardless!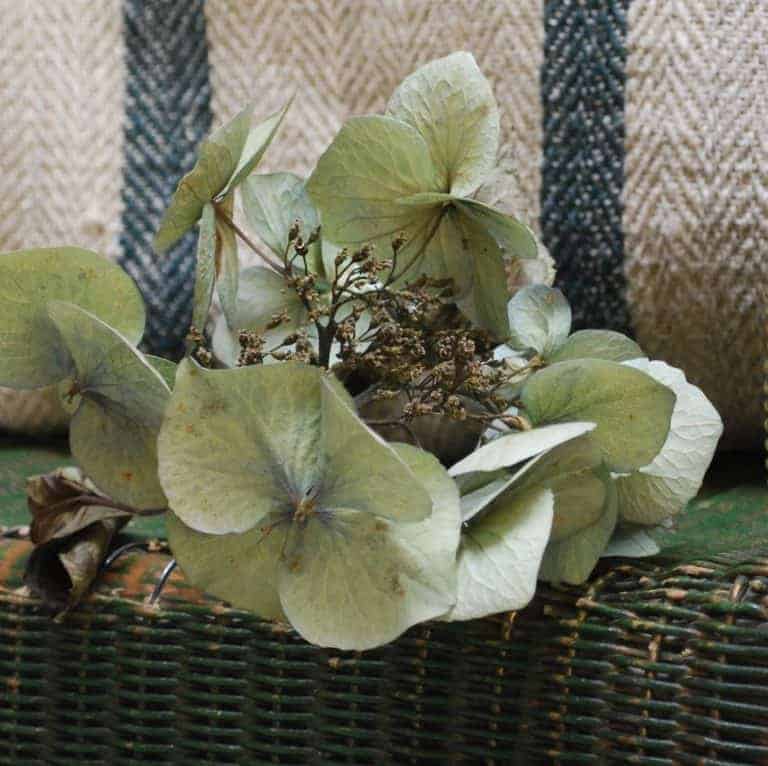 Top tips for enabling creativity?
Go out and about and look around to get inspired. Walks, museums, shops. Get off Instagram and put away your camera – a little notebook will do. Or just your memory…
Your simple pleasures?
A good walk, Netflix, The Wine Society, Plumo (above and below, bottom) and Toast (below), and a really good dinner out.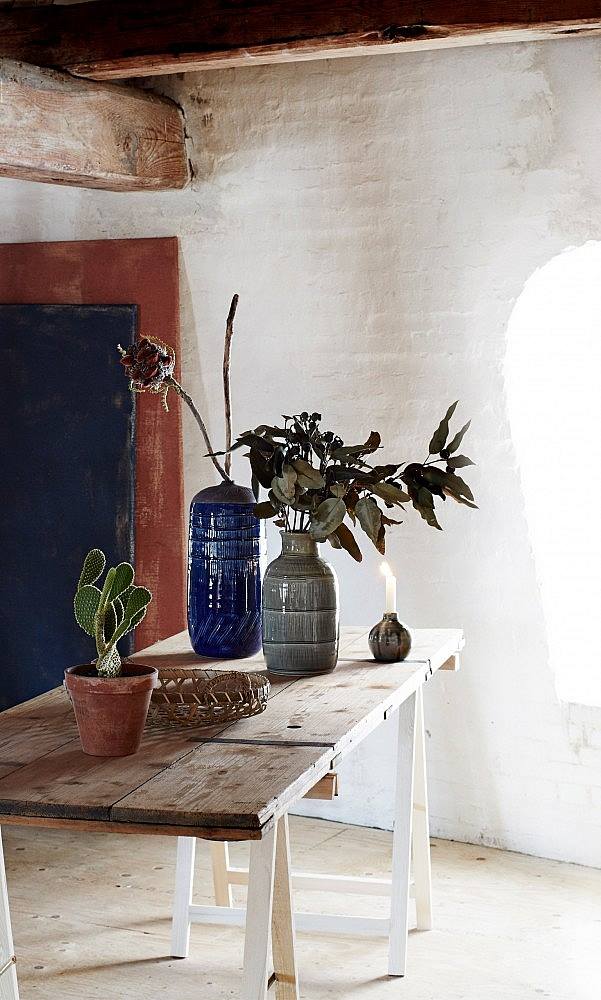 What is your approach to setting and achieving your goals?
I don't ..and never have. What I have achieved and done just happens… rather randomly.
What do you like best about your neighbourhood?
A short drive each way and you are on fabulous coast. Or on top of the Preseli Hills which are just amazing. My old farmhouse is hidden away and surrounded by fields and woodland.
Please share a local hidden gem with us
Well you won't find my meadow and ancient woodland in a guidebook. It's a real hidden gem.
Best place to watch the world go by?
I am addicted to open top city tour buses. Love to watch the world go by from above.
Favourite way to spend an evening?
I just don't go out anymore – too far to get anywhere and three kids in bed so I am blissfully happy with a glass of red and a Scandi noir on the telly with a log fire burning.
Favourite shop?
Asian supermarkets and kitchenware shops. Heaven! And also stationery stores. All those pens and notebooks and clips…
Most treasured possession?
A stunning hand embroidered silk piece from China in a huge frame inherited from my paternal grandmother who was born and lived in China from 1905 to the 30's.
Image: courtesy of Stay in Wales
Favourite walk?
Apart from my meadow I love Newborough Sands on Angelesey though it has become very popular. Aberfawr beach nearby is less busy and also a good walk but Newborough has the stunning views over Snowdonia. A good windy romp across the Presili Hills also a favourite.
What are you passionate about right now?
Nothing to do with my design work. I'm passionate about fostering and better outcomes for looked after children. Also how awful education has become. It's all about exams and not learning to love learning.

Best local place for rummaging vintage finds?
Carmarthen Flea Fair throughout the year is good. Local store Narberth Antiques & Interiors run by Zara has fabulous vintage welsh blankets, vintage furniture and antiques and wonderful window displays.
Favourite British design icon?
Kenneth Grange, an industrial designer. My father was part of his design team, working on many of his projects: Intercity 125, Duracel Torch, the Kenwood mixer, Kodak instamatic and more. I was always very inspired by the old blue print industrial drawings my father produced. So much nicer than computers. And also Elisabeth Frink, Hepworth and Frank Dobson. All stunning sculptors.
Favourite UK makers?
Eleanor Pritchard, Coed Y Dwrgi, Ochre, Olicana, Roger Oates. All just beautifully thought out… weaving, wood, furniture, linen, rugs.
I'm also organising my first Damson & Slate collective pop-up shop for April and am really excited to be collaborating with some wonderful makers including: Rosebud and Violet (pretty vintage finds), Jules Hogan (soft and luxurious knitwear), Tuffet.co (handmade velvet pouffes), 1819 gallery (well-curated antique furniture & accessories) and FARMERS' (blissful body products made using welsh lavender and other natural ingredients).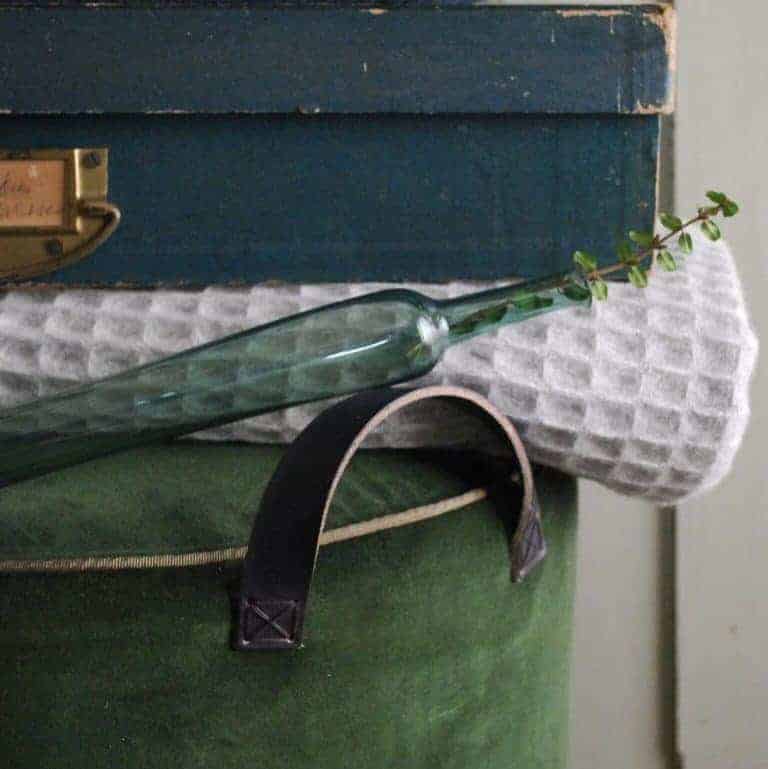 How important is making in the UK to you?
Saves on shipping! It's good that we are now promoting UK made. But I still love products from around the world as well. Objects that we just can't produce or make here. I focus on UK made but will also add in global craft.
Best place to unwind/escape to?
I recently stayed in Harp Cottage in Old Radnor and am going back to do a photo shoot there. It was just lovely. Understated, stylish yet cosy and hidden away. And next door to a super foody pub. What more do you need?
Best piece of advice you could share?
Don't ask for too many opinions. Trust yours. And if it doesn't work then it's not meant to be. I think you are born an entrepreneur or designer or artist and no matter how many seminars or lectures you go on if it's not in your blood it's hard to succeed. If it goes wrong, so what. Try something else…
What are you listening to/reading/watching right now?
Haha… Billions and The Assassination of Gianni Versace…both fabulous for all the wrong reasons..
Secret to being happy?
Am always happy. I really don't care about anything unless it's important to me and my family. Remind yourself we will all drop dead one day so really live each day well. For you – not Instagram! Keep a check on reality and do things for others. I am happiest, not selling a cushion, but caring for the kids.
Goals for the future?
Make sure the children are happy and somehow work out how to finance my old age.
INFORMATION
---
Damson & Slate is listed in the From Britain with Love directory here >>
Are you a maker or creative course provider? Like to benefit from joining our supportive community? We'd love to hear from you. Check out the packages we offer on our Join Us page and get more details from our Information pack here
---
A PIN TO SAVE TO PINTEREST