Simple pleasures and local finds in Cornwall.
I love Cornwall and have been going for holidays there since I was a child. My memories are of long, sunshine-filled days spent on sandy beaches and then a steep walk back up to the car loaded with wind breaks, buckets and spades. A meal out that might include grapefruit juice – as a starter – or prawn cocktail if we were somewhere really fancy. Sunburnt shoulders and the best ice cream you'd ever tasted. Thinking you are learning to swim in the sea but never quite letting go of your dad's hand. Bottles of green violet perfume with brightly coloured pixies sitting on top. It's the sort of nostalgia that makes you smile and almost cry at the same time. Smile because you realise how lucky you are to have such happy memories. Cry because so much time has gone by and loved ones have been lost.
I've been to Cornwall many times with my own family too and it makes me happy that they are building up their own sunshiney memories (without the grapefruit juice starter, so far…).
We spent last week in south east Cornwall so I thought I'd share some of the special places we found with you.
We booked at the last minute, and decided to push the boat out. I wanted to hear the sound of the sea as I fell asleep. Our teenager wanted somewhere modern and 'not all rustic with old furniture'. Our 12-year-old wanted to be walkable to a beach so he could take our cocker spaniel, Woody, for a run there whenever he wanted. My husband didn't mind – he just wanted me to sort it. So I did just that and booked Sea Edge in Downderry.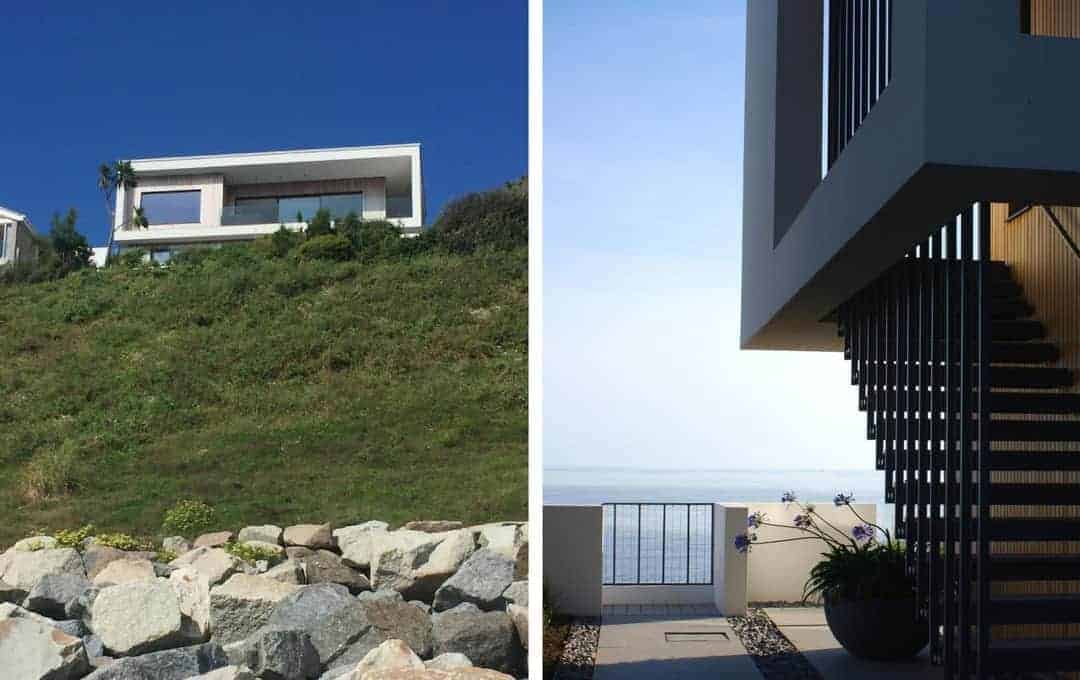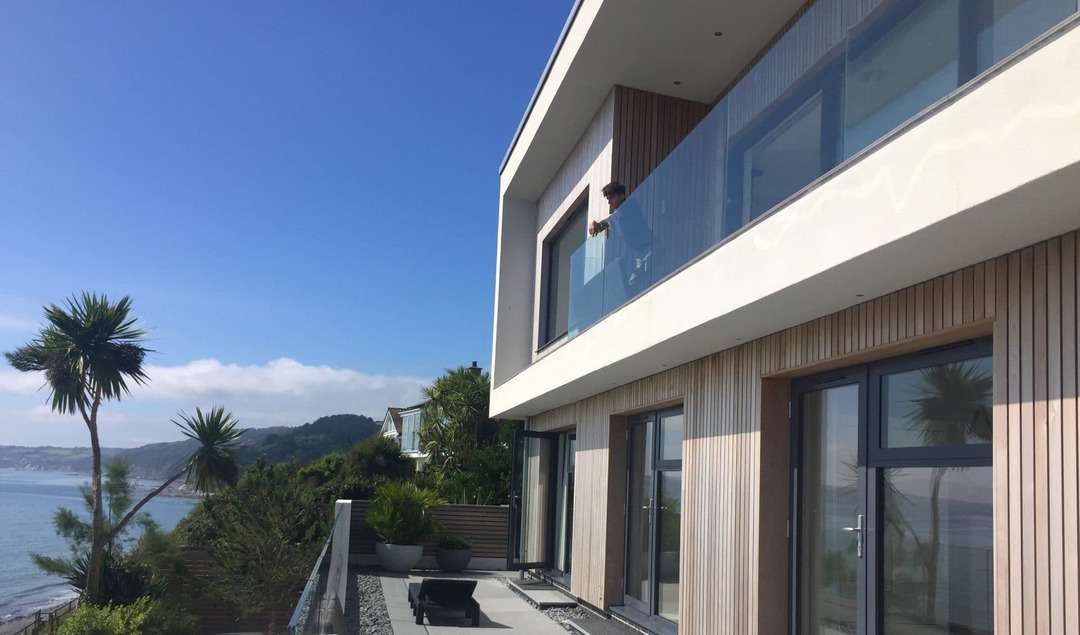 We knew from the photos on the website that it was a stunningly designed modern house, but our jaws still dropped slightly when we arrived. The whole house faces towards the ocean and sparkling sea views fill every room. Huge sliding doors allow the sound of the crashing waves to wash into all the bedrooms as well as the main living area. So I definitely had what I wanted. I did worry a little at first that we might be too chaotic for a house like that and that we might ruin it somehow. It was all so perfect. But I realise that it's actually quite easy to live a zen-like, minimal life when there is so much storage space to choose from. When every single thing has its place. And you never have to put something in a cupboard and shut the door quickly to stop it falling out…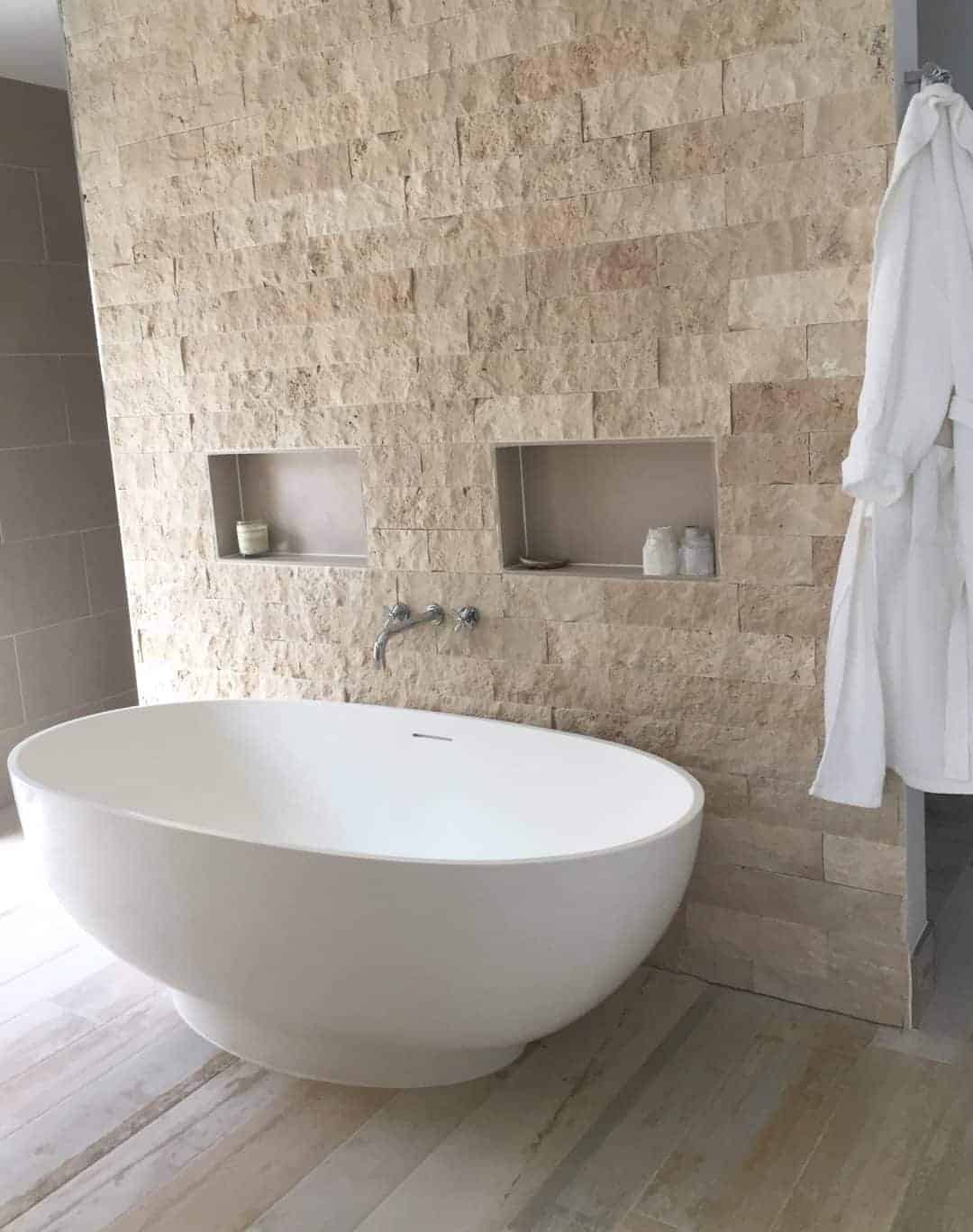 I really like this textural stone wall behind the beautiful Corian bath with insets for essentials – candles and pretty shells. I also LOVED this wide picture window with upholstered seat and soft cushions below. The perfect place to lie and take in the amazing view. The design plans for the house are framed on the wall, and are by Cornish firm Kast Architects in Truro.
We had one wild and windy day and this best window seat ever was the perfect place to sit and enjoy looking out with a cup of tea and a holiday book.
My greatest simple pleasures in Cornwall
Rather than ramble on about everything we did, I thought I should pick out the best simple pleasures from the week to share with you.
Lantic Bay
Locals told us that Lantic Bay is south east Cornwall's best kept secret and they were right. It's a quiet, sheltered cove with golden sand and turquoise water that feels more like the Med than Cornwall. It can be quite hard to find, which is probably why it was so wonderfully quiet when we got there – on a gloriously sunny August afternoon!
You park at the National Trust car park on the headland and walk down a steep cliff path to the bay. Just beautiful. I took these photos on the way – including this chance butterfly that landed just as I was looking through the lens.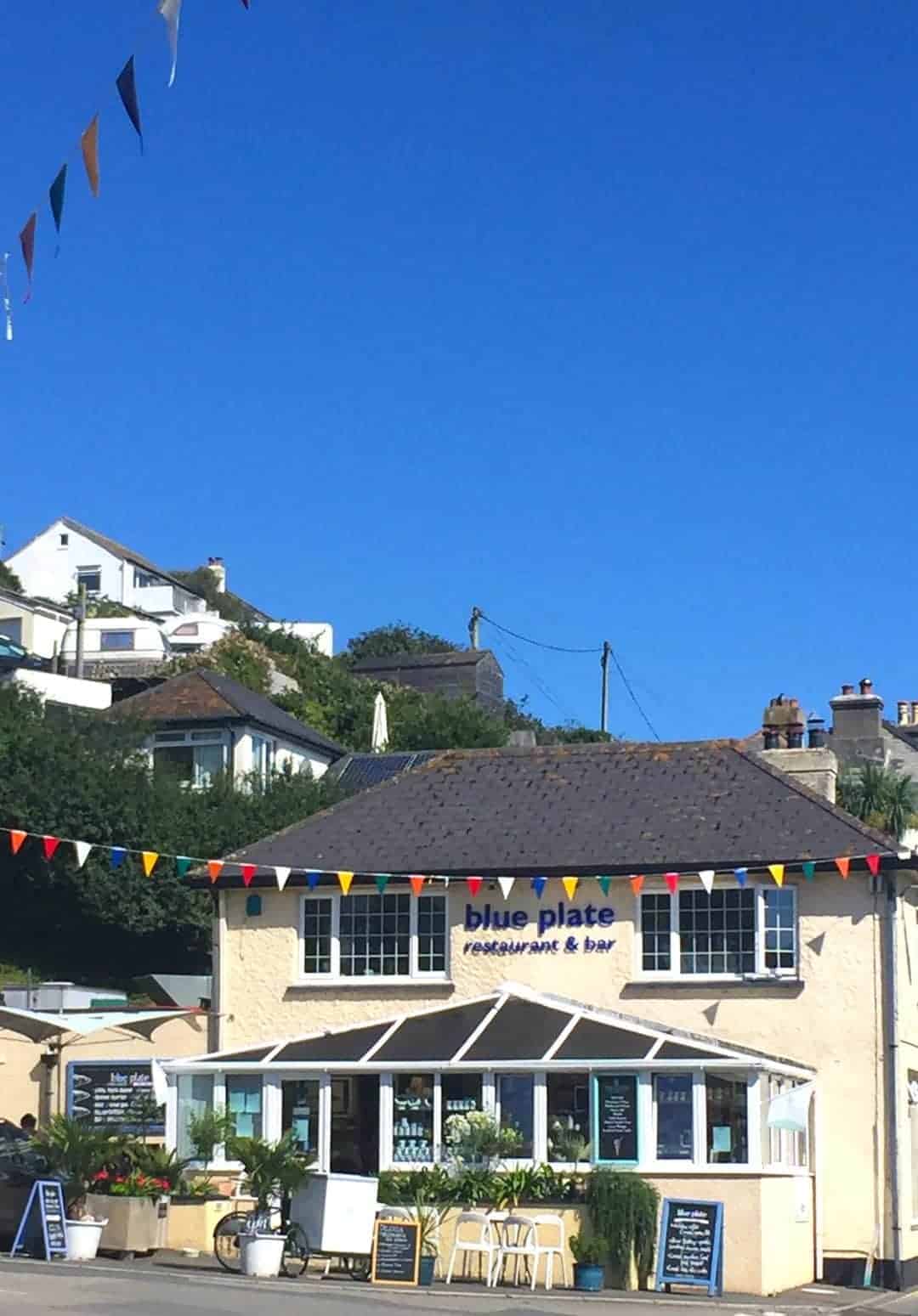 Blue Plate, Downderry
This great local eatery/bakery/deli was a five minute walk from the house so we popped in most days for freshly baked sourdough bread, pasties, house olives and local crab tarts. We had dinner there too – which was really nicely cooked fresh Looe Bay fish and chips for me. When fish is that fresh and well cooked, I'm happy. Add a glass of cold white wine and I'm in heaven.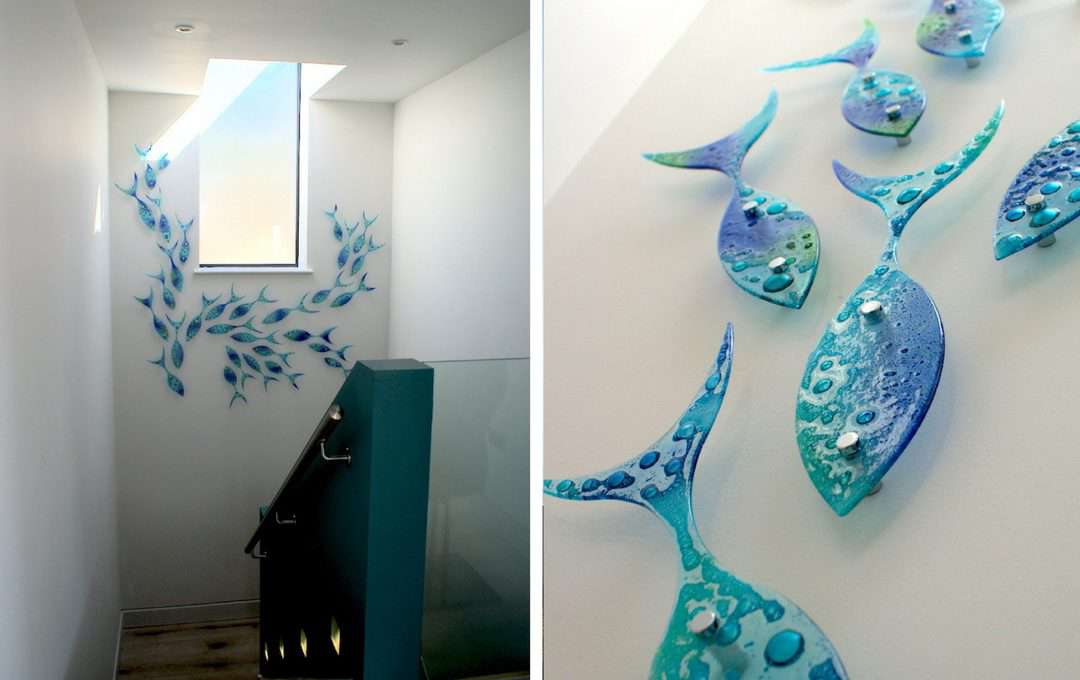 Jo Downs shop Padstow
Jo is listed in our directory and I was already familiar with her beautiful glass designs, so I recognised the stunning blue/green glass shoal of fish darting around the skylight above the stairwell of our holiday house. My photos don't quite capture how beautiful this shoal looked as light shone through and across it at different times of day. We popped to Padstow one afternoon and so I made sure I didn't miss out on a trip to Jo's shop there. I wanted to take something home, so I bought a really pretty blue green bubbly glass coaster with three copper fish swimming inside. I drink a lot of tea, so I'm going to be using – and enjoying looking at this – every day.
I couldn't help snapping as I we meandered around Padstow, a little randomly I know, but I was on holiday…
We bought a couple of delicious fruit tarts at Stein's Patisserie in Padstow – one strawberry and one with a whole poached mini pear, packaged in pretty little white cake boxes. I love Rick Stein's passion for good local food and he has done a lot to put Padstow well and truly on the foodie map but to be honest we were quite glad to leave the crowds behind. It's so much quieter on the south coast.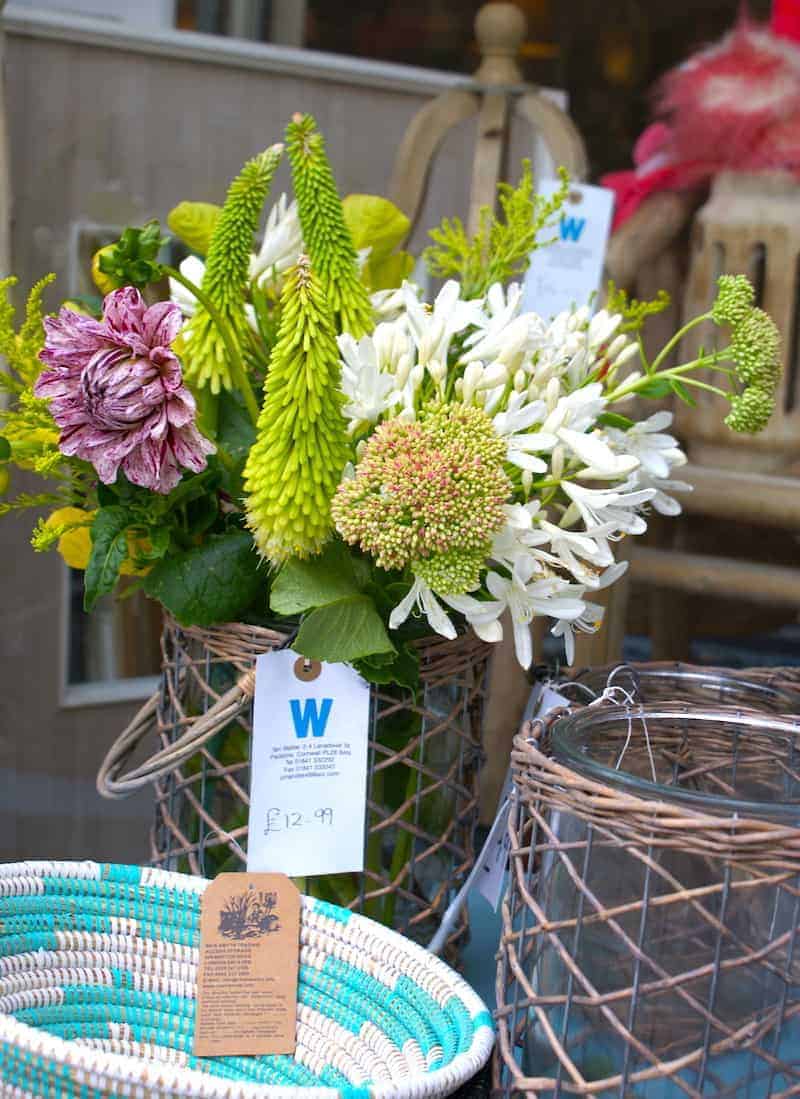 I snapped this because I just loved the jumble of colour and texture. It was outside an interiors shop called Teri Walter which sold coastal and seaside inspired gifts and home accessories.
I'm not a beer drinker and to be honest, I took this photo because I just liked the look of this black and white clapboard shop. Then I discovered that it's a craft brewery run by the only Head Brewster (female brewer) in Cornwall. I love that the business (run by husband and wife team Caron and Des Archer) started in 2013, brewing in a converted surf shower and a half-size brewer's barrel. Though small by brewing standards, the barrel was still too big for their space – only one person could get in at a time and whoever was outside got wet if it was raining. The beer sold as fast as they could make it, so in Autumn of that year they invested in a substantial new British-built custom made brewery. Now they make around 9000 pints a week and their spent grains go free to local farmers for animal feed and hops for compost. Love local business stories like that.
Cornwall Soapbox
I liked the look of this pretty shop and was drawn inside. I met Mike, who owns the business with his aromatherapist wife, Suzanne. It was lovely to hear the story behind the brand and their passion for what they do. They started out making cold-pressed natural soaps (made by hand by Mike and scented with unique essential oil blends created by Suzanne). Mike still makes the soaps (he uses the traditional "cold process" method which ensures that the naturally produced glycerine is retained in the bars for an extra moisturising lather. Ten years on, the brand now also has an impressive range of natural bath and skincare products as well as home fragrance candles and gifts. I decided to treat myself to a body wash and bath foam so Mike talked me through the four different fragrance blends and their properties.
I went for Lavender and Rose Geranium body wash (balancing if you are feeling a bit hormonal!) and Lavender, Rosemary and Patchouli Foaming Bath (their signature scent and very relaxing before bedtime).
Downderry beach early morning
It may not have powdery white sand like other bays in the region, but I loved walking Woody on Downderry beach in the morning. I say 'walking' but he really just ran in and out of the sea, trying to collect all the stones. So many stones, and so little time for one small spaniel…The early light made the sea and sand seem silvery and magical.
There was hardly anyone else there. Walking in the morning sunshine with the waves crashing and having the whole, sweeping bay almost to ourselves is a simple pleasure I will always remember.
I loved this driftwood beach art structure by the steps up from the beach. It's been created by people adding and tying on colourful finds, messages and sketches.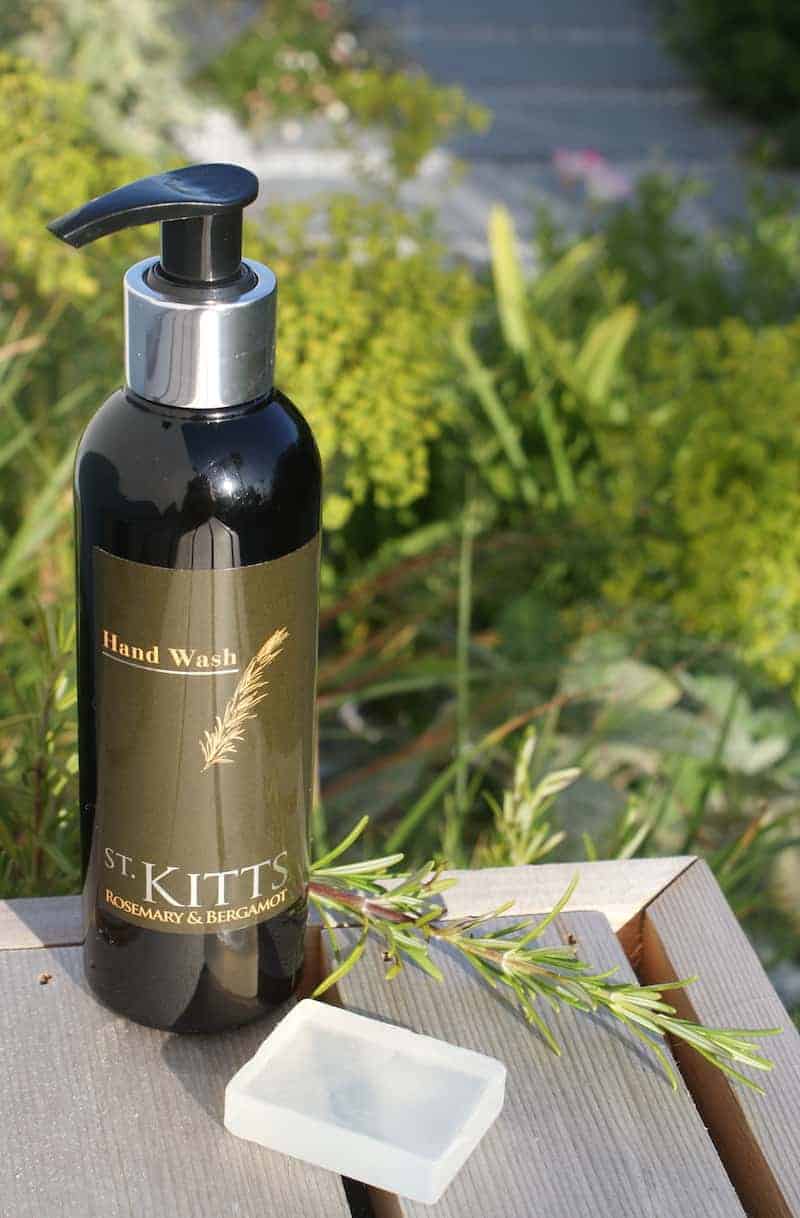 St Kitts Herbery
I'd never come across this brand before but their Rosemary and Bergamot liquid soap hand wash and soaps were at every sink, bath and shower in the house and I'm now hooked. We all loved the herby, fresh and natural fragrance. I noticed that Blue Plate sold the range too, so I got to find out more. Turns out St Kitts Herbery is based in Camelford in Cornwall on the edge of Bodmin Moor. They grow a wide range of herb plants as well as producing luxury toiletries and artisan chocolates and food gifts. Their Rosemary and Bergamot hand wash is used by Jamie Oliver's Fifteen Cornwall restaurant among others.
Looe
Our nearest sizeable town, Looe was like going back in time for me. There was a relaxed, timeless seaside feel to the place that I liked. The harbour bobs with colourful boats and there are some great local shops and bakers. Well worth a visit is Quayside Fresh (pictured above) on the harbour. It's a fantastic family-run farm shop selling the finest local Cornish produce and groceries as well as top quality meat. Their street café sells great coffee and simply prepared fresh local food, particularly seafood from the local fish market or bought directly from the boat. No wonder it tastes so good. I can recommend the pan fried Looe mackerel with chorizo and lemon pepper creme fraiche wrap.
Dogs in towels
We all love this image of Woody at Lantic Bay, post-swim and swaddled in a jaunty blue and white beach towel. He loves being wrapped up and cuddled. I think the joy of it is something to do with his serious expression and the way he expects to be tended to in this way after a bracing swim.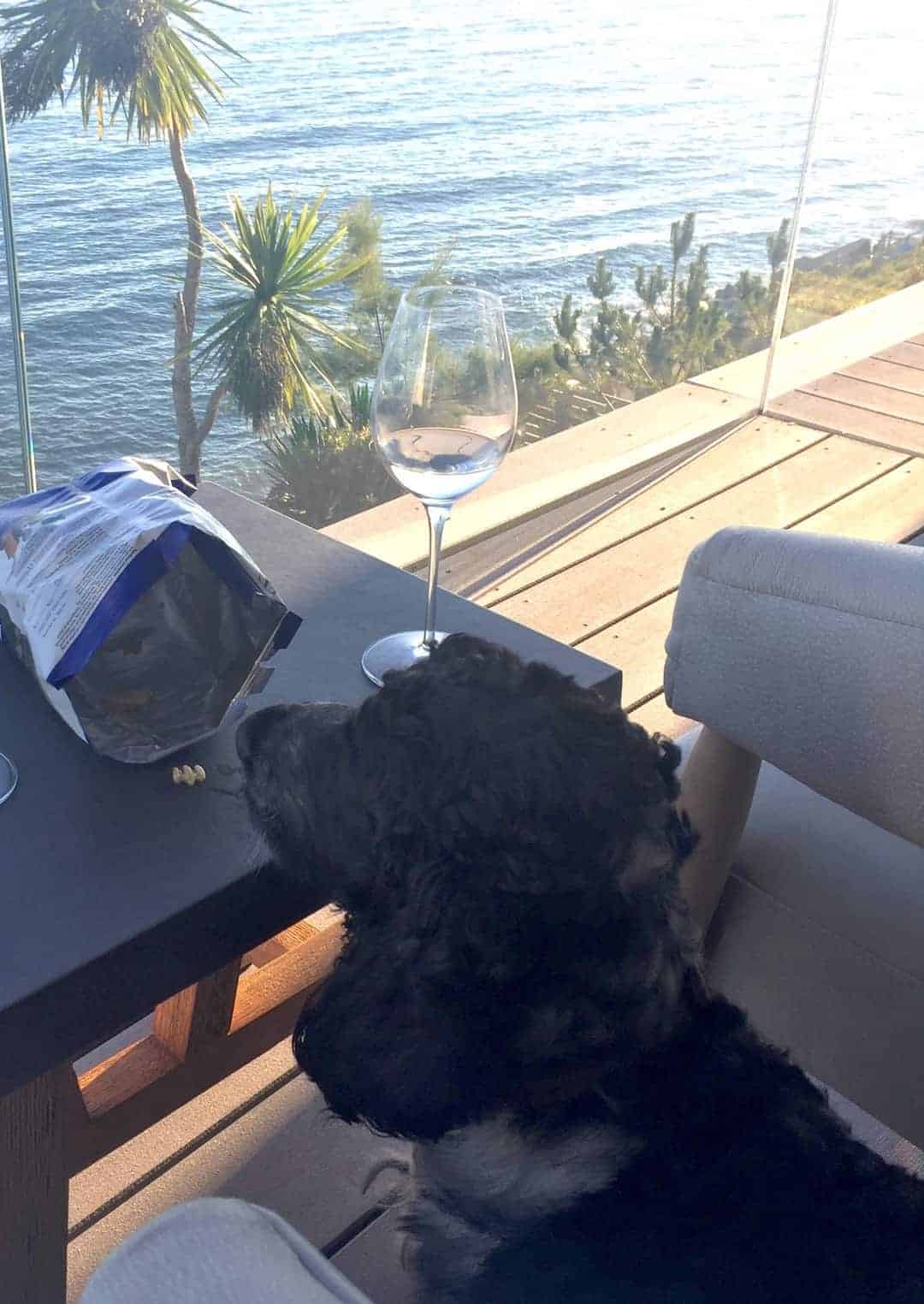 Whilst we're at it, I thought I'd also share this image of him on the balcony, very much up for some evening nibbles…

Seeing the sun go down
Each evening the whole holiday house filled with honeyed, and then rosy, light as the sun set. It really brought home to me what a wonderful thing it is to watch the sun setting each day. It reminds you of the bigger picture – beyond your daily busyness. I also love it on grey days when you suddenly see a magical, silvery pool of sun far out to sea. I imagine what it would be like to be right in the middle of it. Like being in a natural spotlight, but only for a moment or two.